Applications like Uber freight turned out to be a technical blessing for both shippers and carriers.
The success of Uber freight has brought about a plethora of Uber freight competitors, which we list out for your with necessary information.
Uber Freight is a software application that satisfies the requirements of shippers by providing apt carriers. Carriers can use their smartphone and book a load. The price for the trip is displayed, hence you don't have to go through the ignominy of back-and-forth negotiations. Loads on the app are exclusive to the application through contracts with shippers.
Earlier businesses and individuals had to spend a lot of time locating a truck and its driver to ship loads. After locating a shipper then the costs had to be decided. Similarly, carriers also lost precious time in endless bargains over price and terms.
Uber Freight has put an end to all this by enabling carriers to conveniently find loads with a touch on a screen. They can get instant bookings and receive payments as per agreed terrms after showing the proof of delivery.
Introduction: Uber Freight Competitors
Uber freight offers a one-point solution for boosting efficiency, enhancing vehicle usage, and reducing expenses. Uber Freight has given control to carriers with customized load suggestions, automatic reload options, and free Quick pay.
Many similar apps by other companies are emerging in the market, giving tough competition to uber freight. Each of them has distinct features, which distinguish them from others.
Let's now check out the Top 10 apps that are Uber freight competitors:

1. Keep Truckin
(Now known as Motive)
Total funding: $567.3 million
Last funding round: Series F on May 25, 2022
The goal for the round: Invest in more AI and expand
Keep Truckin was founded in 2013 by Shoaib Makani. The company is set up in San Francisco, California. Keep Truckin started with an electronic logbook app for drivers to capture their hours of service.
Over time, they broadened their platform to solve a wide range of operational concerns that businesses face like vehicle and equipment tracking, driver safety, compliance, maintenance, and spend management.
It also provides 24/7 live support, a free trial period, as well as many training formats to make the user experience more valuable.
Mission– To sort out logistic issues in an unconventional manner.
Founded by Jason Roberts in 2013. The company is headquartered in Overland Park, Kansas, United States. It has equipped shippers with revolutionary technology to simplify their freight quoting, booking, tracking, and reporting.
It has online freight management software that significantly reduces the time and money SMBs spend on freight shipping.
Total funding: $930.5M.
Last funding round: Series E on  Apr 21, 2022
Mission– To utilize technology that will make freight carrying more efficient, lower cost, increase earnings for carriers, and to minimize carbon emissions so as to save the environment.
Convoy is among the top Uber freight competitors. The company was founded in 2015 by Dan Lewis and Grant Goodale.  It has its headquarters in Greater Seattle Area, West Coast, Western US.
The main benefit of using Convoy is that shipping with its carriers is 16% safer than the industry average as per experts. Also, its network is getting more efficient as cargo numbers are rising, reducing total shipping costs for logistics companies.
Last funding round:  Apr 5, 2016, from a Private Equity round.
Funded by Bregal Sagemount.
Mission– Trust. Accessibility. Openness.
Truckstop.com was acquired by ICONIQ Capital on Apr 4, 2019.
The company was founded in 1995. The founder is Scott Moscrip. It is based in New Plymouth, Idaho, United States. This logistic solution provider has many innovative features under its wing such as load planning, transportation management, real-time rates, and negotiation tools.
Also, a credit reporting entity helps industry professionals locate trusted freight partners.
Last funding round: Apr 26, 2019, from a Private Equity round.
Funded by LLR Partners.
Objective – Data-driven logistics software platform to optimize every step of the operation.
Another addition in the Uber freight competitors list is Magaya supply chain. This company specializes in supply chain and logistic automation. It was founded in 2001 by Gabriel T. Ruz, Jesus David Rodriguez, Jose Yoniel Garcia, and William Sierra. It has its headquarters in Miami, Florida, United States.
Magaya provides digital Customer Experience Software that provides an interactive, immersive, online customer experience. It also has 'Rate Management Software' for searching and comparing rates, as well as managing margins. The company also has CRM software to ensure that all teams are participating in activities like customer acquisition and retention.
Total funding: $6M
Last funding round:  Jul 8, 2021 from a Seed round.
It was founded in 2015 by Kurt Johnson, Doug Henrriquez, Justin Dickson. The company is set up in Lake Forest, California, United States.
This SCM software is customizable to the existing workflows and integrates smoothly with the current tech stack without requiring extra time for onboarding.
The app is very useful in helping its users as it links to 300+ carriers. It also offers customer service by chat, email, and phone.
Total funding: $47M
Last funding round: Oct 24, 2019 from a Series B round for $35M
It was founded in 2016 by Gregory Price and Jason Traff.
Their shipping technology solutions integrates transportation management, real-time visibility, and a carrier network that combines with your billing systems and transportation workflows.
Shipwell also provides several other additional services like Slack, QuickBooks, FedEx Ship Manager, Trimble TMS, Shopify Plus, and Convoy.

Total Funding:  $386.8M.
Last funding round: Aug 17, 2022 from a Series E round for $33.5M
Another Uber freight competitor that was founded on Jan 26, 2017 by Saahil Goel. It is set up in New Delhi, India. The company is endowed by one of the best available ecommerce shipping and logistics software solution.
For local and international shipments, it has joined hands with a number of courier companies. Therefore, before sending your order, you may pick carriers based on their historical performance, which is updated in their website.
It works with top rated shipping partners like FedEx, Bluedart, Aramex, FirstFlight, and Ecom Express to deliver minimized freight prices
Total Funding– $2.4M
Last funding round– Dec 10, 2016 from a Series B round.
It was founded in 2008 by Dan Clark. It is headquartered in Maynard, Massachusetts, United States. The company matches capacity to demand so that you never miss any opportunity to save on your expenses.
It provides visibility, control, and predictive analytics tools to help companies take advantage of supply chain opportunities. It is based on cutting-edge cloud technology.
Total Funding– $7.1M
Last funding round- Jan 1, 2022 from a Venture – Series Unknown.
It was founded on Jan 1, 2017 by Bruce Lee, Chen Weiyu, Falldog Hsieh, and Trenton Chen. It has its headquarters in Los Angeles, California, United States.
It is a web based freight management SaaS for international freight forwarders.
These are some of the successful Uber freight competitors in the market.
Conclusion: Uber Freight Competitors
Uber and as we have seen all their competitors are backed by innovative technology and a dedicated team of experts. Uber Freight is the first organization that began to innovate the logistics industry and transportation networks which soon was followed by others.
This platform and the service it accorded helps shippers and carriers take control of their freight and deliver it on time.
Uber technology firstly revolutionized how people moved. Now they are doing the same with the freight industry. Clear, unambiguous, upfront pricing and unrivalled visibility, ensures that you have all the necessary information with you to take the right business decisions. Skyrocket your business with Truckr and take a leap towards a brighter future.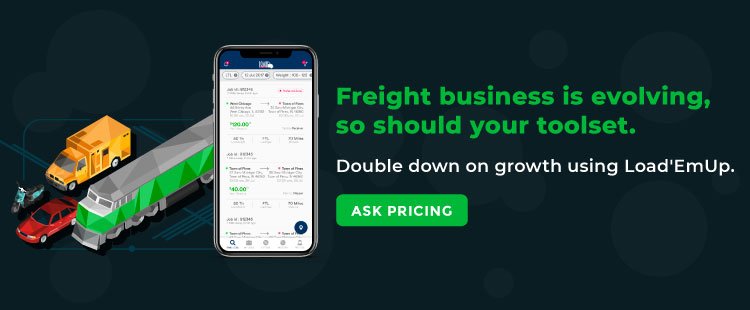 After an Engineering degree and a Diploma in Management I devoted 16+ years working in the automotive industry. My innate skill and extreme passion in writing, encouraged me to adopt it up as a profession. I have been writing for more than 10+ years in the software industry. The 400+ blogs I published are informative, exhaustive and interesting to a professional and causal reader.