Customer experience, brand engagement, personalized shopping experience, and maximizing sales. You will hear teams of the retail and eCommerce sector talk every day about how to enhance these factors. Augmented reality in retail and augmented in eCommerce are the two hot topics of their discussions.
Retail businesses are using innovative technology to stay ahead of the curve. eCommerce applications are using immersive AR/VR technology to upscale shopping experiences to be more friendly, intuitive, and entertaining. 
But, how is AR bringing a change? Are they really providing valuable benefits? Here is a list of the top five benefits of augmented reality in retail and eCommerce.
Augmented Reality In eCommerce Provides Immersive Experiences
AR bridges the gap between virtual shopping and real-world stores and gives buyers the ability to see products in an environment of their choice. In an age of visual content, users are experience-sensitive rather than price-sensitive. They are more open to adopting AR and VR tech. 
Amazon AR view has been inculcating AR experiences for furniture, jewelry, and other products. Embedded within the Amazon app, shoppers can render the scale and size of 3D models of products and shop with confidence.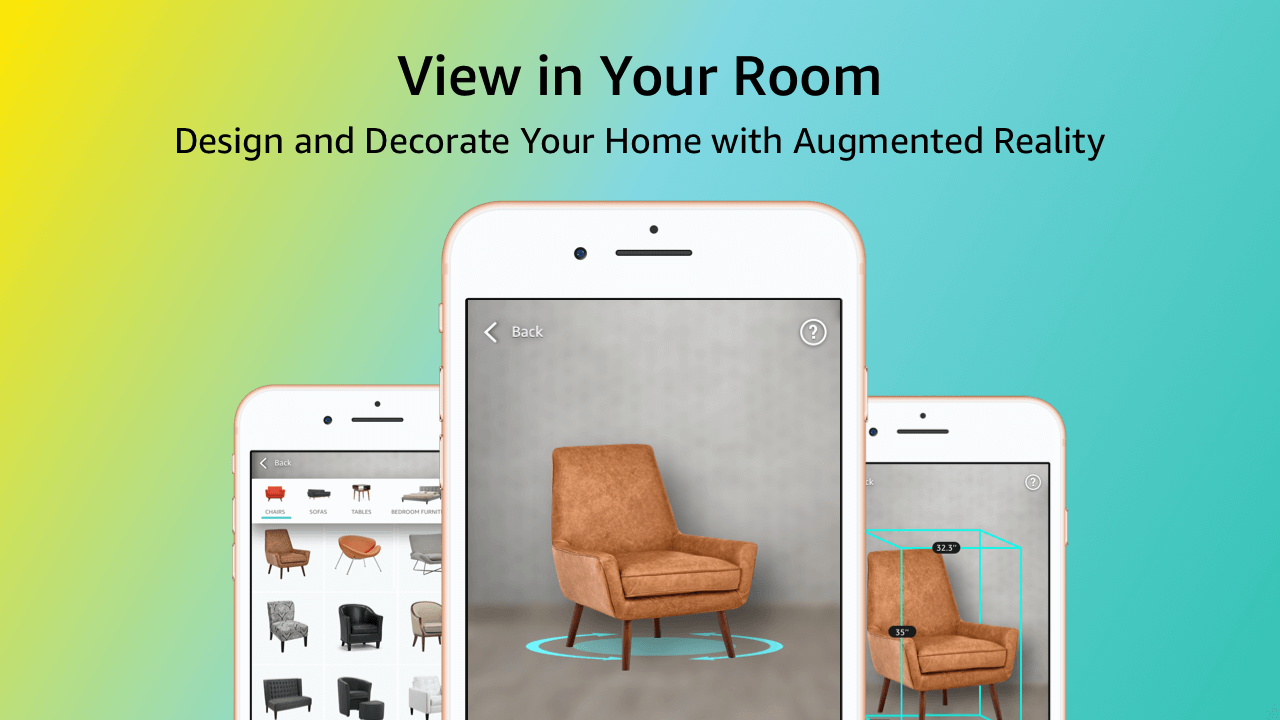 Read More: What Is Augmented Reality? & Why Businesses Need An AR Strategy?
Customers Can Try Before They Buy Using Augmented Reality In Retail
"Try-on", "Try before you buy", "Test before purchase" are some of the popular terms that boosted AR usage in retail stores. 
AR helps customers visualize products in different variations of style, color, and sizes. Why do customers still prefer to go to brick-and-mortar stores to buy things? It is to try or look at their purchasing item first hand. AR makes this experience convenient, informative, and fun. 
Lacoste launched a mobile app to merge its retail and digital customers which helps make a styling outfit with a pair of shoes a little quicker and a little more fun. Customers simply scan trigger images in-store to quickly try on a selected shoe and interact with additional content. Customers can also take photos and share them with friends on Facebook, Twitter, and email.
Augmented Reality Boost Your Brand Awareness
Businesses who are tired of using conventional digital marketing strategies to establish and promote their brand can opt for augmented reality for advertising. 
Pepsi took the AR branding experience to the next level. Pepsi Max wanted to create an interactive digital OOH campaign that would share their brand's message of "Live For Now."
They transformed a bus shelter into a window of unbelievable augmented reality scenarios. 
The campaign was a runaway success garnering over 8 million views on YouTube. 3 million of these views were reached in just 5 days! There was a PR frenzy with news coverage as far afield as Brazil and Australia, reaching over 385 million people.
Store Navigation Made Easier Through Augmented Reality In Retail
One of the best ways augmented reality has shaped retailers' user experience is through in-store navigation. Using AR, customers can navigate through a store by scanning the floor which presents a path that they can follow on a smartphone. 
Aircard launched an innovative Web AR Out-of-Home advertising campaign with Anheuser-Busch InBev & BON V!V Spiked Seltzer. 
This WebAR retail experience was made live across OOH locations in Los Angeles and San Diego. 
The experience was activated using iOS and Android device cameras by a QR code scan. Consumers are presented with a full 3D vending machine with interactive animations, enabling them to select and dispense their favorite flavor can of BON V!V Spiked Seltzer, entirely within web-based augmented reality. 
Through this experience, customers can navigate to various vending machines across the city and access the augmented reality shopping experience. 
Increase Conversion And Sales With Augmented Reality 
According to BRP 2018 Digital Commerce Benchmarking Survey, 40% of shoppers say they would be willing to pay more for a product if they could experience it through augmented reality before buying.
Virtual showrooms, 360-degree video catalogs through AR have led to faster growth and accelerated sales. AR stands as a savior to insecure customers who refrain from buying out of fear. Augmented reality in retail and eCommerce gives an option for users to visualize, test, and get end results within their surroundings. 
This also saves retailers from the big expense of return management. The likelihood of return decreases as customers can try and make informed decisions. 
Read More: 6 Exhilarating Augmented Reality Examples & Use Cases Indicate It Is Here To Hold The Rein
How To Add Augmented Reality To Your Retail & Ecommerce Business
You need not change or build a new augmented reality app to sell your products. You can embed these AR features to your existing eCommerce site with WebAR or in-built AR functionality. 
AR Try-on and navigation features can help your product launches, holiday campaigns to gain new customers and drive traffic to your stores. Through simple QR codes and RFID tags, you can provide immersive and entertaining experiences.