As a matter of fact none of us can live our lives without relying on means of transportation. We often book these transportation facilities for our parents, relatives, grandparents and so, who are in quite a later stages of their lives.
Their safety and comfort are the main elements we look for while booking a cab.
Lucky for us, there are Uber for seniors service providers in the market to deliver best rides for your folks.
The global taxi market has registered a valuation of about USD 94 billion in 2017– Ken Research
The pace of population ageing is much faster than in the past, the industry is definitely bound to grow.
Following are the ride for seniors options you can explore before booking a ride for them:
UBER For Senior Riders
Uber for senior riders aim at providing a more easy and accessible option of commuting without relying completely on families to book a ride for them.
They aim to do so by providing booking without smartphones.
Best quality?  anyone can book a ride for , Uber will send ride details to the person travelling and will be in contact with the rider directly.
Uber has a centralized platform where you can request, manage and pay for these rides you book for seniors.
Medical appointments? Grocery stores? Events? It promises to provide rides for Seniors for almost every destination they wish to go.
Eldercare Finder
This service is available only in USA. It allows transportation assistance to older adults. It a government program by American government for its senior citizens. Eldercare Finder uses database from Eldercare Locator
---
Best quality? It provides a very pocket-friendly alternative to senior citizen's commutation requirements.
Apart from rides services for elders, they are also engaged in booking care-giving services to older adults.

GoGoGrandparent
GoGoGrandparent is a broker who connects elderly riders with taxi services from Uber or Lyft.
Best quality? They have helpline number, that operates 24*7, where any older person can call and inquire about ride for seniors services.
This GoGoGrandparent helpline assists you to schedule a ride immediately to your home or to where they dropped you off last time or for scheduling a ride for later.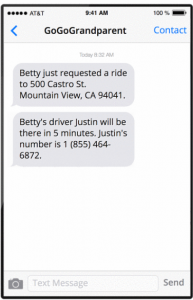 Their operator will sort this out for the seniors looking to book a ride for themselves.
Check out more about GoGoGrandparent here.
Lyft
Lyft is comparatively a cheaper option. Earlier it required comfortable hand on smartphones. It gets you a ride for seniors within minutes without making you wait hours for your ride to arrive.
Best Quality: Concierge service. You can book a Lyft without a smartphone via their helpline number.
Lyft launched a pilot program in 2017 to study behavior patterns of elder riders and decided to provide cab services to this group.
Lyft is partnering with senior care provider companies like Easy living, Whistlestop, Sequoia Village, Peninsula Volunteers, Avenidas, Home Care Assistance, Sunshine Retirement Living etc. with these unions Lyft wishes to improve the ride for seniors services for their elder lot of customers.
Users who are comfortable using smartphones and users who are not comfortable using  smartphones are both equally encouraged to book a ride for seniors using Lyft
Silver Ride
This ride service is a all-rounder ride service provider for seniors. They promise pickup within 15 minutes of booking.
Supports one-way, round trips and multi-stop rides for senior citizens.
Best Quality: Company trains and educates its drivers to physically assist riders in and out of the vehicle
Silver ride trains their drivers, so they can help seniors get up and down stairs, provide assistance walking along uneven surfaces, how to help clients in and out of wheelchairs.
Drivers are also trained in the myriad of conditions that exist, including tremors, Alzheimer's, Parkinson's, vision issues, hearing issues, balance issues."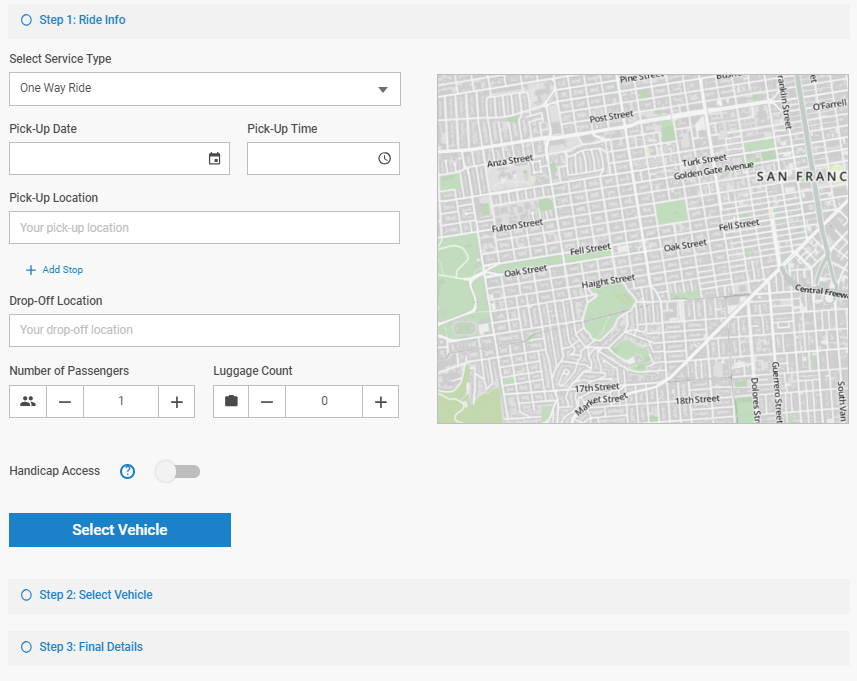 They provide all kinds of assistance to their riders, unlike most of the, who do not provide personal assistance to elder people who cannot get in and out of cab on their own.
Checkout more features of Silver ride here .
In conclusion
These cabs are giving their best to assist ride for elders. There are many such cab services available in the industry who provide ride for seniors. Taxi ride industry is booming as more and more people are demanding such services.
This boom implies that there is scope for new entrants to step in the market and set remarkable example of Uber for senior services in the industry.
---
Looking to launch your own ride for seniors app? Our all-in-one software solution, GoTasker is your answers!