Share a snap and spark the attention: this strategy of making money on Instagram is just the tip of the iceberg. The psychology of persuasion penetrates deep into the ocean of posts, explain the following 5 ways to make money on Instagram.
Instagram is Invaluable. With 1.074 billion+ users worldwide, Instagram has become a force to be reckoned with. The days of spending millions of dollars on magazine spreads to butter up customers are long gone. Intimate access to the ideal audience is now possible via Instagram. 
You may have seen the people of influence cashing in on pictures. For some, amassing an ocean of followers around the content they produce is as easy as ABC. For others, sparking the attention of Instagrammers is a struggle that spreads post by post. 
Is Having An Ocean Of Instagram Followers Important?
Yes! 10K follower count  is termed as a turning point on Instagram. Getting 10,000 followers on Instagram opens up new doors of opportunities. You also get a "Swipe Up" feature that is known to fuel your conversion rate by 15-20% per story. You think life isn't a bed of roses? Ask Instagrammers with 10k or more followers. They might not gab about the top 5 ways to make money on Instagram but you can see them flaunting their follower count. Their reaction might change your opinion on Instagram influencer marketing.
Is Having An Ocean Of Followers Necessary To Make Money?
No! Contrary to what you might be thinking, you don't need an ocean of followers to make money on Instagram. Fortunately, the influencer marketing arena is also owned by micro-celebrities. Upfluence revealed that the post engagement rate is better for micro influencers than for social media superstars.  
If you are also running the race to cross the 10k follower mark, you've stumbled across the perfect pile of words. Nuzzle up to a cup of coffee as we are going to gab about the 5 ways to make money on Instagram – the ways that can make anyone stop relying on the spray and pray approach and start raking in the dough. Here's how the heck you start! 
5 Ways To Make Money On Instagram 
Open Instagram, and you'll see the term "influencer" sprinkled on every second profile. Instagram influencers are tastemakers. Of course, posting a picture/video isn't the sort of hard-hitting sales generation you might think of, but Instagram influencers are horses of different colors. Their opinions are respected. That's why this one way gets more attention among all the 5 Ways To Make Money On Instagram. 
Wait! Become an influencer? Doesn't it sound like a cliched tip? Let's cut through these clichéd tips and get into the thick of things.

Vanessa Gyimah is a beauty influencer who has garnered a following of 399k with 793 posts. Take a look how clearly she displayed her niche and how perfectly she leverages the precious profile link to divert traffic to her website.
Brands like Sephora, Savage X Fenty recruit rising influencers to reach targeted customers. The importance of brand partnerships can't be stressed enough, especially when they are genuine.
The smart way to become a person of influence is to partner up with a brand. The journey from "getting products" to "getting paid" starts with one step: applying for the role of a brand ambassador. The question of the hour becomes: how much influencers earn per post?  
As per the Financial Times, Influencers with 100k followers can charge brands USD 2,700 per post. That means an audience of 500k can fill your pockets with a cool $6,000 to $10,500 for every sponsored post. Holy macaroons.
Here are some influencer marketing platforms for you to start making money: Tribe, Influicity, Hyprbrands, AspireIQ (formerly Revfluence), Fohr Card, Grapevine, Crowd Tap, indaHash & Hypetap
Let's shed light on the other end of the spectrum where brands pay influencers a 10-20% commission of the profit they generate. How does affiliate marketing works on Instagram? Simply put, by sharing traceable links and promo codes in stories and bio.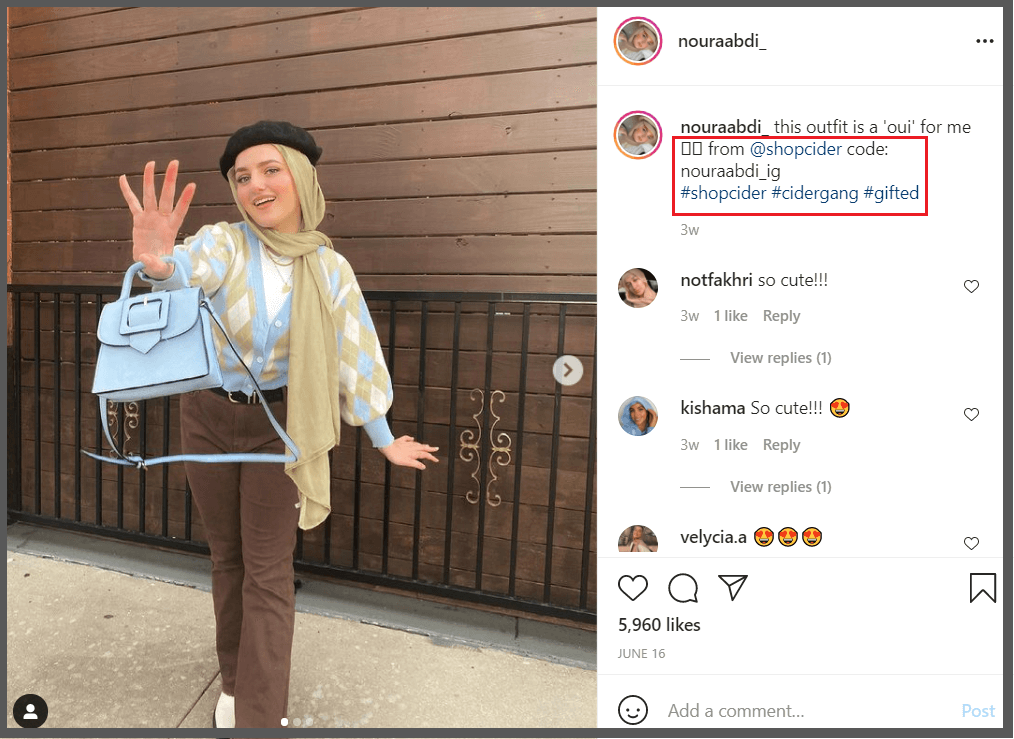 Instagram shoutouts also fall in this category. Shoutouts are a simple way to show support and expose brands (with a small follower base) to a large audience. Interested in affiliate marketing? Go ahead! Take advantage of the tactic by joining one of these affiliate networks: Clickbank, ShareASale, CJ Affiliate, Pepperjam, OfferVault, Peerfly, MaxBounty, & Teespring. 
Set Up Your Own Online Store 
Being the most time-consuming of all the 5 ways to make money on Instagram, this tactic can tear apart your timetable. Thanks to Instagram's in-app shopping feature, this time consuming task has the power to net you big returns. From product promotions to spotlight-ready product lines, some Instagrammers are doing double duty as influencers & entrepreneurs. 
Use Instagram as a base to build a brand from scratch

Feature your products 

Start earning money with every product sold
In the past, creators looking to sell their products only had two options: go with the link-in-bio route or open another business account (as shown below). Not only brands but personal creator accounts would be able to open Instagram shops soon. By the end of this year, you might see some personal accounts of U.S. creators laced with runway-ready product lines.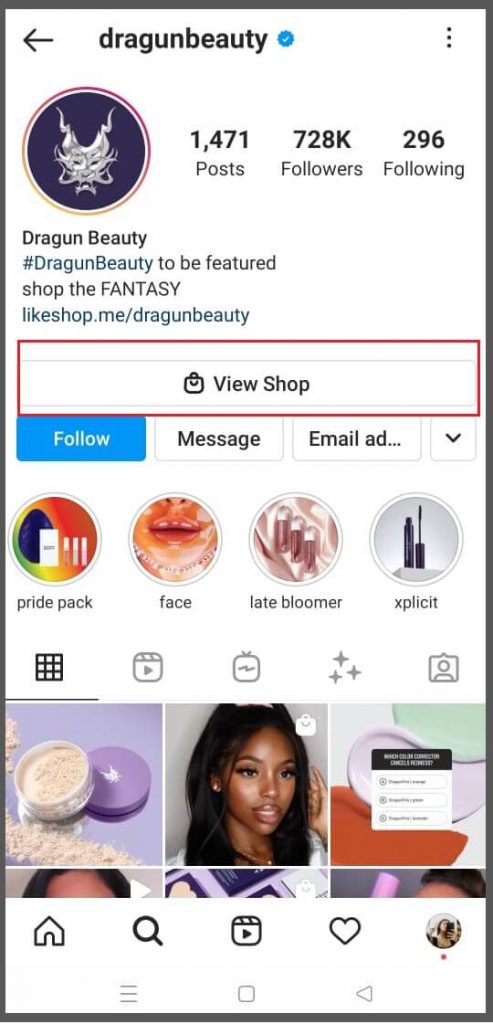 Let's meet the smart talent: Dottie and Fleur. Dottie and Fleur have garnered 9.9k followers.  The success strategy of this account completely revolves around Instagram.
After visiting Dottie and Fleur's website, we found one of their products to be out of stock. Such Instagram accounts act as an inspiration for others. Their store's story teaches us that Instagram can be used as a powerful marketing tool to build a brand completely from scratch.
Apart from being full-time entrepreneurs, Dottie and Fleur are part-time brand ambassadors too. Here you can see them using affiliate marketing to promote someone else's product.

IGTV ads
When creators create content that's a conglomeration of entertainment, information, and creativity, the results are always remarkable. A memorable experience is created for the followers.
Entertaining, Informative, and Creative content = memorable experience + money (by product)
By launching IGTV ads in May 2020, Instagram lifted the time restriction off the long-form video content. You can think of IGTV ads as a page that has been torn out of YouTube's playbook. YouTube Ad makers are no longer at any advantage as compared to Instagrammers.
Instagram Live Badges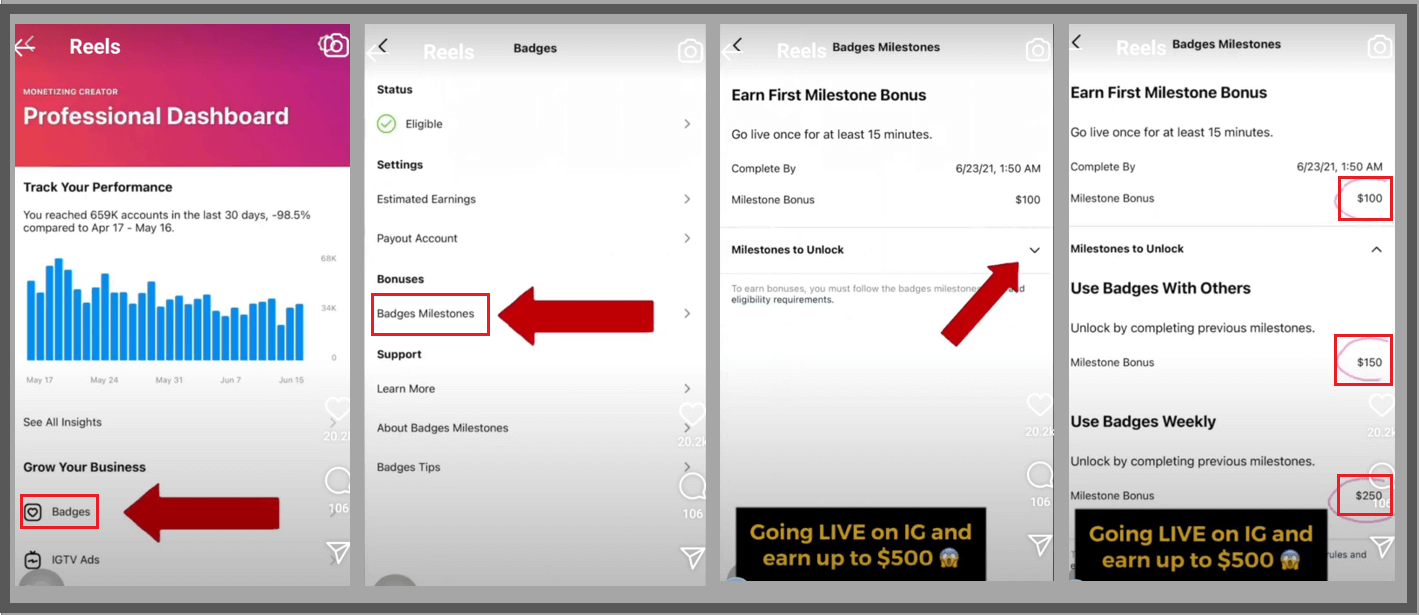 In 2020, Instagram slapped its users with another monetization feature, i.e., Instagram live badges. Creators with business accounts can go to their professional dashboard to view "Badges" under "Grow Your Business" category. Click on "Badges Milestones" to unlock your next milestone and earn up to $500. Doesn't it seem the easiest of all the 5 ways to make money on Instagram?

Instagram Caption And Marketing Consultant Service
Gone are the days when only big brands used this platform to promote their products. Now, the agenda of agencies of all sizes is growth regardless of the investment. Creators' ability to come up with creative captions can fade financial worries lurking over business owners' heads.
Enter into one of the online workplaces like Freelancer and Upwork, and you'll find freelancers charging up to $50 per hour for captions. 
Struggling businesses on social media platforms are all set to introduce you to a terrific opportunity. If Instagram caption service doesn't give your curiosity wings, you can go with marketing consultant service. Your experience and expertise can give a brand exposure to a wide audience. 
Tips To Help You Translate Your Tactics Into More Eyeballs

After you are done finding your niche, redefining your angle, and reshaping your passion, start listing your demographics. Reveal what you can bring to the table. Unveil who your followers are. You can pluck the statistics from the insights menu of your Instagram business account. 
Negotiating with brands may seem like nailing jelly to the wall. Stand for a fair fee and state your worth. You are baring your Instagram soul to them. 
Show Off Your Skills And Services
There's a lot more to learn than the above-written 5 ways to make money on Instagram. Did you know the way other influencers milk Instagram's features? The answer is by packing all the services (they can offer a brand) into one package. You can also offer start-only packages or monthly packages. Depending on your followers, see how much you can charge per caption, photo, video, or stories takeover.
Be Transparent. Create Trust
Turning ad regulations down for the sake of a few followers and money can flood your Instagram account with fines. On the flip side, stating your partnership with a brand can make your bond with your followers stronger than before. 
Instagram has created a world of possibilities for both: brands and influencers. How much money you make depends upon consistency, creativity, the strategies you choose, and the techniques you employ. Maybe it's time to stop asking for 10 or 5 ways to make money on Instagram and start making it!! It's the start that stops most people.
---