Global AR & VR market is set to grow at more than 50 billion USD by 2026 from the 5 billion USD 2018
The recent research shows that behind this tremendous growth in the market of Augmented reality and virtual reality is the ability of new 5G networks to provide the bandwidth and low latency needed for seamless AR and VR experiences.
Industries like education, healthcare, tourism, and smart manufacturing are the examples who have embraced the way AR & VR has changed and developed the way we work, learn and communicate.
Also Read: Augmented Reality Is Altering The Real Estate Landscape
How is 5G different?
In terms of infrastructure, 5G is very different from previous networks. It uses a new beam steering technology that connects users through smaller more directional radio signals from the base station rather than a wider signal that is sent to all mobiles.
5G is set to revolutionize wireless communications and play a major role in our future connected society and facilitate the road towards a more advanced Internet of Things. – Mike Wood, IEC Technical Committee.
Understanding the 5G and AR & VR merge.
AR has already penetrated itself into the operations of most of the industries globally. Here are some of the rare examples where the merge between 5G and AR & VR can prove to be a big bang between technologies.
5G Powered AR Shopping: Try Before You Buy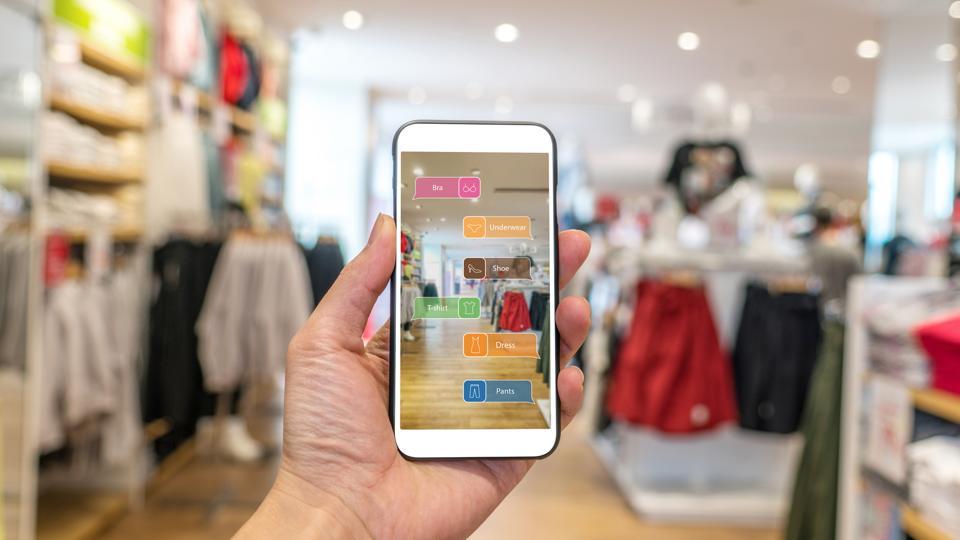 Earlier 'try before you buy' only stood true in case of furniture, because of Ikea.
But IKEA is only one pioneer among many. As soon as 2020, 100 million consumers will be shopping in AR online.
The Guess, Return and Exchange factors will completely be ruled out from the buying process. Customers can try the products or clothes before they make a purchase.
5G's speed, reliability of connection, and lack of drop-out are the reasons for the success of virtual shopping – Paul Lee, head of telecomms, media and, technology, Deloitte 
Effects on Retailers
Retailers are under increasing pressure to explain the purpose of physical stores and of providing customers with a unified retail experience inside and outside retail stores. Therefore, the brick and mortar store owners eventually moved to the AR and VR way of selling.
Google and Apple Getting the Biggest Chunk!
Apple has some really big plans for the 5G modem and it revolves around Augmented Reality. Apple has already settled its dispute with Qualcomm, a leading producer of 5G modems.
When the tech-savvy lot thinks about AR technology, they think about Google and not Cupertino.
The next Pixel smartphone is expected to heat things up with a TrueDepth sensor on the rear camera module and the remnants of Project Soli, a miniature radar technology that should bring air usable gestures to smartphones.
However, Apple is pretty good at the mainstream.
Legal Baggage
Technologies like 5G, AR and VR works on the information humans feed them. Which up to a very large extent is an invasion of privacy, if fell into the wrong set of hands
Fear of Being Hacked
While playing AR game, you give access of your camera to the game provider. Ever wonder what happens if the game developer is hacked? Your data gets stolen, or worse used for further wrong activities.
It is a very logical 'if' to be very much worried about.
False Inferences
AR and VR gather a lot of data through the day like, Where you go? Time taken to reach? No. of steps taken to reach?  Walking speed? etc.
What happens if the data gathered draw incorrect inferences about your overall health based on your walking speed or your reaction time?
Privacy Invasion
Currently, 4G networks have a latency range of 30-45, 5G is expected to have the latency range of 1-10 milliseconds. The companies collecting location data will be able to track users' locations with pinpoint accuracy, which has raised privacy concerns from experts.
Concluding the Merge
5G sure has the capacity to overcome the drawbacks of AR apps of today and make them more accurate and interactive. However, it comes with its own baggage to deal with.
5G and AR is a very powerful and strong combination for any industry to take into their operations there will be benefits as well as some of the repercussions. It is always wise to leverage the latest trends to better your business.
As they say, hit the iron while it's still hot!