Augmented Reality apps or AR apps are taking over the mobile app industry by storm. With the announcement of the Apple ARKit & Google ARCore, the market for AR apps has finally gotten a sturdy base for growth.
AR apps are expected to hit a whopping 120 Billion$ in revenue by 2021, with 2018 seeing a surge in development of AR apps.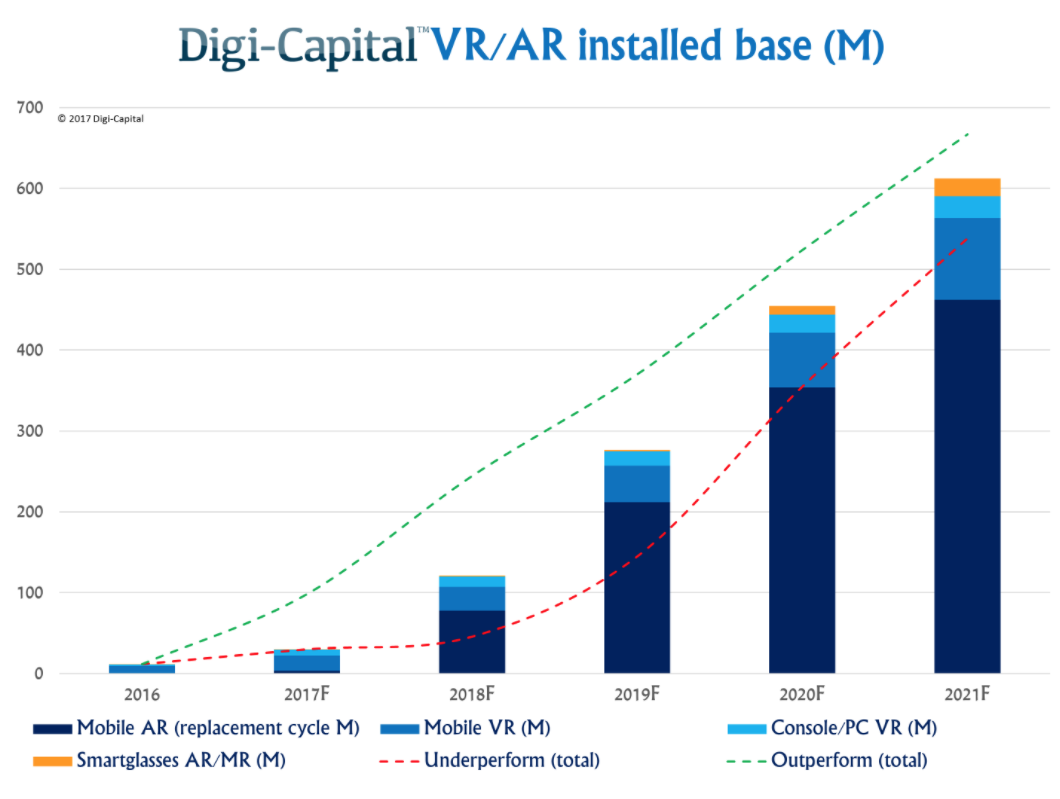 Transactional AR apps are being geared up to disrupt a variety of industries ranging from retail, real estate, automobile, education etc. The selling-point being an all-new user experience that will outshine existing players.
Nearly 40% of consumers are willing to spend little extra on a product if it offered an AR experience as compared to its non AR counterparts.
Brands providing AR experiences in their respective industries are likely to have a competitive advantage online which would in-turn lead to an increase in sales, better conversion rate, and overall faster brand growth
We've compiled a list of AR apps and ordered them according to the 7 most profitable industries for AR use.
1)AR Education Apps
Jigspace
This innovative educational AR app aims to provide interactive 3D knowledge for just about anything. Known as 'jigs', users can dive various jigs for interactive 3D learning experiences. Users can also ask the app "How does that work?" and the answer will pop up right in front of the user
Jigspace currently has a 4.8+ rating on the Apple Appstore and is widely loved for the interactive 3D learning experience it provides. Definelty a go-to app for interactive learning experiences.
MondlyAR
Another contender in the AR-based learning field, MondlyAR is the World's first AR language learning app. MondlyAR is one of the only few AR apps with speech-recognition & an extremely interactive chatbot to help you learn languages.
Your AR teacher will provide you live AR animations along with words to work as a memory aid. This AR app currently has a 4.7+ rating on the Google Playstore with future plans to release an iOS version very soon.
Mondly has won a variety of awards & recognitions such as the 'App of the Year EMEA Winner' – Facebook FbStart'17, 'Best New App' – Appstore'16, 'Editor's Choice' – Google Play along with recognition by media sources like for Forbes, Bloomber, Inc etc
For more information regarding MondlyAR & how it works, you can refer here
2) AR Art & Design Apps
uMake
uMake is the perfect '3D Artist On The Go' app. The app lets users create immersive 3D content wherever they are.
"It is quite magical to see how simply uMake works." TechCrunch
uMake has been awarded both iPad Pro App of the Year'15 as well as the Editor's Choice in the Apple App Store. With its AR features, low monthly pricing and smaller learning curves, uMake aims to be one of the easiest & powerful design & 3D modeling tools out there.
There is also a vast uMake AR community where artists can view & get inspired various AR artwork created by users all over. All possible from a single interface.
SketchAR
This unique drawing/design app was made keeping beginners in mind. This app teaches aspiring artists by putting AR images on paper and letting users trace the drawing using their phone.
That's right! Now literally anyone can learn to make beautiful sketches by the age-old method of tracing the drawing first. Only this time, there's an AR app to further simplify it.
You can download the free app off the Appstore & Playstore.
3) AR Gaming Apps
PokemonGO
PokemonGO launched at the start of July 16, by the end of the month it earned over 75 Million downloads worldwide. The success of this new form of mobile gaming experience, made Pokemon Go the torch-bearer for the majority of AR-based gaming apps out on the market today.
"Don't sit at home and play on your phone all day, GO OUT!! – Every Parent"
Well, PokemonGO solved that simultaneously for both players and annoyed parents. The app encourages users to explore locations around them in order to catch Pokemon or battle other trainers.
From the concept to its implementation, the game is loved by people of varying ages, various health & fitness groups…and generally, anyone who like the idea of being challenged by a game that encourages you to go outdoors by yourself, or with friends & family.
This game completely revolutionized how AR-based apps are viewed by consumers & how future implementations can best be made.
Some of its impressive statistics include:
Daily active users = 20Million+
3rd day retention = Over 60%
Average time spent(Android) = 43 minutes
Total revenue earned(by Aug'17) = $268Million
Percentage off users who utilize in-app purchases(iOS) = 80%
Female vs Male user percentage = 40-60
Father.IO
Ever get excited about playing laser-tag, spend time putting on your gear only to be annoyed that your game ended so quickly in a small arena? Well, that's what Father.IO solved.
"One of the coolest gaming concepts of the decade" Moviepilot

"Turns the Whole Planet Into A Giant Laser Tag Battle Arena" Futurism
Father.IO is the world's first AR-based First Person Shooter(FPS) game.  Using a $40 Bluetooth-connected, infrared device called the 'Interceptor' – Father.IO converts any standard iPhone or Android smartphone into a real-life AR-based FPS game.
The Interceptor is capable of hitting targets up to 150ft away. This makes the game perfect for both indoor & outdoor play.
This game offers players a wide variety of weapons to take down the opponent team. You can even set an EMP bomb at a set location while waiting for players to walk into your trap, as demonstrated in the video.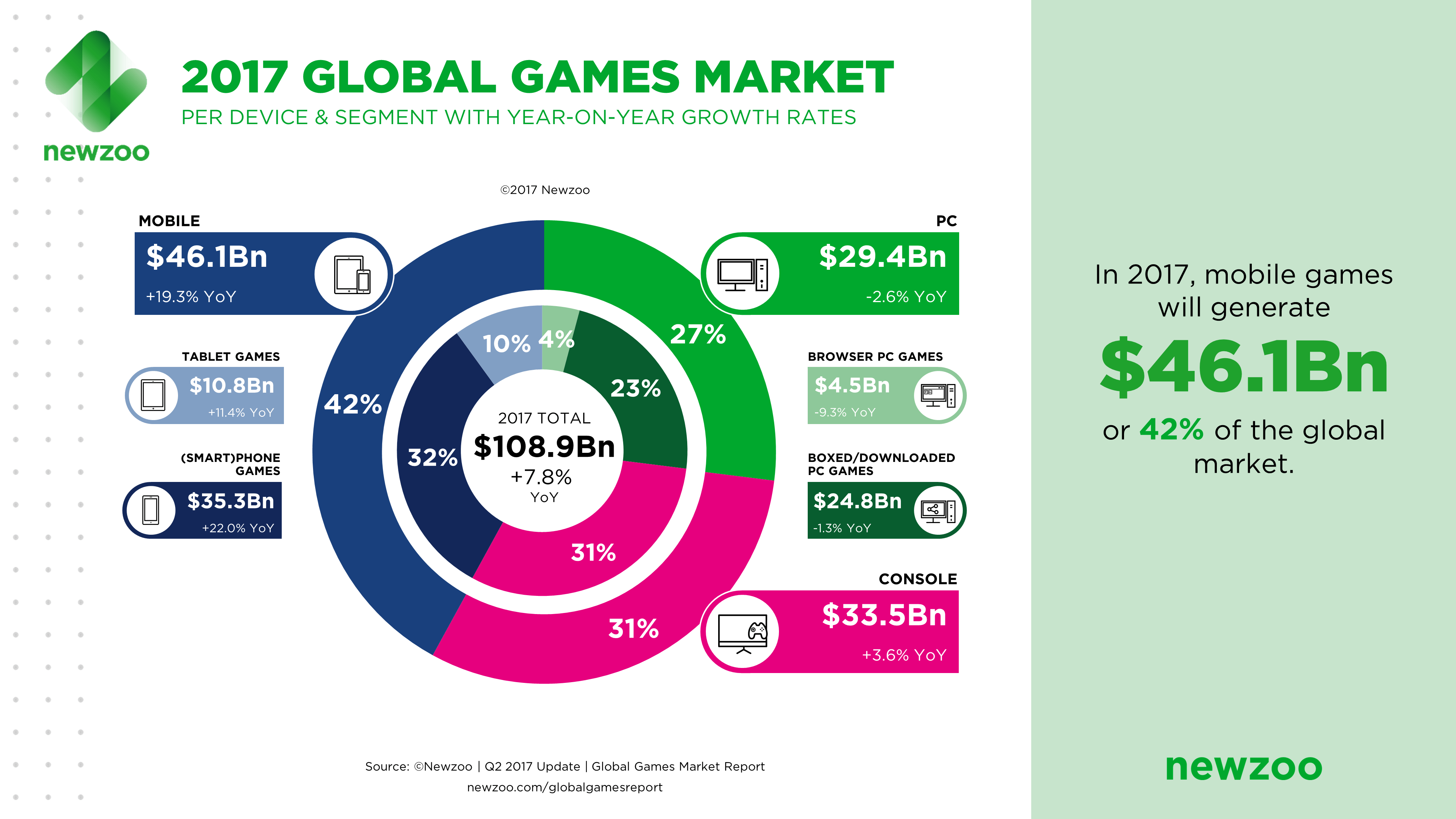 With the global smartphone market growing at an accelerated rate, innovative AR-based gaming apps that encourage both indoor & outdoor group activities are going to be the clear market players in this industry.
4) AR Travel & Tourism Apps
Yelp Monocle
Although not a new entry in the AR field, the Yelp 'Monocle' feature was one of the first apps to show live nearby locations and reviews of restaurants or businesses via the app using the phone's camera.
This AR-viewer pops up tabs showing business names & reviews nearby to you if you keep the phone flat you are automatically switched to a map view to help you navigate to your destination faster. This tool inspired many of the AR-based travel apps we see today.
CityGuide
CityGuide is an interesting tourism app with an added gamification element to encourage users to travel more.
Tourists can use their phone's camera to identify an object of interest, once identified the facts or detailed pertaining to the point of interest are displayed on the user's screen. Users earn points for locations visited and can participate in global rankings on their website
5) AR Ecommerce Apps
Brands are in a constant race to come up with new innovative ideas for customers to quicken their purchase decisions and proceed with the sale. AR has penetrated this space by letting users have virtually "try" their items & completing the purchase without visiting the store itself.
You can refer here for some tips when developing basic ecommerce apps
Sephora Virtual Artist
The fashion-ecommerce industry is a great place for AR-based apps to be tailored into. The Sephora Virtual Artist is a good example of this.
The app creates one of the most enjoyable shopping experiences by using its AR features. Users can try on different clothes, makeup products, learn makeup tips with virtual tutorials & complete their purchase all from the app itself.
This app has been cleverly designed to appeal to users who need to "try on" multiple options before making a purchase decision. Users using the app are confident with their purchase, thereby reducing refunds and increasing overall conversions. Currently, the App holds a #31 in Shopping on the Appstore.
Ikea Place
In 2014, Ikea had launched an AR app for their catalog. This idea was such a game changer to its industry as it revamped the entire furniture buying process.
The Ikea Place app lets users virtually place products from the Ikea Catalogue in their own living space before purchasing it. No more figuring out dimensions, sizes or look of the product with respect to where you want to place it. The app is so detailed that even textures & lighting shadows are visible when placing a product.
More satisfied purchase decisions = Less refunds = More conversions
6) AR Architecture Apps 
Magic Plan
This app is a boon to architects all around. The Magic Plan app lets users capture floor plans & dimensions by dropping pins in the corners. The icing on this cake is that the app even creates blueprints & pricing estimates.
This is nothing short of an all-rounder solution for architects & interior designers. Imagine walking into an empty room, creating an entire floor plan, making a blueprint, provide pricing estimates and send it to your client all with a few taps on your phone. The entire process which would earlier take days for an architect or interior designer can now be done within a few minutes.
Magicplan has earned a number of recognitions such as being ranked '#1 in Utilities' in 114 countries, 'AppStore Best of 2017' & has been downloaded over 15 million times. You can check out more details & features of the app on the Magic Plan website.
Notable Mention – Hutch app raises $10M in funding
The Zillow group earned a whopping $10M in funding for their home interior design + shopping app, Hutch.
Using their proprietary photo technology,  users can explore decor & furniture from their favorite brands and place them in a virtual rendering of their home. Products are uploaded daily and shown in precise scale. Once the perfect furniture piece is selected, users can purchase it without having to leave the app.
7) AR Entertainment Apps
WallaMe
WallaMe is a fun way to use AR to leave hidden messages around you for your friends to see. With a wide variety of stickers, sharing features, image streaming, sharing, map view of walls created by other users & more – WallaMe is a fun & interesting way of giving your friends 'status' updates & leaving secret messages around the city.
WallaMe is free to download on both the Appstore & Playstore.
Snapchat
Probably one of the most iconic & popular entertainment apps, Snapchat took the world by storm. Initially, with its ability of self-destructive media messages, to adding stories & following friends, to following brands, celebrities & political snaps, to its iconic face filters and now shopping  – Snapchat is one of those few apps that has consistently evolved with the generation around it.
https://youtu.be/Hiv4KeoBeuo
Snapchat has won numerous awards along the way from the earliest 'Fastest Rising Startup' in 2012 to #2 in the 'Top  Apple iOS Apps 2017' & more.
Did you know there are Snapchat-based awards business & brands can win such as the 'Best Snapchat Discover Story', 'Best Influencer and Celebrity Snapchat Campaign', 'Best Use of a Snapchat Filter/Lens' & more?
That's how well this AR app has single-handedly integrated itself into the global community & our daily lives.
---
For Our Patrons,
Due to the continued success of our development technology & practices, we are now expanding our horizons and getting into the AR app development space.
Do you have an AR-app idea that revolves around the below industries?
Tourism
Ecommerce
Architecture
Education
Entertainment
Get in touch!!