Looking for an accommodation is one of the most crucial steps in planning a vacation. Here is a tried and tested solution for you:
Many of us crave to experience the local culture of the place we are visiting, that can't really happen if you stay at regular hotels. Airbnb has local home-stays and rooms listed with them, it provides you opportunities to share your stay with locals and experience there culture.
Founded on 1 August 2008, Airbnb is catering to over 180 countries around the world.
This is not all that Airbnb has to offer, Airbnb business model is something to look forward to, the way it has paced its operations in accordance with the demand of tourists/travelers is appreciable.
Airbnb is one of the best options you can explore while planning a tour. Before that here are top 10 facts that you must know about Airbnb:
1) What does Airbnb stand for?
Founders of Airbnb Joe Gebbia and Brian Chesky were roommates, in order to make money for their rent, they loaned out rooms in their apartment to designers of International Design Conference after hotels in the area were booked up
Did You Know?
They initially called this new venture "Air Bed and Breakfast," a reference to the air mattresses the guests were staying on and Breakfast & city tours the duo provided.
This business idea, further, gained popularity and is now known as Airbnb.
2) Financial facts and stats of Airbnb business model
 
The Airbnb website was not doing great in 2008,
Did You Know?
Founders of Airbnb ended up selling cereal titled "Obama O's" and "Cap'n McCains" for $40 per box to get their first funding.
Each box contained information about their room-sharing company.
 …The Obama O's sold out, keeping Airbnb alive. The Cap'n McCains…didn't sell quite as well, and we ended up eating them to save money on food.- Joe Gebbia, Founder of Airbnb.
This offbeat business move ended up generating $30,000. This is how they got their first fundings.
Following table represents the fundings received by Airbnb 2009-17
| Date | Transaction Name | Number of Investors | Money Raised | Lead Investors |
| --- | --- | --- | --- | --- |
| Jan. 1, 2009 | Seed Round | 1 | $20,000 | Y Combinator |
| April 1, 2009 | Seed Round | 2 | $600,000 | Sequoia Capital |
| Nov. 10, 2010 | Series A | 8 | $7,200,000 | Greylock Partners |
| July 25, 2011 | Series B | 8 | $112,000,000 | Andreessen Horowitz |
| October 28, 2013 | Series C | 5 | $200,000,000 | Founders Fund |
| April 16, 2014 | Series D | 6 | $475,000,000 | NA |
| Jan. 1, 2015 | Series D | NA | NA | NA |
| June 28, 2015 | Series E | 14 | $1,500,000,000 | General Atlantic, Hillhouse Capital Group |
| Nov. 20, 2015 | Private Equity Round | 1 | $100,000,000 | FirstMark |
| June 16, 2016 | Debt Financing | 4 | $1,000,000,000 | JP Morgan Chase & Co. |
| Sept. 22, 2016 | Series F | 5 | $555,462,100 | CapitalG, TCV |
| March 9, 2017 | Series F | 4 | $447,800,000 | CapitalG, TCV |
Data and table source: Crunchbase.
3) 5-Steps on how Airbnb business model operates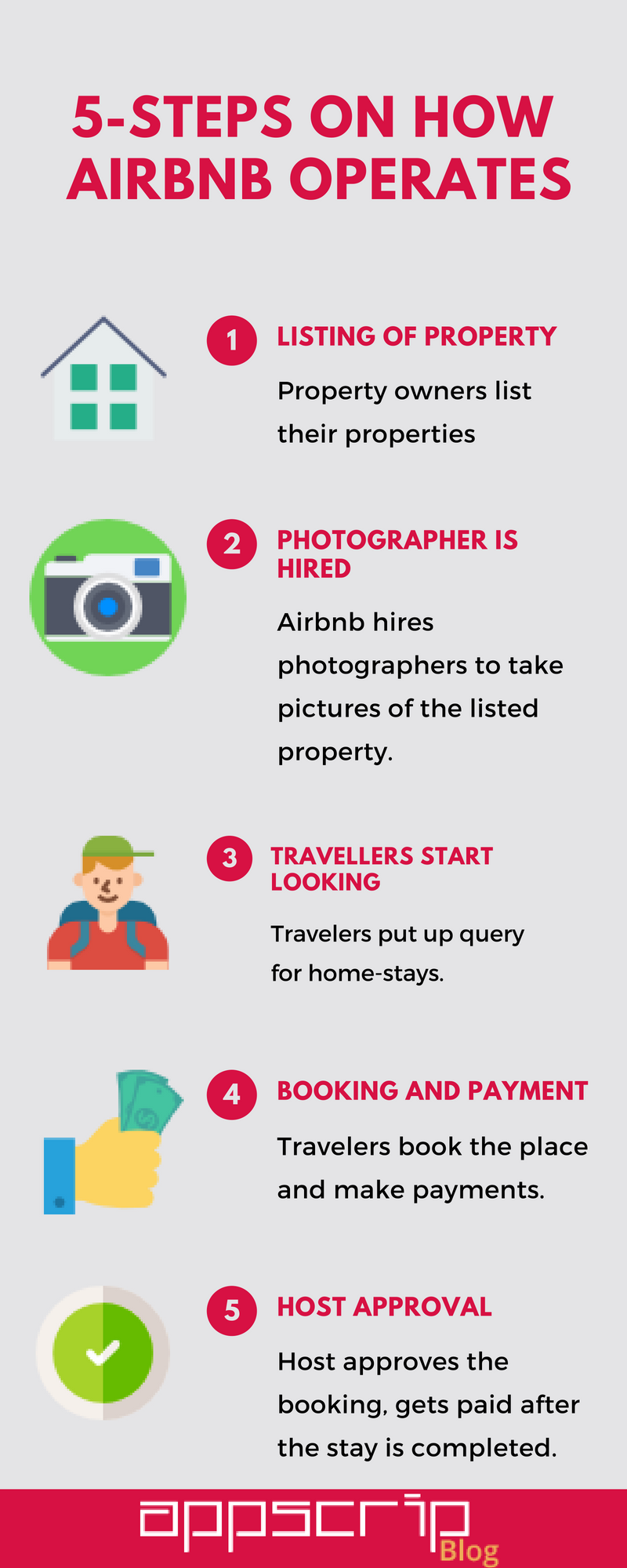 Listing of Property: Host lists their properties on Airbnb website along with all the amenities and services they are offering.
The photographer is hired: Airbnb hires a freelance photographer to click a high-quality image of the property listed.
Travelers start looking: Travelers start looking for the property/vacation homes as per their needs.
Booking and payment: After traveler finds out the perfect place, payment is done via Airbnb payment portal.
Host approval: Host approves the booking, traveler stays there, the host receives payment after deducting Airbnb's commission.
This is how the entire process of booking a stay with Airbnb looks like.
4) Value propositions of Airbnb business model
Owners can list their spaces on this platform and earn themselves rental money. If you happen to have a house or room that you can share with tourists, it can be a quick way to make some bucks and even friends.
They provide Insurance to listed properties, travelers are given opportunities to stay with local hosts. Hosts and guests can be rated and reviewed.
Cheaper accommodations compared to hotels.
DID YOU KNOW?

Airbnb became official accommodation alternative for Rio Olympic games, 2016
Overall it offers a simple yet powerful platform to fulfil your accommodation needs while on vacations.
5) Customer Segments of Airbnb business
Hosts: People who have extra space at their current or spare property and are willing to rent them to travellers, list themselves on the Airbnb application and then Airbnb finds travellers who need these home-stays.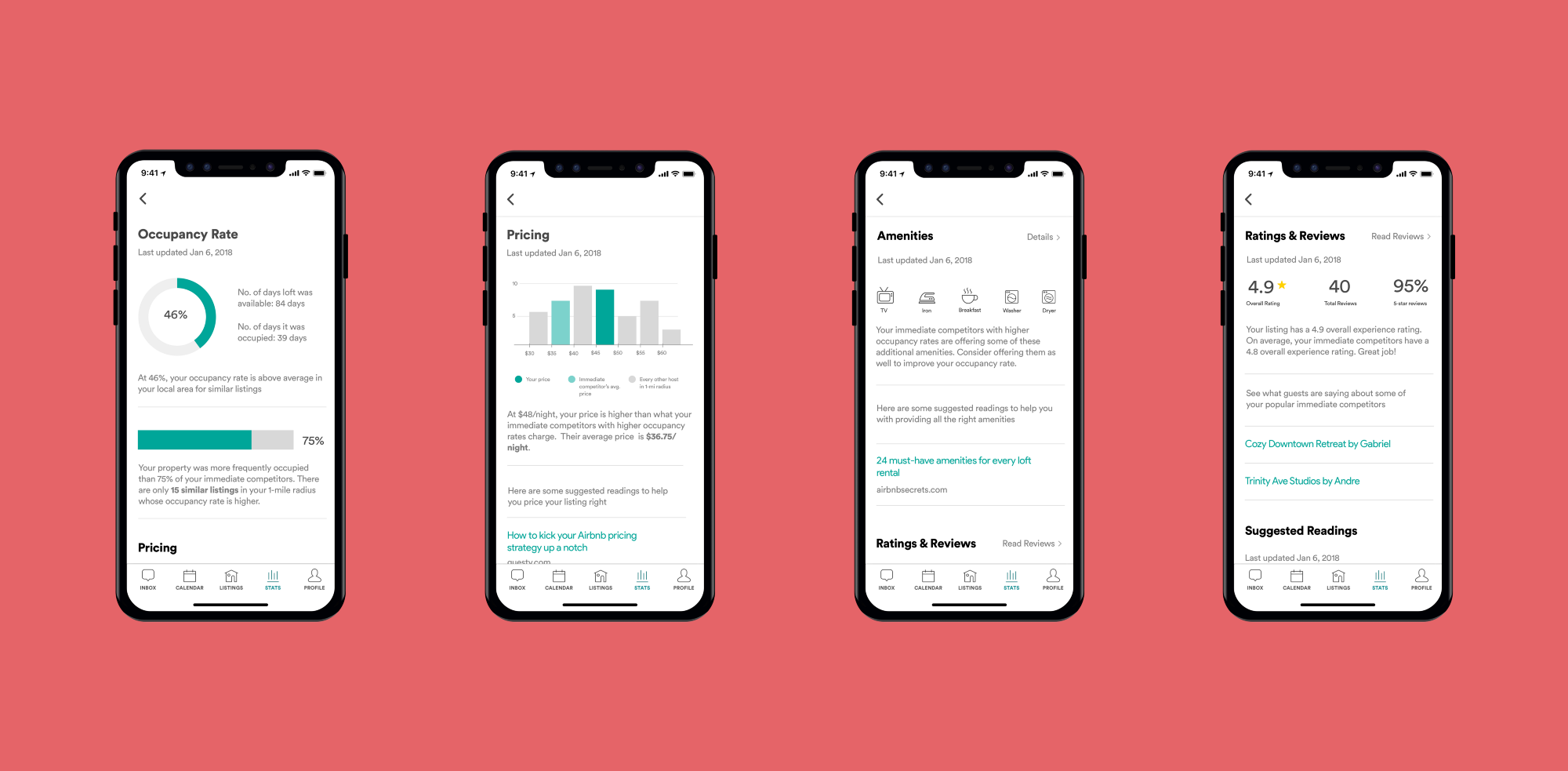 Travelers: Travelers are basically, people looking for accommodation at unknown tourist places. Typically you can book a hotel but Airbnb arranges local accommodations for travelers.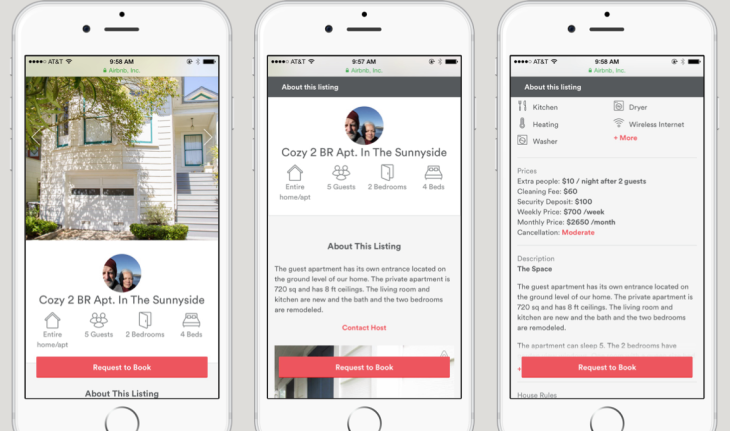 Photographers: Airbnb hires freelancer photographers, who go to the various destination where the listed property is located, click high definition pictures of the property, these pictures get higher responses from customers. They directly get paid by Airbnb for this service.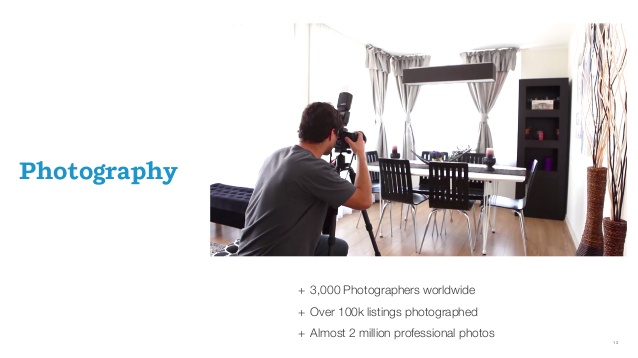 6) Airbnb Business Model
Airbnb business model talks about its value propositions, key partners, its customer relationship management, fixed expenditures and the channels it operates through.
Airbnb's business model is such that, it offered to mediate between individuals ready to rent out their spaces and travelers who needed space to stay.
7) Airbnb Revenue Model
Airbnb did not have a smooth financial start, they could not find finance sources to fund their new venture.
Following are the 2 ways they undertake for revenue generation:
Commission from hosts: Airbnb allows free listing of Property on the platform, but they charge 10% commission to hosts for each confirmed booking.
Transaction fee from guests: For every confirmed booking they charge 3% to the total booking amount from their guests under the head 'transaction charges'.
All the transactions are carried out using the Airbnb portal, this is how they earn revenue to fund their business.
8) How does Airbnb lookout for its perfect customer base?
Airbnb's headquarter is in San Francisco, California, USA and it is currently operating in 34,000+ cities, across 191+ countries successfully.
DID YOU KNOW?

Airbnb has 5 million+ properties across the world in 81,000 cities and has hosted 300 million+ guests and hosts have earned $41 billion+ in over 10 years – Forbes.
This is the latest data according to Forbes. In 10 years, Airbnb has managed to grow its family to millions by providing vacations homes to customers worldwide.
For the business model that Airbnb follows, anyone who adds to the revenue is a customer. Now the challenge was to find them both.
They built a website to target customers online. Social media, word of mouth publicity, Digital marketing campaigns etc got them an enormous customer base in 10 years.
9) Key problems faced by Airbnb and their solutions
Trust Issues: It is not very easy to trust a stranger with your property. Or even sharing a roof with a stranger does sound scary. Same issues are faced by guests as well.
Overcoming this issue, Airbnb has a detailed background check of the hosts and guests, also they insist to link their social media accounts to ensure further transparency. They also provide free insurance for listed properties.
Traveler Retention: For every business, retaining its customers is a priority.
Airbnb offers promotional codes and credits for their frequent customers. The constant introduction of innovative houses on rent, keeps customers interest in the organisation alive.
Before this floating house, Airbnb has introduced apartment in a cable car in French Ski Resort Courchevel, Apartment in a plane grounded at Amsterdam airport.
10) The Future of Airbnb business model
Home-stays do not rank 1st to satisfy travelers accommodation needs, but they have created a market of their own, which is expanding every year.
Airbnb is a venture that comes up with versatile and innovative ideas every now and then, to retain its hosts and guests. By providing rich local experiences to tourists and a chance to earn quick money for natives, Airbnb has unraveled a completely new side of lodging.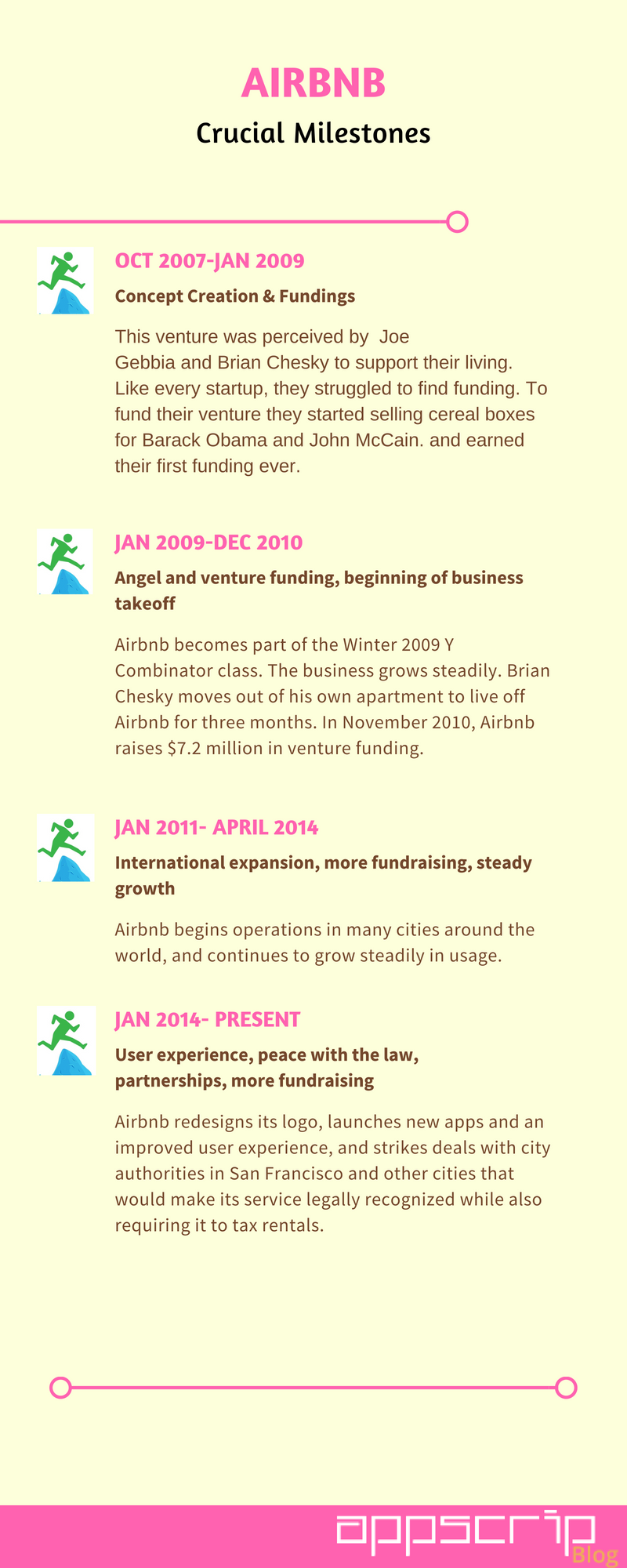 Airbnb's business model is unique and new, leaving enormous opportunities for new entrants in the market. It fetched them millions of hosts as well as guests in over 10 years and it continues to grow immensely to reach further on heights!
Get your own personalized holiday home rental software solution
Click Here