Have a flat tire? Locked out of the car? Out of gas?
There are plenty of roadside assistance apps / App for Tow Trucks that can come to your rescue.
AAA has set a standard long ago when it comes to roadside assistance. The development of travel technology has again spurred the drive toward alternative options. Plenty of roadside assistance apps are popping up these days.
These allow travelers to pay for services only when they need them. Hence having a membership is not mandatory nor are there any hidden fees.
And many of these apps are receiving enthusiastic reviews and causing travelers to find a source to whom they can turn to when their car breaks down.
What Is AAA Roadside Assistance?
AAA roadside assistance is accessible to AAA members anytime, any hour, any day, and for any car whether you are the passenger or the driver. As long as the member is with the car, they can avail roadside service.
It is very useful when your car does not start, breaks-down, battery dies, you run out of gas, need help with a flat, need a tire change, get locked out of your car, need some minor repairs to be done, or you are just stranded.
Growth Of The On-Demand Roadside Assistance Industry
The global roadside assistance sector will hit the roof as vehicular population keeps rising. The annual rise in rate of global vehicular traffic will be 5% from 2021 to 2031.
The roadside assistance sector revenue will surpass a massive value of $40 billion by 2031.
We have heard of many automobile manufacturers offering benefits like an extension of vehicle warranty and free roadside assistance services.
The on-demand roadside assistance industry will move upwards due to factors such as improved Internet connectivity, increased travel by passengers, increase in smartphone usage, and rise in vehicle age.
Towing services will generate enormous revenue. Entrepreneurs and businesses will have to deal with difficulties such as increase in vehicle insurance, rising fuel prices, and a shortage of tow truck operators.
Necessary Features Of An App For Tow Truck / AAA Roadside Assistance
Live Geo Tracking
This is an imperative feature that is available in an Uber like on demand tow truck app. The app works similar to how an Uber taxi app works. Users can check out and track the nearest tow truck in real-time. This essentially helps to know ETA of the road-side assistance vehicle to plan events.

Change/Cancel Booking
There could be times when you need to change your booking schedule due to sudden change in plans. In such situations, this feature in your app for tow trucks comes in handy as it allows the user to cancel or change the booking as and when needed.
Talk To Your Driver
After having placed a request for roadside assistance, you can go ahead and connect with your driver to converse details and be assured of the timely help or view request details in case you need it.
This can be done both using the help of the chat function or by connecting with your driver's service phone via a call.
Review System
Provide ratings for the credibility and dependability features. This can be done by rating your driver. Or you could also go through the ratings and reviews given by other users on several service and performance factors.
This will help you improve the quality of the service and you can be assured of getting the best service that matches your needs.
Work History
This feature allows you to read through the details of jobs that has been done on your vehicle. And it will also provide info on the past services that has been done by the said driver – via the profile page.
This will help you verify that the service personnel has the necessary experience to deal with in such situations. And you can be assured that the agency has the relevant experience, capability and is equipped to serve your needs perfectly.
Other Important Features 
The app for tow trucks or Uber Tow Truck app clone needs to have necessary features that can serve the user comprehensively. The user should be able to receive digital services and wholesome functionality driven experience while using the service.
This includes a scheduler, ability to select sub-services, driver availability, all necessary communication and interface-based features to serve both driver and user. This would help them to connect better with each other and the service efficiently.
The app should also have basic features for accessibility and security that are available in a Uber taxi app so as provide best services to users.
Earn Handsomely Via On-Demand Roadside Assistance App
Owners of an Uber-like app for tow truck can earn sufficient revenue via various sources in this business model.
Income can be earned via booking fees paid by customers
Cancellation charges
Commission from technicians / service personnel for each service request
Earn through monthly and yearly subscription plans
Publish targeted advertisements
Registration fees from tow-truck operators
Sale of spare parts to vehicles
Processing charges.
Development Cost Of An App For Tow Trucks
To create an app for tow trucks or an on demand tow-truck booking app depends on several factors:
The platforms on which the app needs to be developed
Size of the application
Complexity of the App and necessary feature
Location of app development firm
   Development Cost From Country To Country
-> US Based Developers – $80-$200/hour
-> Europe Based Developers – $60-$150/hour
-> India Based Developers – $20-$80/hour
As per the calculations to deduce the cost to develop an app for tow trucks or on demand roadside assistance app for a single platform will cost around $12,000-$20,000. Additional and other necessary features for the application (app for tow trucks) will cost you close to $35,000 for both iOS and Android platforms.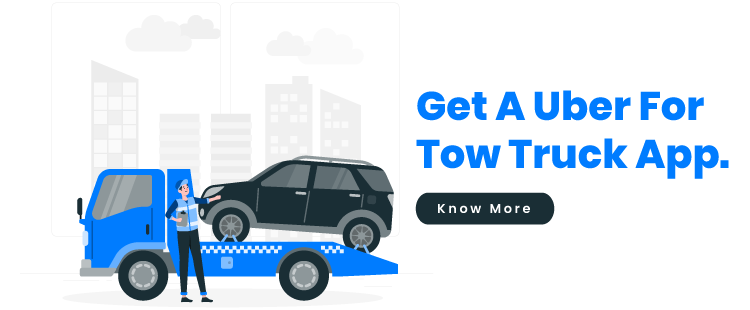 With an Engineering degree and a Diploma in Management under my belt, I worked for 16+ years in the automotive industry with various manufacturers. But my passion for writing was overwhelming, which I turned into a career. I have been writing for more than 10+ years and mostly in the IT domain. I am sure you will find the 300+ published blogs of mine in here informative, exhaustive and interesting.