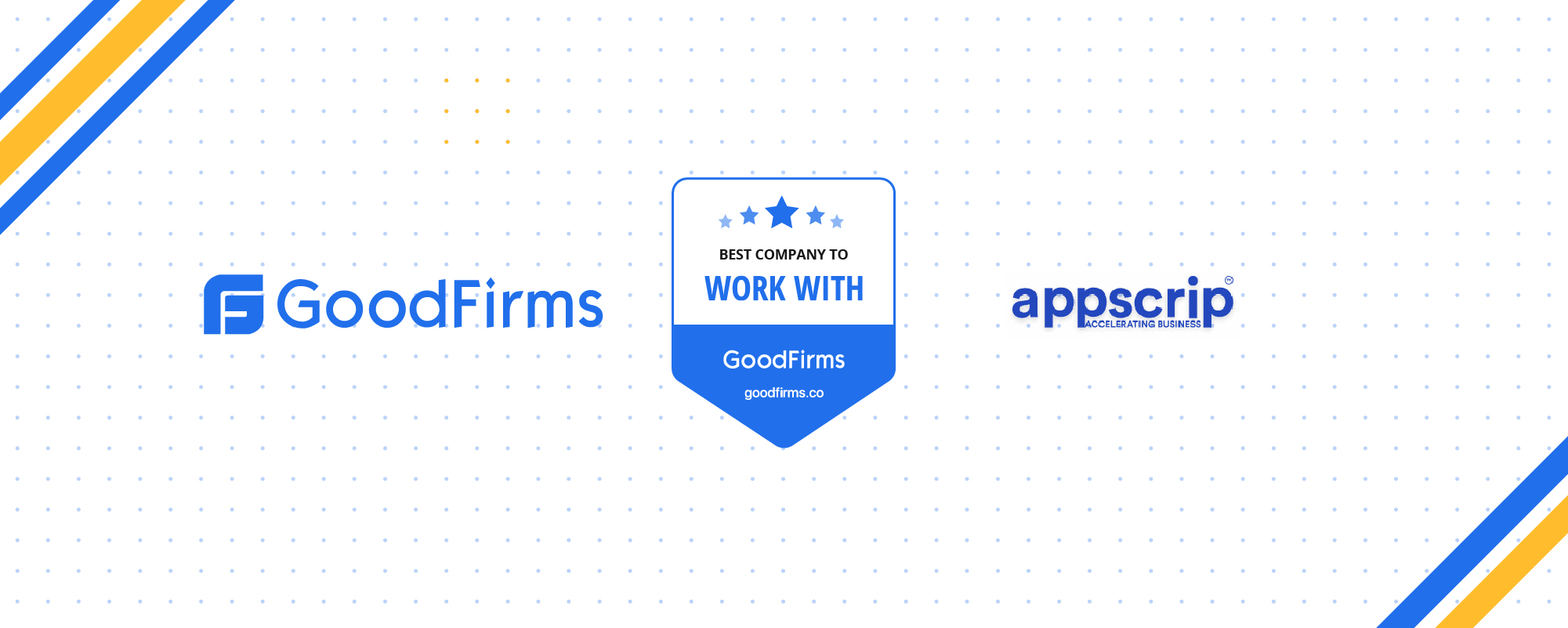 Web and mobile apps enable businesses to reach the target audience, improve customer engagement, allow users to connect with them through multiple platforms conveniently, and improve overall customer experience. Besides, eCommerce brands witness enhanced efficiency, streamlined operations, cost reduction, and a boost in profits by leveraging high-quality eCommerce applications that help save significant time and money. Businesses are thus looking for the top mobile application development companies specializing in end-to-end development services, including software development, mobile & web development, and eCommerce development on various platforms.
GoodFirms has recognized Appscrip for its best-in-class skills and unmatched experience that put the Company as one of the top market influencers through the Leaders Matrix program, and was identified as the "Best Company to Work With." Located in the USA and India, Appscrip is a leading app development and IT services provider that offers broad-spectrum services and solutions for businesses worldwide. The company provides web development, mobile development, custom software development, eCommerce development, team extension, consulting & expertise, and more for numerous sectors, including eCommerce, healthcare, ed-tech, transport, and social media. The company follows utmost diligence in whatever development challenge it takes, transforming the client's concept into a working business solution.
For the year 2022, GoodFirms named Appscrip as the "Best Company to Work With."
If you are looking for top mobile app development companies experienced in Ajax, Appscrip is the perfect choice for you, recognized by GoodFirms Leaders Matrix. Right from its inception, Appscrip has been experimenting with cutting-edge technologies and trending programming languages to work wonders in the web, mobile app, and eCommerce development arena. The company leverages innovation, talent, and experience to help its clients augment their business and rise to another level. Appscrip takes pride in owning a winning team with the aptitude and attitude to deliver exceptional services and excellent customer support. GoodFirms recently recognized Appscrip as the "Best Company to Work With" in 2022.
Appscrip – Vision, Strength & Scope
As a talented and reputed app development company, Appscrip knows what businesses expect from a perfect app development partner. It offers one-stop support for varied app development and IT services needs for startups and entrepreneurs, enabling them to scale their businesses in a fast and safe manner.
Appscrip accomplished a mobile app development project for a client in the food delivery business. The client had previously hired two development partners for this project who could not deliver a functional product. Appscrip completed their project within the timeline and to the immense satisfaction of the client. The client was delighted with the Appscrip team's performance in the project, and have even quoted that they are easy to work with, diligent, and reliable app development partners.
Among Appscrip's other noteworthy projects was a software development project for creating a social media network for another client. The client was thrilled with their work and rated them a full 5/5, highlighting that Appscrip is very trustworthy, above board, personable, and offers exceptional customer service and support.
"We don't just build clones, but also develop products for new & unique business models. We are known for our super-fast delivery (as fast as 4 weeks) and for going beyond the given requirements in order to deliver the best value for our client's investment of money and time. Our vision is to reduce time and cost to market for entrepreneurs and startups by accelerating their product journeys by leveraging our pre-built software products," says Rahul Sharma, Founder & CEO, Appscrip.
A few reviews of Appscrip: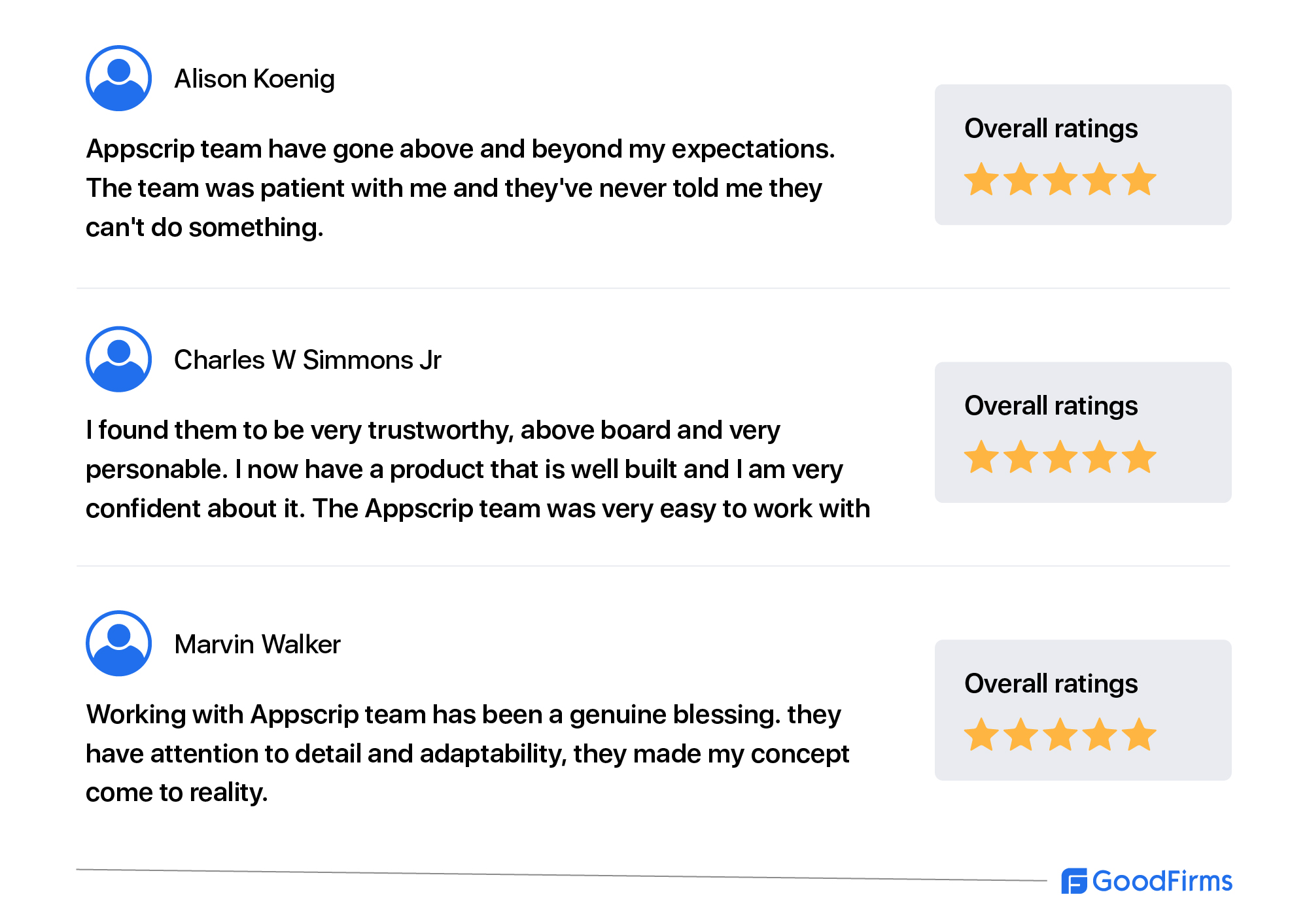 Why is Appscrip the Best Company to Work With?
Talent, out-of-box thinking, a customer-centric approach, keeping up with growing market demands, and utilizing technological advancements to generate value and opportunity are the pillars of success for any business. Appscrip follows this to deliver top-notch app development services.
"We believe Appscrip's positioning in GoodFirms' Leaders Matrix report reflects the company's exceptional performance and ability in creating high value for its clients through web development, mobile app development, software development, and eCommerce development services, helping them digitalize, automate, operate seamlessly, and reinvent their business, leaving all their limitations behind," said GoodFirms.
Appscrip had to undergo a rigorous assessment under the GoodFirms Leaders Matrix program. The evaluation covered the service landscape, verified client reviews, experience in the domain, market, competitive positioning, and much more. Such analysis helped in bringing out strategic information about Appscrip's capabilities, competitive differentiation, and market position.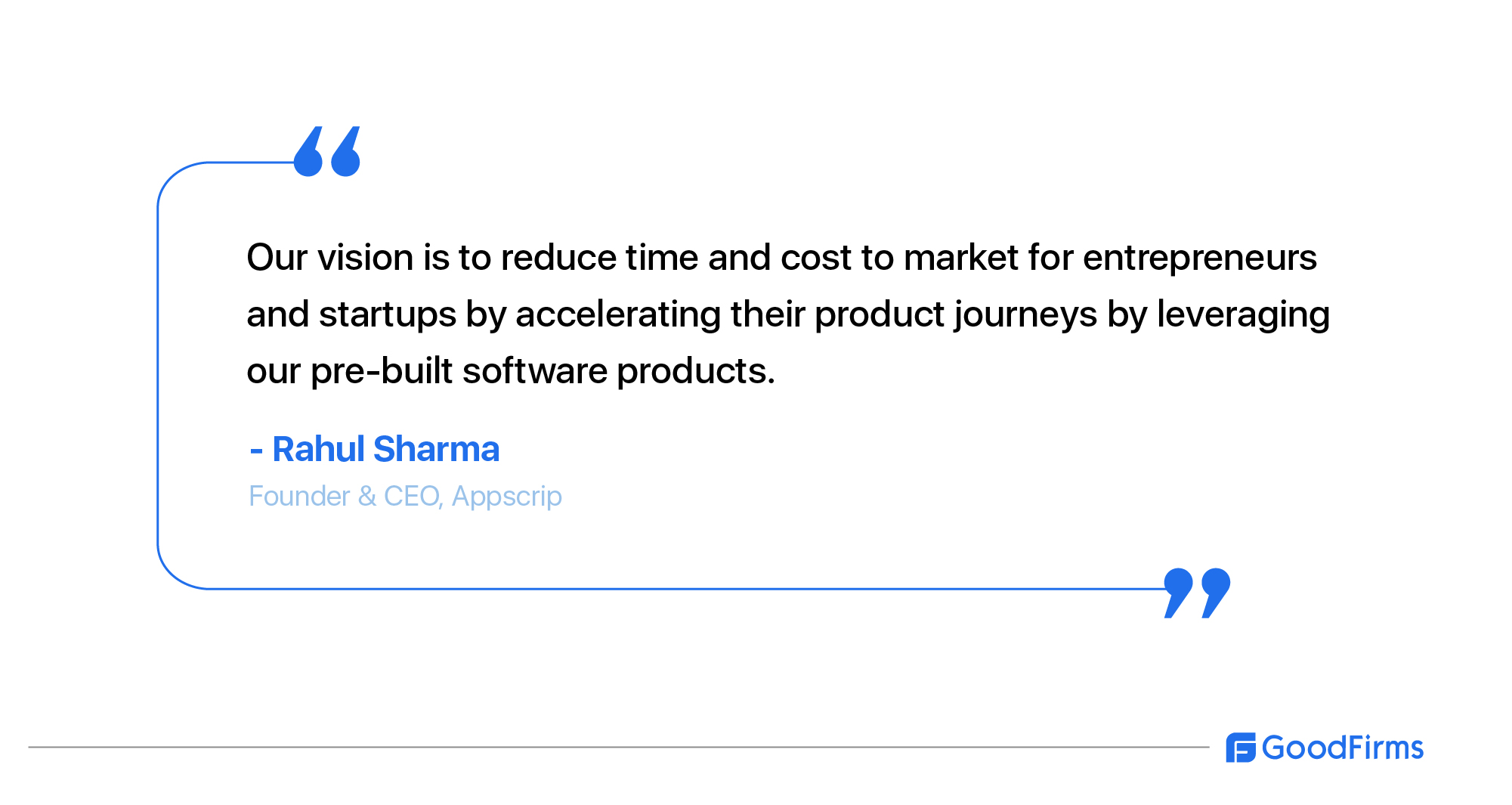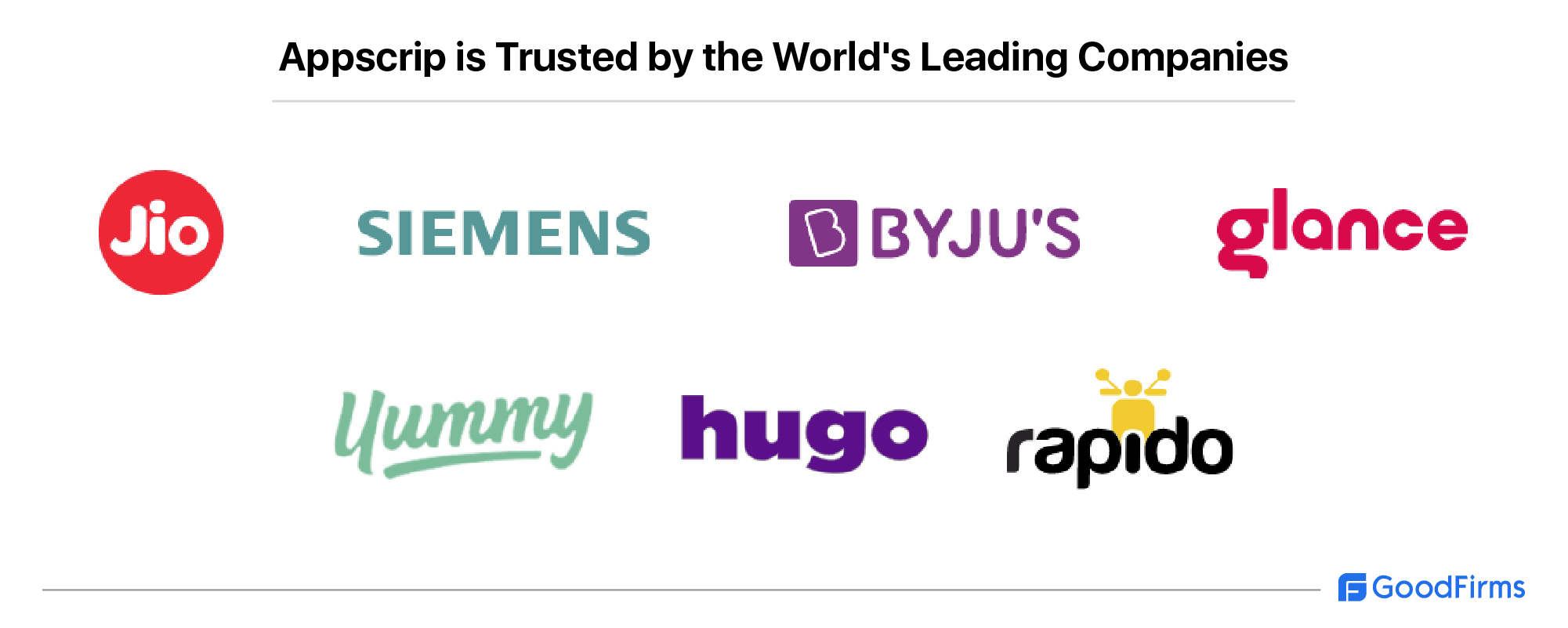 About the "Best Company to Work With" Badge
"Best Company To Work With" is an exclusive program run by GoodFirms where the Leaders Matrix companies are recognized with a Badge, an exclusive article about the Company, and a supporting PR. Such recognition stands as a support to developing trust and authenticity within the B2B community. It also allows the participating companies to improve their ranking – rank higher in the Leaders Matrix categories, receive inbound backlinks from GoodFirms LeadersRoundtable podcast campaign, and get a certified Badge saying, "Best Company to Work With."
About GoodFirms
GoodFirms is a B2B research, review, and listing platform helping businesses accelerate their digital journey and to maximize the value of modern technology. The company connects service providers with service seekers through a comprehensive and thoroughly researched fact-based list of the best services and solutions. Recognized as the most reliable source for the B2B market, GoodFirms has world-class experience with partners across the globe.