Augmented Reality capabilities overlay digital information in some form or another on top of the analog world where we live in.
Augmented Reality app development has the necessary potential to disrupt a wide range of industries such as retail, real-estate, finance, travel, healthcare and fashion. Augmented reality is an extension of existing technologies as any user with a smartphone can access this facility.
Application developers, firms and businesses utilize AR to superimpose digital information over objects in the real-world.
Having cleared the initial hiccups of adoption just as virtual reality did, Augmented Reality is experiencing widespread implementation in several domains especially across the mobile app technology domain. Therefore it has the capability to gain traction with consumers easily.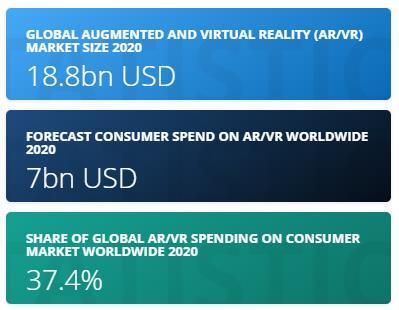 Location-based AR apps
Augmented reality apps can be basically split into two divergent systems: location-based and marker-based.
The inherent ability of mobile devices to track their position is put to use in the location-based AR apps. Thence relative data is provided based on a specific location of the individual device. This is usually enabled by an AR app in the mobile.
AR has the capability to empower location sensitive information as far as real world application is concerned, like if you want to locate your vehicle in a fully-packed car park or a student is keen to understand constellations in the sky, AR can make it possible.
Marker-based AR apps
Marker-based AR apps differ from location-based apps in numerous ways. They operate by allowing the software to identify particular patterns via the device camera (eg a QR code / brand logo), then go about overlapping digital information on the real-world landscape.
When user points a smartphone at a particular object or setting, they can now in fact see the virtual UI on top of the object. But if the image is animated / 3D, then the digital overlay sits on top of this recognised pattern.
Marker based AR apps operate in a manner such that it sanctions the software to pinpoint patterns via the camera like a QR code or brand-logo. After which it would overlay digital information in a real world scenario. This means that when a user points their smartphone at a particular object or setting, they can see a virtual UI on top of that object.
Future of Augmented Reality mobile apps
There isn't any doubt that the potential of AR is huge. There are many real world applications that have being deployed in a commercial setting such as in health, manufacturing, travel, and retail.
When taking into consideration the future of AR app development, the most innovative game-changer would be when users no longer need to use a screen. The present situation is such that most of the Apps as of now require a camera that will enable the overlay of images on top of the real-world setting.
Using a smartphone is a convenient route of enabling AR, but it also behaves as a substantial barrier to acceptance. It is time the world begins to think out of box instead of sticking to two-dimensional confines of traditional computing.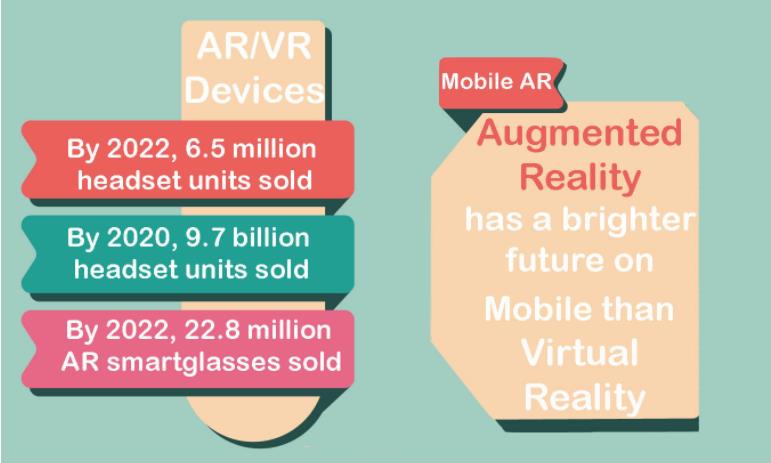 Development of Augmented Reality Apps
To develop an Augmented Reality app there are some important considerations to be noted. Most AR apps will overlay 3D imagery or text on top of real-time images that has been processed by a user's device. Therefore in order to develop an AR app the ability for image processing is an imperative requirement.
This is what would make it possible for you to develop an app that would be capable of tracking markers / natural features in the real-world realm.
It is important that the images should look credible and realistic; therefore care should be taken if any particular software is being used to generate images. Also make sure to correctly align the images in relevance to the real-world scenario.
Ensuring that both the above elements are taken care off is important and complicated from the development viewpoint. But remember the consequences of the inability to develop a realistic UI/UX would result in the app providing very low value to the end user.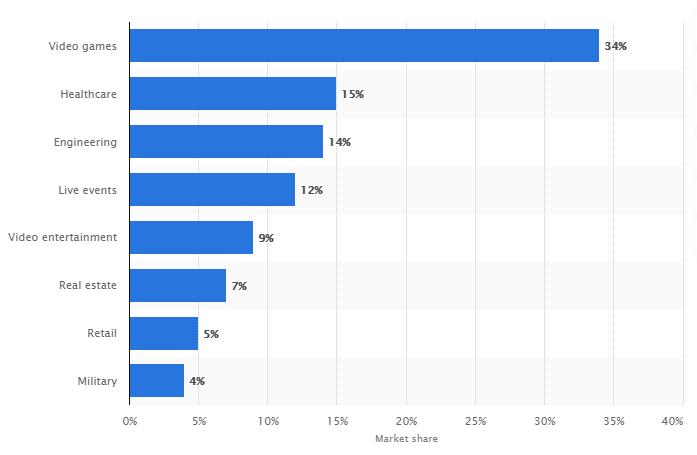 Making an app innovative, intuitive and simple would immensely improve your likelihood of success in an ever-expanding growing market. Consumers will insist on a seamless UI/UX, this would be one facet that would be essential in the future considering the rapid growth of AR acceptance.
Building Augmented Reality Apps
Building AR apps is more than image analysis or processing techniques. The need for traditional mobile app development capabilities with deep understanding of app development processes are imperative and essential.
AR app developers should possess 3D modelling skills, computer vision and imaging experience, and extensive understanding of available mobile technologies. It is generally perceived that C# and C++ are the most preferred programming languages for augmented reality app development.
The reason being, these both provide an easy access point for developers who possess these skills. An experienced development team with in-depth comprehension of 3D modelling is significant from an image viewpoint.
Development of AR apps is not just about mobile development expertise or 3D imaging. It is more about being passionate about innovation and new technologies. But passion alone will not take you all the way. Just as in any mobile app development project, achieving success in AR depends of keeping your mind on the end result.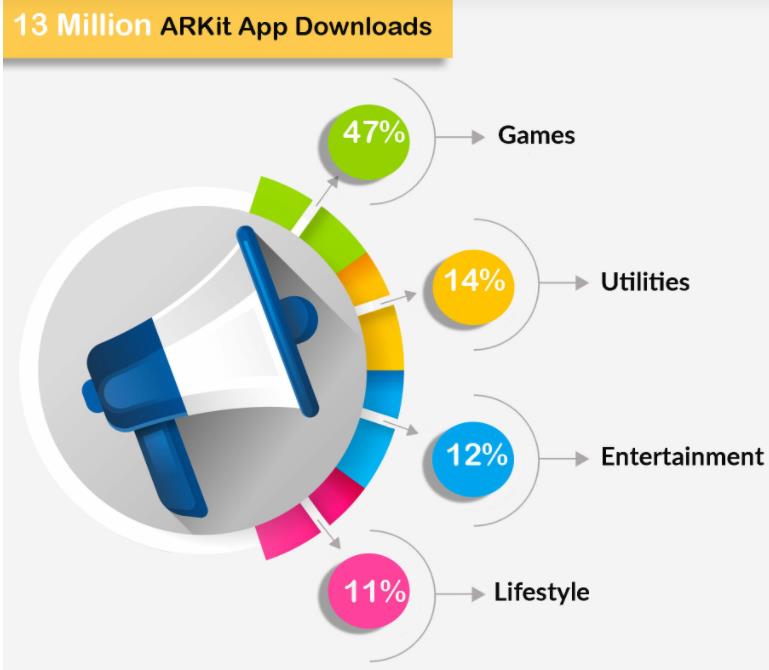 Top AR development platforms
There are few platforms to consider regarding development of an AR app. Few of the best AR platforms that are worth a look are ARLab SDK, ARPA SDK's, DroidAR (for Android), Metaio SDK, Wikitude SDK and Vuforia SDK. Most of these mentioned allow support for multiple platforms that includes iOS, Android, Google Glass, Windows and Unity.
Some platforms are specifically focused on a particular platform such as DroidAR product that is focussed on Android. While some other products enable you to develop mobile apps across multiple platforms. And Wikitude SDK specialises in PhoneGap and Xamarin integration.
It's important to choose the right technologies and products while developing an AR app so to drive your project without too many hassles. Using anyone of the above platforms could optimize your time to market.
Launch an AR App Development project
The pandemic has further reinforced the demand for mobile app development proficiency. It has been estimated that only 10% of firms have apt developer talent they require. And most firms have a huge backlog of 20 to 25 mobile app projects at any given time. From the commercial perspective is clear that big businesses find it difficult to source high-quality app development expertise.
As the demand for AR apps increases, businesses across diverse verticals will seek to enter the market. So getting in touch with an experienced and well managed firm is the best way out of this predicament.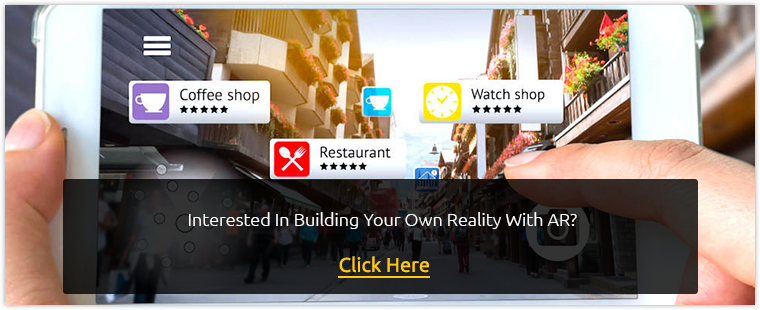 With an Engineering degree and a Diploma in Management under my belt, I worked for 16+ years in the automotive industry with various manufacturers. But my passion for writing was overwhelming, which I turned into a career. I have been writing for more than 10+ years and mostly in the IT domain. I am sure you will find the 300+ published blogs of mine in here informative, exhaustive and interesting.