In the past, as it is widely acknowledged, print media and print content publishers were the unchallenged dominators of the world of information. Both public and private communication were possible, thanks to paper and ink. But today, we are in the middle of an epic transition phase. Content creators are moving from paper to digital media, as the latter helps to reach their target audience faster. Increasing the digital versions of content, designed from the outset for the digital world, are beginning to create more wonders than we thought it would. Leading publishers continue to think carefully and critically about the future of publishing.
Will publishers find themselves in the position to completely abandon the printed world, and adopt new media for their content?
Will the day come when someone will declare the press dead?
We believe that this might not happen as long as the direction taken by publishers is the integration of media. The vision of the future that we share is well illustrated by Perey (2011): any printed materials (a poster, a sign, a box, the page of a newspaper, magazine, or book) will provide additional content in association with a camera, an algorithm that recognizes the content of the page, and a platform for the retrieval of digital data associated with it.
Simply put, the combination of an Augmented Reality system with the press will provide value to what is possible with paper and digital content alone when they work in isolation from each other.
With AR becoming the ladder to grow more and create more achievements, we can't doubt that it will progressively attract the attention of the Media and Publishing sectors.  The technology used for this sector will make objects more appealing to the readers. Not only will it surprise them, but will also create the interest to know more.
Will AR Become The Future Of The Print Media Eventually?
AR allows creativity to reach new heights, and use the technology for the better. How exciting would it be to see the front cover suddenly become a video, illustrating an article? It is already incredible to witness normal objects form a three-dimensional model. Imagine a newspaper in 3D, showing an information diagram depicting the world's leading economic organization!
Moreover, young adults, teens, and children are now born with tech inextricably intertwined with their lives. Until recently, traditional print dominated media consumption, but the popularity of the written press among Europeans has decreased. The rates of daily printed press consumption dropped from 37% in 2012 to 29% in 2016 — and we're in 2021 now! Digital media has been steadily seeping in too. In a situation like such, what would draw people to digital content is visual storytelling and interactivity. Especially for the younger generations, digital information is more comfortable to access and consume and often proves to be more engaging.
 If integrated with a clear purpose and benefits to its user, augmented reality can strike it rich by adding a layer of interactivity and digitizing print.
Benefits Of AR For Print: Major Takeaways
Increased curiosity and engagement among users
Supplement learning through connection-making and lateral thinking
Enhancement of retention by using multiple modalities
Reaching a wider audience and therefore increase sales
Generation of revenue through AR-enabled ad spaces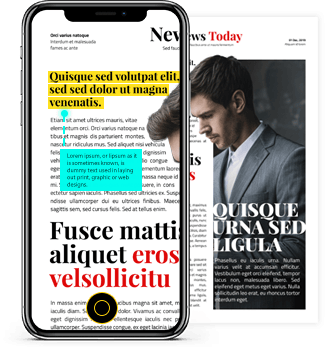 Factors For AR In Newspapers
The AR solutions in print media are intended to shape the future of the publishing sector. Several factors come into play during the adoption of AR solutions in this sector. Some of which are listed below:
Establishment of mobile commerce (mCommerce)
Worldwide adoption of the latest generation of smartphones
Involvement of various apps stores or play stores in the market
Increasing adoption of the internet on mobile devices
Involvement of international brands of the mobile
Growing adoption of tablets and other mobile devices
ALSO READ: 6 Exhilarating Augmented Reality Examples & Use Cases
What Are The Goals of AR In The Publishing Sector?
Augmented Reality can meet a broad spectrum of goals linked to the promotion of value in the editorial domain.
Marketing Goals:
–Increase the number of copies sold or the output of current volumes
–Address the offer to new or larger users' basins
–Create new revenue streams from advertising
–Improve readers' loyalty with converging publishing products that are more in line with current trends and readers' needs
Functional Goals:
– Reduce cognitive overload on the reader
– Increase quantity and types of the information available in the same act of enjoyment
– Increase the level of presence and engagement experienced by readers
– Improve the performance of readers in learning and retaining information.
Augmented Reality App For Newspapers And Publishing Sectors: Applicative Scenarios
Based on the flexible and cross-media nature of AR, we examine a number of reference applicative scenarios just to provide an idea of how AR can be better employed in the publishing sector.
IN NEWSPAPERS & MAGAZINES
A) Augmented Advertising
It is possible to create special content areas especially targeted to advertisers directly inside magazines and newspapers. These content areas can trigger (in a given physical context and by means of a suitable AR-tag) the visualization of digital content – video, audio, interactive 3D animations, in addition to the text. This possibility adds a new dimension to the reading experience and brings multimedia content where it previously could not be. Moreover, it can generate new "revenue streams". This scenario requires the inclusion in the printed editorial product of appropriate AR tags (similar to the QR codes) or the use of a generic image recognition technology (Natural Feature Tracking).
B) Augmented Informative Content: 
Augmented Reality can also be used to give publishers the opportunity to convey, in addition to traditional content (text and static images), a wide variety of digital content within the context of news, columns, and articles of all kinds. Information and cultural content can then be brought to life by using triggering tags that allow viewing a video stream of an interview, a Film trailer, an event, or any relevant fact. All of this through a smartphone, a computer, or a Tab. The benefit of a newspaper of this kind is the ability to reach an audience already familiarized with technology, no matter if they are or are not accustomed to reading.
C) Geo-Located "Augmented" Content
It is now possible to revolutionize the concept of newspapers or magazines with the help of mobile devices equipped with GPS, accelerometers, and gyroscopes. In addition to digital content associated with the AR-tag printed in the newspaper, content can also be made available directly from the smartphone in the shape of geo-located contextual tags overlaid on the live video stream of the mobile camera. In this way, the user can have access to immersive and informative. This option is helpful in different circumstances: when a user wants information of important events and happenings in the proximity.
IN BOOKS
Books are another exciting type of publishing a product that Augmented Reality can help to innovate. AR technology inside books can help to create immersive reading experiences as well as high-impact content structures.
Possible applications include:
1. Books and encyclopedias for children
2. Cross-media products for edutainment
3. Textbooks for K-12 education
4. University books
5. Technical and professionals Books
6. User's & maintenance manuals
7. Touristic guides

ALSO READ: Augmented Reality In Tourism Is Reengineering Travel
AR For Print Media: Final Thoughts
Besides the challenges that unavoidably need attention, the potential for Augmented Reality applications in print media is enormous. What emerges from our research is that the technology provides significant value (both on the cultural and on the commercial levels) to paper-based publishing products without the need to replace them. If predictions come true, this enhancement will eventually correspond to new, unexplored market opportunities.
The advent of next-generation mobile devices anticipates a horizon of adoption for AR as a mainstream technology that is now close and inevitable. 
---