Augmented reality (AR) with its immersive experience is transforming the way people interact with the world around them.
It has emerged as a vital marketing tool, assisting businesses to change the way customers perceive the environment they are in. Augmented reality in tourism adds a graphical interface to the environment being viewed through a device. This animates the surrounding and makes it interactive providing real-time information which is a boon for tourists.
Augmented reality enhances the real-world environment in real-time with credible inputs. It supplements a person's perception of their physical surroundings. AR makes it possible for would-be customers to view what is on offer from any part of the world.
It's not surprising that various industries are imbibing Augmented Reality such as tourism, travel, hospitality, interior décor, furniture, real estate, and many more as a tool to enhance customer satisfaction and increase profits. Many industries are investing heavily in this fast-evolving technology, in particular the hospitality and the tourism sectors.
This technology is valuable to the tourism industry as folks can check out any region of the globe via an AR app to satisfy themselves as tourism essentially is selling a physical environment. Augmented reality essentially introduces digital components into reality, rather than replacing the reality itself. This occurs by overlaying information in real-time over the picture of a physical environment.
Importance of AR in Tourism
Augmented Reality offers Hotels & Tourism verticals boundless potential to engage guests and travelers. Augmented reality has emerged as an important facet for tourism as it allows hotels and other related businesses to broadcast the physical environment they are offering or enhance the experience of exploring nearby areas. AR could be the next big game changer for any industry.
Why AR is Important for the Tourism Industry?
Augmented reality has emerged as an important concept within the tourism industry as it allows businesses and other related establishments to enhance their physical environment while enhancing the location and its facilities.
AR has the proficiency to uplift user experience while exploring surrounding areas. To create trust, businesses can provide clients with a view of the sights well in advance wherever they maybe.
Augmented reality helps customers to explore virtually and satisfy themselves with the surroundings available through their mobile devices. The rise of AR in the tourism industry is creating transparency of information guests tend to query. Therefore such information is readily available for customers to view at anytime, improving the entire user experience.
AR App Features for Tourism & Hotel Industry 
Augmented reality in Tourism and Hospitality industries have great potential to enhance client experiences. There are attractive, imaginative and user-friendly AR mobile apps that provides useful information, navigation data, guides and translations to the needy.
Another key explanation behind the rise of AR in the hotel industry is the amount of information guests need both before and after they arrive. Augmented reality can make a lot of this information readily available at all times of the day, making the entire trip a wholesome experience.
Augmented Reality in tourism
All a customer has to do is point their smartphone at a map and they provided additional information about nearby places of interest. This not only enhances the use of a map in itself, but potentially has the provision to make the stay enjoyable and convenient.
Promotion & Marketing Via 360° Interactive Virtual Tour
Traveling AR apps are interactive and futuristic that allows the user to view the information of their location. Therefore, the guests can utilize their smartphones to check out local tourist attractions and garner all nitty-gritty before visiting them.
Gamification
Pokemon Go was one of the first mainstream Augmented Reality game that was introduced to the gaming scenario and its success has led to an increase in usage of this technology.
The tourism industry is now getting in on the action, using AR games to improve the overall experience of discovering new places.
New Outlook
It was ages ago that folks used simple brochures to gather information regarding a region. But we know often times that such information was never updated on time and tourists were at a loss. But now such experiences are a part and parcel of the past. Augmented Reality apps provide real-time information that can be visualized on an advanced level.
These AR apps are featured with 3D animations that is a perfect way to deliver the information about a location. Apart from that through these Apps users can even scan the advertisement to unlock a presentation video on a magazine or newspaper.
Transport
Travel apps using AR can help the user while visiting a country for the first time or some unfamiliar places. Rather than wondering where to go, AR can assist travelers to decide in which direction they should go. After pointing the smartphone in a particular direction, necessary information will be portrayed regarding transportation facilities, directions, routes, next stop and places of interest along the route.
Travelers and tourists can now enjoy their worldwide sojourn as now all the information is available in their hands and these can be visualized in 3D too. With AR Apps you can turn on the metro map or other items such as AR guide to make the trip more interactive.
Innovative Augmented Reality Travel Apps
World Around Me (WAM) is a free app, available in both iOS and Android. It helps you know more about the locations you plan to visit. This Augmented Reality app helps you locate banks, ATMs, restaurants, museums, bus stations, parks, gas stations, transportation facilities, hospitals, reputed shops, and religious spots.
The results are provided on the AR app or on a map for you to navigate easily. This application was awarded the best Google Play Award Winner few years back.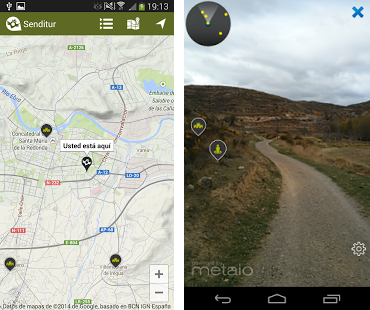 This free AR app gives you all necessary information when you travel around Spain. The app is available on Android and provides info on places on interest in Spain and famous locales that tourists would love to visit. This AR app helps you discover far off towns or mountain ranges close to you. You can also view details that could interest you regarding natural and historical heritage.
This app has been specially designed for hikers in the region of Camino de Santiago. The mountain routes indicate pharmacies, hostels, shelters and rest areas. You will not run out of coverage as it has online and offline functions.
Smartify is available on both iOS and Android, it is a must for avid travelers, especially if you love to museums too. Point your smartphone at an art work and discover its history – all thanks to augmented reality.
This app is especially useful when visit museums as listed below:
The National Portrait Gallery (United Kingdom)
Reina Sofía Museum (Spain)
J. Paul Getty Museum (Los Angeles)
 The San Donato Museum (Italy)
The Royal Academy of Arts (United Kingdom)
The Metropolitan Museum of Art (New York)
Laguna Art Museum of Contemporary Photography (Chicago)
Another app that offers an amazing experience to star gazer is Horizon Explorer. This app is built using the augmented reality technology offering you information on latitude, altitude and distance of any site you point to with your smartphone.
You are also given names of streets, rivers, roads and other places of interest. All this is constructed on top of a 3D map which will help you in getting the necessary orientation.
An amazing application for travelers that enhances your surrounding via augmented reality. The moment you access Guideo your position will appear fully geolocated on the map of the city, and your route will be displayed as per your preference.
Guideo has been downloaded 10,000 downloads and can be utilized in Cádiz, Malaga and Seville and is being developed for Las Palmas de Gran Canaria.
Guideo is for those explorers who not only seek to observe the monuments while visiting new locales but want to learn about their customs, historical or mythological characters, traditional settings, find new places in their cities, talk with their people and seeking an esoteric experience.
Guideo offers insights related to the place where the user is with narrations that are complemented by texts, images, and videos to make the narrated story more attractive.
With an Engineering degree and a Diploma in Management under my belt, I worked for 16+ years in the automobile industry with various manufacturers in various capacities. But my passion for writing was overwhelming, hence I turned that into a career. I have been writing for more than 10+ years on various domains including the IT industry. I am sure you will find the 200+ published blogs of mine in here informative, exhaustive and interesting.