Since the start of the pandemic, B2B eCommerce businesses have been on a roller-coaster ride, with a few slumping under the rigid internal system, while others bending strategies and breaking records.
We had our ears to the ground this entire year, hoping to top off the list of most important B2B eCommerce trends 2021 with facts and not fiction. Before we dive deeper into B2B eCommerce trends 2021, let's take a peek into 2020 to look at the face and pace of B2B eCommerce. 
2020 | The Year Of Digital Omnichannel
The year 2020 made omnichannel retail a new normal. This transition of the B2B eCommerce industry from multichannel to omnichannel was backed by data- and a lot of it. A few reasons why digital omnichannel aligned perfectly with B2B brands' philosophy are increased customer satisfaction and reduced cost.

2020 | Two B2B E-Commerce Business Lessons Learned From COVID-19
The year 2020 proved to be a great teacher for B2B eCommerce brands. Pandemic taught us two lessons:
Prediction doesn't always work in a paradoxical sector like B2B, especially when it comes to growth planning. (By paradoxical, we mean B2B sector has its one leg stuck in old trends while the other is kicking off ingenious innovations. B2C online sales volume > B2B sales volume)
If your business can bend its old strategy and bake new ones based on the ongoing scenario, you can cut through the challenging times & lead through large-scale transformation. Only B2B companies making a strategic and timely move will continue to foresee an end to unpleasant situations.
2020 | Global Overview
In 2020, companies joined forces to enhance the experience of their B2B customers. 
January 2020:

 

Visa acquired Plaid, a company that develops financial services APIs, for $5.3 billion to move beyond banking and into broader services. API-driven ecommerce tops the B2B ecommerce trends 2021 list (as described further below). 

June 2020: 

Mastercard acquired Fincity for $825 million. In the same month, Alibaba

digitized the trade show landscape by adding digital features like trade financing and freight features to its platform.




Pandemic accelerated the rollout in B2B marketplaces, showing outmoded industries a road to recovery.

The year 2020 witnessed an uptick in the e-commerce business, revealing an array of rapid developments, altered customer expectations, and accelerated adoption rates. Pandemic pushed the B2B customers in the US, Germany, Italy, Spain, China, India, and Russia to the online world. 
Sales on B2B eCommerce sites grew by 10% to $1.39 trillion (excluding e-procurement sales). [Digital Commerce 360

]

Combined with e-procurement sales, the B2B ecommerce sales grew by 11.8% to 2.19 trillion. [Digital Commerce 360

]
Part of the 'return to normal' mindset assumes that online sales will trail off and most buyers will go back to in-person purchases, but that's not the case. B2B e-commerce is here to stay. – Suchit Bachalli, CEO Unilog
Although the B2C online sales volume > B2B sales volume, B2B has a faster growth rate. Digital B2B sales increase 18.2% year over year, while the figure for B2C is only 3.8% (Digital Commerce 360)
According to a study conducted by Grand View Research, Inc, the B2B eCommerce market is expected to grow at a CAGR of 18.7% from 2021 to 2028 to hit $25.65 trillion. 
The interaction between B2B buyers and B2B sellers has gone digital. As the dust begins to settle, buyers are bespeaking preferences for online interactions, forcing B2B brands to rethink their online experiences. 
B2B Ecommerce Trends 2021: Facts Over Fiction
What lies ahead for 2021? What are the B2B eCommerce trends 2021 that are darting the digital faces of B2B brands with the pressure to redefine their digital identities? 
#1 The Rise Of PWAs (Progressive Web Applications)
PWA, a technology designed to provide users with the same experience across all platforms, will continue to become popular. This technology was born to bring boundless benefits to both brands and customers, a few of which are better performance and offline capability. 
Marketing is no longer the only way to reach customers. According to Statista, mobile eCommerce sales account for 72.9% of worldwide eCommerce sales in 2021. What could be the best way to provide visitors with a stellar mobile, tablet, and web experience other than PWA?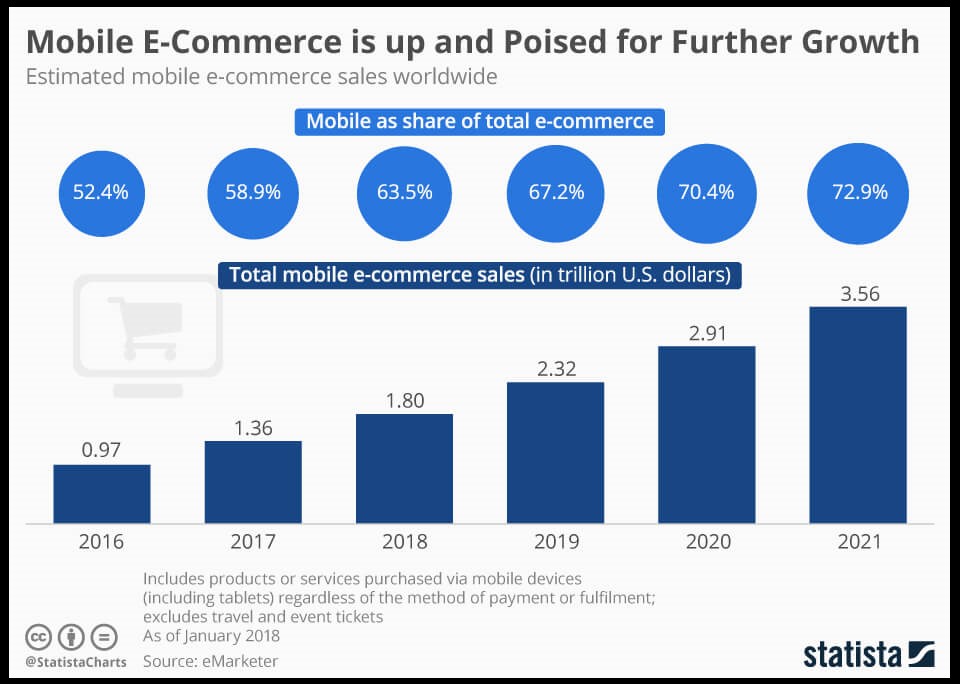 #2 The Rise Of M-Commerce
Mobile customer experience will continue to top the B2B ecommerce trends 2021 list. The reason is simple: bad mobile experience is a bomb that can tear your brand image to shreds. In 2021, if you want to put your business growth in jeopardy, start providing customers with a negative mobile experience. But before you do that, take a look at the following statistics.
#3 API-Driven B2B Ecommerce
The API-driven eCommerce will continue to take off in 2021. As the name "API-driven" suggests, it's the API (Application Programming Interface) that sets the rules on how software should communicate with each other. 
We strongly believe that the API-first approach is the future of online selling, and that's why we provide our clients with the flexibility to accommodate it in their solution. API-driven B2B eCommerce isn't just a part of B2B ecommerce trends 2021. It's a step toward a better future. 
Is API-driven B2B Ecommerce the same as headless commerce? Headless Commerce architecture works as it sounds: it is where the eCommerce platform's front end (the head) separates from the platform's back end (the body). The front-end and back-end communicate via APIs. 
#4 Augmented Reality (AR) And Virtual Reality (VR)
AR and VR are the bridges too far to cross for the majority of the B2B eCommerce companies. For a few companies, these two technologies act as stairs, helping their consumers skip a lot of steps and save time. 
However, B2C players have diverted their budget towards this innovation, allowing users to access AR and VR. This year, we can expect the B2B industry to follow the suit. These technologies help users improve the decision-making process, imagine the product usage better, and highlight all the pros and cons that B2B buyers can run into, in advance. 
Web-based visualization platforms like Threekit help customers accelerate their sales process with 3D and AR. Threekit allows customers to visualize products, and spin, rotate or tilt them to have the best possible understanding of the product.  
#5 Niche B2B Ecommerce Platforms
One of the biggest B2B ecommerce trends 2021 is niche B2B online marketplaces. They are all the rage now. Amazon might have been eyeing the eCommerce market for years, but it couldn't prevent niche platforms from providing users with a more personalized experience. Niche B2B eCommerce platforms will continue to lure customers even in 2021. 
#6 "Inevitable" Becomes Another Word For "Ecommerce Adoption"
COVID-19 clicked "fast-forward" on B2B eCommerce adoption. Research by McKinsey & Company reveals that 70-80% of B2B decision-makers prefer remote or digital interactions, and the reason being safety, savings on travel expenses, and ease of scheduling service. 
What's more, B2B buyers are willing to buy big online. 70% of the total B2B decision-makers are willing to remote-purchase in excess of $50,000, 27% are willing to remote purchase in excess of $500,000, and 15% would purchase more than $1M. 
The traditional/in-person selling jumped from 28% to 13% since COVID-19. With these statistics shouting the facts, is it any longer a question if your business should step into the eCommerce era? 
#7 More Cloud Adoption
Cloud eCommerce solution is the door that leads B2B players to big data and analytics, new security technologies, and developments in the IoT. All this leads to nothing but an engaging customer experience. No doubt, cloud-based eCommerce will catch fire in 2021. 
The 10th annual Flexera 2021 State of the Cloud Report highlights the fact that 92% of enterprises embrace a multi-cloud strategy. With 90% of enterprises expecting cloud usage to exceed prior plans due to COVID-19, public cloud adoption will continue to accelerate in 2021. 
#8 Rising Customer Expectations
B2C players have completely changed the way people process payments. Wouldn't customers be expecting something similar from B2B platforms?
Now it makes sense why rising customer expectations are a part of the latest B2B ecommerce trends 2021. It is necessary to devise a paradigm to support a payment system for B2B platforms. 
Unlike B2C, B2B isn't retail, and it's definitely not the platform that handles a handful of users. B2B buyers are likely to pick up products worth years. With an extended Line of Credit, they can pay for the products on monthly basis. This feature ensures a long-term partnership between B2B sellers and buyers. 
As Visa acquired Plaid and Mastercard acquired Fincity in 2020, more organizations are likely to collaborate with fintech players in 2021.
FaaS (Fintech as a Service) is definitely one to watch in 2021. 
Not only all the possible payment methods, but digital B2B buyers also crave a high-quality customer experience, smooth access to everything, a more user-friendly experience, and easy checkout. 
#9 Privacy And Personalization
The product is needed but without delay. That's another lesson pandemic taught to B2B players. B2B buyers expect fast shipping, and fulling this expectation might be the first step towards weaving a more personalized customer experience. 
Moreover, SmarterHQ company found out that 72% of the B2B buyers only engage with personalized messaging and 69% of the buyers are willing to pay more for the personalized shopping experience. 
It has become important for companies to understand the primary objective of personalizing consumer experience in the B2B space. 
#10 The Use Of Analytics And AI
More and more B2B companies can be seen adopting advanced analytics tools in 2021 and beyond. 50% of the B2B marketers have acknowledged the ROI (Return On Investment) using advanced analytics tools. 
B2B companies are different from B2C companies. They manage an immense number of Stock Keeping Units (SKUs). That said, for B2B buyers, navigating the inventory can be an uphill task. That's where the AI search comes into play. AI's power of surfacing the right products to the right customers is highly commendable. 
Final Thoughts 
Above written B2B eCommerce trends 2021 spell long-term success and best encapsulate what's happening in the industry. We highly recommend you embrace the shift in B2B eCommerce trends and apply all these trends to your own business. 
At Appscrip, we recognize that building a B2B multi-vendor eCommerce marketplace with a focus on the latest trends takes expertise and time (the design and development journey starts through a discovery process). With experienced, enthusiastic, and certified developers, we commit to serve satisfaction on the plate of life of our customers.