TikTok exploded in popularity last year and the year before. With people being stuck at home, they turned to social networking apps to help stay entertained short-form dancing, singing, lip-syncing, and comedy videos. TikTok turned many unknown media creators into Internet superstars. But then, the sudden ban swiped all off the floor.
Many government officials were concerned that the China-based company behind TikTok is collecting phone data for the Chinese government. This controversy led to the app getting banned in 5+ countries. But soon, several Tiktok like apps entered the market, and well, each of them is doing quite well now. 
Our Top 5 Picks
There has never been a better time to check out these popular short-form video-sharing apps. We've put together this list of the best alternatives to Tiktok you should try out now!

Triller 
Triller is an American video-sharing social networking app. It allows users to create and share short-form videos, including videos set to, or automatically synchronized to music using artificial intelligence technology. Triller was released for iOS and Android in 2015 and initially operated as a video editing app before adding social networking features.
To date, Triller has raised over $100 million from various investment banks, angel investors, and Hollywood studios, including Proxima Media (owned by Relativity Media co-founder Ryan Kavanaugh) In 2020, the app gained prominence in India and the US as a competitor to TikTok.
The app's spotlight feature is its special auto-editing tool, which uses artificial intelligence to automatically stitch separate video clips together without the user having to do it themselves.

Dubsmash

New York-based Dubsmash, which first launched in 2014, has remained to its core –offering folks a platform to lip-sync and add filters and effects to each video.
It was founded by Jonas Drüppel, Roland Grenke, and Daniel Taschik in Germany. Later, the company relocated from Germany to Brooklyn in 2016. And last year, Reddit announced it had acquired Dubsmash. 
Using the application, users can choose an audio recording or soundbite from movies, shows, music, and internet trends and record a video of themselves dubbing over that piece of audio. Dubsmash allows users to videotape themselves while lip-syncing over audio clips including sections of songs, movies, and famous quotes. Users can upload their own audio and can add color filters and text animation to their recordings. They can save their clips to their devices and can then send them via other messaging apps.
The app's creators had previously made two other apps that were not as successful. Their last app prior to Dubsmash was called Starlize, which aimed to allow users to create music videos. Finding out that this app was too complex for users, the creators decided to move on to shorter-length videos with an emphasis on ease of use, creating Dubsmash.
Instagram Reels
Reels was launched hoping to lure some creators away with the rollout of a direct competitor, Tiktok. The former was launched in more than 50 countries in 2020, including the US, UK, Japan, and Australia, on both iOS and Android.
People can create short-form videos set to music that can be shared with friends and followers and discovered while browsing the app. With Reels, Instagram saw a new and fresh opportunity to bring in more users, increase the amount of time people spend in the app every day, and establish itself as a video entertainment platform.
Reels allow people to record videos up to 60 seconds long (recently updated) and add popular music, as well as an array of filters and effects, over top of them. For creators looking to use Instagram Reels as a new way to build a following, Instagram has revamped its Explore page to create a specific landing spot for Reels at the top of the screen that people can vertically scroll through — similar to TikTok's "For You Page."
 If you want to become the next Charli D'Amelio, having a public profile will allow your Reels to be widely discovered. For people who want to share with friends, Reels created under private accounts will only post to a person's Feed and Stories. The feature lives entirely inside of Instagram; it's not a new app.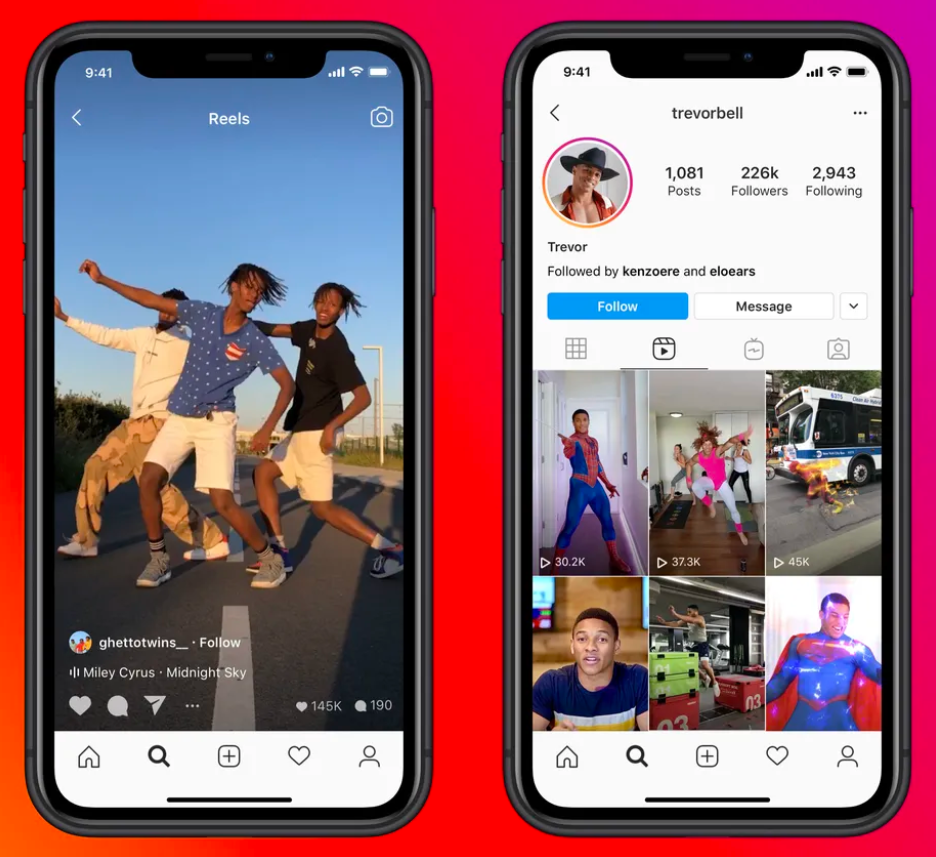 Byte
Byte is an American social networking short-form video hosting service where users can create 16-second looping videos. It was created by a team that was led by Dom Hofmann as a successor to Vine, which he co-founded. After a closed beta period that lasted for three years, it was officially launched for most of the iOS and Android platforms. on January 24, 2020. Earlier this year, it was announced that Clash, another short-form video app, would be acquiring Byte.
The app allows users to publish videos either captured through the app or previously recorded and stored on their devices. Similar to other social media platforms, Byte allows users to follow other accounts. The main home screen features a scrollable feed of content from accounts that the user is following. The platform supports the ability to "like" and "rebyte" videos (Rebyte functionality is currently unavailable as of February 2021). In November 2020, a color customizer and a chat feature were added. The app also features a search screen with tiles for popular and latest content along with video categories like Comedy, Animation, and others.
The Byte app is a hotbed for funny videos. The short format is ideal for gags and silliness. If your brand voice connects with your audience through humor and candor, Byte can be a great place to build connections.
ALSO READ: How To Make Money On TikTok
YouTube Shorts
YouTube Shorts are videos that are shown in a vertical format and show on the home page for people to binge on, like the popular social media app, TikTok.
Shorts was first featured for some users in September 2020 and was first released in India, later reaching the U.S. YouTube Shorts became popular and global (however lacking features) in 2021, resulting in channels to blow up in subscribers and views, causing channels to make second channels to make shorts in. Shorts aren't in the monetization program. However, YouTube announced a fund to support the Top Short Creators on May 11, 2021. As of July 2021, Shorts is currently beta, except in the United States and India.
ALSO READ: 5 Ways To Make Money On Instagram
Final Thoughts
Although Tiktok was best at what it did, the privacy breach did not land the app in peoples' good books. The ban was inevitable, and it paved way for the best alternatives to Tiktok to flourish and enjoy exponential growth. These above-mentioned apps have managed to create a large, engaged community and an algorithm that is just about psychic with its accuracy. Pick from the list to find which app works best for you, your brand, and your followers.
---