Cheers to unpredictable & unforgettable memories! 
Life is constantly full of shocks and surprises. Going on a date with someone you've never met and know nothing about is almost as fun as it is nerve-racking. You have no idea whether you will up meeting a serial kisser or a serial killer. Nonetheless, the search for love mustn't ever stop! A blind date app could seal your quest for finding love.
What Is A Blind Date?
In simple words, a blind date is a social engagement with a person one has not previously met and arranged with a view to the development of a romantic or sexual relationship.  Earlier a blind date would be setup by a 3rd person who knows you both mutually. But these days apps are takign over the 3rd person part and doing quite well so.
5 Top Reason Why Blind Dating Is A Refreshing Concept
Convenient For Those With A Busy Lifestyle
Many people do not even know where to begin looking for a date. Instead of spending hours speed dating, it can be a lot easier to have a blind date set up for you.
Broadens Your Horizons
One of the best things about blind dating is that you will be meeting people who are not already in your life. This can be a great way to see what else is out there.
You Might Actually Have A Lot Of Fun
Even if the person that you go on a blind date with isn't the perfect match for you, this doesn't mean that you won't have a good time. If nothing else, you could make a new friend.

Encourages You To Date
If you've recently gotten out of a long relationship or have lost confidence in yourself, a blind date can readily encourage you to get back into the dating arena.
No Damage Will Be Done If Things Don't Work Out
Since you are not going to be dating a friend or co-worker, there remains no reason worry about having to deal with an awkward situation in the future.
3 Thrilling Blind Date Apps That Can Re-light The Fire In Singles
Blind Me | The First Blind Dating App
The makers wanted to break the codes of 2.0 dating by offering a new approach.
They vouch for "Personality Before Looks".
In this blind date app, the photos of the users are automatically blurred while registering and the more you discuss, the more they are let off steam. Each registrant will have the opportunity to complete a profile that will allow them to stand out and make a difference compared to others.
They can also record their voice which will add to the asset of seduction.
With Blind Me, you take the time to chat to create a bond while discovering the person as you go, both mentally and physically.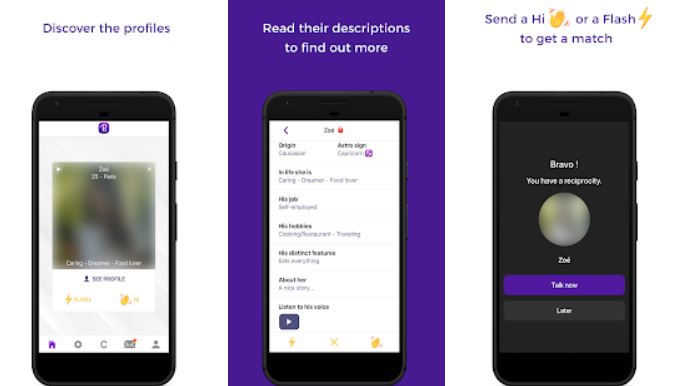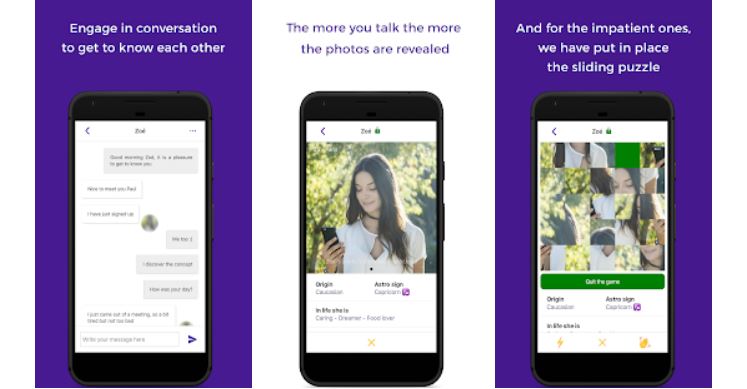 More Exciting Ways

About How Blind Me Works
When you like a profile after reading the description or listening to their voice, you can:
1. Send him a hello 
without his knowing it unless it is reciprocal.
2. Send him a notified flash 
to let him know that you are interested.
If you both like each other, then you can initiate a discussion that will allow you to deflower the photos (the more you chat, the more the photos get blown away).
And for the impatient, they have set up the Tease game which allows you to try to discover the photo of a profile in a fun way. Just click on the padlock 
at the top of a photo.
90% of online daters feel that chemistry, not attractiveness, is more important to long-term relationship success
Blindr |

The Best Blind Dating App
If you are willing to find love by taking a stab at the dark, then this blind date app will help you find matches without revealing their pictures.
Blindr helps you find dates with people based on mutual hobbies, interests, and personality. It is indeed a great app choice if you've grown tired of the superficiality of physical attraction, and desire something more in a partner.
A Believer Of "Nothing But The Best" | Reviews Of Blindr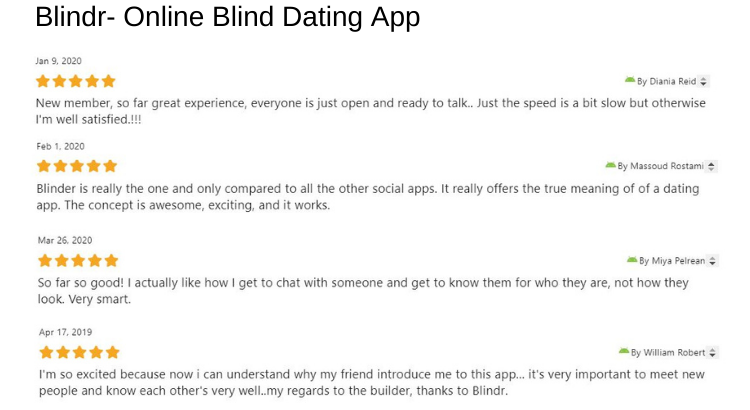 Blind Meet | Fastest, Safest, Easiest Way To Meet New People
P.S. – This is a cool app with an even cooler UI
It is impossible to judge someone within a couple of seconds, based on few pictures and a cheesy bio, like in the case of 99% of meeting and dating apps.
Blind Meet urges people to step out of the rut of mainstream virtual communication on social media networks and engage in real connections This blind date app is a safe space for networking and meeting new people near your vicinity, without having to shift around much of your time.
It is mighty useful for people who battle social awkwardness on a daily basis and helps experience the joy of spending quality time with a person who shares similar tastes and quirks.
Keep up to speed by networking, 21st century style, with BLIND MEET!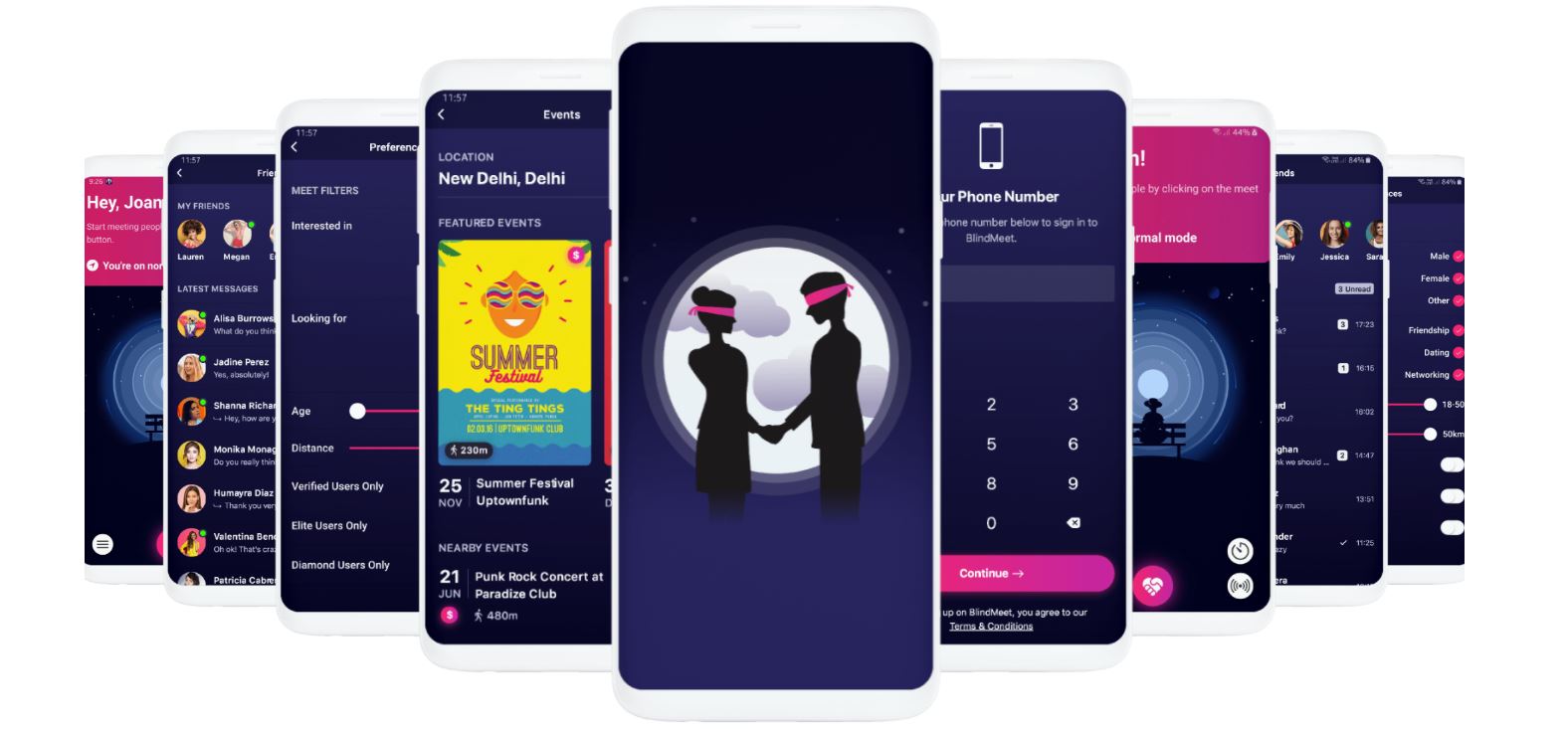 Blind Date Apps Increase User Engagement Over Time
A recent survey by Allied Market reveals that 91% of dating app users wish that dating was more focused on personality, and 77% would chat with someone before seeing what they looked like.
Geoff Cook, CEO of The Meet Group suggests that most people value personality over attractiveness, and blind date apps give users the opportunity to chat first and gain a sense of who they are connecting with.
Blind dating apps increase the chances of finding the perfect match by 65%. Personality is a powerful attractor, which we believe leads to more substantive and meaningful connections.
Develop Your Own "Blind Date" App For Users To Explore Unexpected But Meaningful Connections
This year has really changed a lot of things, including the way people date. With blind dating apps becoming the next huge sensation in the online dating business, this might be right time to explore the niche. Successful dating apps like Tinder started with a unique idea and went on to rake in the millions. You can think up a variation to a Blind date app and be a successful Dating App Unicorn.
2020's Last Plot Twist: You're helping two complete strangers fall in love!
---