From 

10 million customers

in 

May 2018

 to 

25 million customers

in 

February 2019

, Taxify saw the success, that if put into words, would spell Bolt. Bolt, a name that echoes achievement, stole Uber's thunder in Africa in 

2018

. Today, the Bolt business model sits over

150 million euros

while making

40 countries

in Europe, Africa, Middle East, Asia, and Latin America dance on its beat. Born seven years ago, Bolt is all set to beat

7

of its competitors:

Uber

,

Didi

,

Grab

,

Lyft

,

Go-Jek

,

FreeNow

, and

Cabify

.
Global Taxi App Revenue Vs Countries Available
It may seem like a two-horse race for the globe, but can we underestimate Bolt's ability to spread across 35 countries within seven years? 
Europe Taxi App Market Share
With Uber being well-trenched in the region, can bolt be considered a potential contender for "the leader of the largest market in Europe" position?
A start-up that stands tall in more than 150 cities in Europe, Africa, Asia, and North America is planning to be more uber than Uber, but how? How a 19-year-old college dropout turned a usual Bolt business model into a billion-dollar company?

2013-2016: A Unicorn Was Born
mTakso was launched in August 2013 by a 19-year-old computer science student, Markus Villig. It seemed as if success couldn't wait to meet Markus. After one year of being launched, the company went on to foreign shores. mTakso later became Taxify and is now known as Bolt. 
The Bolt business model was not designed under the influence of Uber. It was Villig's bad ride-hailing experience that made Bolt become something beyond an idea. 
All I knew was that taxis were a horrible experience at the time in Tallinn. We used to have a few dozen taxi companies, and you usually had to call 10 of them before you got a car, and when it turned up, you couldn't pay with a card. So, we thought we should apply technology to this platform. -Villig 
Founded in Estonia in 2004, Skype, a free communication tool, was also the inspiration behind Villig's idea. Skype Showed the world that a tech business can take birth anywhere. In an interview with CNBC, Villig said: 
I realized that tech is one of those industries where you can have huge leverage in the fact that you can accomplish big things with a very small team. This is an industry where customers really care if they get good value for their money. So if you can offer customers 20% better pricing or you can make sure the drivers take 20% more on every ride then that really pays.
So, what is the Bolt business model built on? 
The company began with the simple model of creating the platform, signing up existing taxis, and allowing people who are not taxi drivers to get authorized and join. The concept is also easy to understand. The transparency of driver ratings and digital payments made it substantially better for consumers, which is why it is adopted so quickly.
Bolt Business Model: How Bolt Makes Money
With search, the business model is the same across the world, but with ride-hailing, you have to build a business city by city. You need to start from scratch every time. – Villig 
The Bolt business model made tech scream customer satisfaction via passenger app, driver app, and admin dashboard.
Passenger App
Bolt seems to become synonymous with "options." Bolt sits seamlessly on Android, iOS, Windows phones, and Apple Gallery. It slaps its customers with a sea of payment options, including cash, debit card, credit card, and mobile carrier billing. Bolt became the world's first transportation app to allow users to pay for rides via mobile carrier billing. 
Once Bolt driver accepts the customer's requested trip, a particular driver's profile pops up on the passenger app, revealing the driver's identity. Passengers can pay using an in-app wallet, leave a rating, and invite friends to get free rides.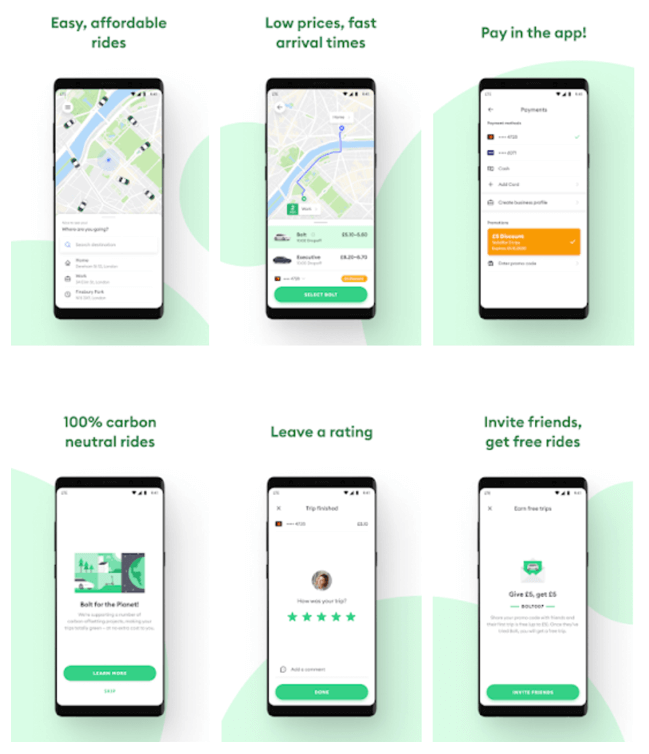 Driver App
The company has blurred all the fault lines in its bolt business model -if there were any by wanting its drivers to earn more than Uber drivers.
Bolt takes a 15% commission per ride from drivers, whereas Uber charges its partners a 25% commission per ride. That said, Bolt drivers earn over 10% more on average as compared to other ride-hailing platform drivers. However, Bolt's ride-sharing concept is similar to any other ride-sharing app.
For drivers to sit on Bolt, they have to undergo in-person training and a criminal background check. An age of 21 and a driver's license of 3 years is a big must. Here's a glimpse of the Bolt driver app on the iPhone.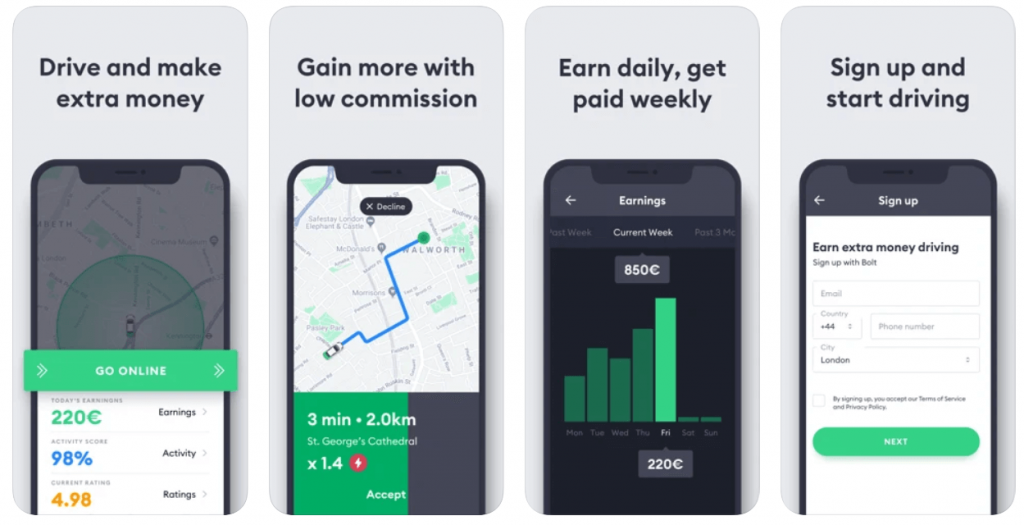 An SOS button also sits on the driver app, allowing the driver to notify Lagos State Emergency Response Agency (LASEMA) in real-time in case of any emergency. Don't these features shout Bolt's safety concern for its customers?
Admin Panel
Admin panel is the base on which the Bolt business model is built. The admin is armed with everything from setting up fares to managing drivers to tracking appointments.
2017:

Bolt Was Born To Make Headlines
Bolt faced a setback in London when Transport for London (TfL) forced the company to shut down its services. 2017 brought Bolt a piece of good news too. It became the number one travel app in Kenya and Nigeria and number two in South Africa. 
Before Didi Chuxing's undisclosed investment value (believed to be "eight-figure US dollar sum) gave Bolt its wings in 2017, Taxify already knew how to walk well, thanks to 2 million euros raised from Estonian and Finnish angel investors. 
2018: Bolt Being More Uber Than Uber 
Bolt became larger than Uber in Africa, thanks to the customer-centric bolt business model. The credit not only goes to Uber's Estonian competitor, Taxify but also to the fault lines found in Uber's business model. Uber urged drivers to go on strike and leaving the company for Taxify by cutting prices by 40%.  
May: Bolt reached 10 million customers. May 2018's funding round resulted in a 175 million US dollar investment from Didi, Daimler, and others, boosting the company's valuation to 1 billion and making it a UNICORN. 
September: Bolt set out its stall to create a transport-as-a-service ecosystem. It expanded its services into dockless electric scooters in Paris under the name Bolt. Bolt became the first company to sew scooters with "vehicle for hire" services in one mobile app. 

2019: It's Not Bolt That Bleeds
February: Bolt reached 25 million passengers.
March: Bolt became Europe's third fastest-growing company as per Financial Times.
June: Bolt plotted London welcome and re-launched in London along with its 20,000 registered drivers. It is now Uber's first real competition in London.
July: Bolt stepped into Tunis.
August: Bolt's other child, Bolt Food was born in Tallinn with the ambitions to grow in Africa and Europe. 
Bolt Food Delivery Model: How Does Bolt Business Delivery Work? 
The company infused delivery services into its existing Bolt business model. Bolt food delivery platform acts as a matchmaking model that allows local vendors to sit on its platform for as low as $0.069 and provide value to customers in the form of food, groceries, and parcels. Bolt's business delivery platform comes attached with the following services: 
Application Programming Interface

On-demand + scheduled deliveries

Multiple drop-offs in one single run

Bolt app asks its users to add their pick-up and drop-off details and upload their orders in bulk. As users add details, an estimated delivery price pops up on their screen. The app is also injected with a real-time tracking feature, allowing users to track their courier. Users are also armed with the power of choosing the delivery speed.

2020-2021: Bolt's Move Towards MaaS 
The changes in the Bolt business model continue to blow its users' minds in 2021, and this time, with Bolt Drive, a car-sharing service.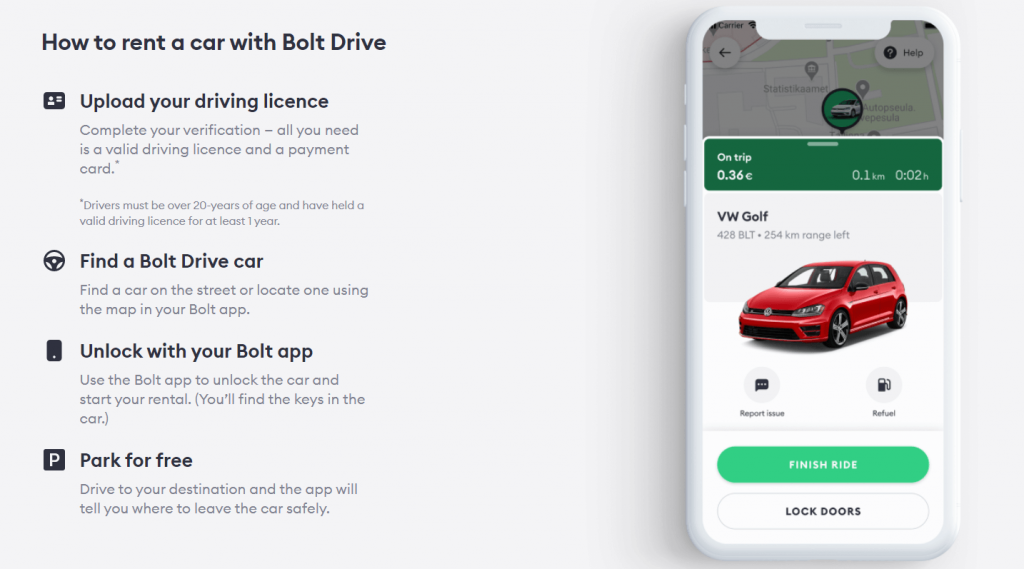 Bolt doesn't know what boundary is! It wants to become a giant by arming its users with multiple travel and delivery options with only one sign-up. Can you imagine having a travel card that you can't only use to hail a taxi but also to rent a car, use a means of public transport, ride a bike, or even order food? That's what Bolt's bigger picture looks like. Well, who can wait to witness such an artistic juxtaposition of tech and transportation? 
The revenues generated by MaaS (Mobility as a Service)platforms are expected to exceed $52 billion by 2027, up from $405 million in 2020, says the fact sitting on Juniper Research's latest study. 
With over 30 million customers and 35000 drivers signed up on the platform, Bolt has become Uber's first real competition. Bolt is redefining boundaries, thanks to the 1500+ brains working to bring a revolution in the ride-hailing industry. After setting its eyes on Europe and Africa, Bolt is beating companies operating out of Silicon Valley with its lower operating cost. 
Why Is The Interest Of Companies Bending Towards Bolt?
Didi ran giant funding round in 2017, and it ended up receiving $7.3 billion. With Uber also picking up the pace in running funding rounds, funding for ride-hailing services peaked in 2017. 
Global Taxi App Projected Value
With the global value of ride-hailing services taking a hit in 2020, the craving of companies for Bolt clones has crossed boundaries. The need for taxis is plummeting as the popularity of ride-hailing services rises. People's transportation behavior is also expected to change after the pandemic. They are expected to ditch cars for the comfort Uber, Didi, and Bolt business models craft for them.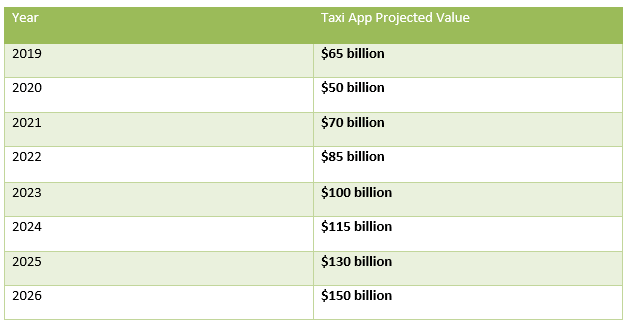 As ride-hailing services continue to penetrate deeper into the countries around the globe, could there be any better time to bless your business idea with a Bolt clone?