One of the main reasons behind people preferring on-demand load hauling and freight forwarding service is because they can easily book and track their loads in real time.
It provides them a level of security and assurance, as they can hold someone liable if anything happens to their load.
A freight broker software solution should provide an overall trucking software solution for freight brokers & fleet owners alike.
Your load hauling/freight forwarding software should have a self fulfilled load booking website where customers can book a load through brokers who connect these loads to the drivers.
Following are some of the key features of that you must include in your freight broker software website :
Book Load
To book a load you have to register with the freight broker website and create your profile.
Your load booking website should automatically detect your current location, or it shall allow you to book it manually. It also saves your favorite pickup and drop locations to ease out the transactions in future.
Your freight broker software shall allow you to insert the load details like weight of the load, pickup and drop locations, type of vehicle required, who is payable for the transaction (Sender/Receiver), contact details of the receiver, type and dimensions of load etc.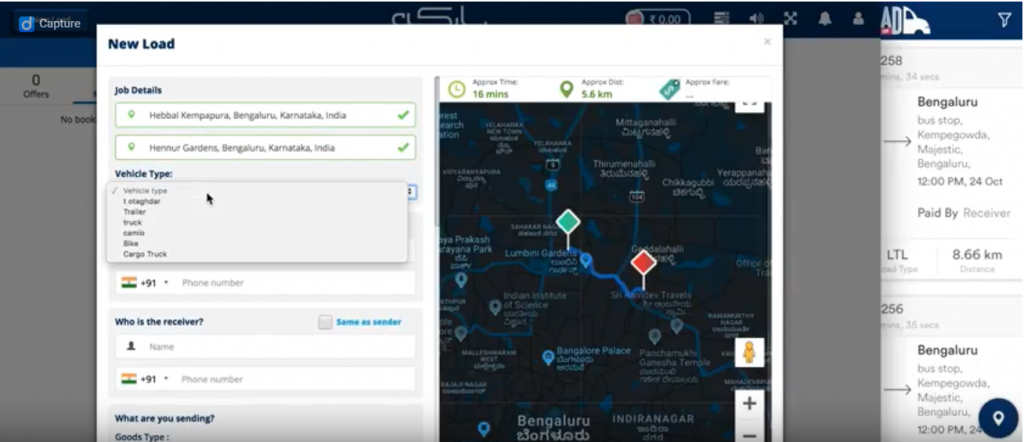 Freight broker software allows you to post an offer for a load on the 'Load Board' and all available drivers can either accept the offer or negotiate with you. A good freight broker website lets broker to enable bidding for the load.
Once the order is confirmed, you can see load details, after driver accepts the order you can see driver details and you can move on with next load order.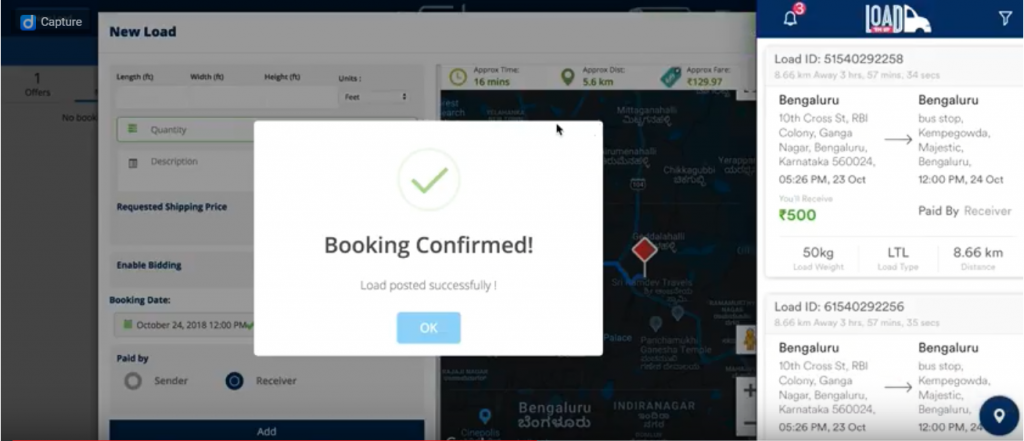 The contract is sealed after both you and driver 'Accept' the offer.
Track The Load
You should be able to track your load on your freight broker software and get live updates of the drivers location. You will be notified about the status of the booking and when the driver 'Arrives', 'Starts' and 'Completes' a Load and this notification will come as a push.
To track your load, you just need to apply your Load Id on the Track load page, push the submit button and get live map view with driver and vehicle details.
An advanced load hauling website allows you to zoom-in the live map view, call the driver and see the uploaded documents (if any).
Driver Registration
Your freight broker website shall allow drivers get themselves registered on the load hauling website by filling in the registration form on the website and getting their background verified by the broker.
---
Need a custom-built freight broker software solution?
If you are looking for a freight forwarding/load tracking software solution that contains all these features and much more to offer to your customers, LoadEmUp by Appscrip is your answer. LoadEmUp is one such fulfilled software solution that can be 100% customized to your business needs.
Here is a visual of how easily loading and tracking of loads is done on LoadEmUp:
This demo video is of a dummy LoadEmUp website, made to show entrepreneurs its basic and advanced features. The logo, color theme, pages and categories can be added, removed and modified as per your requirement.
Get yourself a 100% customizable load-hauling/freight broker software solution, LoadEmUp.  Click Here