Cajoo grocery is a startup company that provides grocery home delivery services in France.
Cajoo is part of a group of startups that try to create a whole new category of grocery deliveries. The company operates dark stores and manages its own inventory of products. Customers can then order items without having to think whether they'll be home when the delivery happens. Around 15 minutes later, a delivery person shows up with your groceries.
The startup competes with Getir, Gorillas, Flink, Zapp and a few others. It also indirectly competes with traditional retailers and their online ordering systems.
Cajoo's Growth
Cajoo is currently the only French company operating at this scale in this category. So it's clear that the company sees itself as a market leader in France first. But the company is already looking at other markets as well — Belgium, Italy, Spain, maybe Portugal or Eastern Europe countries.
But first, the company wants to grow its team. The number of employees working in the HQ is going to double by the end of the year. Operations and delivery teams will also grow quite drastically. The company expects a fivefold increase by the end of the year on this front.
The French grocery ordering and delivery platform received an infusion of $40 million from Carrefour multinational retail corporation and three other venture capitalists (VCs) this month. This is in addition to the $7.3 million funding received in February 2021.
It operates 20 dark stores across France and has more than 100,000 users. This has helped Cajoo to decrease its operating costs significantly. Ghost stores consume less physical space and accept only orders made online by customers.
Importantly, the Cajoo e-grocery platform will expand to 3 more countries (Belgium, Italy, and Spain). It will also boost its presence in Eastern Europe. The French startup would focus specifically on strengthening its distribution network and promotional efforts.
Currently, Cajoo manages stock on its own by using micro-fulfilment centres (MFCs). However, it will provide more choices to users in the future. Therefore, the online grocery delivery app will launch more hubs to handle the entire supply chain cycle.
It will also source goods from brick-and-mortar shops, convenience stores, hypermarkets, and warehouses. This will help the Cajoo platform to give tough competition to brick and mortar stores. On-demand delivery services will be assured for customers with an army of contracted workers and freelancers.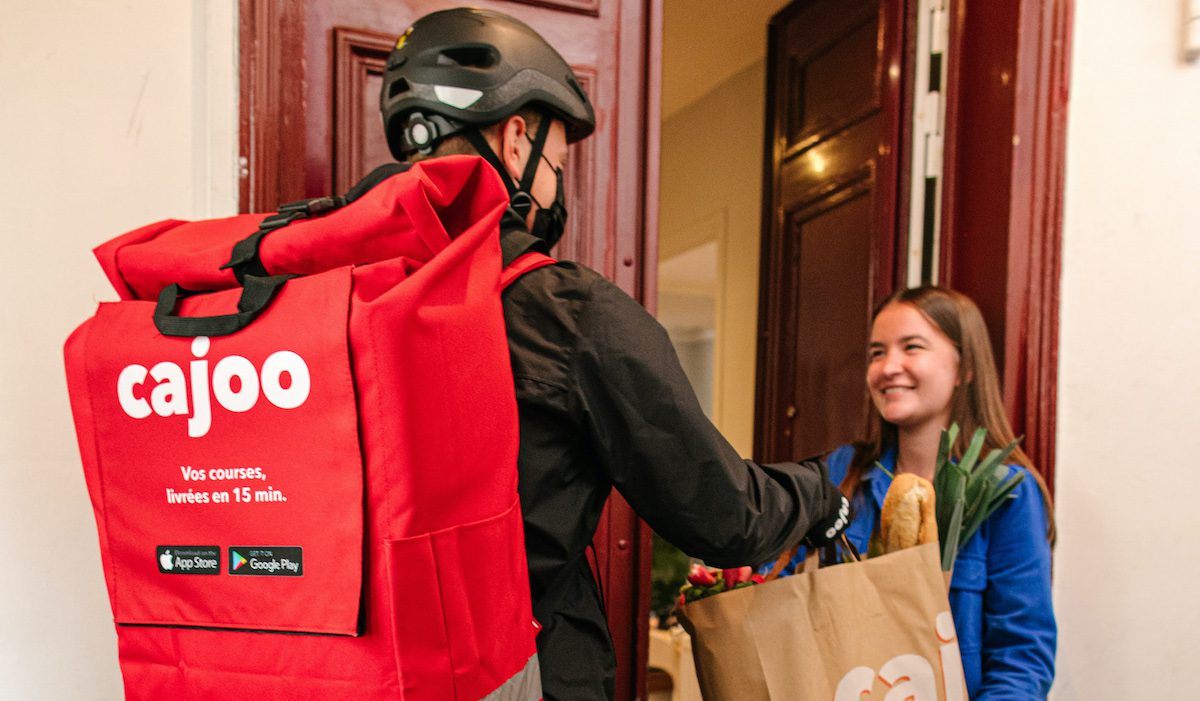 Cajoo Grocery App – Stand Out Features For Building A Cajoo Clone
Picker App: Build an Instacart like picking experience.
Driver Shift management : For better utilization of driver capacity, and maximizing the number of deliveries.
Store Fleet Management Console: Allows stores to track the status of their deliveries, and to create new deliveries for orders received via other sales channels.
Progressive Web Application: For enhanced UX on desktop, tablet, and mobile devices that are fully integrated with the mobile app.
Driver Picker Module
The driver shops for the order. They can also chat with the customer by suggesting alternate products or even recommend new products to the customer. They also procced to checkout and pay for the order in case of cash on delivery.
VOIP app to app calls are part of the chat module that enables free calling within the app.
Prood Of Purchase
Stores can print labels with a QRcode to identify which order belongs to the driver's customers so the right order is picked up. This helps while doing multiple deliveries.
Prood Of Delivery
The driver scans the QRcode at the time of the drop to ensure the right bag is delivered. This helps while the driver is carrying out multiple deliveries. A signature from the customer ensures proof of the delivery.
For higher value deliveries a verification code is sent to the customer that ensures theat the order has landed in the right hands.
Contactless COVID Proof Delivery
This feature allows contactless deliveries where the executive can drop the groceries outside the user's location. A photo is uploaded as proof of delivery.
Return Management
If a customer wants an item to be returned in case of damage or he is not happy with the choice, a return order can be generated. The store manager can return it to the store after due process.
Reattempt Delivery
If the customer isn't available for the delivery the driver can re-attempt the delivery later. This requires additional delivery charges.
Route Optimisation and Multiple Pickup & Delivery: That enables drivers to do multiple deliveries.  The delivery cost optimisation is carried out using route optimisation algorithm module.
Fleet Management Console
A central dispatcher is set up on the backend and has access to the web central dispatcher. Provides an overview of all active stores and orders in real-time.
Self Pickup
The buyer can preorder a list of groceries. But instead of depending on the driver for delivery they have to go personally to the store to pick up items.
Loyalty Points
Avail offers and discounts by collecting points on every purchase for a certain order amount.
How Will The Cajoo Grocery Clone App Make Money For You?
Representing supermarkets: One of the primary ways that on-demand grocery delivery applications make money is by representing different supermarkets on the platform. Any supermarket must pay a large sum of money to be featured on the platform of grocery delivery apps. Customer reviews and feedback are sometimes used to determine the position of an application in the window.
Some grocery stores pay exorbitant fees to be represented on the landing page. This is owing to estimations that such establishments are likely to obtain consumer orders. However, one thing to keep in mind is that some of the supermarket's positioning is also based on previous feedback and ratings of the supermarket. Here, SpotnEats provide the top 7 tips to bring fame to the grocery store in 2021 with an on-demand grocery delivery app.
Orders are shared in part: When any of the grocery stores receive an order through the grocery delivery application platform, the company must charge the grocery store for a portion of the order.
Because the Clone application platform is in charge of the orders, it is allowed to share a portion of the revenue generated by the mobile application with the grocery stores. Every establishment is required to pay a set amount of money or a percentage after receiving orders via the application.
This is why grocery delivery apps are so keen to promote diverse supermarkets. However, there is some trepidation out here. Disputes between establishments and on-demand grocery delivery apps occur frequently. It is preferable to establish a contract prior to the operation of the grocery store and the application on the distribution of the money.
Charges for Delivery and Convenience: Delivery and convenience fees are additional fees levied by the Grocery delivery app on customers. Delivery is almost always free in some applications. Others, on the other hand, demand a fee for convenience and delivery methods.
Many on-demand grocery delivery apps believe that collecting delivery costs will stifle their growth and profitability. On the other hand, there is a widespread belief that delivery fees can boost revenue.
Putting up Advertisements: Placing advertisements is one way to earn money in any of the applications. To earn extra money, anyone can share the platform and provide advertisements.
Advertisements are not required to match the theme of the grocery delivery application. Some of the advertisements are completely unrelated to the theme of the grocery delivery app. They are, however, highly encouraged because they are one of the ways to earn extra money. It can be a difficult task at times to persuade clients to receive advertisements, but after a while, there are plenty of clients who are eager to advertise them.
Increasing Customer Loyalty by Providing a Loyalty Program: Customer loyalty is one of the most important aspects of any business. Building consumer loyalty requires a lot of time and work.
The major goal of building a grocery app in conjunction with a grocery shop is to provide a customer loyalty program through which you may maintain existing customers while attracting new ones. Offering a tailored and extremely intuitive user experience is one of the most important strategies to increase revenue.
Customer loyalty is one of the most important aspects of any business. Building consumer loyalty requires a lot of time and work.
What Is The Cost Of Cajoo Grocery Clone App Development?
The cost of app development is heavily dependent on the location of the development team.  Development costs are charged on a per hour basis and change progressively as we move from Asia to Europe and finally the highest in North America.
India: $10 to $40 per hour
Eastern Europe: $30 to $100 per hour
U.S: $70 to $150 per hour
Grocery Delivery App Development Cost Breakdown
| Grocery App Development Stage | Hours to Develop |
| --- | --- |
| App Discovery | 80+ hrs |
| Idea validation | 40+ hrs |
| Visual prototyping | 60 hrs |
| Documentation | 60 hrs |
| UI/UX design | 130–190 hrs |
| iOS development | 600–800 hrs |
| Android development | 500–800 hrs |
| Backend development | 300+ hrs |
| Admin panel development | 60 hrs |
| Testing & Quality Check | 60 – 120 hrs |
| Total: | 1900–2400+ |
As mentioned in the breakdown developing an on-demand grocery delivery app would take approximately 1900 to 2400 hours. This can then be multiplied by the development rate (varies according to the location), and you will get a fair idea about the development cost. So, we can say that the on-demand grocery delivery app development in India will cost anywhere between $20000 to $50000. Similarly, It can cost around $40000-$200000 in Europe or the USA.
Wrapping Up
Unquestionably, Cajoo has a promising future ahead. The startup has got the early-mover advantage as competition is not intense in France when compared to Asian, Middle East, and North American markets.
Moreover, the French retail platform will concentrate on hiring skilled executives to ensure on-time delivery to customers. Besides that, the Cajoo platform is planning to get work permits for ensuring non-stop business activities.
With a surge in new orders from customers, Cajoo will focus on upgrading its stock-keeping units (SKUs). Above all, the online grocery delivery platform will give more attention to ultra-fast 2-wheeler order fulfilment.
You can make heads turn in the retail industry by ensuring instant convenience to users. Team up with Appscrip today and get a money generating Cajoo clone app.