"Are we witnessing the evolution of autographs and celebfie?

No, we are co-creating it!"
---
The Emerging Popularity Of Celebrity Shoutout App 
With much of the global economy grinding to a halt, showbiz is no exception. Performers are having to find creative ways to define and monetize their role in the society. One option is celebrity shoutout platforms. 
These apps have been around for a few years now, but have become increasingly popular among celebrities (across the entertainment sectors), influencers, and content creators in recent times, driving several businesses to join the bandwagon.
Users can access the platform to request customized video shout-outs from their favorite idols – actors, musicians, singers, influencers, etc. This creates authentic, mesmerizing life moments for fans worldwide.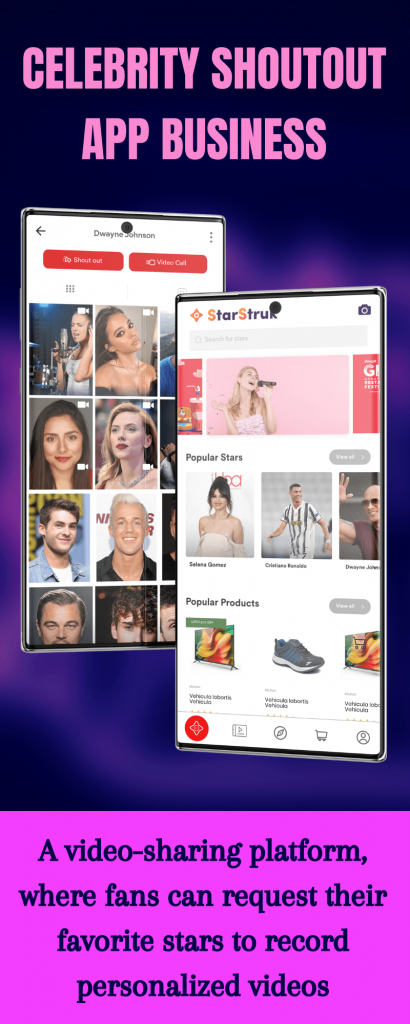 Incredible Features Of The App
Here are some of the great app-features that contributed to the success of the platform.

Discover Celebrities
Users can explore the list of stars on the platform and view their profiles. They can also search for specific profiles using the search feature.
Request Personalized Videos
Users can request their favorite idols to share customized videos for themselves. They can also request the same for family and friends to surprise on them special occasions like birthdays, marriage anniversary etc.
Real-Time Video Chat
Users can either choose to request for a personalized video message from the stars, or request for an exclusive video call with them. The one-on-one video chatting will create an authentic fan experience.
Social Sharing
Users can share the video-shouts received from celebrities on their profiles for public viewing and engagement. 
Latest Updates & Celebrity Sneak-Peeks
Celebrities can share short videos from their daily lives. It can be about how they spend their leisure time. They can also share updates on the upcoming projects with their fans.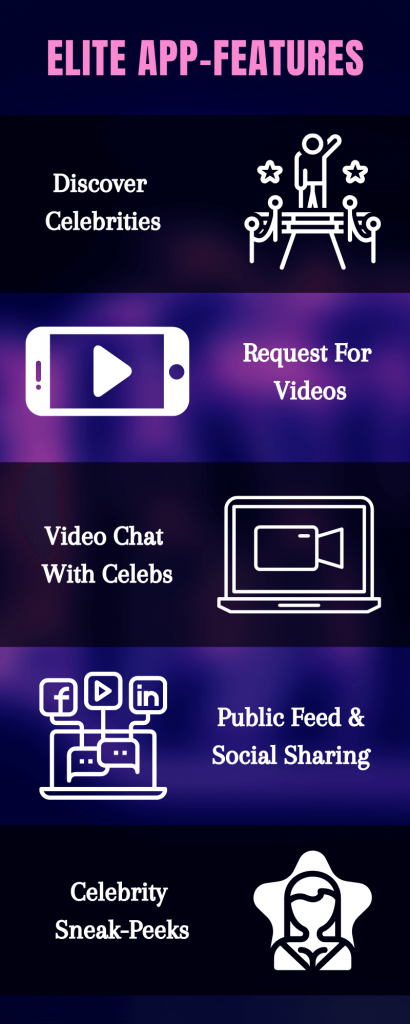 Celebrity Shoutout Apps: Why Celebs Should Swear By This Trend!
This offers an excellent opportunity for celebrities to interact with their audience – both online and offline. It acts as an incredible marketing tool.
Celebrity shoutout apps are the best way stars can strengthen their follower/fan base. It also helps them stay on top of their business without investing much in marketing activities.
The paid subscription package of these apps adds to the revenue stream of celebrities. They can earn for every customized video shout-out they share with their followers.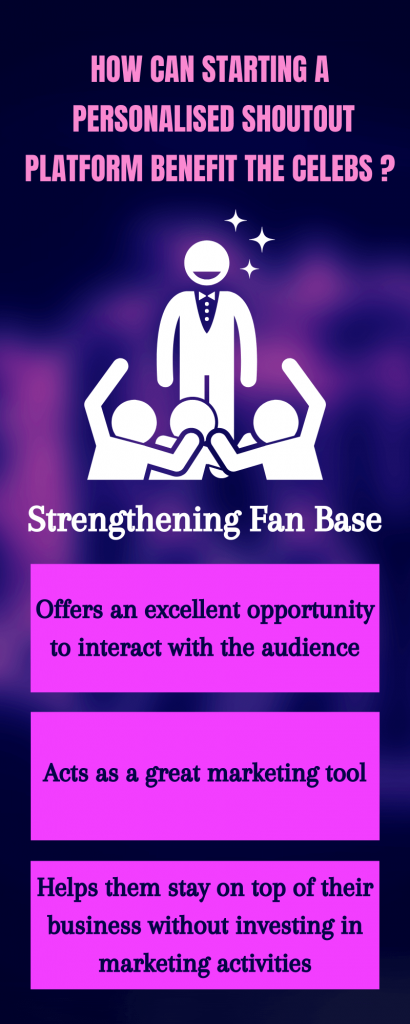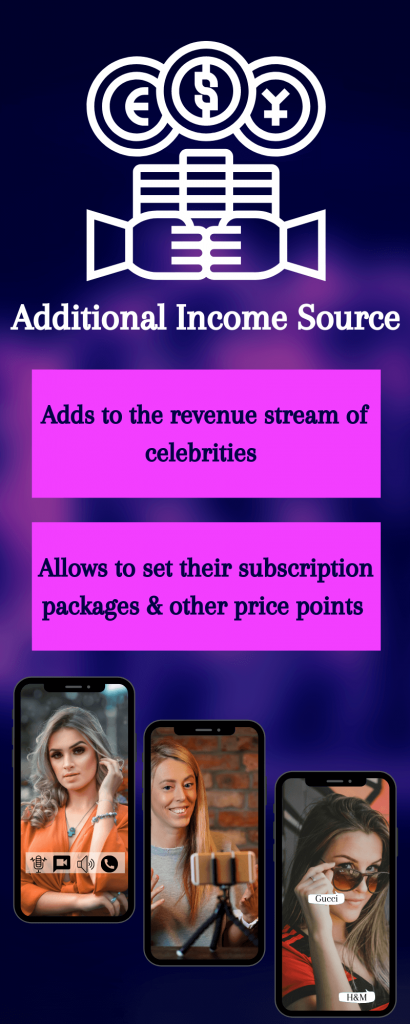 For Fans, It Is A lifetime Gift!
Who wouldn't like a personalized video message from their idols?
The potential of celebrity shoutout app is immense. It goes beyond calls and video-sharing between celebrities and fans. It creates a brand new universe of fan engagement in relation to their celebrities.

A Pragmatic Solution To The App's Development & Deployment
Fully customizable
Each feature and functionality of the application can be customized to go in line with your business model.
Native Apps
Native Android, iOS, and web apps to cover audiences from all walks of life.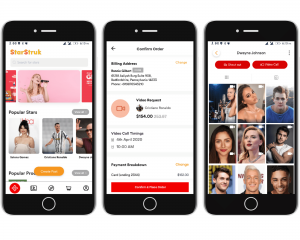 Team Of Experts
The best minds are employed to deliver a resilient solution that gives your business an edge over your competitors.
No Hidden Charges
A cost estimate is shared with a detailed breakdown. One-time investment to earn for a lifetime!
Super Fast Deployment
Readily customize the app and quickly launch it to offer seamless performance in less than 3 months.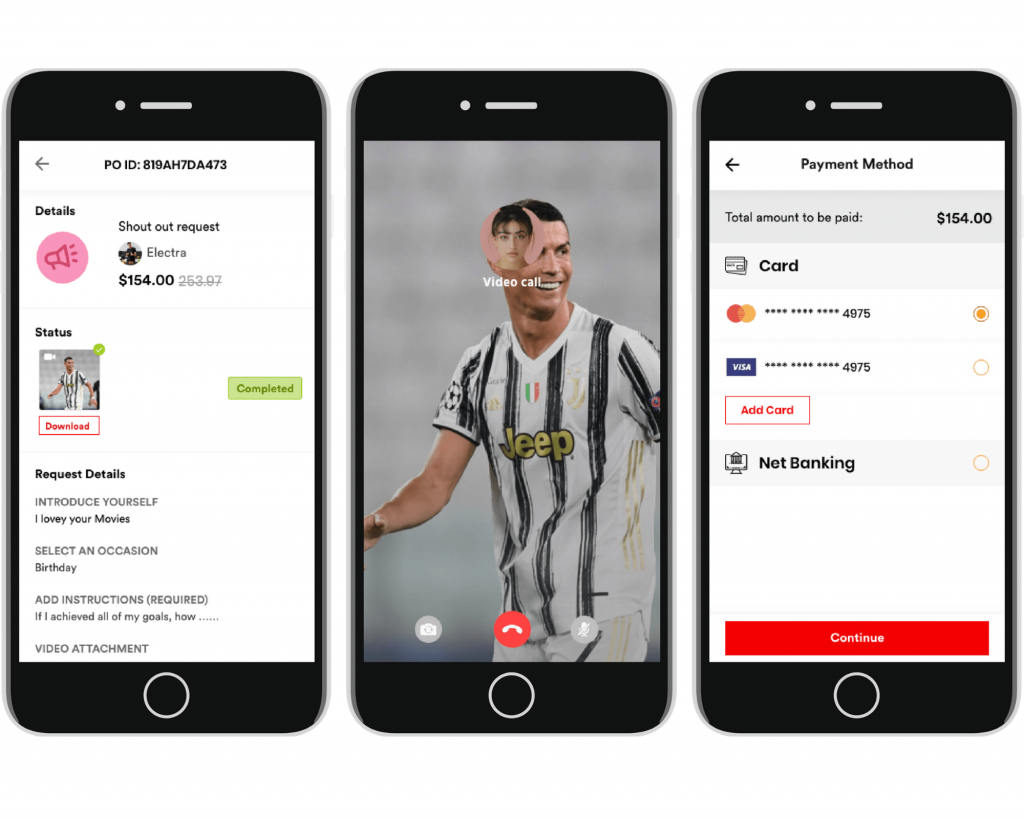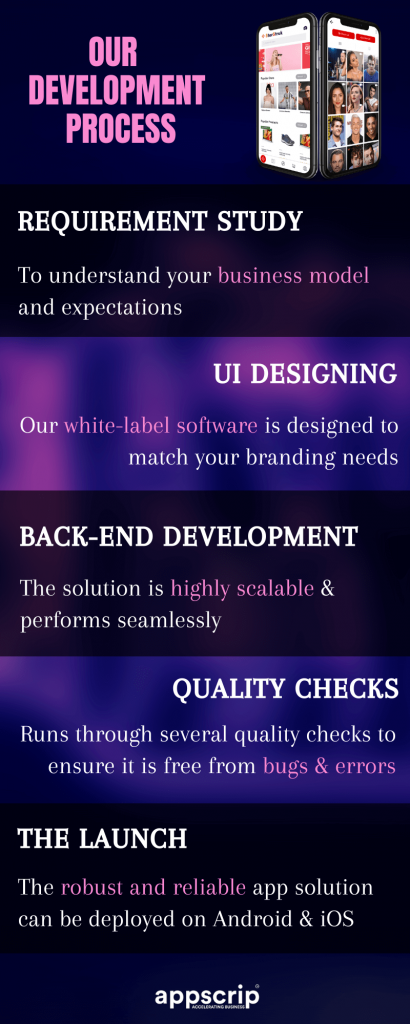 Launch Your Celebrity Shoutout App Today!
The development of a celebrity shoutout app differs from one project to another. It is influenced by various parameters like features, functionalities, technology stack, and many other factors.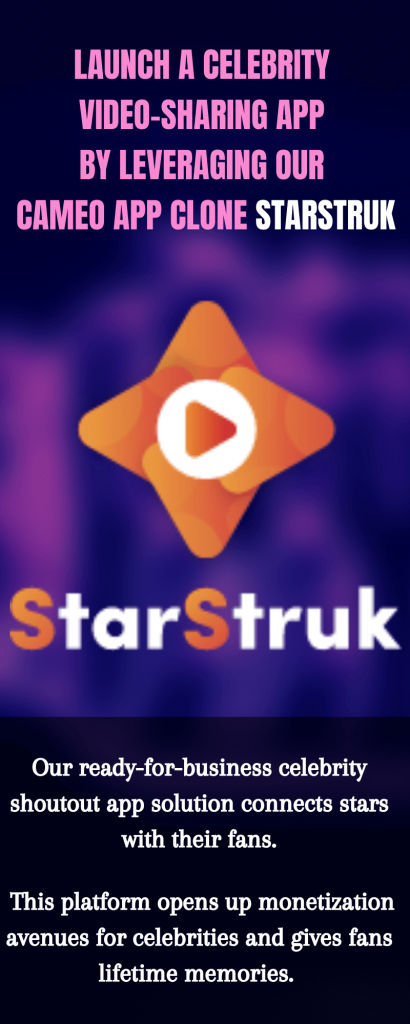 On average, the celebrity shoutout app is going to cost you around $50K. Functionality-wise there's nothing difficult about it. The trick to attract mid-level celebrities in the area of your choice to make the app profitable. Therefore, it should be marketed and promoted efficiently in order to get revenue.
---