The challenges of  cloud computing indeed need to be examined carefully before delving into this technology.
Cloud computing is an on-demand availability of computer (IT resources) system resources, especially data storage and computing power. And this happens without direct active management by the user.
Cloud computing is also defined as the delivery of important digital services including various intelligence, databases, networking or software. This happens over the internet using the "cloud".
 A "cloud" generally is a large network of servers operating around the world which are combined in a single platform. On this platform, the end-user can store their important databases and can access them whenever they require.
2022 is the year of high-end data security. It should be the user's responsibility to make sure that their data is highly authenticated and authorized. They also need to make sure that their data has powerful end-to-end encryption, along with access control.
What Is Cloud Computing?
Cloud computing is delivering various hardware and software services over the internet, through a network of remote servers. These remote servers are usually store, manage, and process data that enable users to expand or upgrade their prevailing infrastructure.
The abilities and range of the cloud are massive. We split the IT industry into 3 categories to help define use cases.
a) Software as a Service (SaaS) – The software is generally owned, delivered and managed remotely by providers. SaaS, is a popular path to access and pay for software. Here instead of installing software on your servers, SaaS companies rent the software that's hosted. This is typically on a monthly or yearly subscription.
b) Infrastructure as a Service (IaaS) – Infrastructure as a service (IaaS) is the second type of cloud computing service that allows essential compute, storage and networking resources on demand. This would be on a pay-as-you-go basis.
c) Platform as a Service (PaaS) – Platform as a service (PaaS) is a total development and deployment setting in the cloud. Here resources enable you to deliver everything from simple cloud-based apps. Mostly to sophisticated, cloud-enabled enterprise applications.
This is an aberration from traditional onsite computing done via a local server or a PC. The legacy methods are slowly being left behind.
In fact, IDG recently published its Enterprise Cloud Computing Survey which found that 72% of organizations possess at least one app or some portion of their computing infrastructure in the cloud – 18% will soon do the same within a year's time.
A study conducted by Thales Global Cloud Security has indicated that around 40% of the organizations have reported a cloud storage data breach and around 83% of organizations have failed massively to encrypt 50% of the vital data that they store in their cloud.
So what are the other major challenges of Cloud Computing in addition to security? Let's take a look!  
The Challenges Of Cloud Computing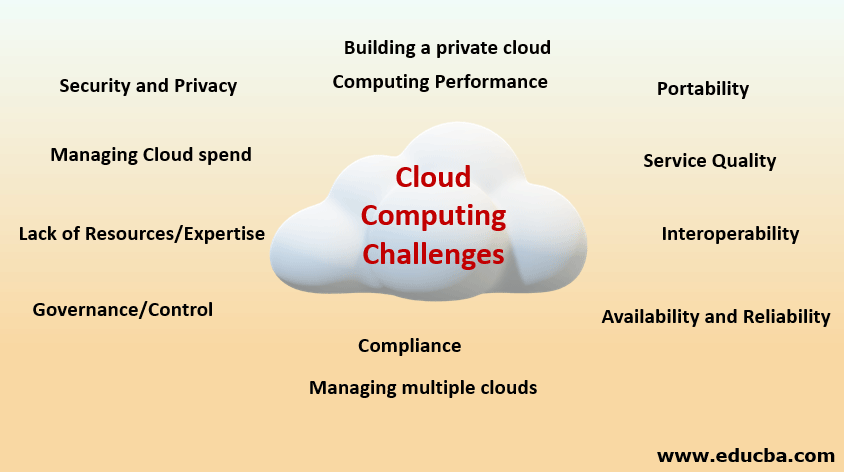 Lack Of Skill And Expertise 
The technologies in the field of cloud computing are developing at an immense rate to cater to the needs of users. There are plenty of job opportunities but not many talented cloud engineers, developers, and professionals.
Organizations need to find trained professionals to maintain their cloud systems. But it can be expensive for small enterprises to hire trained professionals. 
Companies must constantly update themselves with new knowledge. This would help the present generation of professionals to understand, manage, and develop cloud-based applications with fewer issues and extreme reliability. 
The concept of cloud computing is new to everyone, therefore it becomes challenging financially.
If organizations plan to hire instructors to train the present staff, they would have to pay them exorbitant sums. Thus, increasing stress on their budgets. 
Cost Management While Using Cloud
Even though cloud computing is meant to save organizations new investments such as that on costly computer hardware, it still turns out to be an expensive affair.
This is because of what is popularly known as cloud sprawl. Businesses need to practice cloud cost governance to reap the benefits of cloud computing. 
Also, once you avail such services, then it is important to use them to their full potential. This is known as cloud optimization.
There are endless options to choose customized cloud solutions as per your business requirements and budget. Train your IT team to understand the best way to use "clouds" without disturbing your finances. 
General Compliance
Compliance in cloud computing means complying with the laws that are framed while using the cloud. The compliances could either be customer-based, government-based, or a combination of both.
The compliance rules are getting stricter in every country due to privacy issues and cyberattacks. For example, a law called HIPAA  was introduced in the healthcare department of the US. This law creates tough guidelines regarding the transfer and storage of patients' health data. 
To solve challenges related to compliance, choose a cloud computing vendor who is well versed with the standard rules applicable to the area where your business is!
Multi-Cloud Environment
Due to ever-increasing demand and competition in the market, companies are moving towards multiple cloud service providers to store and secure their data.
These could be private clouds, public clouds, or a combination of both called hybrid clouds. This often ends up being difficult to manage the task for the infrastructure team. 
The IT team also finds it highly complex as they are working with multiple cloud providers who have different requirements and offer different features.
Interoperability Of Databases 
If a firm uses a particular cloud service and wants to switch to some other cloud service in future, then it could be difficult. This is because codes developed for one cloud need to be redeveloped for another cloud.
So this movement of private data and setting up the new cloud service entirely from scratch (Cloud migration) becomes a tedious task for the IT team. 
High Network Dependency
The overall concept of cloud computing is the regular storage and access of data over cloud memory. This requires a high-speed internet connection that should be available at all times.
This becomes a challenge for small businesses suffering from frequent network issues. You will need to update your existing network connection so that no downtime happens. Internet downtime can cost your business huge losses if most of your services become cloud-based!  
To Conclude: Challenges Of Cloud Computing
We have discussed some of the most important challenges regarding cloud computing in the above section. Cloud engineers are continuously working to solve these issues and provide more beneficial technologies for our gains.
Cloud computing is a great platform to grow your business. At the same time, we recommend you stay vigilant in adopting this ever-evolving technology! 
---