CRED is a free app that assists users with multiple credit cards to pay their bills on time. 
You earn rewards in the process and there are several other interesting features.
CRED business model has so far gained a huge base of 6 million high spending clients. RBI's latest data shows that India has issued around 60 million credit cards. CRED claims is processes 20% of all credit card payments in India – which is substantial.
Most credit card users experience frustration in handling multiple cards, performing timely payments and clear dues through arduous processes. CRED is a fintech startup providing a one-stop solution to all such concerns by simplifying and making the process seamless.
CRED FUNDING
With a $215 million fundraise at a valuation of $2.2 billion, fintech startup CRED declared itself a Unicorn. This funding round was led by existing investor Coatue Management LLP and new investor Falcon Edge Capital.
Kunal Shah-led CRED's Series D round (the latest) comes a couple of months post, having raised $81 million at a $806 million valuation.
CRED has 6 million users, but experts cannot fathom if a firm can be built focusing on the elite. Which is 3% of the Indian population using credit cards.
What does CRED do?
CRED is a fintech startup providing clients a platform to pay their credit card dues, rent and other bills. All this is done in one place and you earn rewards for completing it on time. The firm also provides users opportunity for instant credit and enables a channel for P2P lending between high trust individuals. The interest rate of such transactions are nominal compared to traditional lending firms charge.
CRED Business Model
CRED was launched 4 years back to the month by Kunal Shah. The idea was to capitalize on the reputation high trust individuals garnered and could be rewarded for their commendable financial behavior.
CRED aims to create a closed ecosystem of credible high trust individuals so that they may connect and bond. This credit-based ecosystem provides a safe space for individual lenders and financial institutions to loan money to reliable individuals.
The creditworthiness of individuals is taken from credit scores to measure and filter the community. These customers are then retained and rewarded through CRED coins when they make timely payments through the platform.
CRED's Customers
CRED's customers are 3% of the Indian population who own and use credit cards. They specifically scour the wealthy, affluent, and trustworthy individuals to create a win-win situation for everybody involved. The closed community of loyal and credible individuals can build instruments so as to connect and expand on several possibilities.
CREDs Value Proposition
CRED's business model aims to provide excellent user experience and resourcefulness for providing value to its clients.
The CRED application helps users by credit card dues, rent and other bills within five taps. The hassle of using multiple credit cards is diminished as the process is simplified, convenient and rudimentary.
Users are provided with an instant credit opportunity and promotes P2P lending at 9% to lenders. This is way higher than what is paid in savings accounts or deposits.
Loan caps are recorded, hidden costs and overall expenses of users are analyzed. Due dates are tracked and timely reminders are sent to make payments.
CRED coins are rewarded to users who make timely payments that can be redeemed on the platform. Users can 'Discover' and avail discounts on various products offered by CRED partners.
Credit scores can be calculated freely by users or CRED will help to maintain a good credit profile by helping make commendable financial decisions.
But what's imperative is CRED is a niche and close-knit community of trustworthy and creditworthy individuals. CRED aims to help people make timely payments and earn substantially in several ways. It is a social network that helps connect similar people with umpteen possibilities.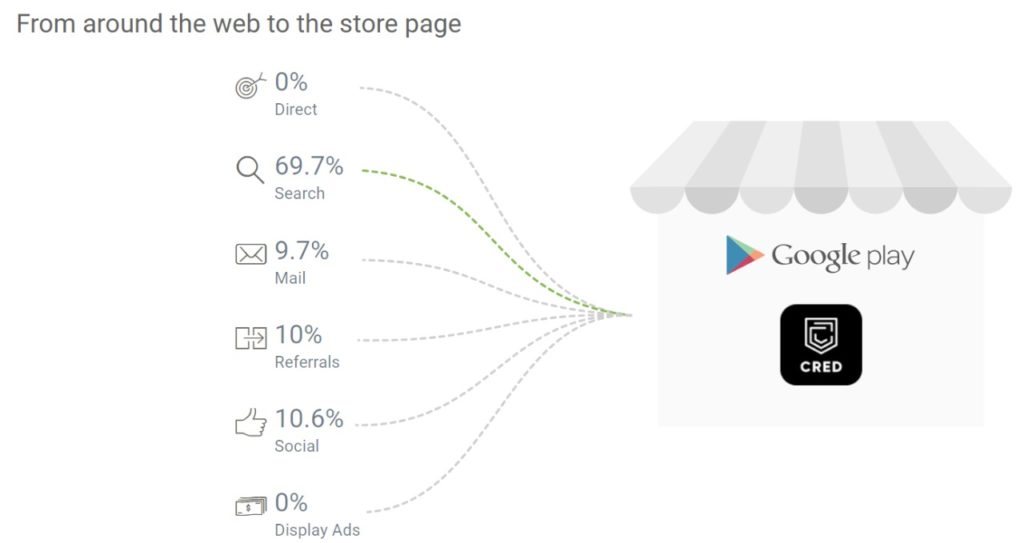 How CRED Operates
At first the user would have to download the app and enter their mobile number. The app now checks for cards that have been registered to this mobile number and the account gets configured. A person is allowed to use the app if their credit score is more than 750. Otherwise he is transferred to a waiting list.
Once the app receives access to mail identification, it would read and scan credit card receipts for due dates, payment and service statements.
Key Activities
The key activities offered by CRED to its users are CRED travel, Credit management, CRED Stash, CRED Mint, RentPay, and CRED Store.
CRED Travel
CRED makes it possible for users purchase flight tickets, book hotels, and manage restaurant expenses through the app. Users are rewarded with CRED coins that can be used to purchase various products from the CRED store.
Credit Management
CRED provides a UPI to their users so that they can pay their credit card or other bills through the app. For this they receive rewards in the form of CRED coins, but the payments would have be timely. These vouchers can be used to get discounts on products that CRED has tie up with. Reminders are sent for payments before the due date.
CRED Stash
CRED Stash offers instant credit for clients with ease at one-third the rate of interest offered by credit card firms. The credit amount is limited to Rs 5,00,000. The tedious process of verification and application process associated with availing loan is by-passed. CRED has tie-up with banks like IDFC to provide these loans.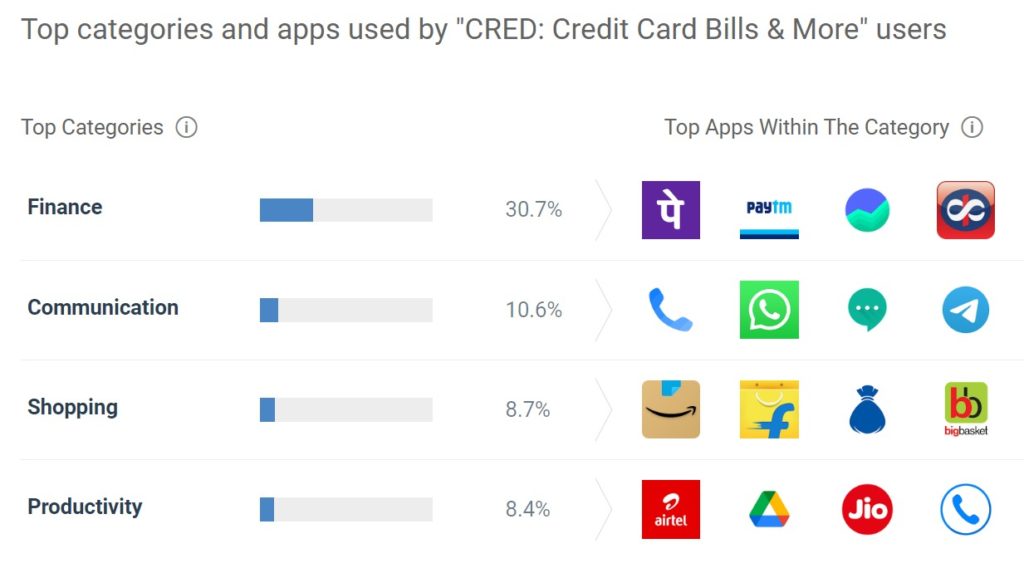 RentPay
CRED's RentPay ensures users can pay recurring expenses like household expenses or rent through the app. Users get reminders to ensure the payments are made timely. And paying through the app garners rewards to avail products at a discount.
CRED Mint
CRED Mint is a P2P lending product in partnership with Liquiloans, an RBI registered P2P non-banking financial corporation (NBFC). Users can lend their money and earn up to 9% interest. They can invest anything between ₹1,00,000 and ₹10,00,000, to earn returns.
The investments in CRED Mint are disbursed via CRED Cash specifically for high trust individuals. Until now regulated partners have loaned around Rs 2415 crores.
CRED Store
CRED has partnered with over 2000 brands in domains such as health, travel, and ecommerce. Users are allowed to use CRED coins earned by them to avail discounts/offers while purchasing products or services through CRED. Affiliated brands off exclusive prices that can be accessed via CRED store. The brands gain and enhance their sales.
Key Channels
CRED has a website and an app for users to take advantage of.
Key Partners
CRED has partners with over 2000 brands offering exclusive prices.
They have tied up with 34 banks. Users are offered cheap credit in partnership with the IDFC bank. P2P lending is available through collaboration with Liquiloans (a NBFC registered with RBI). Payments are facilitated through Axis Bank.
Cred Revenue Model
As of now CRED is aiming to scale and expand their customer base before targeting profits. The CRED is a free app. This is what most internet-based startups do early on.
Sources Of Revenue For CRED
Affiliate Income
CRED partners and ties up several firms who offer their products on 'Discover'. CRED users have options to redeem coins earned. Businesses gain visibility and user attention. Firms pay a fee to CRED for business generated.
Revenue From Advertisements
CRED's target audience are high-net-worth individuals and having such data regarding their spending can help optimize ads to encourage spending which in turn gains commissions on sales.
Transaction Fees
There's a processing fee of 1 to 1.5% on transactions.
Revenue From Loans
P2P lending helps lenders earn interest of 9% and loans are disbursed at 10–12%. CRED also lends customers loans on which it earns interest at rates lesser than the market rate.
Costs Incurred
CRED's marketing costs have gone up drastically after they pitched in for IPL sponsorship. But this has helped create visibility for them. Even as they increased employees it added to their expenses.
Conclusion – CRED Business Model
CRED has marketed themselves in a pioneering and creative manner. They deliver gifts to users to offices to enhance awareness and visibility. The company is creating a reputation for themselves.
As clients pay via the app, CRED gains valuable financial data they can monetize later on. This data can be used to enhance and personalize UI of the app.
CRED aims at building a fenced community and executing their plans before expanding and earning profits.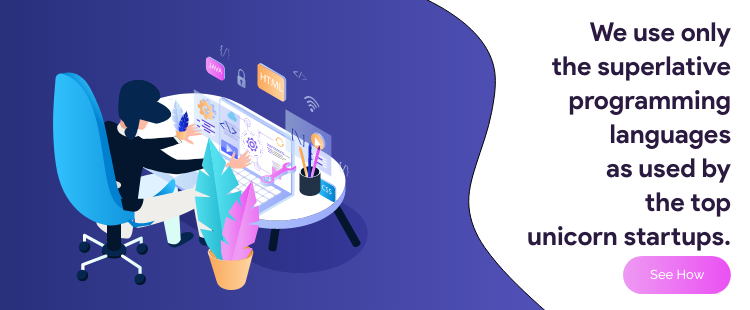 With an Engineering degree and a Diploma in Management under my belt, I worked for 16+ years in the automobile industry with various manufacturers in various capacities. But my passion for writing was overwhelming, hence I turned that into a career. I have been writing for more than 10+ years on various domains including the IT industry. I am sure you will find the 200+ published blogs of mine in here informative, exhaustive and interesting.