Instacart will do more than just deliver your groceries and snacks, they will also go ahead and advertise them for you.
This almost decade old digital grocery service entity is hugely responsible for encouraging people to take up their smartphones and adopt digital shopping wholeheartedly after abandoning malls and supermarkets.
Now Instacart is foraying into promoting online advertising. Hence they have been out head-hunting for professionals from top notch firms like Facebook. They are also developing platforms for video and other services.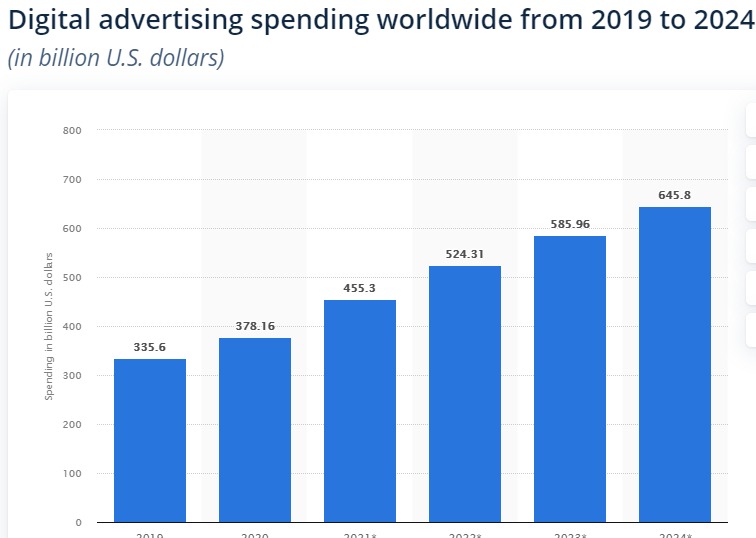 Instacart aims to tap into the multibillion dollar digital advertising niche. This is also being pursued by Walmart and Kroger, who are some of their largest clients. Their newly appointed Chief Executive Officer said that the opportunity presented is massive. But the challenge here is to execute at a quick pace and to capture the market.
Instacart and other grocery-delivery services such as DoorDash / Uber Eats gained a lot of headway as the supermarkets in the US lost customers in troves due the pandemic which in the process pushed a bereft populace into online shopping.
Instacart is gung-ho on gaining a strong position in consumer products advertising as their specialization in groceries should give them a head start.
But the fact is delivery firms are struggling to churn out profits consistently as labor and transportation costs went northwards and curtailed profit margins. Instacart does not disclose its financials to the market, but this venture capital-backed firm has given signs of going public is the near future. And one of the sure shot ways to boost sales and enhance the relationship they have built with their clients is through digital advertising.
Spending on Digital Advertising
In fact even Walmart is revamping its ad-sales division, they are adding new advertising technology and selling ad space on the in-store checkout and display screens which will help them to reach out to consumers in stores. Walmart has built significant media business and are now investing in newer capabilities and products that will allow them to evolve from traditional media business to a closed-loop multifaceted media company. The group has doubled advertisers and revenue in the past one year.
According to research done by a marketing firm, digital advertising budget on Food and Consumer Brands' spending is expected to increase to 31%. Brands are not only garnering more data on website and apps so as to reach out to clients, but there has been a massive intent to let go of in-store deals and television spots.
Walmart has renamed the Digital Advertising division as Walmart Connect. This signals the company's growing intent to diversify their revenue streams to break into the top 10 ad firms in the coming years. Interestingly in 2020 Instacart's ad business gained them around $300 million in revenue. This made them bullish and now the company seeks to enhance that to $1 billion by 2022.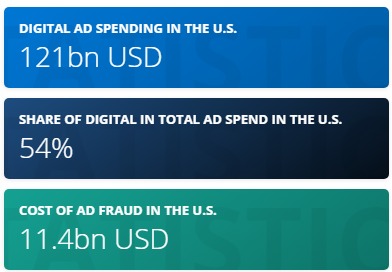 Instacart doesn't compete with its retailers but strategizes with them so as to help them achieve higher sales. They go about this by providing data on the goods they should concentrate on and how much impetus they should provide for each item. Instacart provides valuable data to retailers on orders placed through their platform.
Thus they continually work with them, analyze the data and show them how to apply the info gained. With this retailers can build long lasting relationship with shoppers and clients can benefit due to better deals.
Instacart Views On Digital Advertising
Instacart believes that digital advertising is a service that will assist grocers who aren't equipped with own platforms. While the grocers gain from this,  Instacart profits as it can offset the cost of delivering groceries by selling these ads. From the year 2019 Instacart began investing in the ad business majorly. They made their intent clear when the hired professionals from Amazon to help them in this niche.

Instacart will also offer new ads of products via audio, video, and other parallel media. They also plan to take up email marketing and other ad formats. Only recently Instacart introduced display advertising that consists of graphics and banners on its webpages.
Just as businesses utilizing Facebook for advertising have experienced placement preference of ads, Instacart too will provide options to advertisers' to push bids for search-result placement thereby providing greater value on the platform.
Instacart takes search advertising seriously wherein brands can submit bids to secure placement and priority of their products when consumers search for certain products or categories either on Instacart's website or on a mobile app.
Not only that, Instacart also offers to deliver freely certain purchases along with coupons and interesting deals. Large retailers like Walmart and Target have been investing in the digital ad sphere with an aim to generate new streams of revenue and help their suppliers reach the oversized group of serious online shoppers.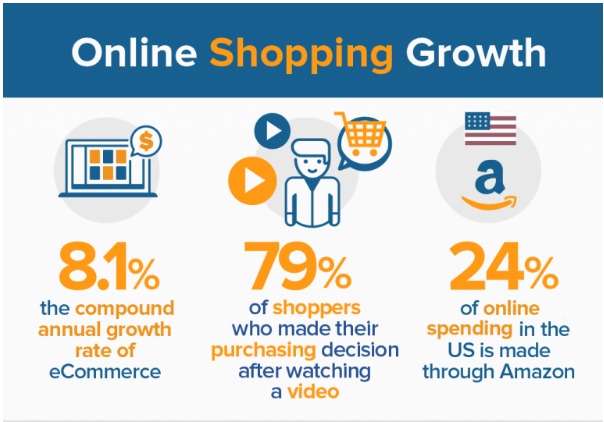 While Walmart has an iota of share in ad revenue compared to giants Google, Facebook and Amazon, their access to in store and online client data will shame rivals for the demand side platform data in comparison and help them garner a large slice of marketer's revenue.
Searching for share
In 2020 Amazon's U.S ad revenue grew to $15.7 billion, up 52.5% from 2019. But Google's and Facebook's share in the U.S digital ad ecosphere is pretty lean, at – 29% and 25% respectively. And Amazon is quickly becoming a formidable competitor.
Shares in the overall digital ad market keeps changing fortunes as Google loses share while Facebook is stable and gaining a tiny bit. A probable reason could be Facebook isn't doing search ads, where Amazon is really competing.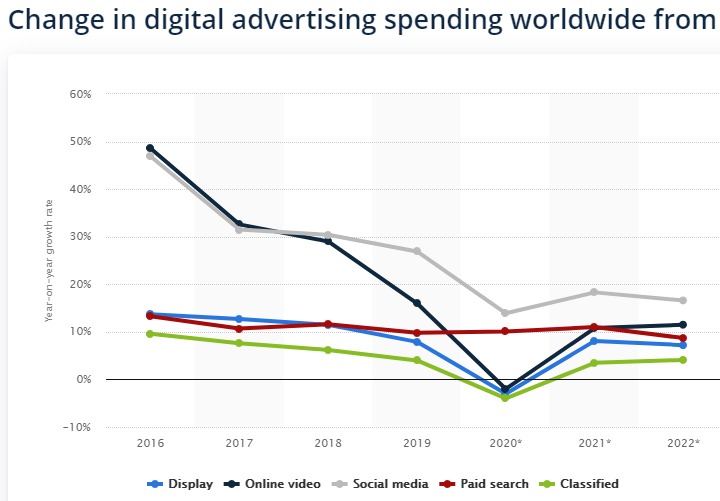 Digital ad targeting tweaks driven by Google will only enhance ad spending among ecommerce channels. Any change will make it more difficult for advertisers to target individuals and measure the impact of their ad campaigns. This will only inspire brands to invest in first party data collection or purchase of data. Or brands may turn to retailers who can acknowledge if their campaigns assisted in a sale.
This year Amazon's search ad business will grow to $14.5 billion. This would be an ad spending of 19% in the US search ad scenario up 13.5% compared to 2019.  While Google will bolster their ad spend in the US search ad market to 55% in 2021.
Amazon will usurp its share from Google as they cut their digital ad spend in US from 28% in 2020 to 26% in 2023.
Future of Digital Advertising
Instacart will also start selling ad space at checkouts and display screens across the 4,500 stores. The goal would be to eventually let advertisers buy personalized ads to target shoppers. The global pandemic and the rise of e-commerce only accelerated the need for better ad tools. Amazon's share of the U.S digital ad market grew to 10.3% last year from 7.8% in 2019.
This was an expected scenario, but was accelerated again thanks to the COVID break. Gains were expected specifically at the search side in the coming couple of years.
Amazon usurped a slice from the market against the monopoly of Google and Facebook. Amazon is also benefiting due to reallocation of budgets allotted for traditional shopper marketing. 90% of Amazon's ad revenue is driven by ads appearing their e-commerce platform. Search ads for brands and products that are sponsored account for a large share of that revenue.

Amazon generates lower ad revenue from their other properties (Fire TV, a streaming media player, Twitch, platform for gamers, IMDb TV, and an ad supported streaming service. This year it is expected to lap up 10.5% share in the U.S digital ad market. And by 2022 that share should touch 12% and 12.9% by 2023. This is transpiring due to the drastic shift to digital shopping owing to the pandemic, but the trend should last.
Conclusion – Digital Advertising
The rising prevalence of internet and the omnipresent popularity of digital platforms all over the globe is the reason for digital advertising growing in popularity not only with businesses but with the common man too. And digital advertising has become one of the most important streams of advertising. Almost $355 billion was spent on digital advertising last year. This figure is expected to go right through the roof this year as businesses rapidly take up digital advertising. According to projections, digital advertising revenue will amount to 460 billion U.S. dollars by 2024.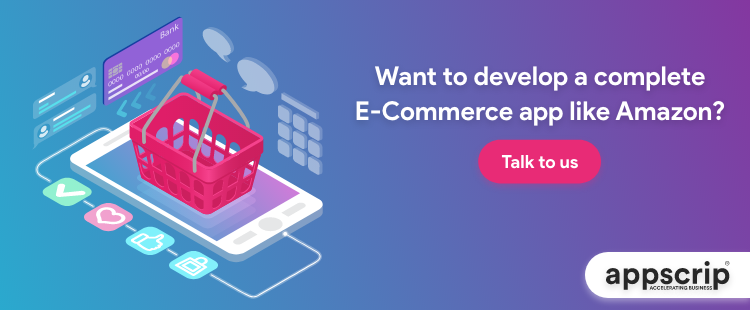 After an Engineering degree and a Diploma in Management I devoted 16+ years working in the automotive industry. My innate skill and extreme passionate in writing, encouraged me to adopt it up as my profession. I have been writing for more than 10+ years in the software industry. The 400+ blogs I published are informative, exhaustive and interesting to a professional and causal reader.