Digital transformation is a radical reconsideration of how an organization utilizes technology, people and processes to amend business performance.
It's more about value, people, optimization and the competence to adapt to the intelligent use of technologies and information.
Digital transformation predominantly relates to businesses, but it also impacts governments, public sector firms and organizations taking on societal issues such as pollution, transportation, communication and healthcare by leveraging existing and emerging technologies.
Although there are common challenges, goals and traits in organizations, there are also dis-similarities as per industry, region and culture. What could make sense in one region may not make sense elsewhere, even in regulatory environments.
Digital Transformation adopts digital technology to transform services or businesses, by replacing non-digital or manual processes with digital processes or by replacing older digital technology with newer.
An important element of digital transformation is technology. And it's more about shedding outdated processes and legacy technology than adopting new tech. It's also about enabling innovation.
Digital transformation utilizes digital technologies to create new business processes or modify existing ones. It also modifies culture and customer experiences to meet changing business and market scenario.
Bringing AI into your service organization is a prime example of the power of digital transformation. AI-powered chatbots could answer customer queries which could be a welcoming presence on your website and reducing waiting time for customers.
Adopt A Customer-Centric Approach
Businesses evolve due to changing customer behavior and preferences via digital transformation and not many invest in understanding digital customers.
Those getting it right start with an external approach. They're looking at a deficiency to solve a need and then tie in ROI and key performance indicators (KPIs) to establish progress and success.
The focus is on customer experience. Customer journey is primal or parts of the customer journey; especially mobile journey and they looking to fix it with greater opportunity.
Drive management buy-in
Because digital transformation will look different for each firm, it can be hard to pinpoint a global definition. But generally digital transformation is the integration of digital technology into all areas of a business to enhance operations and how they deliver value to customers.
It's also a cultural change that requires organizations to continually challenge the status quo, experiment often, and not get comfortable with failure. This is a clear indicator that sometimes you would have to walk away from long-cherished business practices to relatively new processes.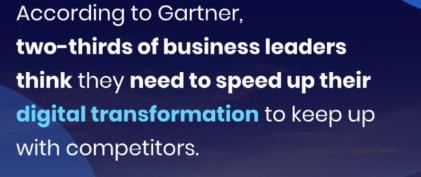 Why digital transformation matters
A business takes on digital transformation to survive. In the wake of the pandemic, an organization's ability to adapt quickly to supply chain disruptions, time to market pressures, and rapidly changing customer expectations have become dire.
If businesses want to evolve with the rapid pace of digital change, they must work to increase efficiency. For many, that means adopting agile principles. Automation technologies can enhance speed and reduce technical debt.
Driver's of Digital Transformation
The predominance of legacy technology hinders the ability to successfully embark on a digital transformation strategy. Legacy tech can become an expensive barrier to transformation. If you're spending a lot on maintaining legacy systems, there's not enough time left to seize new opportunities and drive your business forward. And this will grow as technology ages and becomes more susceptible.
New technologies are built using cloud architectures and methods.
A critical factor driving legacy upgrades is technological relevance. Legacy solutions lack flexibility and carry a significant technology hindrance due to dated languages, databases or architectures. This liability prevents organizations from advancing and supporting analytics, real-time transactions, and a digital experience.
Here are eight key digital transformation trends:
Prompt adoption of digitally conducive models and integrated cross-functional teams.
Those invested in big data governance and analytics leave their competitors behind.
Better use of AI and machine learning.
Mergers or acquisitions in the IT outsourcing realm.
Consultancies forming new digital partnerships.
Expanding public cloud adoption.
New digital transformation success metrics.
More attention to long-term value of digital initiatives.
Digital transformation areas
Digital transformation affects:
Business activities/functions: marketing, operations, HR, administration, Customer Service, etc.
Business processes: Business process optimization is essential in digital transformation strategies and in most industries and cases is a mix of customer-facing goals and internal goals today.
Business models: Functioning of businesses, the go-to-market approach, value proposition, means to earn revenue, and to effectively transform its core business.
Business ecosystems: New ecosystems are built between companies with various backgrounds upon the fabric of digital transformation, information, whereby data and actionable intelligence become innovation assets.
Business asset management: Both customers and information need to be treated as real assets in all perspectives.
Organizational culture: Culture overlaps with processes, business activities, collaboration and the IT-side of digital transformation.
Ecosystem and partnership models: Ecosystems will be key in the as-a-service-economy and in achieving digital transformation success.
Customer, worker and partner approaches: People involve, respect and empower other people in the first place, technology is an additional enabler and part of the equation of choice and fundamental needs.
Causes of Digital Transformation
Digital (business) transformation can be caused by:
Technological innovations: It isn't just technology that drives transformation; it also depends on how it is absorbed by customers, partners, competitors and stakeholders. Technologies with the potential to transform include IoT, AI, edge computing, virtual / augmented reality and Blockchain.
Customer behavior and demands: Digital transformation is not caused by technology alone but merely strengthened by it in combination with other factors. The demand of customers for ease of use and simplicity in dealing with businesses is far older than today.
Innovation- and invention-induced: Entirely novel approaches to human and business challenges, as well as innovations and inventions that create a new reality, whether in science, business, technology or even a non-technological context of true innovation cause transformation. The invention of medicines that change healthcare and society, the printing press, the metro, what else?
Ecosystem-induced: Economical changes, demands from partners who want you to adapt, evolutions towards collaborations in transformational business ecosystems, regulatory changes, geo-political changes, societal shifts, unexpected events such as a pandemic, they all can impact and drive the need for digital transformation.
Digital Transformation Across Various Industries
Each business is different. Yet, many of the lessons we learn from leading companies show that digital transformation shows quite similar aspects across industries.
Digital transformation in the Retail Industry
Retail is a rapidly changing industry in part of the globe and is at the forefront of technological advancement so as to keep pace with the needs of an evolving customer base.
Digital transformation is pervasive in most facets of the retail industry. From data and information optimization, supply chain digitization, delivery and back-office processes to the front end where customer expectations demand transformations and enhancements regarding a seamless customer experience.
On top of traditional technologies such as the cloud and big data, there other technologies changing the face of retail. Analysts foresee a growing role of IoT in retail, mainly in digital signage and cross-channel scenarios.
A growing requirement of information-driven in-store changes look at customer needs such as provision to fast and correct information.
Digital transformation in Manufacturing
While leaders in manufacturing transform to optimize operations, enhance customer-centricity, tackle risk, innovate, increase revenues and tap into new revenue streams with new business models, revolving around information and services, naysayers continue to focus on optimization.
On top of challenges and opportunities regarding skill gaps, connected supply chains, real-time economy needs and uncertainties, caused by changing macroeconomic and geopolitical changes. Ample challenges/opportunities exist to move beyond the optimization dimension and to truly transform with the customer and data taking prominence.
The manufacturing industry by far leads in the IoT space as more and more companies leverage such openings.
Digital transformation in Government and Public Sector
The role and structure of national / local governments, government agencies, state-sponsored organizations and public sector institutions differ.
Governments are involved in public healthcare, transport, public infrastructure, policing and defence. Citizen services or regulation, are organized and there are commonalities in the challenges and priorities faced.
Citizens experience digital transformation in areas such as e-government and digital identity programs. In many other areas transparency, efficiency and coordination are imperative to the digitization process and project management.
Cost saving is a driver to digital transformation in government and the public sector. An aging populace, mix of local, national and geopolitical shifts necessitate choices and changes. Higher cost transparency and cost reductions are key.
The second driver is meeting the demands of a digital and mobile first citizen by enhancing UX. Improving the experience of an individual enamoured with the digital lifestyle doesn't match the oft paperwork-intensive reality that is still dominant and frustrating.
Digital transformation in the Utilities Industry
Digital transformation can lead to incredible cost savings, new offerings, alternative pricing models, customer experience optimization and even radical new ways of 'doing business', engaging with customers and their business model.
From a technological viewpoint, IoT, Big Data and everything related to 'smart' play a key role. Furthermore, investments and innovations in making customers aware of their consumption and allowing them to control it in unseen ways add to the many possibilities in areas such as ecology/environment and changing supply chains.
Digital transformation in the Insurance Industry
The insurance industry has numerous opportunities to leverage technologies such as telematics, the IoT, the use of risk analysis, new business models and pay-as-you-go insurance approaches.
Technologies offer tremendous opportunities which are increasingly embraced by insurers. The changed expectations of policy holders and younger consumers have a significant role. A lot of work in essential business processes such as claims management, customer service and meeting changing regulations. Over and above due to rise of Insurance Tech and sometimes consumers buy insurances from non-traditional sources or retailers.
Digital transformation in Healthcare
Digital transformation in healthcare is driven by an aging/growing population, rise of chronic illnesses, increasing costs, changed expectations and behavior of people where digital health now has an important role.
Therefore efficiency and fast access to healthcare information is understandable for obvious benefits. Another benefit regarding funding of healthcare and leveraging of digital technologies is not only to save costs but enhance revenue as well.
The digital transformation of healthcare sees an increase of robots who take care of basic tasks in hospitals, the role of remote health monitoring and new healthcare models, linked with data on our lifestyle. And the key role for information and work in the space of digitization of health records (EHR/EMR).
Digital transformation in Banking
Although several changes, disruptions and digital transformation challenges in retail banking exists some are restricted to specific geographies due to regulatory, consumer-related, focus-related and even broader societal norms.
Retail banks collaborate with FinTechs as they don't dispose with speed, technology, agility, technological experience and sometimes even customer experience skills and in depth customer understanding FinTechs have.
Digital transformation is not only meant for retail banks or large banks but for regional and 'smaller' banks as well.
A nice digital banking framework for regional banks and community banks with focus on mobile banking and gradual introduction of omnichannel banking to leverage tools such as mobile, chatbots, digital payments and Fintech technologies shows deployment stages relevant for larger banks too.
Digital transformation in Supply Chain: Logistics and Transportation
There aren't many industries with such interlinked organizations, ecosystems, processes, information flows, devices (from individual goods, boxes and pallets to trucks and ships) and physical distribution and handling operations as transportation and logistics.
As far as transportation of goods and the supply chain goes, speed, visibility, digitization and digital transformation rank high.
Given the long-standing usage of sensors and RFID, as well as the need to dispose over data which enable new business models and better processes, the (goods) transportation and logistics industry takes a leading place in the deployment of IoT projects, IoT expenditure, spending and the Industrial IoT market.
Digital transformation and Business Process Outsourcing
Digital transformation also has a profound effect on business process outsourcing (BPO). Business process outsourcing is moving from its traditionally cost-saving and (outsourced) process optimization to a cost plus optimization plus innovation plus value proposition.
Organizations have varied expectations from their BPO partners, who need to transform themselves, in order to meet the demands of these disrupted customers.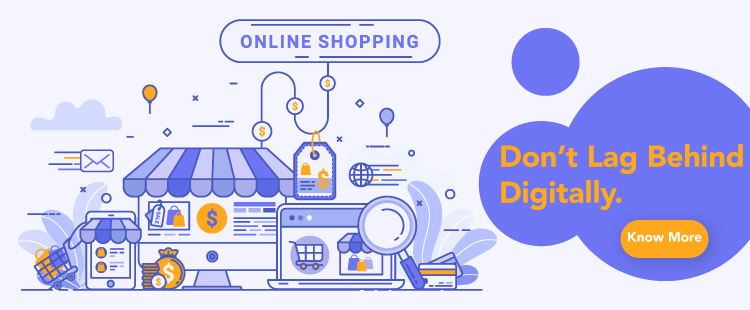 With an Engineering degree and a Diploma in Management under my belt, I worked for 16+ years in the automobile industry with various manufacturers in various capacities. But my passion for writing was overwhelming, hence I turned that into a career. I have been writing for more than 10+ years on various domains including the IT industry. I am sure you will find the 200+ published blogs of mine in here informative, exhaustive and interesting.