Does Your Business Need An App? Track back to about 10-12 years ago. How did you do business?
Consider you had a laundry business. You would open a shop. Put nice signboards advertising what you had to offer. You needed people to come to you and get their work done. Haul their 'dirty' laundry to your shop. Get a date when it would be finished. And then have the customer come over for taking back their fresh linen.
You might have been successful doing that a decade ago. But do you think employing the same stategy now would help you thrive or even stay afloat?
No way!
Would your business work in today's scenario?
No! It would'nt. Why? Because the world is steadily starting to exist on a device – the mobile phone. Imagine leaving your mobile at home! Your day is sure to go topsy turvy. Also, we are fast becoming a very lazy generation who likes to sit on our bottoms and all we do is flick our fingers on the phone.
There are 5.22 billion unique mobile phone users in the world today, according to the latest data from GSMA Intelligence. The total number of unique mobile users around the world grew by 93 million in the past 12 months. Unique mobile users are currently growing at a rate of 1.8 percent per year.
Let's take you through a basic question.
Does Your Business Need An App?
A recent study highlights that almost 81% of the users generally conduct an online search for a product or service.
This is an essential question most business owners ask. In this modern world of digitalization, moving a business to the online platform comes with tremendous benefits. Apps make a vital part of any business mobile strategy. Other than communicating with clients, an app allows business owners to understand the demographics of its customers. this leads to better engagement with their customers and provide services that meet their needs. The difference between a successful business and one that is not is the availability of information.
Information enables them to explore available options and make choices. Hence, to grow your brand having an app is a sure way to connect with your audience.
As the consumer demands keep rising, businesses ought to likewise begin thinking of new strategies so that they can effectively address each of them collectively.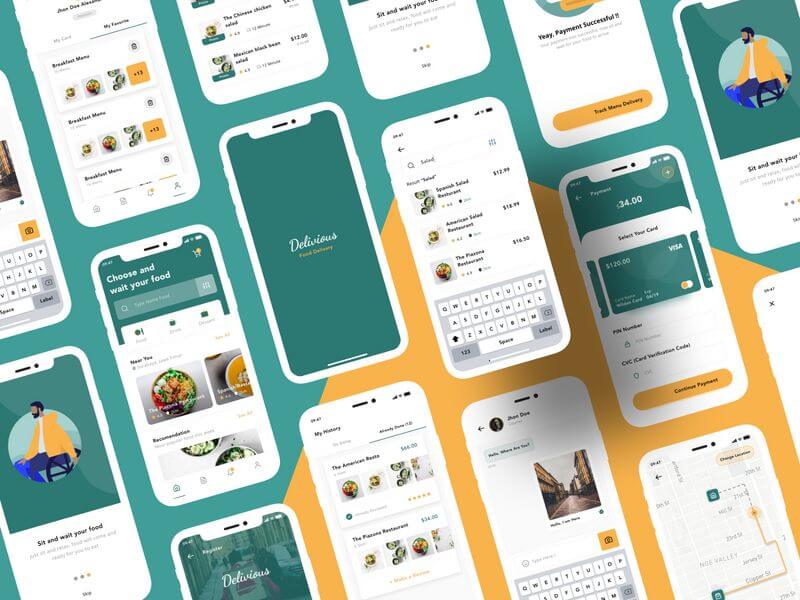 # Mobile Apps Make You Visible To Customers At All Times
The average person spends so much time on their phone, it's the perfect place to enhance your visibility. This is especially advantageous for small businesses who can encourage the customers to use their app by offering special discounts and offers. Once they get hooked to the app, the offers can be diluted so as to maintain business margins.
# Mobile Apps Create a Direct & Effective Marketing Channel
One of the biggest benefits of having a mobile app is that it creates a direct marketing link with your target market. It connects you directly and intimately with your customers. Thanks to mobile app technology, this direct interaction can be more cost effective than other marketing and advertising channels. This makes mobile apps a great tool for small businesses.
# Mobile Apps Provide Value to Your Customers
Replacing the conventional loyalty stamp card with a mobile app, customers can easily collect rewards. Something as simple as this can easily result in a huge surge in return customers. Small businesses will appreciate this growth in loyal customers, in a way larger businesses may not.
# Mobile app analytics
Mobile app analytics are essential to your development process for many reasons. They give you insights into how users are using your app, which parts of the app they interact with, and what actions they take within the app. You can then use these insights to come up with an action plan to further improve your product, like adding new features that the users seem to need, or improving existing ones in a way that would make the users lives easier, or removing features that the users don't seem to use.
You'll also gain insights into whether you're achieving your goals for your mobile app, whether it's revenue, awareness, or other KPIs, and then take the data you have to adjust your strategy and optimize your app to further reach your goals.
# Mobile Apps Help You Stand Out from the Competition
A large majority of small businesses fail in their initial years. One of the key reasons for is the inability of the business to differentiate itself from the plethora of others.
It is essential to keep up with the competition. So if your competitors already have an application, you will need to create yours before it is too late. Your ideas may be the same but you have to come up with unique promotions or offers or even features in teh app to help you stay ahead. Having a marketign team will help in devising campaigns and other methods to make you more prominent in the customer's minds.
# Mobile Apps Build Your Brand and Recognition
A mobile app devoted to your brand enables you to create long-term brand awareness. A guitarist may not own a Fender instrument, but they still use the company's tuner app – and see their logo – every day. Beautifully designed and executed  promotional offers make way for customer loyalty. For example, McDonalds' mobile app offers discounts on their menu such as $1 drinks and $1 sandwiches. This resulted in an increase in daily app usage of 20-40 percent.
Mobile apps make it easier for users to communicate with your company and build trust with your brand. This can be great for your performance metrics.
According to eCommerce marketing platform Yotpo, 59.5% of consumers are likely to sign up for a loyalty program if they love the brand, while 36.5% of shoppers spend more on products as a result of brand loyalty.
# Mobile Apps Improve Customer Engagement
Whether you're sending your customers push notifications or they're making online reservations, the use of your mobile app will improve customer engagement. If your business app is well designed, the simple use of it by your customers is good for your business. It doesn't matter what you're selling. A good business app will give you the customer engagement that every small business owner needs.
Today, brands are developing apps that are focused on habituating their customers. They develop such features that mirror their daily habits and tasks – encouraging them to make a habit of it. It simplifies accessibility and also helps in improving user engagement.
# Mobile Apps Cultivate Customer Loyalty
Last but certainly not the least, building customer loyalty is yet another reason why your small business should have its own app. With the bombardment of marketing all around us, from roadside billboards and banners to coupons and flyers to websites, Facebook ads and email marketing, it's becoming increasingly important to make a true and sincere connection with your customers.
Mobile apps can help you create a genuine relationship with your customers and earn their loyalty.
Also Read – 8 Questions To Ask Your Clients Before Developing Their Mobile App
Conclusion – Does Your Business Need An App? You Bet It Does!
It goes without saying that without an app, a company is as good as dead. So go ahead and think about all the ways you would do to help grow your business.
The most important hting is to select the right company to develop your app.  A company that will help you build an app in 45 days flat(the base version). A company that would not drag the app development process because they dont know it well. A company that would advise you on how to market the app and not be done with after they have built it.
Want to know who can help. Try out Appscrip. Just 25 minutes of FREE consult will get you going.