DoorDash Business Model Food Delivery has surged ahead of GrubHub, Uber Eats in the On-Demand Food Delivery Race.
---
DoorDash began with a simple mission: To enable every merchant to deliver.
It has come a long way from keeping students at Stanford well fed. A year ago, DoorDash looked like just another meal delivery app maker on its way out. The company was burning cash as it struggled to stand apart from that of Uber Eats, GrubHub Inc. It had recently sold shares that valued the company at less than its previous funding.
Then something strange happened:
Saudi-backed SoftBank Group Corp swooped in to lead a fresh round of investment totaling $535 million. It will likely value the company at about $13 billion. Voila! DoorDash started turning a profit.
DoorDash used the money to expand from 600 cities to 3,000, and another round of venture funding tripled its value, to $4 billion.
DoorDash is now the ­fastest-growing business in its field. The delivery company tripled annual sales in 2018 and recorded net revenue of $107 million in November.
Core Concept Of DoorDash
DoorDash business model food delivery is an On-Demand logistics based startup, that acts as an intermediary between merchants & prospective buyers who wish to get products from local merchants delivered at their doorstep.
The delivery startup currently delivers on-demand food from partner restaurants but is modeling itself to be a generalized logistics startup in the long run.
Its business model is designed to enable users to find a restaurant & order food. It gives restaurants access to extended customer base. Over and above it offers people employment for delivering food.

DoorDash Basic Facts
Launched: 2013 as an app-based food delivery service
Headquarters: San Francisco
Share of the US food delivery market: 13.9%
The reported value of DoorDash: $7.1 billion
Reported amount raised in funding: $721 million
Percentage of the top 100 US restaurant brands that DoorDash works with: 90%
No of cities available in 4000
No of restaurants available on DoorDash: 310,000
DoorDash Business Model Food Delivery Outline
Smartly puts together the three stakeholders : Partner Restaurants, Drivers aka "Dashers" and Users.
Powerful technology – to optimize the experience and cash flow of the three stakeholders – Extremely well-written, complicated software in the back-end.
The model is very easy.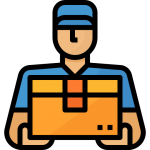 The user uses the app/website, to look up the menu for food she wishes to order.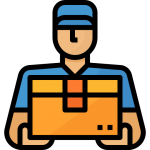 On selecting the menu, she sees a list of partner restaurants from where to order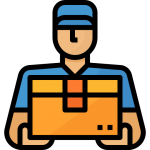 Choose a restaurant of her choice and the dish, and places the order.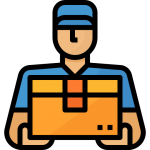 Once the order is received, it is forwarded to the correct restaurant.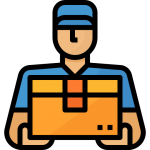 The restaurant gets the food ready, packed & intimates the system.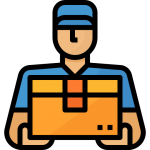 This information is instantly sent to the drivers.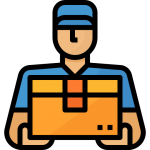 Drivers, called Dashers hired by DoorDash, make the delivery to the customer.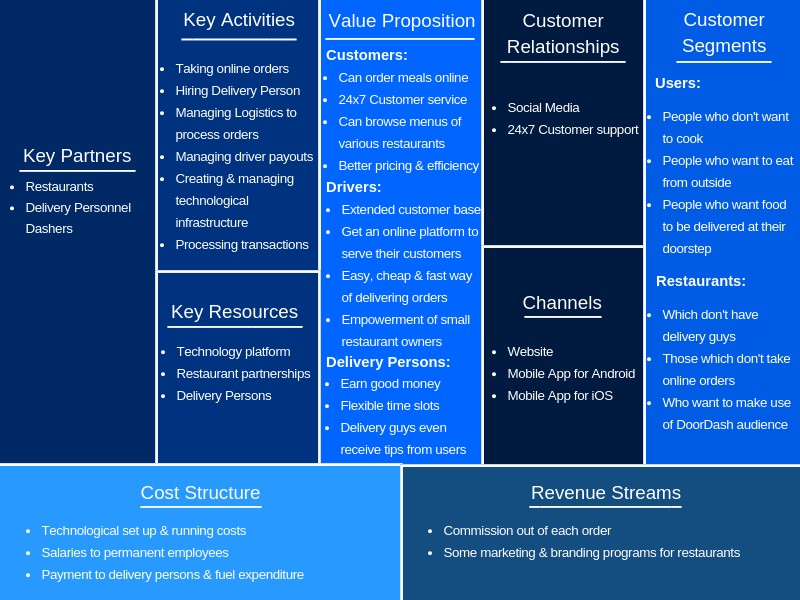 Doordash Revenue Model
Its focus is prime on quality, and "the food always arrives hot."
The company makes money from the following 3 revenue streams:
Delivery Fees
DoorDash charges an average of $5 to $8 per order, depending on the distance traveled, time of day and its relationship with the restaurant.
Commission
20% from restaurants for every order.
The fee is much higher than its competitors – Delivery Hero charges between 10% to 11%, while GrubHub – takes 13.5% cut on average.
This indicates that DoorDash that it has a decent amount of sway over restaurants.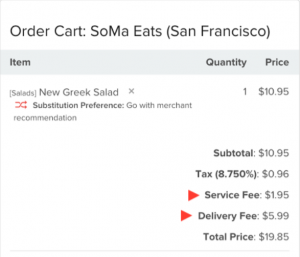 Restaurants Pay for Advertising
DoorDash is popular with restaurants because it's also able to charge them for marketing and advertising. The company charges an extra commission to restaurants who want to appear at the top of search results on its app.
Everybody Gains With DoorDash
Drivers – Dashers
It's not just about assigning orders. Getting drivers who deliver consistently well in all its 50+ markets in the US and Canada is not easy.
DoorDash provides 3rd party insurance to Dashers that covers up to $1,000,000 in bodily injury and property damage. They also keep 100% of the tips they earn. Finally, it recommends Dashers hang out in busy areas with lots of restaurants around so they can quickly swing into action!
The pay of the drivers varies with cities and depends upon distances, the complexity of the order and so on. For instance, in Los Angeles, DoorDash pay rate is calculated as $1 + pay boost.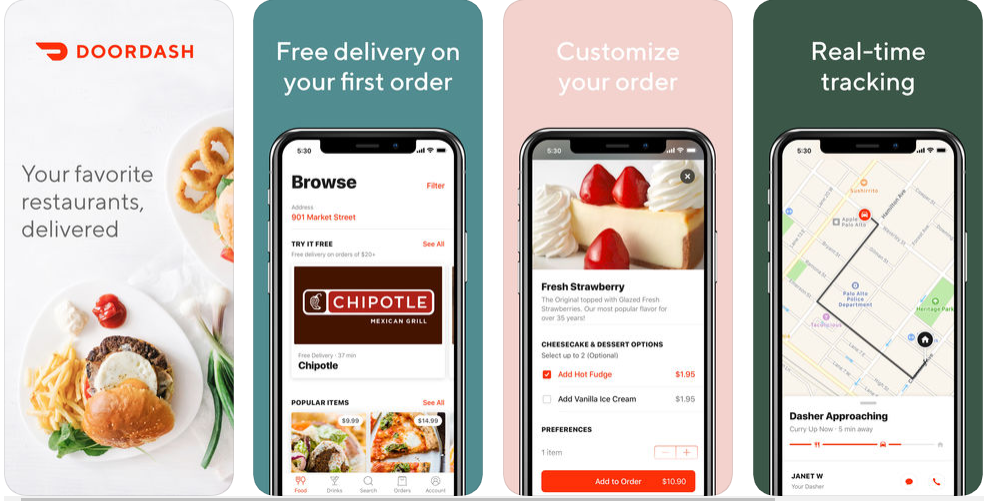 Partner Restaurants
DoorDash allows restaurants to sell more food without changing their seating facilities. Whether a restaurant has its delivery service or not, partnering with DoorDash gives them access to markets they probably wouldn't have access to.
Restaurants also get an opportunity to promote their businesses to a targeted audience at a relatively affordable cost, when they choose to advertise on the DoorDash platform.
A typical advantage to Dashers and partnering eateries is the access to the massive technology and analytics that DoorDash has built.
And The Winner Is…
DoorDash is now the top on-demand food delivery service after knocking off legacy leader GrubHub in consumer spending market share, according to March data released by 3rd-party research firm Edison Trends.
It is also valued higher than Dominos Pizza,  and worth nearly half as much as KFC, Taco Bell, and Pizza Hut owner Yum Brands.
When it comes to dollars spent, DoorDash owns 27.6% of the market. GrubHub, which has steadily lost ground accounts for 26.7%. Uber Eats has flat lined over the last 11 months, takes the 3rd spot claiming 25.2% of the market.
Quality Tips To Start A Food Delivery Business Like DoorDash
1. Research your target market first
Determine what it is that your target market would like to have for their meals. Study also the locality in which your target market is situated. For example:
Students of a nearby university – focus more on light and heavy snacks.
Employees of office building – offer healthy lunch meals and snacks similar to SnackNation healthy office snacks.
Residential building, then you may want to consider their meal needs, such as if they have kids or not.
When you customize your meals according to what your target market needs, you can ensure that you will have a constant following of orders for meal deliveries.
When you research your market's food needs, you can keep them happy and satisfied with the price they pay for convenience.
2. Prepare needed materials
Plastic or cardboard meal containers and utensils for delivery.
Big pots and pans that allow you to cook meals in large batches.
Big food containers where you store your food after cooking them.
3. Develop a marketing strategy
Word of mouth by neighbors and friends
Digital marketing through social media, such a Facebook and Instagram page
Leaving flyers and posters in nearby offices, schools, or residential areas
4. Create a business and a meal plan
Cost of selling each pack of food, per meal and per location
Grocery list and cost of each ingredient
Other necessary costs, such as gas, electricity, and labor
Labor expense for your staff if you need one, such as a part-time assistant for delivery and cooking
With a weekly business and meal plan, you'll also be able to compare your returns each day, to determine if you may be going negative or if there's still a continuous opportunity for growth.
5. Obtain your licenses and permits
Business permits
Tax payments
Sanitary permits
Food handling seminar and permits