Online food delivery apps like DoorDash, Uber Eats, GrubHub, Swiggy, witnessed impressive growth over the past few years.
DoorDash in particular has been expanding aggressively and is eternally looking to enter newer markets. The backbone of this revolution is the DoorDash revenue model.
DoorDash proffers new features and services to reel-in more consumers in cities like New York, San Francisco, California, Atlanta, Chicago, Phoenix, and outside the US as well.
DoorDash's market share in the US food delivery market has increased consistently over the last five years. DoorDash has surpassed GrubHub, Uber Eats, Postmates, and other players to seize 56% of the market share. The online food delivery market revenue has risen by 204% in the last five years.
Those interested in launching a food delivery business or looking to build an on-demand delivery app like DoorDash will find this blog pretty informative. There are valuable insights and actionable takeaways that you can apply in this domain.
You can also fathom key components of the successful 'DoorDash revenue model'. Moreover, learn here how DoorDash revolutionised the food delivery industry.
What is DoorDash?
DoorDash is a 3-sided marketplace consisting of Businesses, Consumers, and Dashers. DoorDash is a delivery service application that can be downloaded from either the App Store or the Google Play Store.
With DoorDash, you can order food from your favourite restaurants, that would be delivered right to your door. You can also order pet food, convenience store items and more to your home or any other location.
Essentially, DoorDash is a all-in-one shop for anything you need delivered via an app. With DoorDash you can also pickup your orders, thereby ensuring you don't lose time shopping. DoorDash, the US-based food ordering and delivery service links consumers with restaurants and convenience stores.
DoorDash provides a food delivery platform to users so that they can search the best restaurants and order delicious food from there. DoorDash gives you the ability to get your favourite foods delivered to your door using just an app.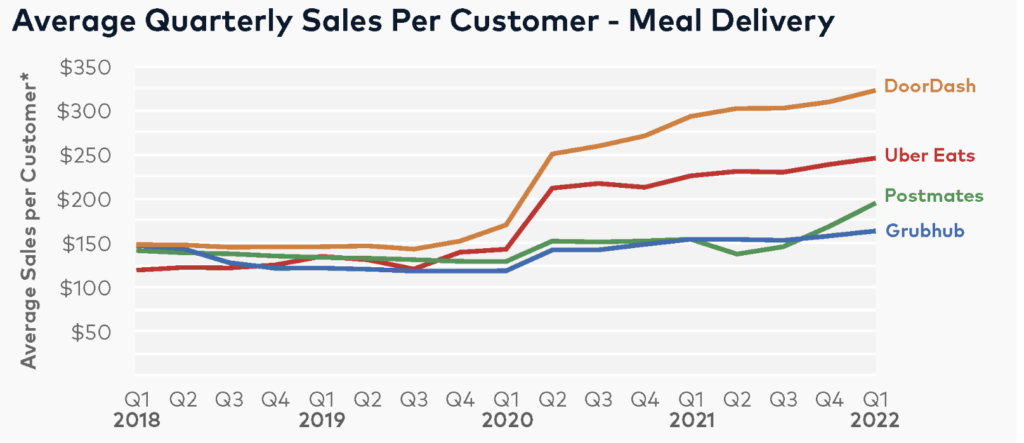 DoorDash Revenue Share
The food delivery market has seen sumptuous growth during the past five years. Led by DoorDash and Uber Eats, these platform-to-consumer service entities have progressed from food delivery to takeaways to anything and everything, thereby enhancing their revenue potential by billions.
DoorDash is leading the food delivery service market in the US and with a 59% (March 2022) market share. It has a 60% market share in the convenience delivery vertical. It has a presence across more than 7,000 regions in all 50 US states including Canada, Australia, Japan, Germany, and New Zealand.
DoorDash has its own fleet of contractual delivery workers, known as Dashers. DoorDash revenue during 2021 was $4.88 billion.
Interesting Facts About DoorDash
DoorDash is a technology company connecting local consumers with nearby restaurants and convenience stores with delivery made possible by independent (Dashers) contractors.
DoorDash crossed the threshold of 50% market-share in the US in 2021.
DoorDash and Uber Eats—control around 80% of the food delivery market in the US.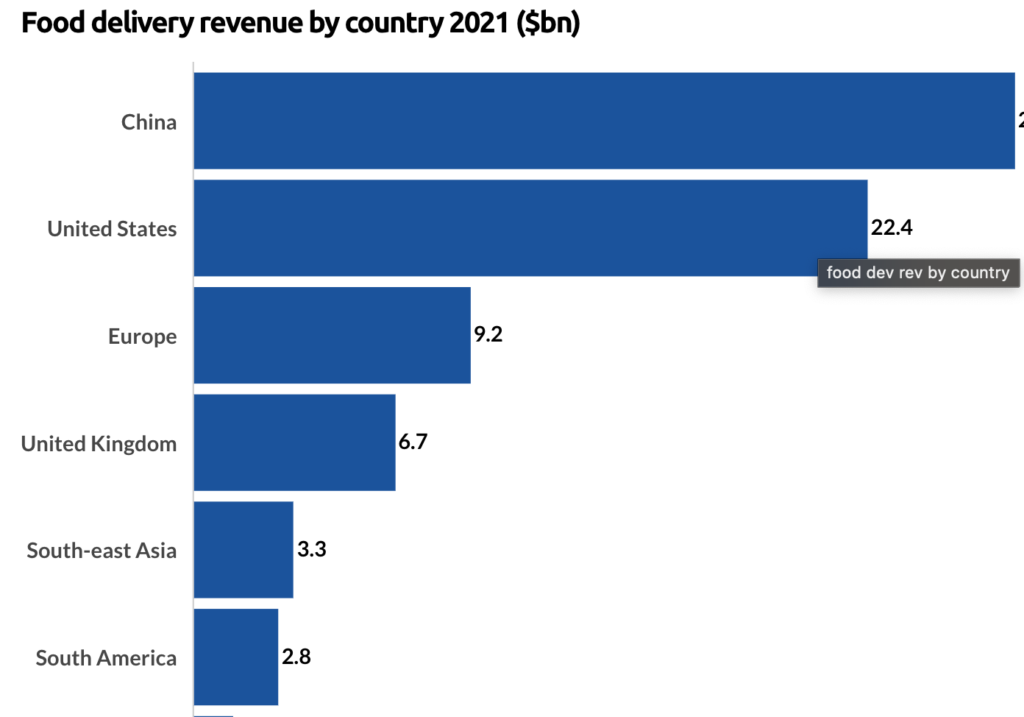 DoorDash founders are Andy Fang, Tony Xu, Evan Moore, and Stanley Tang
Headquarters: San Francisco, California, United States
Founding year- January 2013 Number of Funding Rounds: 12
Total Funding Raised: $2.5 Billion. The last funding round was from a Series H round on Jun 18, 2020.
Number of Acquisitions: 7 Total investors-31
Competitors-  Uber Eats, Swiggy, Zomato, GrubHub, Deliveroo, Postmates, Slice, and others.
5 USP of DoorDash
In Q-1 of 2022, DoorDash customers ordered the most, spending at an average of $323 per customer. Uber Eats' followed with customer quarterly spend average of $246. This was followed by customers of Postmates and Grubhub at an average of $195 and $163, respectively.
Pre-delivery option– Easy scheduling of orders that can be done even a week ahead. This saves a lot of time during occasions or festivals.
Live tracking– This feature enables customers to track the food as it moves towards the delivery location. Moreover, you receive notifications about the status of the delivery on your device.
Dual Rating– You can rate both food and dasher services separately.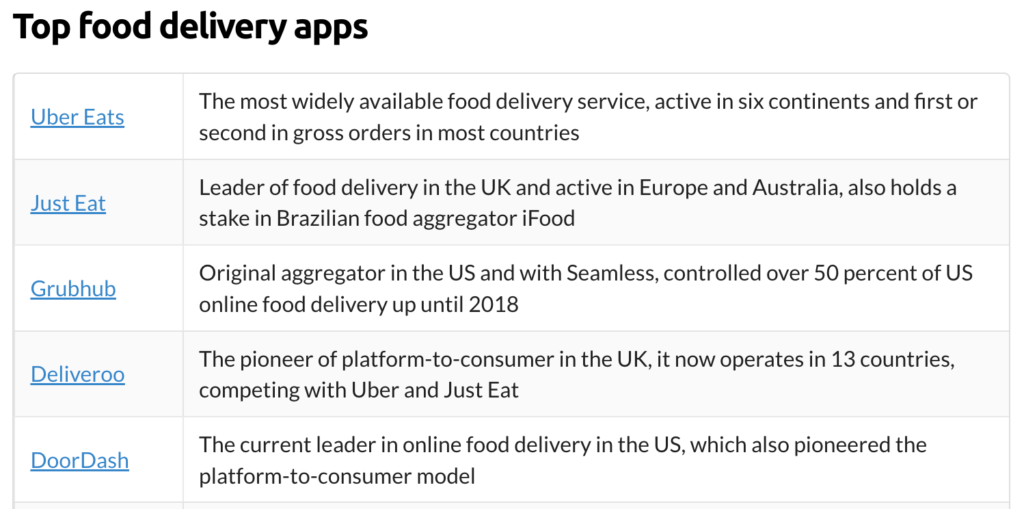 AI feature–  This app has Artificial Intelligence incorporated into its workings. A food delivery application can hence, analyse to find nearby delivery partners as well as choose who are most likely to deliver the order quickly. This is done by validating the delivery partner's past reviews and their rating.
Machine Learning – As DoorDash grows, online ML prediction volume grows exponentially to support such use cases, such as the ETA predictions, Dasher assignments, personalised restaurants, menu recommendations, and ranking of search queries.
Top menu feature– This enables users to search out the top foods that have been ordered by customers from a specific restaurant.
How DoorDash Gained Success?
The brand DoorDash dominates the market share in the third-party delivery space since December 2019. This food delivery company increased its market share from 20% in 2018 to 53% in 2021. It also gained 49% of US consumers' meal delivery sales in September.
DoorDash's individual share of the market grew by 12%, helping the company enhance its annual revenue from $0.85 billion in 2019 to $2.88 billion in 2020.
A few strategies that have helped DoorDash surpass its competitors:
      Think different from the competition
DoorDash concentrated on the suburbs where people had very few delivery options available to them. By using this strategy, their location-based app was pretty fruitful and helped in the expansion of their brand.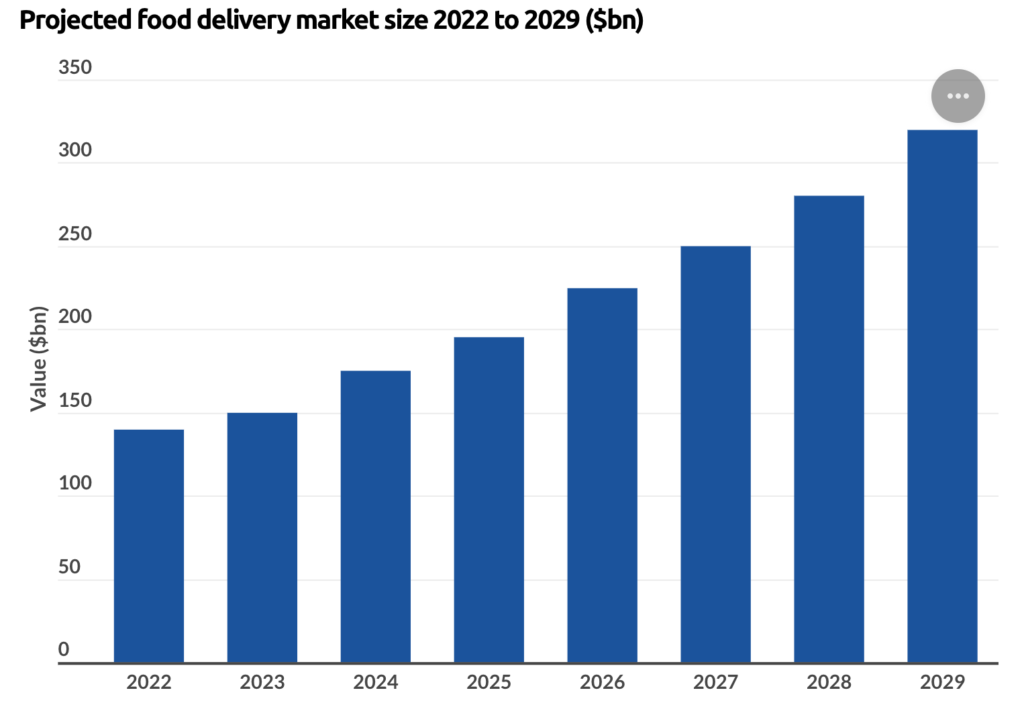 DoorDash was at all times ready to develop itself and then expand its product offering. Thus it did not confine itself to just third-party food delivery.
It integrated with its partnered restaurants and helped them with advanced data to make them understand more about consumer behaviour.
DoorDash provides integrated marketing campaigns. Products, engineering, and brand are tightly connected, helping them to come up with the best results.
An easy-to-use interface is critical component to success. Market analysts also suggest a combination of superior customer data and brand positioning as an fit ally to struggling restaurants during the pandemic.
Their success culminated in a widely-publicised IPO in the end of 2020, where on the first day of trading, DoorDash stock prices rose by 86% to reach $190 per share.
Customer Segments Of DoorDash
DoorDash runs on a Y-structure model.
Users:
People who don't find time or access to cook
College students without access to a kitchen
Professionals who cannot dine-in due to time constraints
Restaurants:
Restaurants without home delivery staff
 Food joints short on space and without proper seating arrangements
Restaurants interested increasing their user base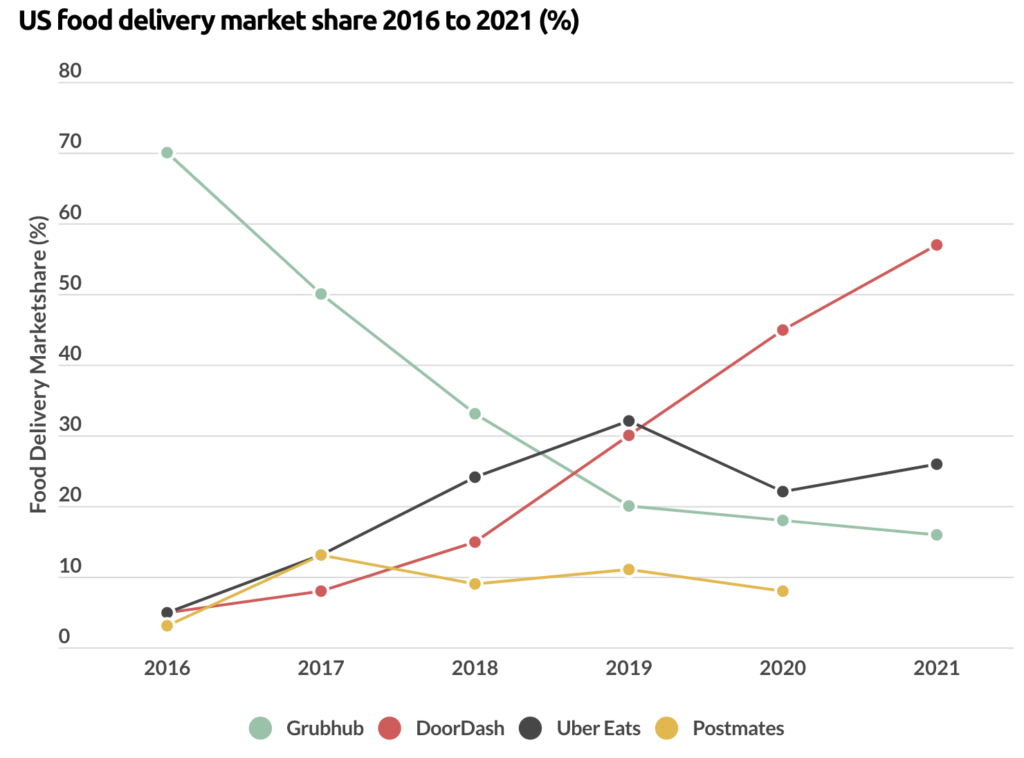 Drivers:
People interested in a part-time or full-time job with a flexible schedule
People who are keen to get a job that pays as per the effort put in
DoorDash Revenue Model
    Commission-Based Model
DoorDash charges variable commission from restaurant-partners for every successful delivery through their platform. DoorDash offers three different delivery plans for restaurants – Basic, Plus, and Premier. DoorDash charges a percentage of the order based on the plan a restaurant opts.
Basic: 15%
 Plus: 25%
 Premier: 30%
In instances where the user has decided to pick up the order, DoorDash charges a flat 6% of the order. This is irrespective of the plan opted by the restaurant.
Delivery Fees (Revenue sharing)
The delivery fee is calculated based on the distance between the pickup and drop-off location and other conditions in the region. Ideally, it is between $5 to $8 per order.
Subscription-Based Revenue Model
DoorDash revenue model includes a subscription service called DashPass for consumers so that they can save on delivery as well as service fees.
At $9.99 per month, customers can circumvent their delivery fees. Customers are offered reduced service fees when placing an order above $12 from any DashPass-eligible food joint.
But, this subscription program is available only in selected regions.
Software As A Service (SaaS) Model
It has a SaaS revenue model in the form of DoorDash Storefront for restaurants. It enables restaurants to set up their own online ordering system and manage online delivery and pickup orders.
DoorDash does not charge any commission fees from Storefront establishments. However, merchants pay credit card processing fees at 2.9% and restaurants $0.30 for every order.
Advertisement-based Revenue Model 
DoorDash revenue model includes the ad-based revenue too. It also gets money from DoorDash Marketing programs for restaurants. Restaurants are charged for their marketing and advertising on the platform.
DoorDash revenue model is such that money from acquisitions of companies (including Caviar, Rickshaw, Scotty Labs & more) gets to them. DashMart (a convenience store platform for retail businesses), gift cards for customers, DoorDash for Work, and DoorDash Store.
Conclusion: DoorDash Revenue Model
The food delivery realm with delivery riders, and route optimisation technologies, have enabled faster and cheaper deliveries. This has created a cascading effect on many food delivery operators. Now each of them continue to reduce cost and undercut competition to survive on razor-thin profit margins as they battle for market share.
COVID-19 propelled many industries, including the food industry into the future, as millions of people during lockdown ordered food virtually. Instacart – the grocery delivery giant achieved its 2022 target in the third week on the lockdown.
From commissions to subscription service and delivery fees, DoorDash revenue model depends on multiple revenue streams to generate revenue. DoorDash is on the top in the US online food delivery market with strong competition from Grubhub and Uber Eats.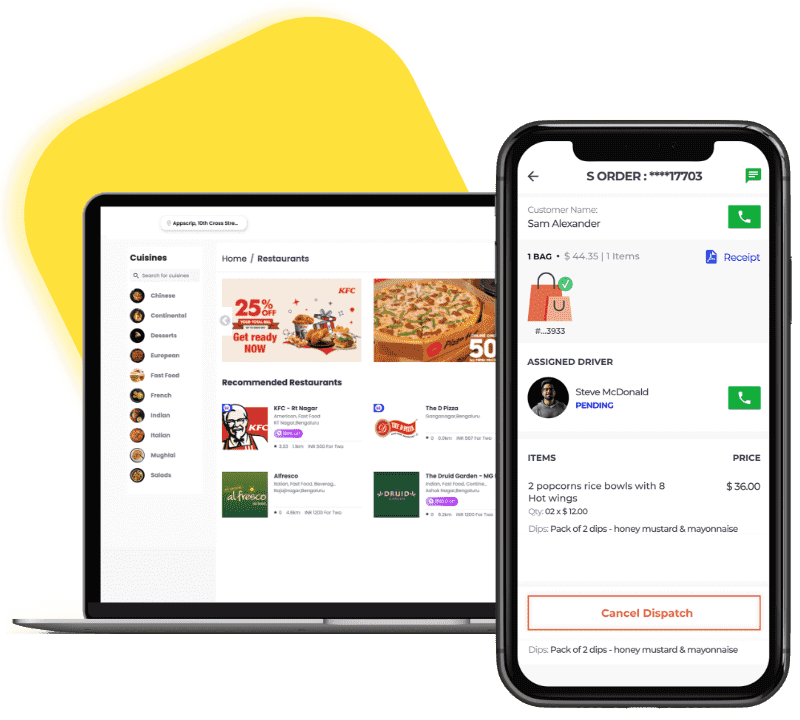 China is the largest market for food delivery, with $27 billion market size as of 2022. Meituan and Ele.me handle 90% of all food delivery business there. The entire food delivery app industry is expected to touch $320 billion market size by 2029.
Do you want to be a part of this market? At Appscrip, we strive to support entrepreneurs, startups, and existing firms to garner success with our amazing products. Get in touch to have your project validated.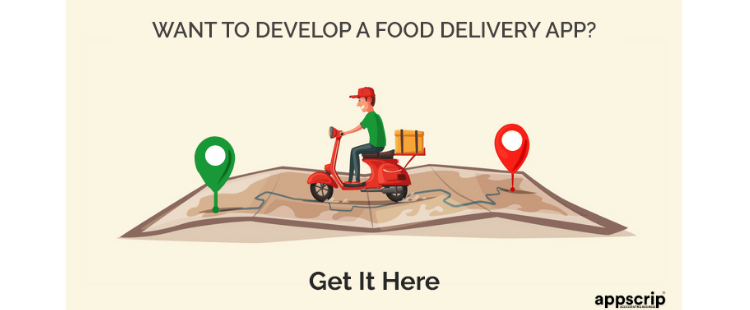 With an Engineering degree and a Diploma in Management under my belt, I worked for 16+ years in the automotive industry with various manufacturers. But my passion for writing was overwhelming, which I turned into a career. I have been writing for more than 10+ years and mostly in the IT domain. I am sure you will find the 300+ published blogs of mine in here informative, exhaustive and interesting.