An e-scooter is a two-wheeled scooters with small, electric motors.
Their popularity has grown and scooter-sharing schemes now operate in more than 100 cities around the world – including San Francisco, Paris and Copenhagen.
People can hire e-scooters, often using smartphone apps, in a way similar to city centre bicycle hire schemes. We discuss why it is wise to forsee this market potential and formulate an escooter app development strategy.
Market For Electric Scooters
College students on campus.
Young professionals who live and work in urban environments.
People looking for alternative means of transportation in those same cities.
Why are eSooters So popular? — Evolution And Revolution
Many studies exhibit that an e-scooter is 40% faster than cars in a city during rush hours and it does not emit exhaust gases as it runs on echargeable battery. This makes it truly environmental friendly.
There is no doubt that transportation is being changed due to mobile apps. This might be the reason why the world of electric scooters suddenly gathered the attention of people. What do people love about these tiny vehicles? Why is scooter sharing app development like Lime and Bird popular among startups and entrepreneurs?
# Inexpensive
Needless to say, the price factor had a major role to play behind the sudden trend in e scooter mobile app development in the last few years.
Compared to Uber or Lyft, it is a relatively cheaper option. Each ride costs around $2–3, whereas cabs might charge you up to $20 depending on the surge. College students and low wage workers found this to be a feasible option for transportation.

# Fun Rides Tops The List
People love motorcycles, and e scooters are basically a tinier version of it, so it makes a lot of sense.
Statistics suggest that a staggering 34% of people ride e scooters just for fun.
Most riders tend to think of electric scooters as a motorized bike, and many states hold a law which requires you to own a license. E scooters seem to be an easier option to escape all the paperwork hassles.
# Portable And Easy Parking
Imagine carrying these two-wheelers on buses, crossing roads while carrying it, or in the metro. Convenient, right?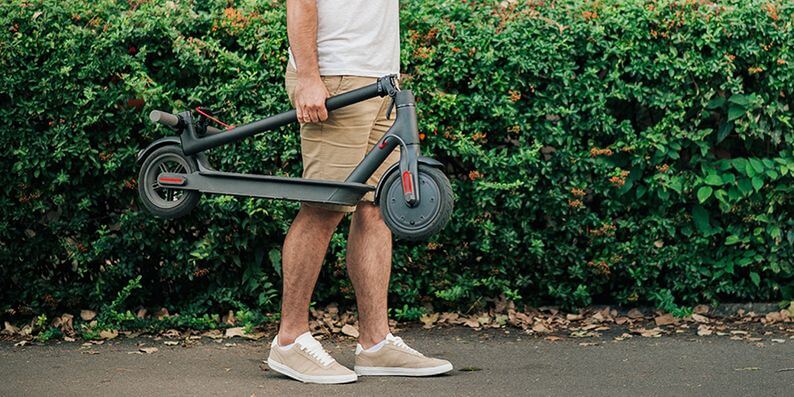 Parking these also require little or no effort. Just a few folds and you are all set! Compare that to parking a car, which is stressful, on top of being expensive at times.
# Environment-Friendly
Talking of environmental issues, air pollution is not the only concern people have in major US cities. If you have travelled through congested areas, you know that noise pollution is also growing at an alarming rate.
If you truly care for your environment, then consider the e scooter revolution a blessing. All it requires to run is charging, and you are all set.
# A Faster Way To Get Around
Want a fast and convenient way to move around? E scooters are the answer. Hover your way through the traffic, weasel through the spaces between cars.
# Running Errands, Getting Lunch From The Office
E scooters are great for getting small tasks done. When you have to travel a small distance, which cannot be covered by walking and will cost a lot by a cab, e scooters are here to your rescue.
Many people have started using these for going to a place (especially for getting lunch) which is not far away from their workplace, but at the same time does not qualify as "walking distance."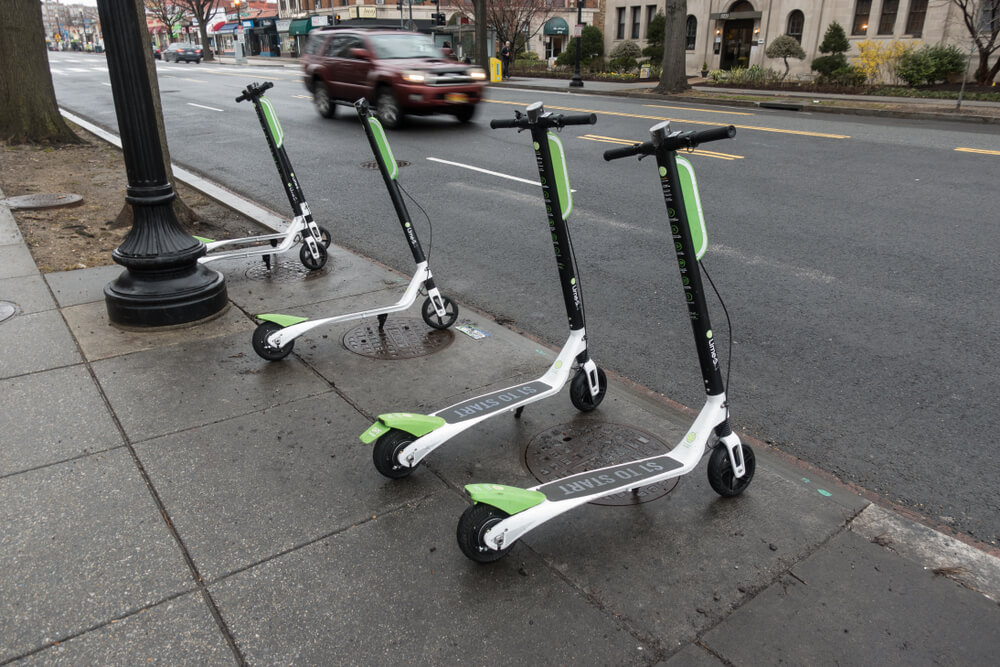 EScooter App Development | Features to Consider
Directs Users to Unlock & Reserve the Scooter Nearby
In order to transmute exchange, there is a principal feature which is very hard to ignore. While developing the mobile app you want your audience to be guided to unlock and reserve the nearby scooter. When your user wants a ride, he can simply locate a ride online and reserve them. This feature may seem naïve but most of the time business owners overlook these features and in the end, pay with the price of their business.
E-Scooter tycoon Bird uses such a feature which eases their customers in finding the scooters. They believe that a mobile app must be organized and simple. It is the only way to persuade customers to book a ride.
Start the Ride by Just Scanning the Barcode within the App
There is a significant increase in the adoption of e-scooters by the customers. So, when you are developing a mobile app for your e-scooter business there is a feature you must have. It is the barcode scanner which will enable the user to book a ride and get on with it.
As I said earlier, a simpler app is always better. This simple feature will ease your customers to book the ride easily. You can use the QR code scanner for their customers to book a ride. It increases the convenience of their customers which clearly reflects on their ROI.
Allows Users to End Their Ride by Locking the E-Scooter Using the App
The third most important feature you don't want to miss is that your user can safely lock the electric scooter after their ride using your mobile app. It is a security feature which will give your user a peace of mind. It doesn't matter where they park the scooter, their app can easily lock and unlock the ride. So, if you want to develop an e-scooter app, then you must add this feature.
Safety Campaigns to Guide the Users for Riding Safe
Safety of your customers must be the top priority of your company. To ensure that, you must add a feature that can help your customer to understand how crucial safety precautions are. It also must include how to take the ride and how to drive and park the e-scooter safely. It may not affect your ROI but it surely will ensure the safety of your customer.
Top eScooter Apps | eScooter App Development
# Spin
Operating across 16 cities across the states, Spin was founded in 2017 inspired by Chinese dockless bikes. Their primary focus was on bikes which later changed to electric scooters as compared to Lime or Spin.
Within a week of their launch, 5000 rides were exceeded. With a user base of over a million, Spin is one of the most popular apps for e scooter sharing.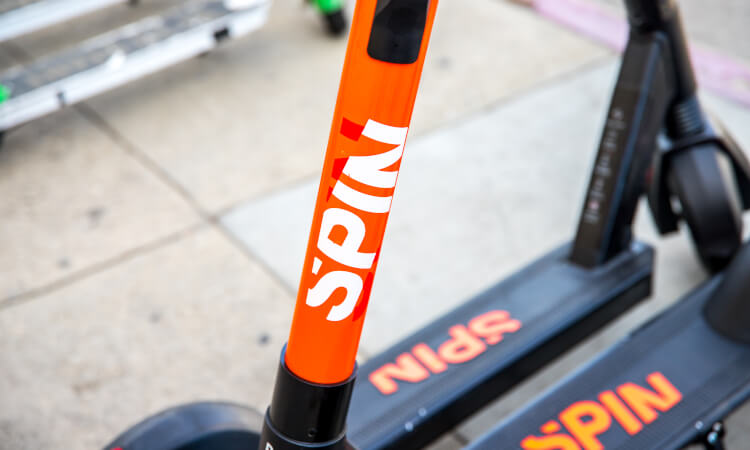 It works in a simple way — you may use the navigation to find the nearest spin scooter, enter your payment credentials, and unlock the vehicle with the QR code.
Ford which aquired SPIN in November 2018, has revealed a new in-app feature for users that will optimise routes to include bike and micromobility lanes wherever possible.
Spin says its forthcoming e-scooter also sports exclusive antitheft features developed to deter tampering and vandalism and that the enhanced backend authentication system can uniquely associate modules with each e-scooter.
# Lime
A Silicon Valley-based startup, Lime was launched in June 2017 and quickly took off with a funding of $12 million. Although they started by launching 125 bikes in January 2018, they decided to expand to electric bikes and launched e scooters the following month.
Lime scooters are charged by private contractors who "juice" up these vehicles overnight and put them at designated areas.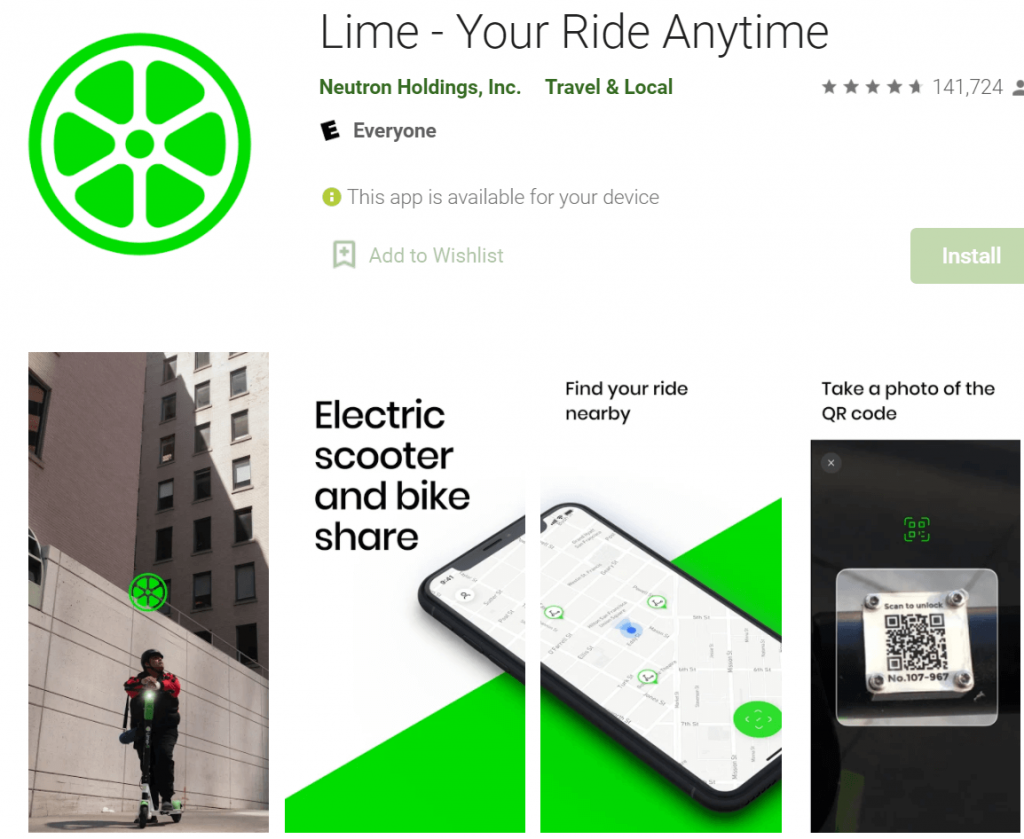 Lime bikes are equipped with a GPS navigation system and 3G connection apart from a solar panel and smart lock system to prevent stealing. Limes bikes can be unlocked with a QR code. Rides are as cheap as a dollar for every 30 mins.
By October 2017, Lime had gained more than a hundred and fifty thousand users.
Today, lime operates across 22 nations around the world.
Lime scooters are electric and required to be charged regularly. For that, Lime offers people to become Lime Juicer, where they employ people on contract to pick up and charge their scooters every night. This helps needy people to earn money easily via the Lime app.
The app works on the ideally of harvest and serves and here is how it is done:
This is how Harvest process works:
Find the Scooter  >  Scan OR Code > Place it in your Vehicle OR continue finding more scooters > Take back to the scooter charging station
This is how Serving process works:
Check if the battery is 95 percent or more > navigate the location of scooters to charge > timing to make sure the scooter dropped off is being matched.
Once, the above processes are done, the money will be credited to the Juicer's account by Lime.
# Bird
Servicing over a hundred cities across Europe and North America, Bird was founded in April 2017 and with initial funding of $17 million, they became the fastest company to become a unicorn. Within a year, they have 10 million riders using their app.
Operating in 11 countries, Bird is one of the early adopters of the scooter sharing app development trend which grew in the latter half of this decade.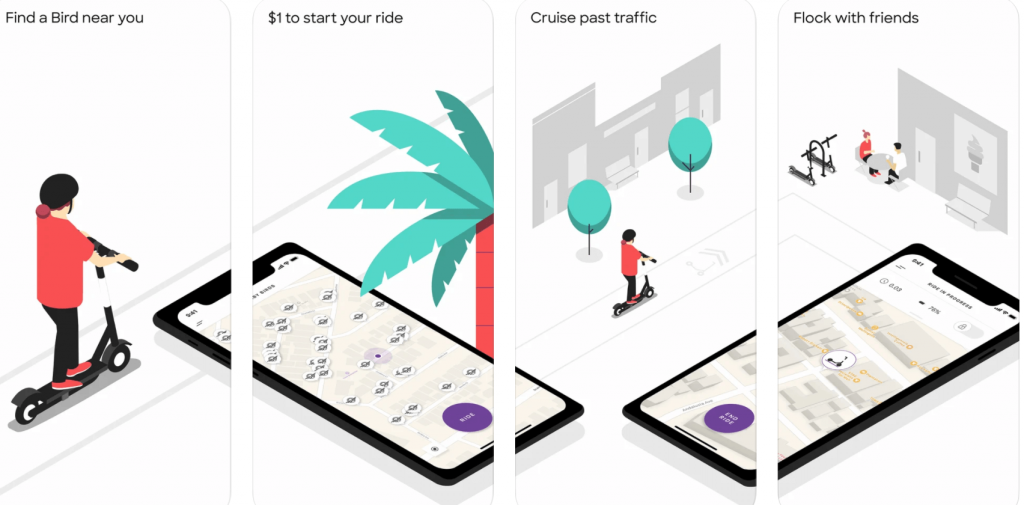 The app isn't used only for locking and unlocking the scooter, though. You can also use it to track battery charge and total mileage and it's also where you access the scooter's location-tracking feature.
Using GPS and a cellular connection, this pinpoints your e-scooter's exact location on a map and gives you an approximate address with a postcode. It's undoubtedly the Bird One's best feature and could help you retrieve the scooter if it's stolen.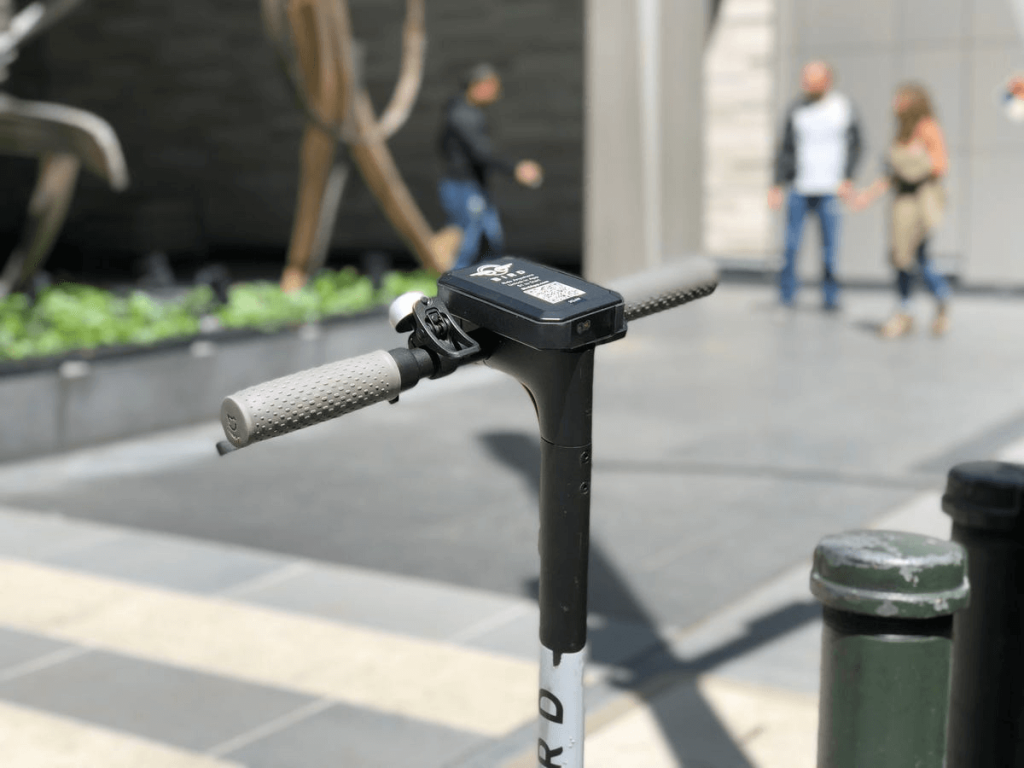 Once inside the parking stations, a rider can unlock the vehicle using the QR code and has to be parked at the end of each trip. The trip fee will be deducted automatically only after the ride has ended.
The app also lets you switch between two front light settings (high and low beam), shut off the motor entirely and put the scooter into Sleep mode to conserve battery when you're not using it. The latter mode disables remote tracking, though, so we don't recommend you use this unless your scooter is safely indoors.
---
If you are an entrepreneur with an idea of changing the world; something unique or even something that has been done before, but you can do it better. Then talk to us. We have delivered hundreds of transportation based apps and we can help you build one exactly as per your dream.