The Financial Time's ranking of 500 high-growth companies from the Asia-Pacific region couldn't have come at a more opportune moment. As it will now serve as a true indicator for readers to identify firms with the clout to survive the debacle and continue breaking barriers.
Indeed, the creative and perspicacious will stride through the crisis with innovation and will strengthen their resolve to further enhance their standing in their domains.
Appscrip is elated to find itself within the first 30% of this magnanimous assembly of the top 500 high-growth firms of the Asia-Pacific region.
Growth is an untenable quotient for businesses all over the world and particularly those from the Asia-Pacific region. The coronavirus pandemic has frozen most economic activity and the IMF warns that the slowdown in the region will be worse than previous calamities. However the progress in the containment of the virus in comparison to the US and Europe promises a quicker revival.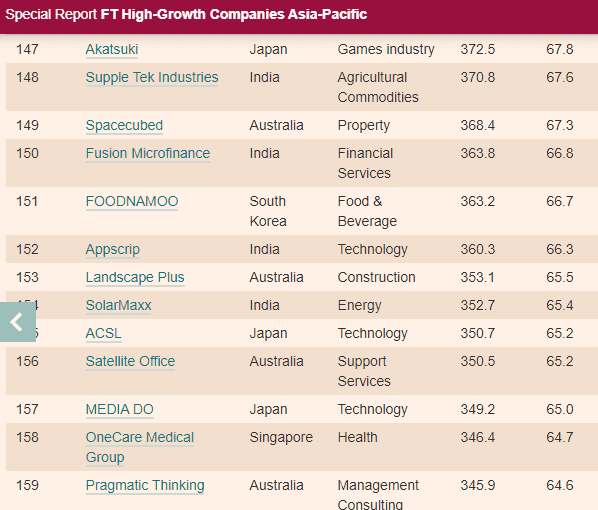 Read complete article here : FT ranking: Asia-Pacific High-Growth Companies
It was not many moons ago The Economic Times in association with Statista launched an initiative to accentuate true accelerators of the Indian economy, few growth champions whose achievements are worthy of mention.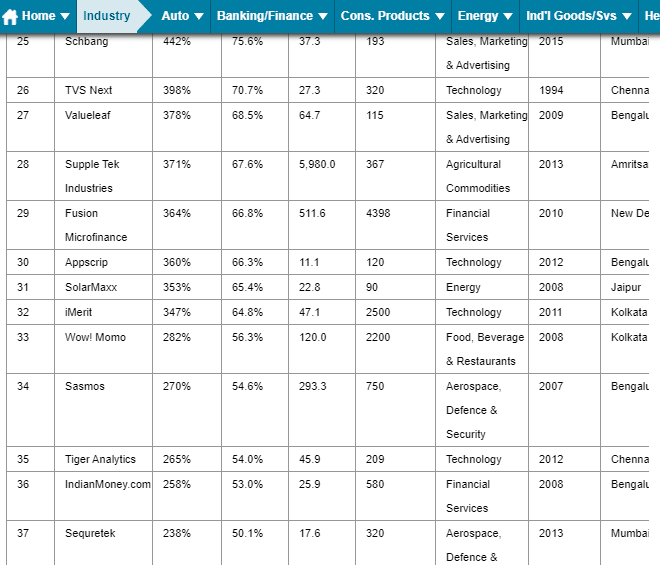 Appscrip ranked #30 in that list and stood shoulder to shoulder with giants in the tech domain.
Link to Article here : India's Growth Champions 2020 ranks nation's fastest growing companies
The ranking identified the fastest growing companies using specific criteria. Firms had to have generated minimum mentioned revenue, be independent entities, and have primarily demonstrated organic growth. This ensured companies included were of genuine economic standing, sustainability, and credibility apart from being economic accelerators.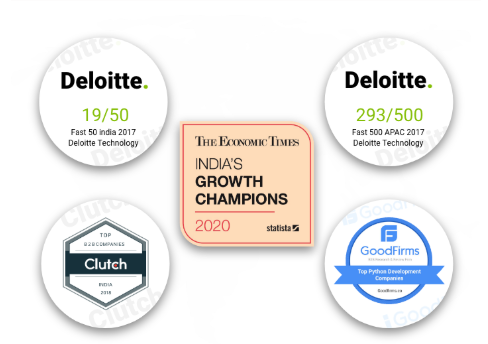 The combination of these many factors ensured that those showcased in the ranking were justifiably called India's growth champions.
India provided 140 of the companies on the Financial Time's list, which was by far more than any other country. Readers can further filter the results provided in terms of country, sector or revenue.
The data provided can help investors to pinpoint high-growth businesses that have been thriving and maintaining course even with all the disruptions happening right now.
Investors and agencies can utilize the list for in depth research into those companies that are likely to prove resilience over the coming years. The FT list ranks entrants across the APAC by CAGR in revenue between 2015 and 2018.
The technology sector has bagged 25% of the ranking.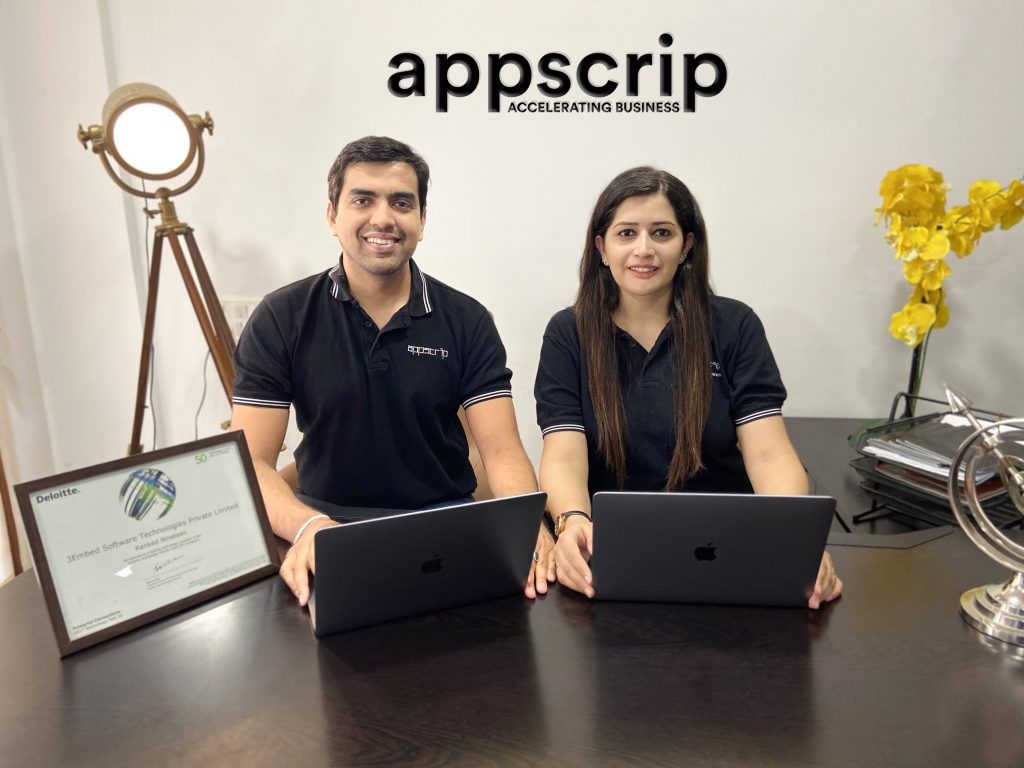 Inception & Summiting Growth
CEO & founder Rahul Sharma is a harried technocrat holding a swaying ocean liner with 120 souls on board and calling the shots when even the toughest have given in to the onslaught of the pandemic and are waiting for it to abate.
Appscrip a bootstrapped firm incepted in 2014 as a service-based app and web development entity. Our business model embodies creating robust business-ready technology solutions that encompasses diverse domains such as Ecommerce, Dating, Transport, Delivery, Entertainment, Services and much more.
These can be customized and deployed in an optimal time frame based on client requirements. We have designed and deployed high performing and scalable Applications world over, as in Mexico (taxi), Turkey (Dating), Brazil (online medicine), India (transport), US (Grocery Delivery), US (Dating), Services Booking (Pan World) and many more.
Trailblazing Future
Appscrip delivers 350 apps a year globally in diverse domains to clients all over the globe averaging at 45 days/app that could typically consume 6-9 months to develop.
Appscrip has invested in contemporary technologies such as IoT, AR, Machine Learning & AI-based solutions to further their race against technology and the competition.
Awards and recognitions have come from various quarters such as Deloitte, Clutch, and Goodfirms.  Contracts have been forged with Fortune 500 entities such as ForeTees LLC, Reliance JIO, Deutsche Bank, Tata Steel, Cairn, Coke, Harvard Medical, and many others.
In fact Appscrip has created a niche for itself that we do not clock ourselves against the competition now. As the great marathon runner Eliud Kipchog (who ran a marathon in sub-2 hours) said, the race is against the clock and not my opponents. We at Appscrip believe the same, for us the goal is the beat the previous year's record and move at enviable pace.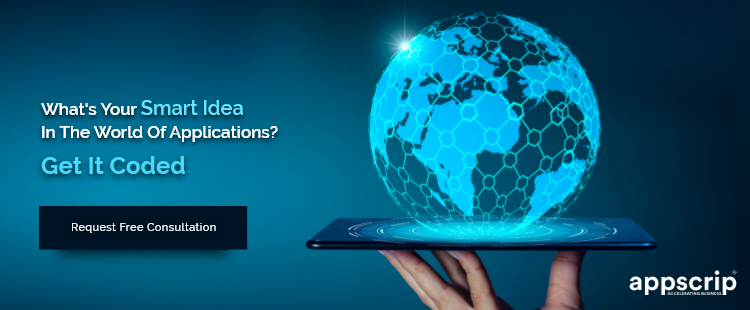 After an Engineering degree and a Diploma in Management I devoted 16+ years working in the automotive industry. My innate skill and extreme passionate in writing, encouraged me to adopt it up as my profession. I have been writing for more than 10+ years in the software industry. The 400+ blogs I published are informative, exhaustive and interesting to a professional and causal reader.