Brazil's mobile economy is the jaguar of South America – formidable and possesses a character of its own.
It's the fifth largest country in the world with respect to area and has a population of 212 million.
The outbreak of COVID-19 in Brazil during the first quarter of 2020 might have led to change in the habits of their population.
People began to get online more and depend on apps to fulfil their needs. By March 2020, download of delivery apps — including food delivery apps — in the country increased by over 120% compared to same month in the year 2019.
The top three most searched food delivery apps in Brazil include iFood, Uber Eats, and Rappi.
As per
Statista.com
approximately 64 percent of smartphone owners surveyed in Brazil in August 2020 who had ordered food through a mobile app said they had used iFood to do so. Around nine percent stated that they had used WhatsApp to make a request.
Brazil Food Delivery Market
Brazil's digital transformation has been greatly accelerated by the COVID-19 pandemic, resulting in several types of solutions being launched into the food delivery market. The increasing use of smartphones and new technologies across various regions of the country, including small cities with few resources, has made food delivery services a routine element of the Brazilian lifestyle.
The food delivery market has existed in Brazil since 2007; however, a significant evolution started in 2012 with the launch of the first delivery app developed by iFood. In about 2014, iFood's main competitors began to launch their app solutions.
Currently, the market is at a stage where the main players are becoming super apps, which means that in addition to food delivery, the platforms offer various services to consumers, such as drugstore product delivery, and have become a new sort of marketplace.
Smaller players in this market are following very different strategies. Some are focusing on a specific food delivery niche, while others are launching solutions for regions where the big players are not yet operating, often following franchise or license business models in which each franchisee is referred to as a city manager and is responsible for developing the region and attracting new restaurants.
Top 5 Food Delivery Apps In Brazil
Based on the above lets do a review of the top 3 food delivery apps in Brazil.
iFood, Rappi, Uber Eats, James Delivery, 99 Food, Apptite, Aiqfome, and Delivery Much, were found to be among the most popular apps.
iFood | Leading Food Delivery App in Brazil
The leading foodtech company in Latin America, iFood, is using new AI to make its expansion.
iFood is using an in-house AI developer to create new AI developments that will help it to keep up with its growth. In fact, iFood will be training all its employees next year to use this AI. The new technology is meant to boost the efficiency, safety, and happiness of iFood's different partners and customers.
During March 2021 a survey was conducted in Brazil to deduce the most preferred online food ordering app. It was found that iFood was by far the most preferred app for ordering food. More than 70% of smartphone owners said they had ordered using iFood. And around 10% of the respondents said they preferred Uber Eats.
This way it can meet the growing demand for its service in a personalized way while cutting costs. With all of these upgrades, iFood aims to deliver affordable food options to one billion people.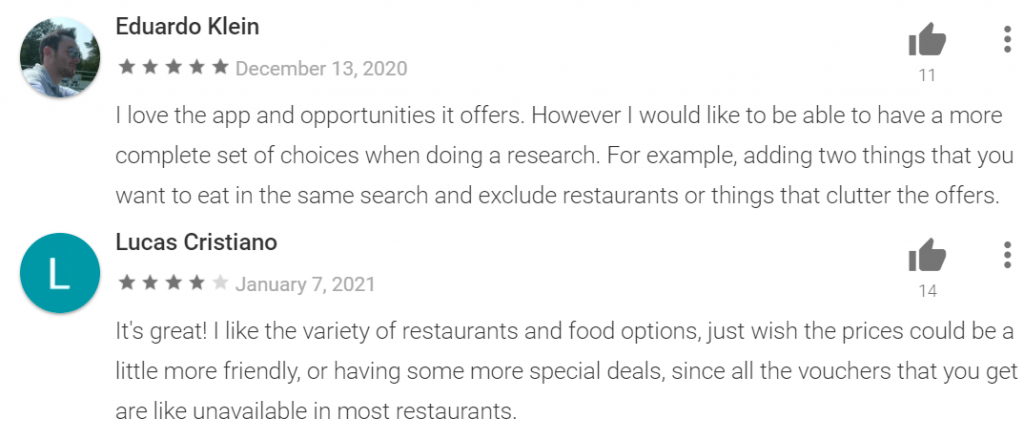 iFood's growth
iFood currently delivers food to 822 Brazilan cities and that number is up from 662 cities in July of 2020. That's an increase of 160 restaurants or 24 percent in about two month's time. Over 100,000 restaurants are now partnered with iFood.
It has also announced it's the first foodtech company in Brazil to partner with Amazon. This partnership will allow users to order food through voice commands on Alexa. Commands like "Alexa, talk to iFood" or "Alexa, open iFood" in Portuguese allow people to begin and complete orders through Alexa devices.
With a market share of 86 percent, iFood claims to be 17 times bigger than the second largest food delivery company operating in Brazil, Uber Eats. The company recently reported having achieved 17,4 million monthly orders, up 130 percent year-on-year.
Customers enjoy an increasing variety of restaurants and menus, tons of discounts and promotions, daily suggestions of meals based on their past behavior and profile by applying its sophisticated A.I. algorithms. Strong customer support creates an excellent order experience even when things go wrong.
Rappi | Standing Next To Globally Recognized Models Like UberEats
The delivery app grew more than 300% in the last half of March 2020 alone, compared to the beginning of the same month. it raised US$1 billion in funding from SoftBank. Rappi's on-demand delivery platform is setting an example for a new generation of entrepreneurs.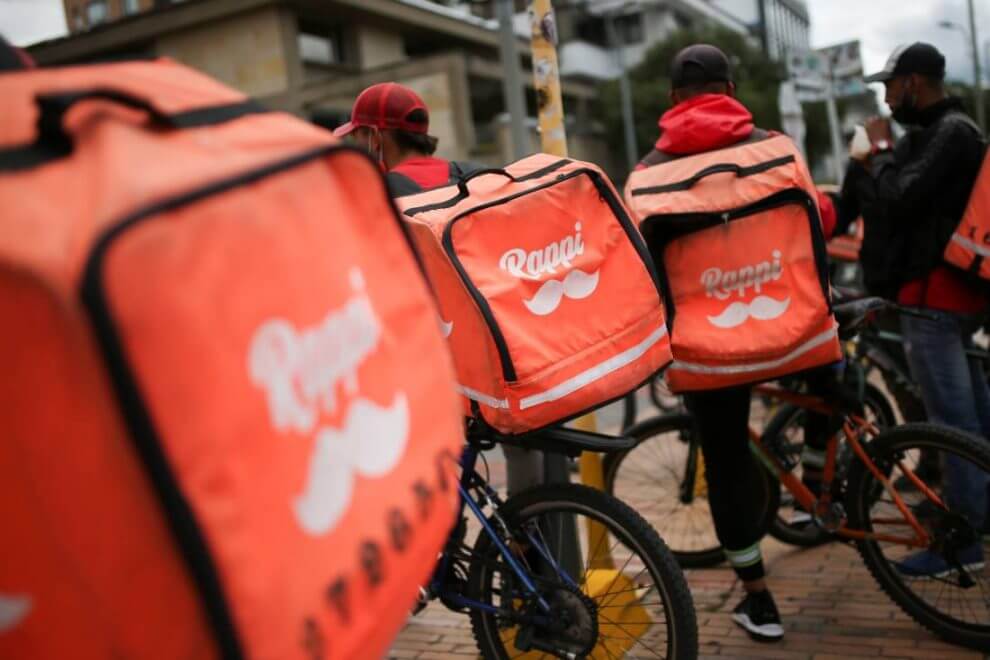 The need for a comprehensive technology stack is indispensable for growth in any delivery business. IRappi's reliable and robust suite makes ordering simple, delivery on-time, and management a piece of cake.
To run its online delivery business efficiently, Rappi has a suite which is comprised of:
Customer app: It simplifies the process of ordering for their customers.
Driver app: This serves to be a highly useful tool for the agents to ensure on-time deliveries.
Merchant panel: Designed for the store owners, it helps managing orders & their business.
Admin panel: A feature-rich, one-stop place to control, manage, and track every business activity
Each of these modules holds its own significance. Plus, these are feature-enriched to deliver excellent results.
It isn't just the technology that makes Rappi a huge success. Marketing its offerings to the right people and at the right time helps it stand out. With a laser-like focus on the user experience, there are multiple advertising campaigns have worked miraculously for them.
It utilizes data-driven insights to understand how their product experience impacted their unique user segments. Drilling deep into their conversion metrics assisted them in understanding what types of users were converting through critical funnels and why.
From choosing the right technology partner to investing in the right type of marketing strategies, and analyzing them for better business decisions, there is a lot involved in the success journey of Rappi.
Throughout their journey so far, they have seen their fair share of startups. However, the triumph of this on-demand delivery app inspires entrepreneurs to transform their ideas into reality.
WhatsApp: Enabling The Shopping Experience
WhatsApp was the third most popular online food ordering platform in Brazil as of September 2021. This is despite the fact that the app was originally conceived to be a messaging app. But it has gained rapidly as a tool for ordering food and do online shopping. It has been noted that almost 80% Brazilians use WhatsApp to complete a purchase.
This could be one of the reasons that the Silicon Valley-based firm quickly developed WhatsApp Business as it was found that too many folks were using WhatsApp for commercial success. WhatsApp Business was launch in Brazil in 2019 to facilitate communication between SMEs and their customers.
James Delivery | Taking Advantage Of The Pandemic Situation
This is a delivery app that offers delivery service, going far beyond the food on an average of 35 minutes. The users can make or place their orders through the app so the nearest James will hit the order. James Delivery is being used by millions of people in the Brazilian market making it one of the leaders in the Food and Delivery category in the mobile app stores.
Brazilian retail giant GPA recently acquired James Delivery.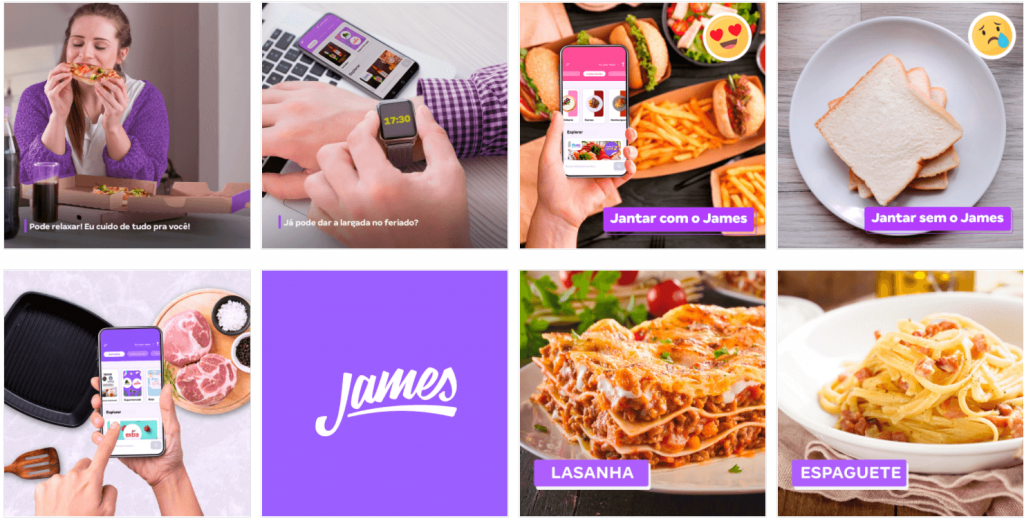 Its precisely amid the Covid-19 pandemic that James Delivery saw orders skyrocket. This growth is sustained by an increasing customer adherence to the platform and reinforced by structuring initiatives such as the successful launch of the new subscription platform 'James Prime'.
The app, which increased its footprint from 18 to 25 Brazilian cities, also expanded operations from 50 stores, before the start of the pandemic, to 323.
James got a good rating of cost-benefit and stands out positively on attributes such as delivery rate and discount coupon and promotions. The application is also highly rated by its ease of use.
Also Read | Top Food Delivery Apps | The Flavor Of The Season
Future Of Delivery Apps In Brazil
The ongoing pandemic has had a particularly serious impact on the foodservice industry more generally. In the second quarter of 2020, figures from GlobalData reveal the restaurant industry across South America experienced a 29.9% decline in sales compared with the same quarter in 2019.
The food delivery industry seems set to be largely insulated from this decline.
While physical visits to restaurants have plummeted in Brazil over the last three months – a recent Google mobility report found that visits to retail and recreation locations were down 35% compared to the baseline figure – demand for food delivery has soared. iFood has revealed that some users have been ordering up to 30% more food through their delivery system than before the pandemic.
The Brazilian market is particularly well-placed for the future. In 2018, Brazil ranked as having the fourth largest worldwide market in app downloads. With high levels of smartphone usage and established food delivery networks already in place, companies appear to be well positioned to meet increased demand.
---