The online food delivery segment monopolizes the FoodTech market and last year this accounted for 66.5% of the overall revenue.
The FoodTech industry can be broadly classified into two divisions – online food delivery and online grocery, that is by taking product category into consideration.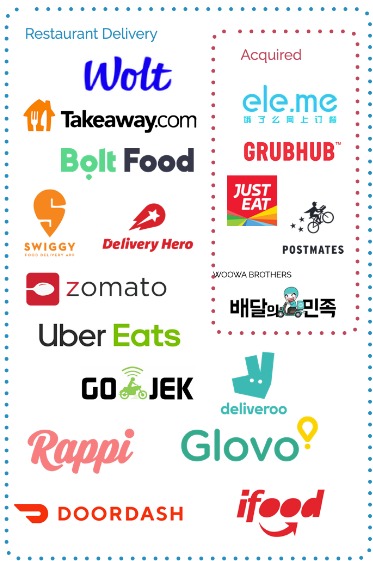 The online grocery segment is expected to sustain high growth until 2025. It is expected to prevail over the market and account for 52% of total sales in this niche.
FoodTech industry viewed through the eyes of food delivery giants reveal some striking changes in business dynamics to cater to the larger opportunity that presents itself outside food delivery.
Food and beverage are among the fastest-growing online sales category, with an annual CGR of 30% during the 2019 to 2024 period.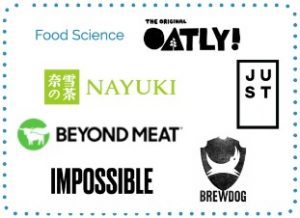 In 2020 Food and Beverage (part of foodtech industry) led most categories in online sales growth.
The gains in that domain soared to 75% from 32% in 2019.
The next-highest growth category was seen in ecommerce sales which increased by 46%.
Future Of Digital Economy
As consumers get vaccinated and resume normal shopping habits, growth is imminent. And it will remain above celebrated averages as consumers imbibe new digital habits and innovations across grocery.
These digital habits will extend across numerous other categories such as pharma products, toys, apparel, personal care and furniture. By 2024 these are expected to see double-digit growth annually. Online sales in the clothing category are estimated to hit 47% by 2024.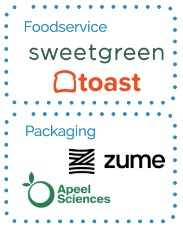 Entrepreneurs in FoodTech niche want to create "billion-dollar companies" and gain "unicorn" status which would then go on to disrupt the ecosystem.
In fact the foodtech niche has together attracted more than 40% of the investments pre-IPO.
We have mapped few Unicorns in FoodTech this year. In Europe there have been 3,500 active startups with 13 gaining unicorn status. That means there's a 0.4% probability for firms to become a unicorn. That makes us wonder why this niche attracts the interests of so many.


What The Unicorns Are Doing
66% of unicorns, which is a large group, are busy pursuing delivery business, either for restaurants or groceries. The latter category (grocery delivery) is growing faster now with more and more firms developing new strategies to enhance grocery delivery. Although most unicorns in this niche are Chinese, they may soon be joined by European counterparts this year.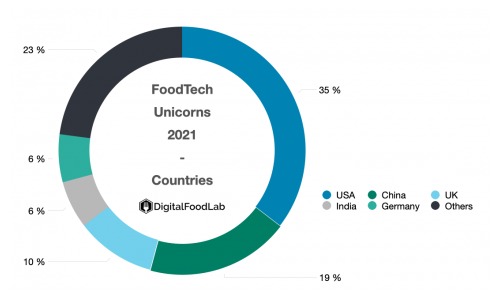 Food delivery and alternative proteins generate a lot of curiosity and few startups in this niche have reached the unicorn landmark. Four apparent leaders in this space, Just, Beyond Meat, Impossible, and Oatly were all floated ten years back. It doesn't seem a possibility that newer players in the plant-based category can attain unicorn status in the near future.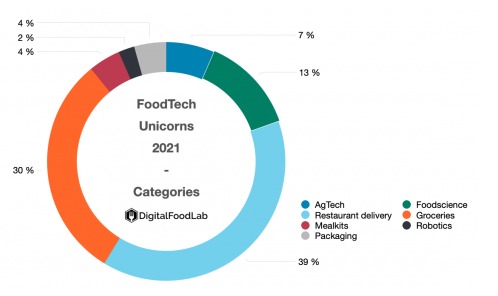 But there is a good probability that new food tech startups could make the billion dollar valuation in the coming years as huge rounds of capital is hard pressed to build necessary infrastructure for precision fermentation and cellular agriculture.
Emerging trends show that a couple of startups in packaging and a startup developing autonomous cars for grocery deliveries (Nuro) could make huge gains.
Three New Surprises
Luckin Coffee (a potential competitor to Starbucks) has not been considered due to the scandal surrounding this Chinese coffee company.
Gousto, a British meal kit startup, has gained Unicorn status which is surprising as this ecosystem was considered mature for years now.
Zume was the startup that developed a pizza robot, but now has taken up compostable packaging for meal delivery.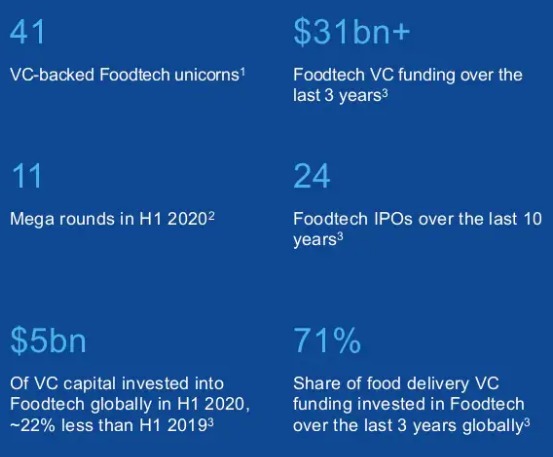 Inception Of The Unicorns
Focusing on startups that have gained unicorn status is a powerful tool to create a quick representation of a market. Mapping of FoodTech startups gives us insight into the happenings in this industry:
35% of FoodTech unicorns lead the ecosystem with 50% share of investments in the US.
27% of FoodTech firms in Europe share 18% investments.
In Asia 36% FoodTech unicorns comprising of 9 firms from China and 3 from India
Growth in investments and creation of unicorns has seen to be much higher in Asia than any other region.
Changing Business Dynamics: FoodTech Industry
The food delivery segment continues to be vital and primary source of revenue for delivery giants like Zomato and Swiggy. But it isn't earning enough to suffice.
Zomato forayed into food delivery in 2015, but they began as a restaurant discovery platform. Revenue was chiefly gathered from ad sales, food delivery and subscription. They then began providing direct services to restaurants via cloud kitchen infrastructure and took the B2B route to supply raw material.
Swiggy also followed suit with the incorporation of cloud kitchen service and inculcated the dark store model into their business.
There are various business avenues of food delivery players:
Cloud Kitchen:
The food delivery business is a low-margin business. Therefore delivery players began focusing on higher-margin cloud kitchen business. The optimal asset, low investment cloud kitchen model ensures restaurants scale rapidly and generate revenue from the beginning with minimal investment.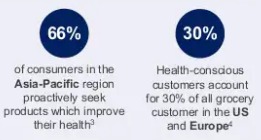 Both Zomato and Swiggy started counting on this aspect by offering infrastructure to cloud kitchen brands. They launched Swiggy Access in 2017 and Zomato Infrastructure Services (ZIS) in 2016. This basically involves leasing space and technology needed by restaurant partners to run cloud kitchens.
Zomato focused heavily in this domain which enabled it to float close to 800 kitchens. Cloud kitchens have proved to be a money spinner for Swiggy. Their delivery-only model isn't doing much good for food delivery firms that are keen to pursue positive unit economics.
The global cloud kitchen market is bound to expand in the near future. The market was valued at $42 billion in 2019 and it is estimated to touch $70 billion by 2027. That would be at an annual CGR of 12% from 2021 to 2027.
Supply Chain Integration:
Nowadays FoodTech giants have started exploring backward integration in food. Swiggy and Zomato have begun integrating their supply chain up to the first mile rather than just focusing on piling a large consumer base.
In 2019 Zomato launched a farm-to-fork route for restaurants and named it 'Hyperpure'. Here the Company sources fresh, hygienic, high-quality ingredients and supplies them to restaurant partners directly from producers, farmers, mills, and processors. As per records Zomato has been offering this service to restaurant partners across six cities in India.

The Covid situation heightened hygiene and social distancing, thus Hyperpure turned out to be the knight in shining armor for Zomato. When all their other businesses (food delivery, dining out and subscriptions) were hit, Hyperpure saved the day for them.
This was because the demand for planned grocery continued to be high even though supply chain disruptions increased during the pandemic.
Hyperpure revenue reached $14.8 million last year, which is an 8 fold YoY growth. This is one of their businesses which is currently reaching break-even in terms of profitability. This business has the clout to clock a CAGR of 30% in revenue over the next decade, to reach $200 million by 2030 of revenue levels.
Zomato's unit economics also improved due to changes in the business dynamics and inclusion of additional services.
Swiggy also introduced a chain of 'dark stores' (warehouses for storing goods to fulfil online orders) for taking care of demand. Swiggy delivered groceries and regular household goods to customers by sourcing them from its dark stores. Moreover now they are trying to expand this business by bring more goods under this vertical. Swiggy plans to scale up 'Instamart' as there's better margins compared to the marketplace.
The diversification doesn't just stop there.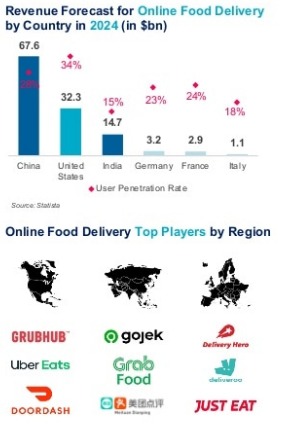 The focus on multiple business opportunities and supply chain amalgamation has helped these food delivery companies to strengthen their logistics.
Both players are focusing on rapid expansion of territory over the past couple of years and have augmented their fleet of delivery partners. Zomato serves more than 550 cities while Swiggy 520 cities.
Both firms have seen a massive rise in the number of delivery partners. In July 2018 the numbers were 50,000 which has not more than quadrupled. Zomato indicated that the number of delivery partners is now 2,00,000, this was prior to the second wave. While media reports suggest that Swiggy's has 2,50,000 delivery partners.
Way Ahead – FoodTech Industry
The overall foodtech industry / food services market in 2019 was INR 4,240 billion. Factors such as urbanization, mass migration to metros and rising income levels enhanced the overall food services market which is expected to pace at 9% CAGR by 2023. Online food services stands at 4% within the food services market.
But increased penetration of high speed internet and low data rates in tier II and tier III cities in the aftermath of the pandemic has enabled food delivery players to further expand their services.
Another important factor that is throwing wind into the FoodTech growth is prevalence of online transactions and other online freedom. Multiple opportunities of growth and shifting business subtleties continue to make the FoodTech domain as attractive as ever.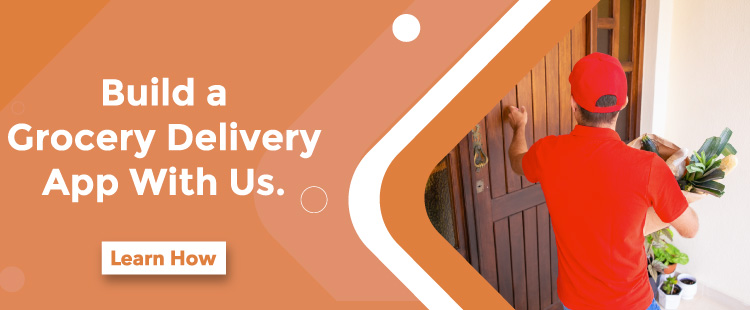 With an Engineering degree and a Diploma in Management under my belt, I worked for 16+ years in the automotive industry with various manufacturers. But my passion for writing was overwhelming, which I turned into a career. I have been writing for more than 10+ years and mostly in the IT domain. I am sure you will find the 300+ published blogs of mine in here informative, exhaustive and interesting.