All the full stack development companies have carved themselves a respectable position in the market.
Every business requires professionals with extensive know-how about everything from the back-end, database to front-end.
A developer needs to have perfect knowledge as to which technology is to be used for the development of an application.  A full stack development company have experienced developers working for them.
Also, UI/UX turns out to be one of the key deciding factors of success for any application.
Digging into why choose the full stack development company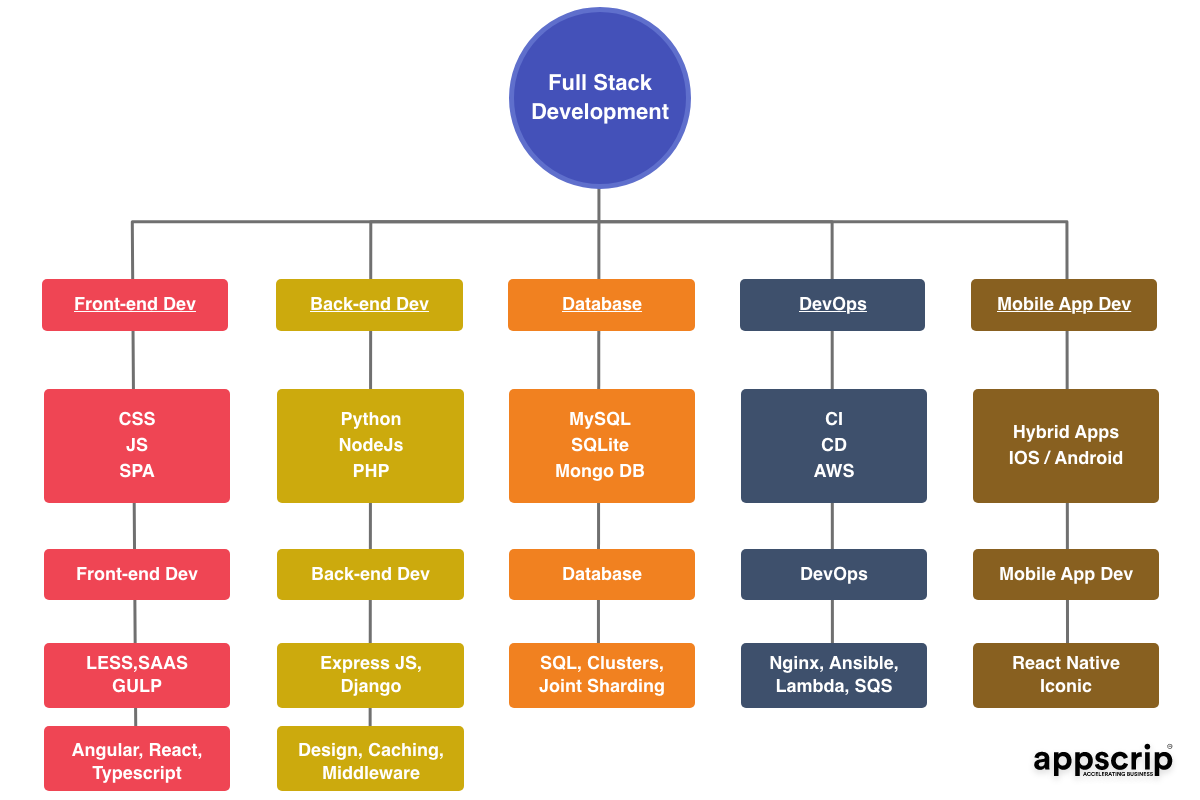 Following are the reasons you must go with a full stack development company for your digitisation or app development needs:
Everything Under One Roof!
A full stack development company have trained and certified workforce for Backend, Frontend and Database. These trained developers pay special attention to the process.
Nothing is outsourced. Thereby, low dependency on external factors.
Everything is sorted under the same roof. This helps to streamline processes and fast-track development.
Troubleshoot Issues Faster!
Since the entire development process is happening under the same roof, it is easier to detect the fault and rectify it. All the segments work hand in hand to develop the best product.
Effectiveness and Efficiency Served Together!
Since all the aspects of app development are handled by a single party and are not divided into bits by several companies, you can personally keep track of the app development process as a whole.
An experienced agency offering full stack development will have staff that are proficient in all the software's that are required for the creation of an app.
Fetching you the apt quality app solution delivered in a decent time period.
Saves You From The Blame Game!
For a full-stack development company, delivering a faultless product is the top priority. They look at the product as a whole. So, rather than blaming anyone, they will work towards fixing it.
Eliminates Communication Gaps
A full stack development company keeps all the departments interconnected. Backend is aware of what Frontend is up to, and vice-versa.
This helps you save efforts in forming a sane communication routine between the various processes involved in app development.
Also Read:

Technology Building Blocks To Develop a Mobile E-Commerce App
Full Stack VS Mean Stack
Well, the very first difference between the two approaches is that MEAN stack is an abbreviation and the FULL stack is not! (Pun Intended)
Okay, moving on to some serious differences,
Full-stack developers are usually familiar with all the layers and aspects of the app development process,  whereas Mean stack developer's knowledge is restricted only to the certain layers of the app development process.
A full stack development company has the option to choose from a wide range of full-stack web frameworks according to their choice of programming language and precise project needs. Which is untrue in case of Mean stack development.
MEAN stack does not allow programmers to use robust server-side programming language. Whereas, the full stack development company can combine the right programming language and web framework to simplify the development of large and complex websites.

Conclusion To The Stacks
Even though Mean stack seems less important from a broad perspective, you cannot completely ignore the concept. An app developer should be aware of all the app development options they can leverage to build an app solution of the utmost standard.
A full stack development company is familiar with all the kinds of development practices and implements the best suitable practice in building your application. Whether you are a startup or just looking to digitize your business, choosing a full stack development company will prove to be a win-win situation for any entrepreneur.