COVID-19 has been disrupting personal, social and business lives.
The effects are detrimental in many domains. There are lasting effects of economic recession in sales, man-power, future-prospects and other challenges faced by almost the entire world population.
Over and above there has been lasting ill-effects on organizations. Firms will experience challenges that are specific to their vertical. But the global ecommerce will gain huge ground.
Almost 47% of US internet users claimed that they are avoiding shopping centers and malls. If the effect of the infection worsens roughly 74% say that they would stay away from shopping centers for good.
32% of respondents said they have been avoiding brick and mortar stores, and more than half promised that they would avoid visiting a store even when the crisis ends.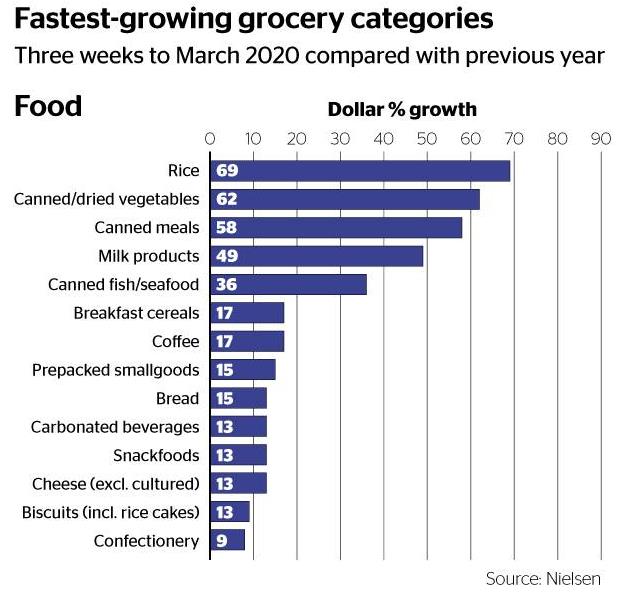 Products Selling Extensively
But sales of consumer packaged goods are surging. Oat milk sales were up 300% in the month of February. In contrast, water sales went up by 5% which was much below dried beans, energy beverages and pretzels.
Sales of medical masks grew 78% during the month of February, compared with the same period last year. By the last week of February, sales were up by 319%.
Consumers are spending less on clothing and more on food and health-products. In the month of April, 52% of US digital buyers purchased clothing, shoes or accessories digitally which was down 4% as in February.
And almost 36% of respondents purchased food and beverages online in April, up 9% from February.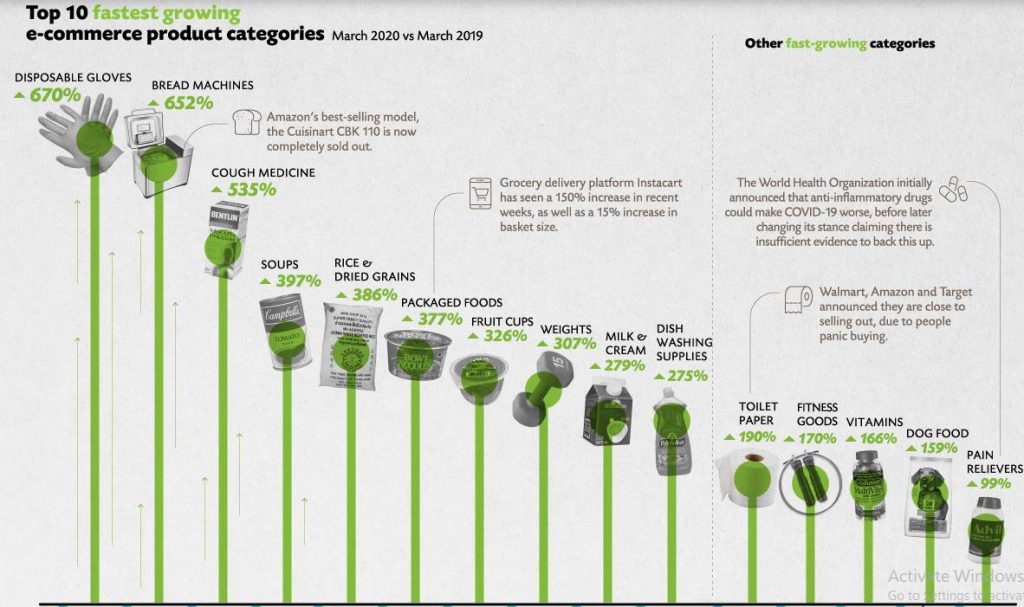 Global Ecommerce Trends
More than half of internet users in Germany aged between 18 and 69 said they never shopped for groceries online.  In Germany 41% of online retailers said the number of customer orders had gone down below average.
55% said they expected further decline in the coming months. But the situation is far different in contrast to the situation last year, online orders are 20 times higher in comparison to 2019.
Buy online and pick in store (BOPIS) orders surged to 62% year on year growth from the months of February to March as people began social distancing to shopping so as to limit their exposure.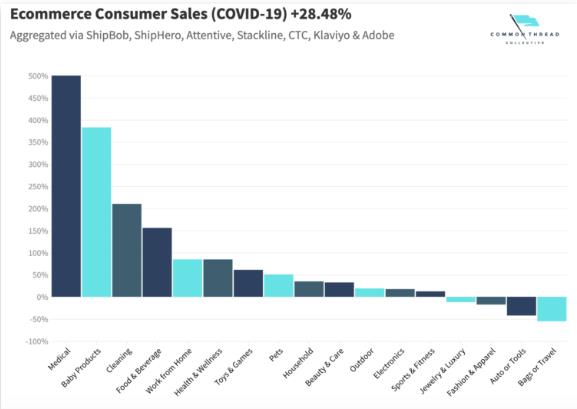 Ecommerce trends on a simple rule – Customer optimism of their economy is directly proportional to their spending habits.
Globally consumers believe that Covid-19 will have a long lasting impact on personal routine and expenditure. 74% of consumers surveyed believe that the pandemic would impact their buying/shopping behaviour in the future thereby giving a push for global ecommerce.
Online Trends
47% of consumers have increased the amount of online shopping more than what they usually did.
For 41% of the respondents the figure remained the same.
30% expect to spend less, not to curtail online buying but rather overall spending habits considering the financial situation.
12% shopping online have literally increased their spending from 50% to 100% more than they were habituated of.
4% are expected to spend more money on retail purchases because of COVID-19 concerns.
56% of consumers are loading up on bulk quantities of goods.
29% expect to spend less on retail, reflecting a drop in non- essential purchase and entertainment, due to employment / income concerns.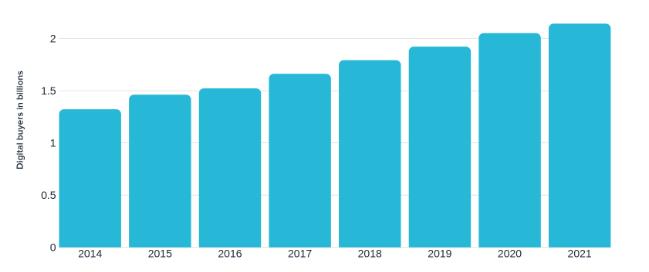 Products With Highest Sales
Almost 40% of consumers have not been able to find all that they wanted online.
After the deepening of the COVID crisis there has been an 817% surge in sales of goods such as hand sanitizers, antibacterial sprays, masks, and gloves.
The online sale of medicines for flu, cough, and cold has increased by 198%.
While the sale for pain relievers has increased by 152%.
Home Schooling and Garden furniture search trends have increased by 130% and 110% respectively in last 2 months in UK and USA.
Metrics To Consider
Online order volume from ecommerce merchants increased 210% in the second week of March.
S. retailers' online revenue growth is up 68% as of mid-April, surpassing an earlier peak of 49% in January.
Sales in March online saw a rise of 52% with reference to online sales same time last year.
Walmart online grocery sales in March reached $900 million. An increase of 21% as of February and 100% increase as of the previous year.
With online retail sales estimated to reach a staggering $6.5 trillion by 2023, the ecommerce sector is without doubt booming.
With Covid-19, there has been major disruption as consumers have a newfound passion for health and to exercise indoors.
45% of consumers have invested in exercise equipment online and 40% of them saying they intend to keep using it up after restrictions are lifted.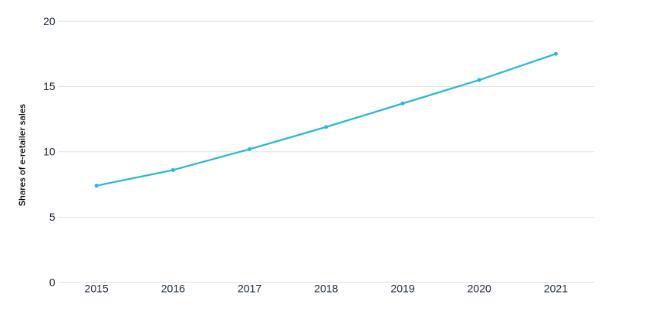 Freebies Offered By Giants
Google Shopping – Merchants Now Can List their Products on Google Shopping for Free
Ebay – The e-commerce giant announced the launch of "Up & Running Accelerator Program", designed to assist 71% of small businesses that lack online presence to make a transition to e-commerce.
Ebay is pledging up to US$100 million in support of the Up & Running Accelerator program.
Amazon said it would temporarily not require sellers in its marketplace to repay loans provided to them by the firm.
Amazon is planning to hire 70,000 people for jobs such as warehouse staff to delivery drivers as people are forced indoors due to the pandemic and demand for online orders surged.
Magento announced three months of free Magento Commerce for all businesses.
They are also offering free Magento training programs.
Shopify has extended its free trial from 30 days to 90 days