Courier delivery services in Spain had not evolved much before 2014. However, after an influx of tech startups that were trying to add various innovation layers to courier services, providing users and those in charge of delivering the products with basic tools to make lives easier.
Enter Glovo: a Barcelona-based startup got introduced to the world!

Interesting Facts About This All-in-one Delivery App: The Competitors, Acquisition, Funding 
During its inception, Glovo's concept was very similar to the world-famous Postmates app.
Glovo, soon after its launch in 2015, had a presence in 178 cities across 23 countries. That's the highest any delivery startup could even imagine!
Now the app has successfully managed to get labeled as the largest multi-service on-demand delivery platform that allows customers to order anything — restaurant meals, groceries, flowers — from more than 1,000 participating businesses and have it delivered in less than one hour.
Glovo aims at transforming the way users get what they need, making delivery and on-demand service conveniently accessible.
It puts a new meaning to the hyperlocal delivery model.
While Glovo's "deliver anything" model continues to be its flagship service, the company has also started experimenting with CloudKitchens and Grocery Dark stores.
Glovo had been a part of Connector's accelerator batch and had raised €140,000

from business angels in

2015

. 

 The startup became so successful that Bloomberg declared (in 2017) it could be worth €650 million ($730 million)
The firm's revenue then jumped from €18 million ($20 million) in 2017 to €81 million ($91 million) in 2019.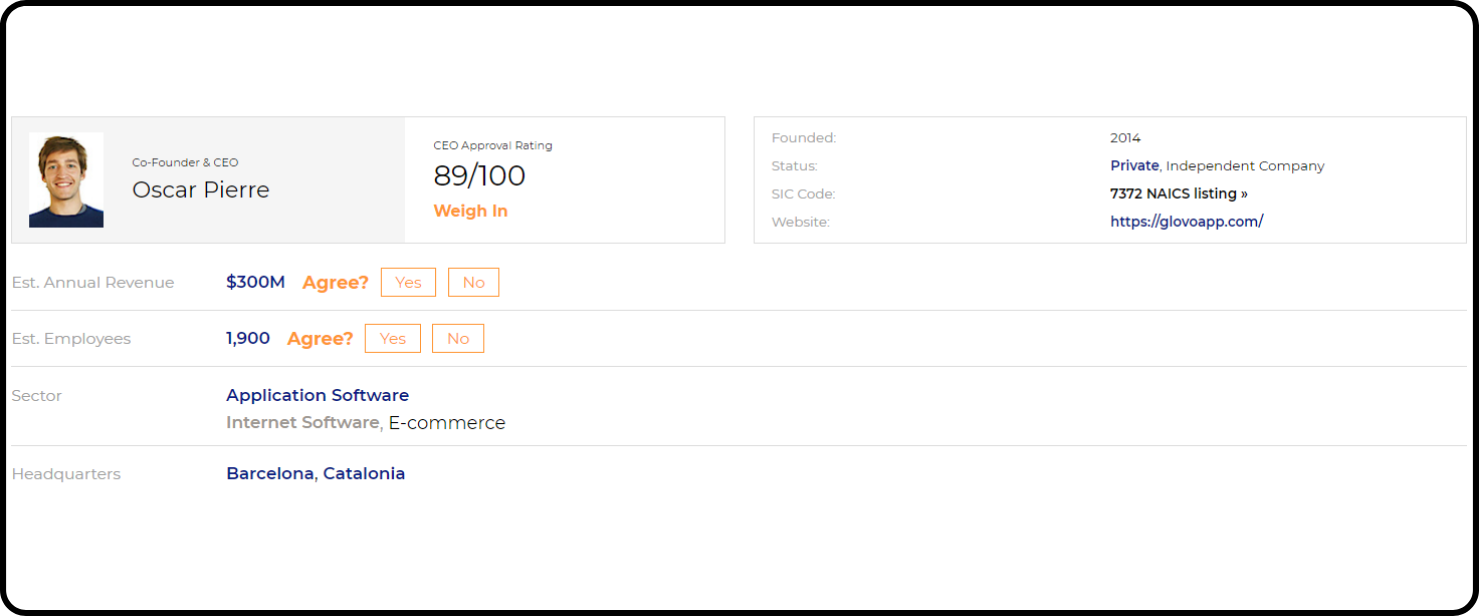 Glovo's Immediate Competitors
Uber Eats is Glovo's biggest competitor. The former was founded in 2014 and its headquarters is in San Francisco, California.
As per reports, Uber Eats generates 833% of Glovo's revenue.
Wolt was founded in 2014 by the CEO of Slush Miki Kuusi and is headquartered in Helsinki, Finland. Wolt raised $30 million in funding, according to Bloomberg in 2018. Currently, the app operates in 18 countries and over 60 cities and has over 6,000 restaurant partners, 12,000 courier partners, and 3 million registered users.
Deliveroo was founded by Will Shu in 2013 in London, England. It operates in over two hundred locations across the United Kingdom, the Netherlands, France, Belgium, Ireland, Spain, Italy, Australia, Singapore, Hong Kong, the United Arab Emirates, and Kuwait.

Deliveroo

 has acquired 2 organizations,

Cultivate

being the most recent. The app has raised a total of $1.7B in funding over 11 rounds. Their latest funding was raised on Jan 2021 from a Series H round.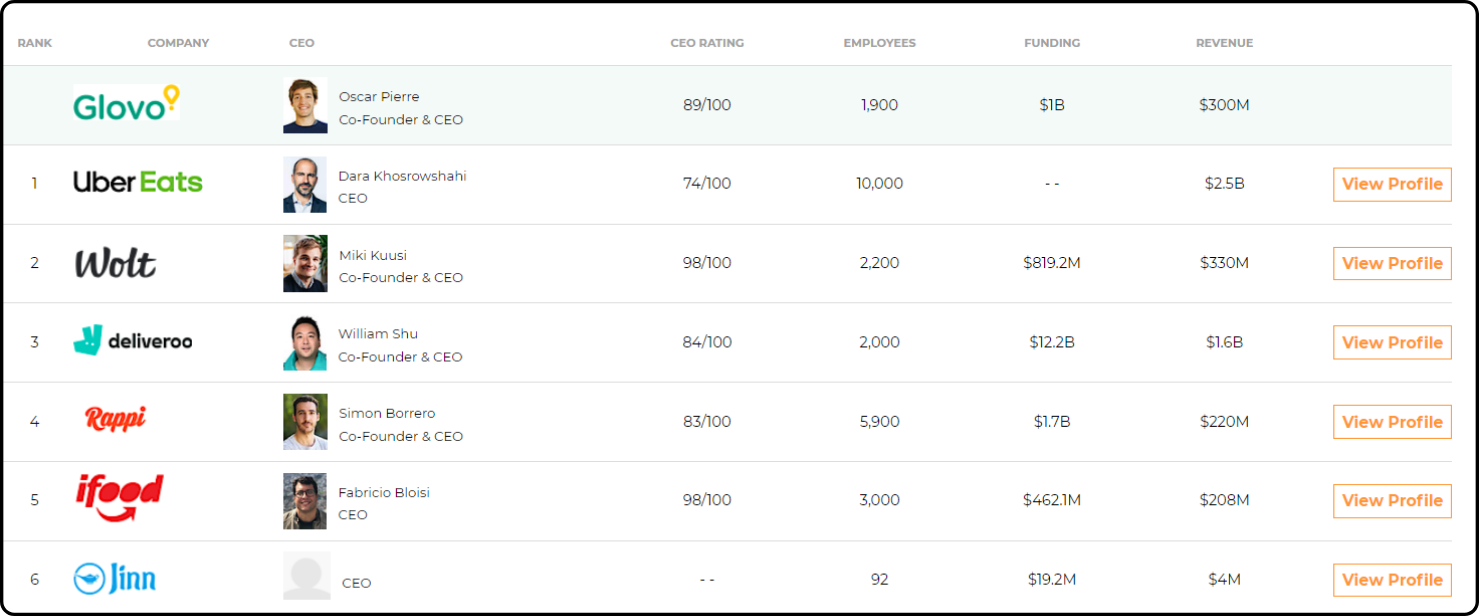 The Companies Glovo Acquired Since 2016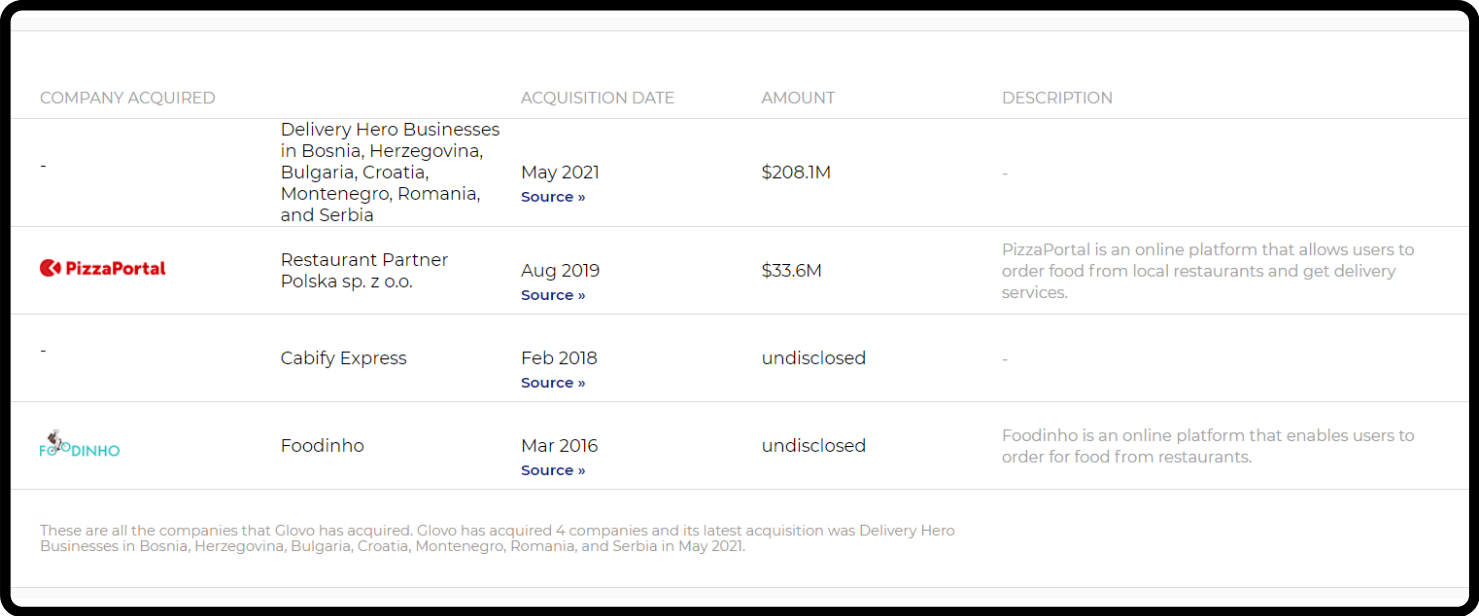 Funding History Of Glovo

Glovo was founded in 2014, and since then it has participated in 7 rounds of funding. Glovo has raised $1.0B in total. The app's last funding by Luxor Capital Group dates on March 2021 for a total of $528.0M

New Insights & Updates:
Glovo will acquire multiple of

Delivery Hero's

group companies in a series of separate acquisition deals, worth a total value of €170m.

Glovo recently announced that it has also reached an agreement to acquire Ehrana, a local delivery company in Slovenia, for an undisclosed fee.

Frog, the Austin, Texas-based global e-mobility solutions company has announced its exclusive partnership with Glovo.
Glovo's Business Model: How Does It Generate Revenue?
Glovo primarily drives revenue by charging its partners a fee that is typically 22-30% of the total value of the food or product being delivered. The exact fee is agreed upon between Glovo and each business, and a portion of this fee is given to Glovo couriers based on the distance they cover while delivering.

Delivery fee
These are dependent on location, distance, and how quickly the customer wants to receive their order.
An average delivery fee in Europe is around 1.90€.
SuperGlovo Mini-Supermarkets
These stores are essentially fulfillment centers that Glovo operates in collaboration with grocery store chains, and are not open to the public.
They are staffed with employees who pick, purchase and deliver customer grocery orders 24/7. This gives Glovo total control over the goods that are available to its customers.
Mini-supermarkets are relatively a new concept and are only offered in Madrid, Barcelona, and a few other countries.
Glovo hopes to expand its rapid delivery service by using the efficiency of a McDonald's drive-through as inspiration. Pickers are being trained to select an entire customer order before the courier arrives to collect it.
Glovo targets everyday household items to drive revenue in a relatively underserved segment. This includes items such as bread, milk, cereal, and water.
Dark Kitchens
Glovo collaborates with local restaurants that have reached peak capacity in their kitchens. These restaurants rent one of seven dark kitchens scattered across Europe, allowing them to increase productivity and sell more food. Glovo intends to control more of the food delivery process and charge accordingly.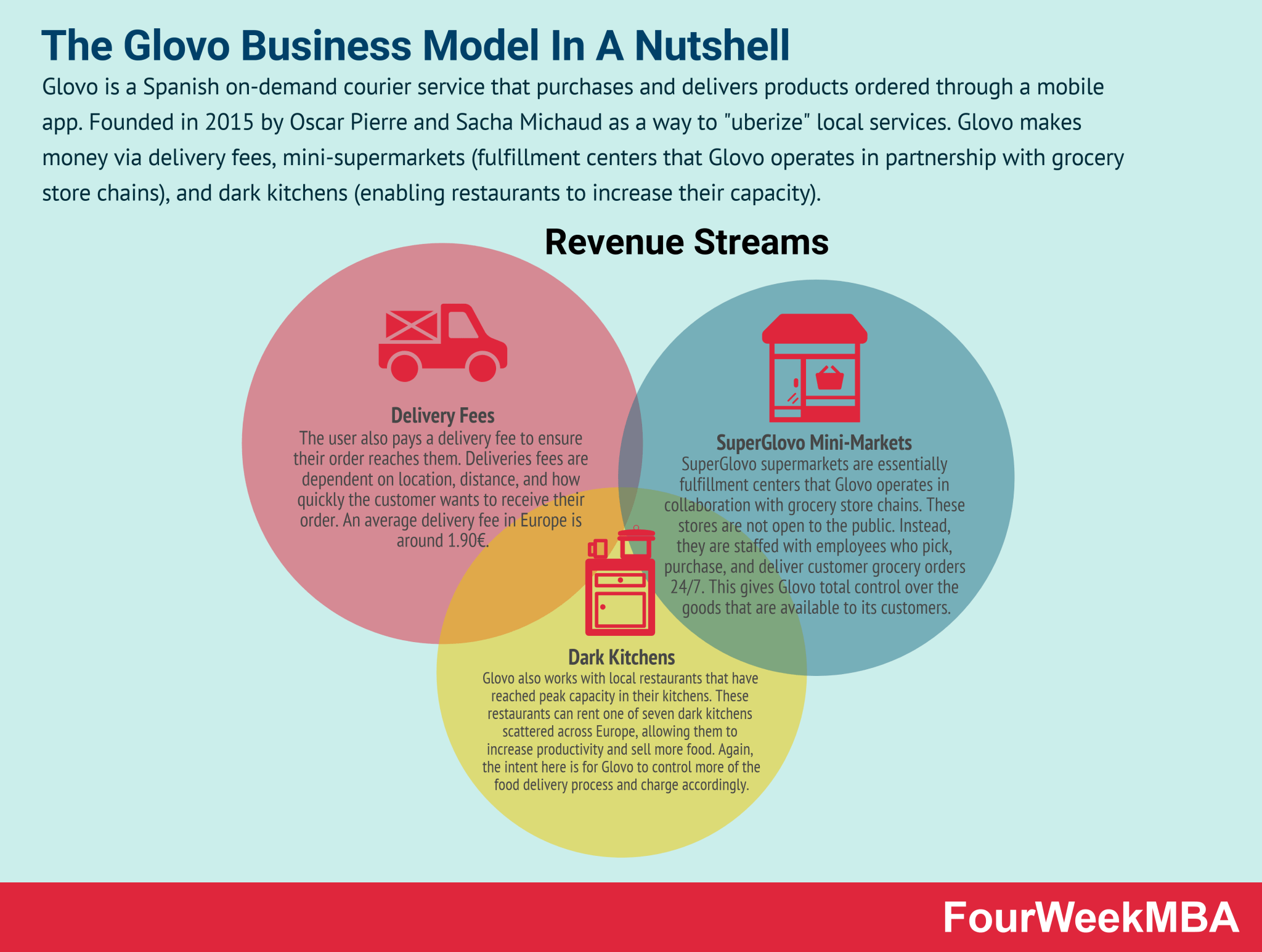 Learning From This Startup: How To Beat Competiton In Big Markets
The founder and CEO, Oscar Pierre entered the game without knowing he would win! Here's what he had to say about his startup
''We…Found Our Gap'' said Oscar, to a Spanish online magazine Viaempressa 
Glovo was not the first delivery app out there! It made the market more difficult. We  found our gap; we are the only platform in Europe that supplied the user with anything in the city, and I think that this became the key; the offer was broad. It didn't scare us that the competitors were large; being small was actually a competitive advantage because it meant we could react quickly to these monsters. They were very powerful, but they moved slowly.
A clear example was their partnership with McDonald's, for which they had to compete against Uber Eats and Deliveroo. Glovo got it because they were the quickest to come up with a model that McDonald's needed. It was specific on a technological and logistical level. 
Getting The Timing Right Was Crucial
Getting into a crowded market is easy but staying successful becomes the toughest game startups often face. Pierre, however, said getting the timing right was crucial.
Glovo didn't come on board in a country where they already had two dominant players (which is the case in Mexico, Colombia, and the UK).
The startup succeeded in Spain mostly because it brought big brands such as McDonald's and KFC onto its app and this led to 'massive growth'. Before then, competitors like Deliveroo refused to meet the big companies' demands. This was an opportunity Glovo held onto.
We literally built anything they wanted
Building A Startup Never Comes Without A Fight
He pitched to 118 funds before its current progress.
For our series B round, we pitched to 118 funds, and all of them said 'no.' We were very close to going bankrupt, maybe a month away. All our competitors were huge. Two years ago, there was no way to convince investors that we'd really be competing face-to-face with Uber Eats or Deliveroo. There was very little conviction about food delivery back then.
Glovo raised $30 million in a Series B funding round led by the Japanese tech giant Rakuten in 2017. 
One day, Rakuten came out of the blue and decided to invest in us
They never had to look back again! Two other funding rounds then followed, which were led by the early Spotify investor, Lakestar, in April 2019. This took the startup's total funding from $170 million to $340 million.
Become Obsessed About Profits
Oscar mentions the most important factor that guaranteed the startup's continuous growth is its quest to remain profitable. In 2016,  the startup obtained 1.1 million net euros in profit, which represented the commissions from their partners and shops along with what the user paid for the service, and that meant tenfold growth. In 2017, a barely two years and two months old startup took millions of orders. 
Only those who focus on profitability get funding. We made sure we are not only growing, but also that the cities are not in negative numbers for many months. We know there are cities that need only six months to show losses and others, 12 months, because it all depends on size; but we know that sooner or later we would get good numbers. In Spain we had seen more than 10 proposals similar to ours and most of them failed. When the margins are small, you have to look after them well, otherwise it will not work. 
Too Many Cooks Spoil the Broth
The urge for startups to get funded almost always comes with a price — a sudden disappearance of investors, suggests Pierre. 
Delivery is a complicated sector. Between 2010 and 2012, there was overfunding in Barcelona. Since it was new, it grew quickly because it had some value. A lot of projects were funded that began to close down in 2014 and that went on for another couple of years. That was just the moment when we began looking for funding. The investors saw that the sector was in fashion, but also had problems. And what happens when a sector is over-funded? The investors disappear!
---