Grocery delivery apps in Denmark are becoming increasingly popular because they effectively meet people's grocery needs from the comfort of their homes.
The Danes were slow to embrace online food shopping, and food delivery services are a relatively new addition to the Danish grocery and take away markets.
However, this industry has gained significant traction in recent years.
The number of options is rapidly expanding, and there are now numerous useful apps and websites that make grocery shopping easier.
Top 5 Grocery Delivery Apps In Denmark
1. Nemlig.com
2. Coop dk.MAD
3. Aarstiderne
4. Fotex
5. Lidl Plus
Business & Revenue Model Of Grocery Delivery Apps In Denmark
Founded in 2010 and headquartered in Brondby, Denmark this easy-to-use grocery delivery website is owned by Intervare. It offers a great selection of products with convenient delivery slots. The supermarket does not have any physical locations.
It primarily sells groceries, but there are other items such as books, stationery items, and toys. The goods are distributed throughout the capital area, as well as in and around Aarhus, Skanderborg, Horsens, and Randers.
The main profit comes from the commission on sales. The website follows a hyperlocal business model. Apart from that, online sales are dependent on subscriptions, promotions, service charges, and memberships.
Coop is Denmark's largest consumer goods retailer. It is a cooperative, owned by 1.8 million members. It owns well-known supermarket chains such as SuperBrugsen, Irma, and Kvickly. Their online supermarket has a wide selection of products. They offer reasonable or even free delivery when the customer spends above a certain limit.
The Coop has no stockholders; instead its 1.8 million members own them. Members can participate in decision-making at both the local retail store and at the national level by electing the board of directors at the 'Landsrd', or national council.
Coop Denmark declared in 2021 that the online grocery delivery companies Coop.dk MAD and Osuma.dk would merge under the Coop.dk MAD banner. Morten Viktor, Coop's director of digital and online said that the goal is to improve delivery across the country, to individuals, businesses, and institutions alike.
Customers in Denmark will benefit from better options, lower costs, quality service and flexible delivery as a result of the merger.
Coop.dk has more than doubled its customer base and revenue in the last year and a half. Sales in the first half of 2022 were approximately 70% higher than in the same months last year when the COVID-19 pandemic caused a significant increase in sales and post-pandemic sales have been consistent too.
Aarstiderne is among the top grocery delivery apps in Denmark. Founded in the year 1999 by Thomas Harttung, Aarstiderne is a farm located north of Copenhagen that accepts direct orders for fresh, organic produce. They offer meal boxes with recipes and all the ingredients you need to prepare them, as well as a wide-variety of fruits, vegetables, baked goods, and dairy products.
Due to the pandemic, Aarstiderne saw a huge increase in business in 2020. To boost customer access to organic products, it launched a grocery delivery website. This resulted in a wider choices, and Aarstiderne continues to ensure that all goods are produced, packaged, and transported responsibly.
The monetizing strategy is really simple; they cater to the demands of organic food and earn their share of commission.
Merchandising has been its most successful business strategy as Aarstiderne has monopoly on online organic food delivery in Denmark. Aarstiderne Sweden won the "Most sustainable retail company of the year" at the Swedish Retail Awards 2020, beating Lidl and Apotea.
Fotex is a supermarket chain that operates in Denmark. The company was founded in 1960 as Denmark's first supermarket, and it later gave rise to the Salling Group (previously known as the Dansk Supermarked Group).
The name "fotex" is a combination of the Danish words "Fodevarer" (daily groceries) and "Textil" (textiles).
They have recently acquired the online home delivery service SkagenFood, which delivers fresh fish as well as a limited selection of fresh fruits, vegetables, and meat. This now gives them an opportunity to enter into this type of convenience market. It operates on both online and offline platforms.
It works on a multi-vendor marketplace and inventory business model.
Schwarze Beteiligungen Lidl DenmarkLidl, a German retail store chain, made its debut in Denmark in 2005. It is a well-known supermarket chain in Denmark. Around 2100 references are available from the chain, including 230 organic and local references.
Its online grocery delivery app, Lidl Plus, helps you view all the weekly specials that are available at this discounted supermarket. You will also receive coupons for offers and discounts on specific items in the store.
Dirk Fust, CEO of Lidl Denmark said that an app would help Lidl to be leaders in offering discounts to the Danes. And Lidl Plus is (grocery delivery apps in Denmark) an important part the company's future digital ambitions. In the coming years they aim to develop and add new services to improve service levels and enhance customers' shopping experiences.
The app includes a store locator, exclusive deals on popular items, and member discounts on Lidl exclusive products. Customers also get digital scratch cards that offers them a chance to win-back the value of their most recent purchase up to DKK 500 (or approximately $68).
A consumer expert (on grocery delivery apps in Denmark) at Retail Institute Scandinavia, stated that such digital loyalty platforms are becoming increasingly important. Retail chains have been recognized for the value they provide by including digital platforms into their interactions with customers.
This is move in the right direction because social media and customer apps have the potential to foster a healthy relationship with customers. Therefore, indulging in a similar domain has proven benefits to entrepreneurs who have invested in an akin business idea.
The Benefits Of Launching A Similar Business
Mobile apps have transformed the global retail industry, with the grocery industry experiencing enormous growth in the past few years. Grocery mobile apps are increasingly popular because they strike down the cumbersome task of physically buying groceries from a to-do list.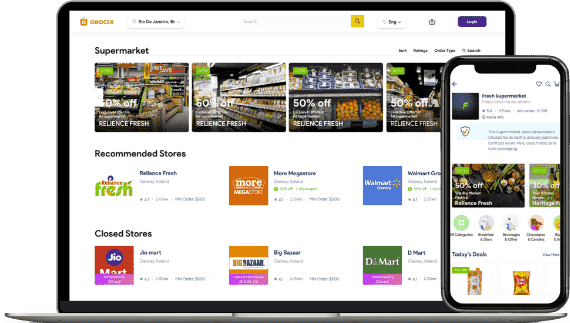 After reviewing the overall picture of grocery delivery apps in Denmark, let's dive into the benefits of establishing an online grocery store.
Customers can book out-of-stock products in advance, thereby ensuring they will receive goods when they need it.
Businesses will earn a profit without spending on store infrastructure.
One can expect recurring and scheduled orders.
Options for Safe Payment
Strong customer base through Special Offers and Loyalty Programs
Improved Marketing Opportunities
Earn a brand name for your business.
Conclusion:  Grocery Delivery Apps In Denmark
Grocery apps are here to stay and will be for a long time. As mentioned above, stores that take the lead in app-driven businesses can expect to see increased sales and profits. Therefore, investing in this niche of business can foster a successful endeavor.
Grocer provides you with an innovative grocery delivery software to assist you in taking your grocery business online.
When you decide to take up Grocer, you are not only getting the best eCommerce website and a wonderful application, but also a proven technical team that will be with you throughout the process.. Our grocery ecommerce solution, GROCER, has been crafted to provide an all-around solution to the grocery supermarket business.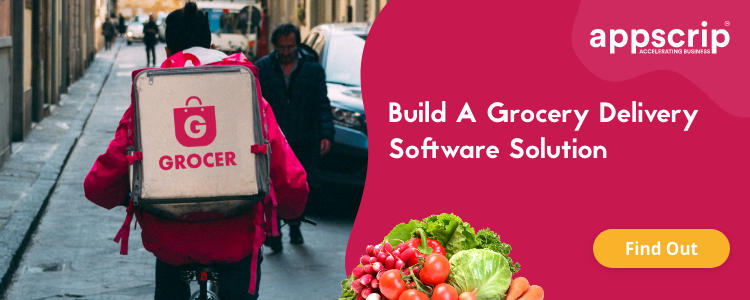 With an Engineering degree and a Diploma in Management under my belt, I worked for 16+ years in the automobile industry with various manufacturers in various capacities. But my passion for writing was overwhelming, hence I turned that into a career. I have been writing for more than 10+ years on various domains including the IT industry. I am sure you will find the 200+ published blogs of mine in here informative, exhaustive and interesting.