Grubhub Inc. is a US-based online & mobile food ordering and delivery marketplace that connects diners with local takeout restaurants. It is considered as one of the best food delivery business models worldwide.
GrubHub has offices in Chicago, New York, and London.
Grubhub is an online food delivery service platform that allows users to order food from any place in the city. They have a massive user base of 14 million and collaborations with 80,000 restaurants. The business is active in 1,600 cities across the USA & UK.
Grubhub Business Model: Salient Features
With 60% of Americans ordering delivery or takeout every week, Grubhub helps the restaurants reach those customers who can't, or don't want to dine out.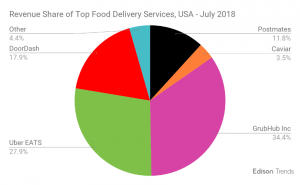 VALUE PROPOSITIONS
Grubhub business model provides value propositions for 3 of its key Partners:
Restaurants
Online Presence: Some of the restaurants are not present online, or if they are, they fail to market their online existence. GrubHub helps them with the situation.
Restaurants register themselves with Grubhub.
Extended Customer Base: Restaurants who do not home deliver food misses out on a large chunk of the audience. Grubhub puts the diners who need food to be delivered on their doorsteps and the restaurants.
Delivery Agents
Decent Income: According to 73 salaries on Glassdoor, Grubhub drivers typically make $12 per hour. According to 92 reported salaries on Indeed, the average hourly pay for Grubhub drivers was $11.05.
Over the course of a year, this would break down to between $22,894 and $24,960 annually if working as a 40-hour per week full-time job.
Tips From Customers: When you tip using Grubhub, all of the tips go to the delivery person. Before you complete the order, Grubhub suggests a tip amount that's based on the total cost of the order, not just the price of the food, which shakes out better for the delivery person.
Diners
Order Food: Grubhub business model provides wider options for customers to choose from. They don't have to dine out in order to have food from their favourite restaurants.
Browse Menus: Customers can browse the menu cards from multiple restaurants, compare the available dishes and then choose the food they want to eat.
Following Infographic can give you a better understanding of the Grubhub business model:
GrubHub owns and manages 4 different brands in the same industry. viz., GrubHub, Seamless, MenuPages and AllMenus.
Also Read: Best on-demand delivery apps in the US that bring food & drinks to your doorstep
GrubHub Business Model: How Grubhub Works
The booking flow in Grubhub is quite seamless, here is a stepwise explanation of how the Grubhub business model works.
Browse: Users have to browse through the available restaurant menus on their Android, iOS or Website.
Place Order: Choose the dish they wish to buy, add a payment method, delivery location, quantity etc. and place the order.
Restaurants Accept and Prepare Order: Restaurants accepts the order placed by the customer and starts preparing the food
Delivery by Grubhub: Grubhub delivery agent picks up the order and delivers it to the customer.
Grubhub Business Model: Success Story
The success of GrubHub goes to its innovative business model and promising revenue generation strategy. Initially, Grubhub started off as restaurant menu aggregator. Eventually, they started to be known for the following reasons:
Enormous options to choose from: Grubhub went on to list every single restaurant in the city. Leaving a wider choice for the customers to choose their meals from.
Discounts to restaurants: Depending on the relations with the restaurants, Grubhub gives discounts to the member restaurants.
Rating System: GrubHub has an option where users can rate a restaurant. The rating helps others know the overall quality of the restaurant.
Average Price: GrubHub also tells the average price of food at each restaurant.
Delivery or Pickup Options: Along with delivery, GrubHub also offered to pick up option.
Grubhub Business Model: Mergers & Acquisitions
Grubhub has successfully acquired 12 companies so far.
2011, Grubhub acquires Dotmenu, the parent company of AllMenus and campus food.
2013, Grubhub & Seamless merged.
2015, Acquires DiningIn, Restaurants on the Run and Delivered Dish.
2016, Acquires LAbite.
2017, Acquires Eat24, Foodler and select OrderUp markets.
2018, Acquires LevelUp, Tapingo and the remaining OrderUp markets.
Conclusion
Grubhub owes its success to its unique and dynamic business model. Because of Grubhub business model, it is the most used food delivery app in the US. It has successfully acquired smaller counterparts present in the market.
This implies that a well-planned business model and technological backing can make your app solution the best in the market.