Introduction
In the past few years, on-demand healthcare apps that help patients manage chronic conditions such as diabetes, asthma, etc have emerged as a fast-growing and potentially disruptive segment of the healthcare market.
This increase in on-demand healthcare has driven by the needs of :
Aging and growing population
 Prevalence of chronic diseases
Emerging market expansion
Infrastructure improvements
Advances in treatment and technology.
Healthcare is one of the fastest-growing sectors in the world and is a key contributor to the UAE economy. Alpen Capital Consulting Services said that the UAE's healthcare market is expected to reach Dh71.5 billion in 2020 at an average annual growth rate of 12.7 percent from 2015.
The UAE is also the world's fastest-growing medical tourism hub, with total health expenditure allocation jumping from the current $23 billion to $28 billion by 2021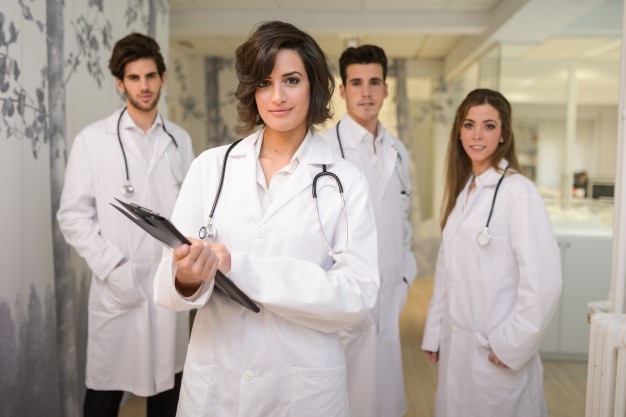 In the United Arab Emirates, the healthcare the sector has witnessed an extended period of high growth, which forecasted to continue.
The UAE [will] …invest continually to build world-class healthcare infrastructure, expertise, and services in order to fulfill citizens' growing needs and expectations – The UAE's 2021 Vision states that
Healthcare Trends in UAE
The UAE has launched a number of initiatives to promote innovation in the health sector. Innovations have made them to UAE healthcare sector through various routes. Trends which are shaping the middle east healthcare sector are:

Innovative insurance
A new era has dawned on the UAE's insurance industry since the rollout of the Dubai Health Authority's (DHA) mandatory health insurance scheme.
On the whole, the insurance market is embracing transformation, coming up with innovative products & services to increase accessibility and superior customer experience.
One of the key trends in the innovative partnerships is to bring new products in the market, for example, fitness centres tying-up with insurance companies that monitor a person's habits and thereby provide an assessment of their lifestyle and activity levels.
This data could help customers avail lower premiums by improving on their unhealthy behaviours.
The resulting market would be filled with new entrants and millions of new customers that will foster fierce competition over quality and price.

Cross-sector collaborations
 Another promising trend that is likely to emerge in the UAE is the alliance of unorthodox businesses across different sectors in a concerted effort to enhance healthcare experience for patients.
Globally, there have been examples of healthcare providers and taxi service companies partnering together to deliver a doctor at the patient's door -24/7 round the clock.
So, the demand for innovative healthcare services and products are driving strategic partnerships, offering multiple opportunities for start-ups in the Middle East.

 Rise of the 3-D technology to customize health
Another revolution is underway in the world of health due to the growing prevalence of 3-D printing technology, which is so far being used in many fields such as aerospace, architecture and industrial design.
Owing to advances in 3D printing and virtual reality, tailored products, such as casts, prosthetics, wearables, and a variety of patient-designed solutions, will be made to order using software and printed-at-home technology.
It represents a major milestone in not just the functionality and aesthetics of artificial limbs, but also the accessibility of them.
In less than a decade, it will lead to the creation of a new category of homemade devices that will become accessible to thousands of people who prefer niche health and wellness products.

Connected consumers
Digital technology is a key focus. For 2017, consumers will largely drive healthcare related queries, with the help of smart devices, mobile apps, and online healthcare service portals.
These technologies will clearly close the gap between caregivers/doctors and patients, streaming communication and interactions seamlessly.
Subsequently, the constant generation of information and data through real-time communication will lead to another growing trend of smart data that focusses on data collection and data analytics, which enables healthcare providers to customize services and improve the overall quality of delivery.
For start-ups catering to this sector, the key challenge will be keeping up the pace with the constantly evolving digital trends, while they are focusing on establishing their core business.
Also Read: Healthcare Software
This trend basically includes on-demand healthcare apps which have taken over the major part of the healthcare sector:
On-Demand Healthcare Apps in UAE
Health at Hand
Health at hand is a Dubai based telehealth company, which provides an on-demand healthcare service via an app that connects patients to the DHA licensed doctors based in UAE with just a few taps.
The app helps the patient to upload their prior medical history to their respective profile, can view their call history and previous consultation reports as well as the latest update helps patients to get sick certificates for work or school.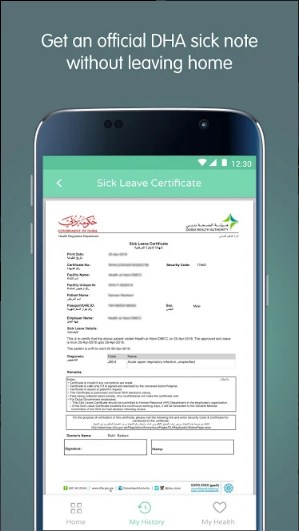 The app provides consultations to the patients, which last for around 15 minutes, or longer if needed, at the end of which, patients are provided with a doctor's report and list of medications that can be presented to a pharmacy.
This is not an official e-prescription so if in case a patient needs a controlled medicine they have to obtain a proper prescription by visiting a doctor at a clinic or hospital.
There are various subscription plans available on an annual, monthly and pay as you go basis. The cheapest plan starts at AED 21 per month for individuals (AED 250 annual plan), Monthly plans to AED 35 for individuals and AED 60 for families (two adults and three kids) as well as the patient can opt for video consultation which will cost them AED 100 per consult.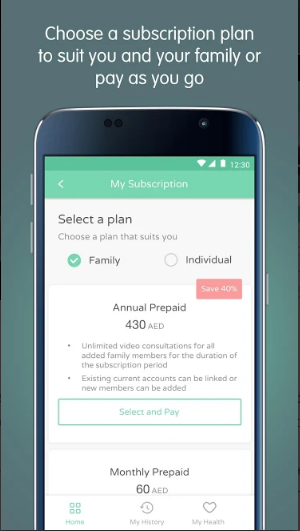 Know more about Health at Hand.
MyMedicNow
MyMedicNow is an innovative mobile application based in  UAE which helps users find doctors based on their symptoms or medical conditions, and also related healthcare providers, quickly and efficiently across the Mena region.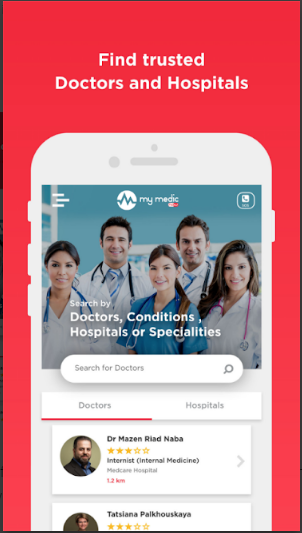 The app consists of vast numbers of medical professionals, hospitals and clinics available, which aids the users to choose the right expert care while ensuring doctors and hospitals are better connected to their patients.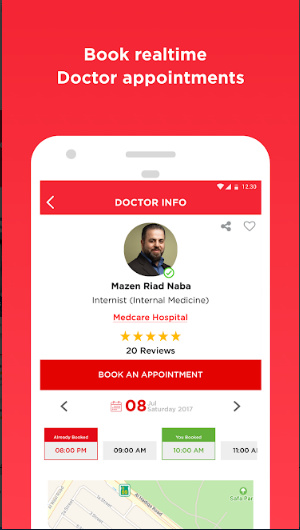 Since its launch in September this year, the app has been downloaded 40,000 times with over 4,000 doctors already listed on the app which is huge – Sajid Azmi, co-founder of the Pulse Middle East.
Sehhaty
Sehhaty is a bilingual DHA patient mobile app which aims to provide health services for patients and their families through their smart devices.
Sehhaty provides its patients with features such as health card & primary healthcare center details, driving Directions to user's primary healthcare center, linking user's family member health profile to access their details by switching accounts, health history, new & past appointments details, lab results, prescriptions etc.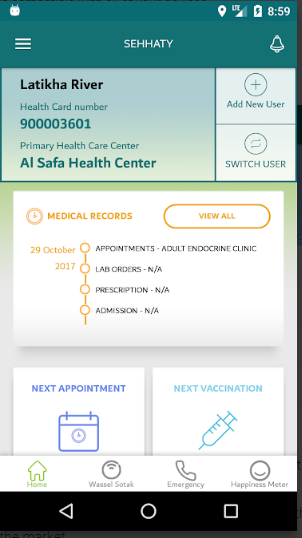 DoctorUna
DoctorUna is a free service in the Middle East that allows patients to search for Doctors and Dentists,
book appointments online and send inquiries.
Doctoruna has been introduced to simplify access to health care and health information. Docotruna has successfully facilitated more than 20,000 doctor-patient connections via online appointments and inquiries, wherein platform users can filter their doctor search by location, specialty, insurance coverage, and language.
For those still seeking personal interaction or who have a question, Doctoruna offers a live chat feature.
The website recorded two million unique visitors in 2015, and hosts more than 2,000 doctors from across the region, with over 80 different specialties – Doctoruna term report,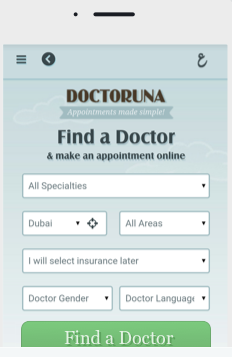 Know more about Doctoruna!
Conclusion
In conclusion, as we can see that the on-demand healthcare sector is booming in UAE due to UAE's 2021 vision which states that the country will continue to invest in building world-class healthcare infrastructure, expertise, and services in order to fulfill citizens' growing needs and expectations.
People in the UAE use mobile apps for convenience and information. So, it is important that we join the app network to be available to our patients at any time –  General manager of Northwest Clinic 
Hey there entrepreneurs !!! Wanna launch the best house call doctor app?
Click Here