With the growing trend of on demand services and gig economy, it isn't surprising that it caught the fancy of those in house-cleaning businesses too.
The average person spends around 1.5 years or 76 weeks tidying up their homes. But people who can afford it – maybe business folks, working moms, single-parents, and elderly folks may delegate home cleaning chores to professionals.
Why A House Cleaning Services App?
Around 3 million people work in the cleaning industry in the U.S.
The total revenue generated by the home services market was $385 billion in 2019 and it is expected to touch $1,200 billion by 2026.
23 off the 310 Start-up Unicorns in 2019 are part of the on-demand gig economy.
5 million consumers engage on demand services every year and this is only bound to increase.
Clients of the on-demand cleaning services are millennials who are reasonably educated with kids and working full-time, or single professionals earning $50,000 or more.
Most requests for cleaning services spring from commercial establishments – (55%), then industrial – (30%) and finally residential (15%) sectors.
Before Creating A Cleaning App
1. Research On-Demand Home Services Market
Check if there's demand for cleaning services in your location?
Find your target audience.
Are similar solutions available in the market?
How are those businesses performing?
Check how to monetize your business?
What are the challenges?
What unique features or workflow can you bring in?
2. Perform Competitive Analysis Of Top Players
The US, UK, and Singapore rely heavily on house cleaning services app. Other countries are slowly getting on the bandwagon as a lifestyle practice.
Generally new marketplaces start vertically and then expand horizontally adding other services. Find out what your market lacks and search for innovative opportunities like commercial or industrial cleaning, equipment cleaning, gardening services, after party cleaning, window washing, laundry, etc.
3. Choose A Revenue Model
Decide how you will monetize your app.
Ways to profit from a maid service online marketplace:
Registration fee: Collect registration fees from service providers.
Freemium Model: This model offers free access to certain features. But for advanced features, subscribers would have to upgrade.
Transaction fee: The online marketplace can charge fees for each transaction.
Lead fees: The fee can be deducted from a service provider's pre-paid deposit.
Featured listings and ads: Platforms may charge for top position in the search results, customizations, showing up in featured listings or banner ads.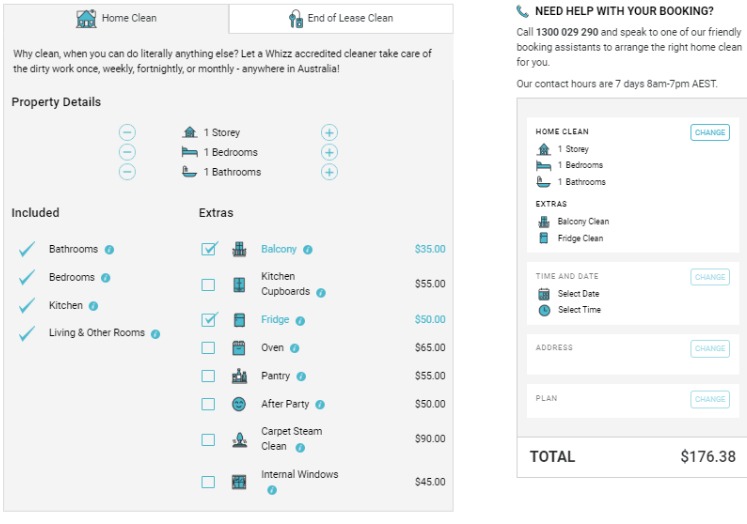 You may choose any one method or combine several.
4. Get Prepared For Challenges
Challenge- Creating a trustworthy service
You cannot always guarantee employees will behave in a proper way and provide quality service. So anticipate complaints, issues, and legal hassles.
Solution:
Maintain a good reputation to succeed in the on-demand domain. Include practices such as ID and background vetting, skills certification, testimonials and mandatory professional training.
Challenge- Regulating relationship with contractors
There could be misunderstandings between the platform and contractors.
Be ready for such surprises.
Solution:
Here are some recommendations you can implement:
Explain in detail rights, and obligations. Create a charter of Terms and Conditions.
Set competitive rates for services and ensure the payment processes transparent, timely, and quick.
Decide on how to regulate government taxes — if the platform will pay or contractors.
It's a good idea to take care of insurance for cleaners in case of any damages.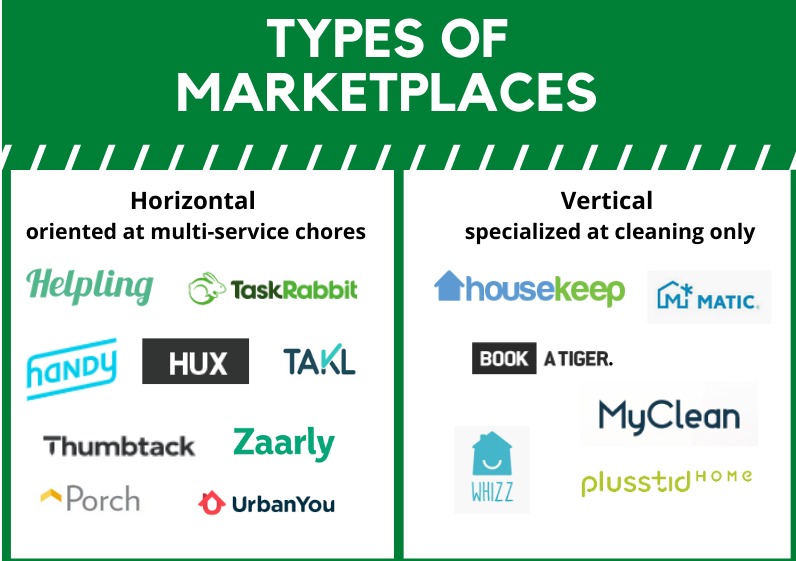 Challenge- Loss of manpower
Platforms should provide testing, training and background checks. The platforms reputation and customers increase. But a good contractor could leave and get hired directly.
Solution:
Ensure contractors are satisfied with the rates and working hours. Make sure to conduct activities to build loyalty. Also have a good relationship with your clients.
Challenge- Tough competition
Online cleaning service marketplaces vie not only with similar platforms but other independent firms too. Experienced competitors with a large database of clients and cleaners will not let newbies survive.
Solution:
The only way to keep up to the competition is by providing exemplary service. Customers should vouch for the service being provided. Have a good review system. Keep improving your services.
Features In A House Cleaning Services App
The cleaning service marketplace connects customers with service providers and regulates the relationship between them.
To build an app we have to differentiate the features of Customers, Service Providers, and Admin. At the same time, synchronize data and respond to actions performed by each of them.

Customer Section:
Here the Customer logs in and orders cleaning services.
Nowadays, websites postpone registration until the user reaches the Payment stage. Ensure to make the registration process simple and quick.
Take the data entered during registration or from social media, or the first booking and create a User Profile. The user should be able to edit the profile, add a photo, choose preferences and change settings.
Search can be implemented in different ways like keywords to see all corresponding providers.
Another way is to collect the customer's preferences with a questionnaire and send the information to contractors so that they can provide competitive quotes.
This is where customers can view info on each service provider. Profile details may include a logo, a photo of a cleaner, address, skills certification, services offered, description, ratings, and reviews.
Some set fixed prices for services while others select necessary parameters and calculate the quote. A precise request will entail an accurate quote.
One of the challenges is overtime when customers underestimate the volume of work. Clients are known for doing this to reduce a quote.
Availability and Scheduling
This allows for services to be set without ambiguity. When working hours are clear, it reduces unnecessary hassles connected with scheduling and double bookings.
Customers should be able to view, edit or cancel bookings.
Platforms should not allow customers and businesses to contact each other directly ensuring all transactions are performed through the platform.
Usually, online marketplaces use escrow to protect both the customers and service providers from mala fide intentions. With escrow, the platform holds the customer's money until they confirm satisfaction regarding the job.
Reviews are an indispensable feature for your marketplace as they influence customers' trust implicitly.
Push notifications are a revenue and loyalty booster to alert users of promotions, deals, and latest news in real-time.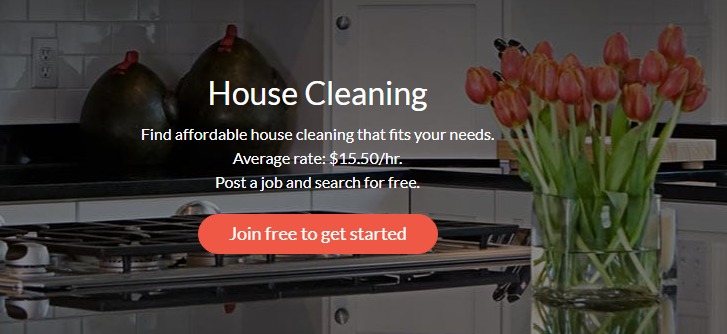 Service Provider Section
Here businesses can manage their profiles, orders, and payments.
Sign Up/In & Verification
A service provider's registration process could be complicated and requires user verification. The platform may perform criminal checks for vetting.
Cleaners can describe their services in detail and introduce themselves. They should be able to customize standard profiles to make it professional and unique.
Businesses and customers should be able to edit as well as view bookings on the house cleaning services app.
The system should keep track of all transactions and provide history of it when required.
The dashboard should provide statistics to estimate effectiveness of work done. Reports help users to control performance using various metrics.
This is a nice additional feature as it allows customers to keep track of the work done as per his request and to keep an eye on the progress of contractors.
Admin Section
The Admin is the facilitator who manages processes and interactions in the platform. They help customers resolve issues and track the activities of all users.
Admin should have a secure access to the system.
Admins should have the permission to view all users, edit users, mark or blacklist spammers, and change the roles and rights of users as required. Admin may have to login to user accounts to help them edit their profiles or fix concerns.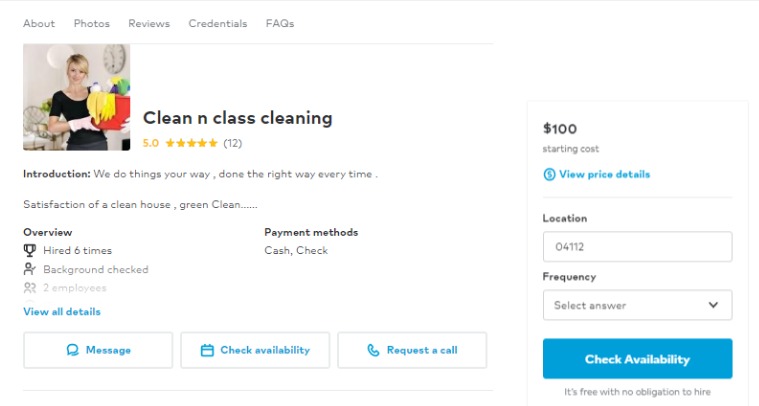 Customer Relationships System (CRM)
Being a platform owner, you need to track all new clients and service providers and check out opportunities for other sales steps, to analyze sales funnels and the efficacy of marketing campaigns.
Content Management System (CMS)
This is where ads, banners, blogs, and notifications are uploaded, edited, and shown to users.
Managing of fees for subscriptions and transactions happens on this page. Users ought to be notified when their subscription is due to expire. Now they can either extend the membership or change the plan or consider auto renewal.
This is an indispensable feature for all users. There isn't a need to develop it from scratch as several ready to use support services can be integrated through API's.
Admin should be armed with various reports related to user activity, app statistics, finances, and system performance.
Steps For Home Cleaning Software Development
1. Collect The Requirements & Prioritize Features
We have provided you a list of possible features and can pick only those that fits your project or your unique business idea.
2. Order Design
After the designing the is completed the coding is done. It needs to be simple, minimalistic and contemporary. Users need to find information quickly. User-friendly design helps build an intuitive UI.
3. Engage A Dev Team & Estimate The Project
Ask for quotes from several agencies, research how they perform, and ask all necessary questions. Initially work on the basics and wireframes.
4. First Create A MVP & Test It
First prioritize a list of must-have features and get the development started. This is the Minimum Viable Product (MVP).
5. Enhance Software In The Next Iterations
After the MVP passes the initial approval keep improving it by adding new features and enhancing existing ones. Collect feedback and carry out necessary changes.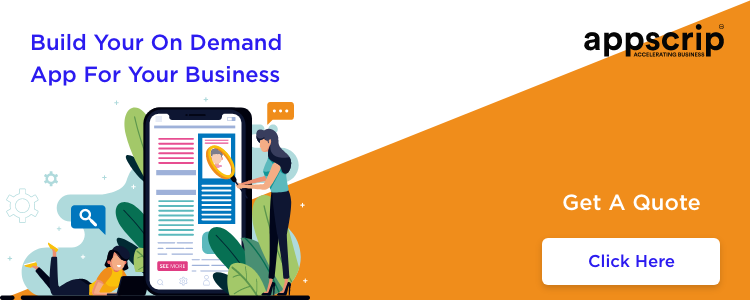 With an Engineering degree and a Diploma in Management under my belt, I worked for 16+ years in the automobile industry with various manufacturers in various capacities. But my passion for writing was overwhelming, hence I turned that into a career. I have been writing for more than 10+ years on various domains including the IT industry. I am sure you will find the 200+ published blogs of mine in here informative, exhaustive and interesting.