"Careem" is Arabic, it means "generous". The philosophy behind Careem is to be generous to captains (the drivers), customers, and colleagues.
Careem is a transportation network company that operates primarily in the Middle East and North Africa (MENA) region. The company offers ride-hailing, food delivery, and digital payment services through its mobile app.
This philosophy is the main ingredient in Careem's success recipe. The Careem business model also helps, we shall decipher it for you. No doubt there's more Careem-aholics than Uber-aholics in the MENA region?
Mudassir Sheikha and Magnus Olsson, two ex-consultants in Dubai, discovered MENA region's huge pain point while traveling around the Middle East. That was when the idea of Careem business plan popped in their mind.
Careem, a name that now resides in the hearts of the Middle East and North Africa region (MENA)'s populace, is MENA's first ride-hailing service. Cofounded by a Pakistani and a Swede in July 2012 in Dubai, Careem took the Middle East by storm barely five years after its launched.
It spread its wings and spread to cover 100 cities in 13 countries from Morocco to Pakistan. In 2016, it was awarded the "Best Local App" by the Google play store. It took center stage when awarded Gulf Business Best Startup of the Year.
In one of the public interviews, Careem's co-founder, Mudassir Sheikha, explained:
In a single platform, we can build a more holistic view of the consumer. Although we are essentially in the same business as Uber, our business model is both B2B and B2C with two main products: pre-scheduled and on-demand (NOW) bookings. We charge clients on a per km and per min basis, much like taxi cabs.
If you have ever used Careem, you know that the booking experience comes attached with comfort. There is no haggling over fare and no feeling like you are dotting the city along with someone with a death wish. Everything is as smooth as cream as if the Careem business model is built on the base of clouds.
Careem success story has completely erased the struggle of finding a cab on the streets. So, how its ride-sharing business model looks like? 
Careem Business Model
Careem has been quite successful in the MENA region. The company was founded in Dubai, UAE, in 2012 and has since expanded to over 100 cities in 14 countries, including Saudi Arabia, Egypt, Pakistan, Jordan, and Turkey. As of 2021, the company has over 33 million registered users and more than 1 million drivers.
The Careem business model is perfectly molded in the technology using Captain App, Passenger App, and Admin Dashboard. 
Captain App
The captain app allows the user to register as a driver, accept the trip, and ride into the realm of money. Captains need to register their details at drive.careem.com and complete the captain training before they can be on their journey to earn money via Careem.
Careem cabs are lacing the major cities of MENA, Pakistan, and Turkey, including Dubai, Lahore, Karachi, Riyadh, Istanbul, Islamabad, and Beirut, with security and comfort.
Passenger App
The GPS ninjas, embedded in Careem's passenger app, pick up users' location more accurately than other cabs. The app presents users with a flexible option. Users can choose to ride 'now' or 'later,' and they get a booking confirmation as soon as they choose their drop-off location and tap 'YALLA!'
The passenger app allows the users to track their ride in real-time, pay via credit card or cash, and rate the service after the ride ends.

Here are the features of the passenger and driver app:
| | | |
| --- | --- | --- |
| Passenger App | Passenger App | Driver App |
| User profile & stats | Edit profile | Vehicle tracking |
| On-demand booking | SMS alerts | Automated e-receipts |
| Billing | Vehicle tracking system (GPS) | Notifications to drivers |
| Feedback | Flexible payment options | SMS alerts |
| Automated e-receipts | Ride History | |
| Scheduled bookings | | |
Admin Dashboard
The third pillar the Careem business model is built on is the admin dashboard. Admin holds the power to do anything from driver management to fare setup to track appointments. Admin can also keep track of drivers, view all trips in real-time, manage cash and card earning of each driver, and set up and manage promotion codes. 
Careem Operating Model
Customer Call Center
Considering people are less tech-savvy as compared to US Citizens, Careem busines plan included a customer call center. Instead of slapping the people of South Asia with promises, Careem success story reinforced their interest by allowing them to report issues via voice call. As Careem scaled, the call centers moved from Dubai to Egypt and Saudi Arabia.
Careem's Location Database
The accuracy of Google Maps in the Middle East isn't the similar to the US. Frequent construction of roads didn't help with the accuracy of Google maps. Careem had to build its own database of locations to allow people to choose an accurate pickup location. 
Book For Someone Else
This feature was a key that opened the door to fast success for Careem. Bookings are usually made by assistants for their bosses, businessmen for their clients, and elderly people for their school kids. So Careem allowed people to book ride for others. The user can use either cash, his own credit card, passenger's credit card, or invoice as the payment method.
Captain Call Center
The captain call center was built on two pillars: customer security and customer experience. Careem's captains are not armed with customers' contact information. If any question pops up in the captain's mind, he/she can call operatives.
Captains who are new to the UAE face problems understanding the language of customers (who are immigrants from Australia, Africa, Europe, etc). This problem was solved by letting the captain call center sit in the lap of Dubai. Careem turned Middle East's pain points to its advantage. It crafted its operating model that fit perfectly with the Careem business model and the context of the Middle East. Careem business plan injected customization into its service, and that's what oiled its way to success. 
How Does Careem Generate Revenue?
The low credit card penetration rate in the Middle East made Careem come up with a new Careem business model that included a mix of payment methods. Cash, credit, invoice, and credit in the wallet are the four payment options Careem presents passengers with. The other side of the story revolves around the captains and Careem.
Careem tweaked its operating model, and it worked out perfectly.
For B2B bookings on the invoice and B2C bookings on the credit card, Careem pays the captain.
For B2C cash bookings, captains pay Careem.
Did you know that more than 90% of Careem bookings are NOW bookings (most of which are cash bookings)? When passengers prefer cash as their mode of payment, captains need to pay Careem. When passengers prefer other modes of payments, Careem needs to pay Captains.
Careem has a certain percentage in each trip fare (when the mode of payment is credit), and the rest goes to the Captains. Now, when people prefer giving cash after the ride ends, Careem would want that cash as well, right? Careem blocks the captain from accepting a trip till the time he re-shares the last fare. This happens when captains breach the cash blocking limit set by Careem.

What is Careem Rewards? 
A unique reward system is embedded into the Careem business model. Careem allows users to scratch rewards off the Careem app even without signing up. The rewards and benefits include free rides, feed a child, do charity or make a donation, and give a helping hand to others. These rewards are only one tap away, but Careem has also built the door for its users to the world of more rewards.
Once the users upgrade to Careem gold, the happiness they get slapped with is cooked with three ingredients: bonus points, exclusive offers, and priority support.

Careem Is No More Just A Cab Booking Service. It Is A Super App. 
Back in June 2020, Careem unveiled its super app to the world. Intending to heal the pain points of people, Careem compressed food, delivery services, seamless payments, bus service availability, and business traveling ride services into one app. To make a magical impact on people, Careem released a highly commendable campaign, inspired by Careem's brand promise: One app. Less hassle. More Life.
At Careem, we care about people, so we've brought together the essential, everyday services in one place, easy to reach with one tap. They're tailored to local needs, so our customers are able to get right to the services that are most important to them. – Noha Zeid, Director of Marketing at Careem
Careem Now
The company leveraged its existing Careem business model to evolve into an everyday lifestyle app. With its initial efforts focused only on the food and pharmaceuticals delivery business, Careem later expanded into delivering goods and services. A total of $150 million was invested to build out Careem Now, Careem's delivery platform. Careem Now is a part of Careem itself. Thus, users can have their information and address auto-populate into Careem Now.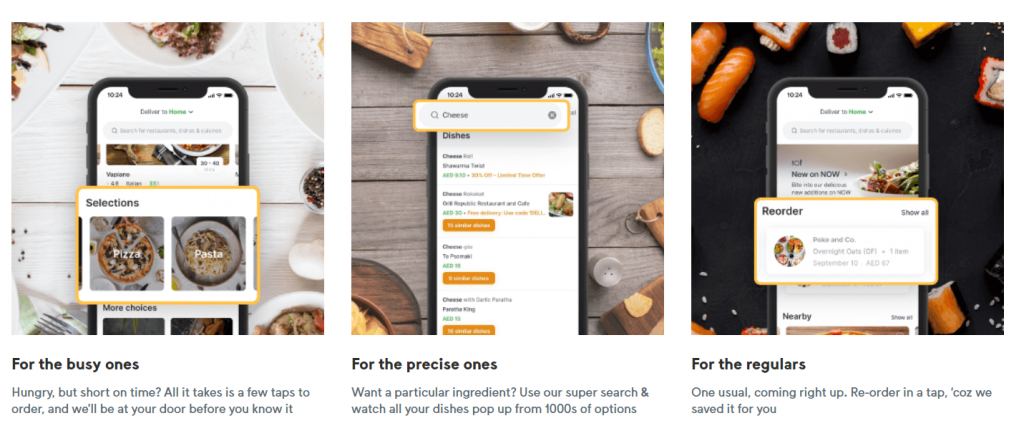 UberEats announced on 4 May 2020 that they were exiting UAE and would serve the country through Careem Now.
Careem Pay
If Careem Now is the heartbeat of the Careem business model then Careem Pay has become its backbone. For Careem to stand tall and work in the super app era, its digital wallet Careem Pay needs to succeed. Careem Pay is in talks with SBI Pakistan to convert Careem Pay into a digital wallet completely. 

Careem's New Zero Commission Food Delivery Business Model 
In 2019, Careem was acquired by Uber for $3.1 billion, which is a testament to the success of the company. Following the acquisition, Careem continued to operate as a standalone brand and retained its management team.
The company first used its earlier Careem business model to build its super app dream. After a while, the company changed its food delivery model, saying: 
The traditional commission model in food delivery has become unsustainable for restaurants, especially as deliveries have become a large percentage of their business. At Careem, we have always been passionate about creating opportunities for Captains and small businesses. As such, we are launching a new business model that can help restaurants thrive in this new environment while being sustainable for us. We believe the new model gives restaurants of all sizes fair and transparent pricing to profitably grow while offering customers a more responsible choice.
Careem's Future Plans
According to Crunchbase, Careem has raised a total of $1.7 billion in funding. Some of the company's major investors include Rakuten, Daimler AG, and Saudi Arabia's Public Investment Fund.
Middle East's ride-sharing unicorn, Careem, is thinking of expanding its wings across India with the help of a tech-driven bus shuttle service, Commut, the local operations of which have been taken over by Shuttl. The company has served over 70,000 customers and made over 750,000 trips within 100+ routes in Hyderabad. Operational since November 2015, Commut will act as a fuel to accelerate Careem's expansion into mass transportation. The company said in a statement: 
As Careem expands across its technology platform, we will continue to acquire and invest in high impact, relevant, and values-driven technology businesses and start-ups that can accelerate growth.
Commut has raised $200K from investors, says Crunchbase. Shuttl meanwhile has pulled over more than $122M from 22 investors, including Sequoia India and Amazon. Magnus Olsson, Careem's co-founder, said in a press release: 
Mass transportation is one of the biggest issues facing many of the fast-growing cities in our region. Solving it will help to simplify lives and create affordable transport options that can be a catalyst for moving cities forward. As a leading tech company from the region, we are always looking to invest in new technologies and the right people to help solve complex local problems.