The super-speedy grocery delivery startup industry is hot as hell, especially in Europe, and Uk's VCs are falling head over heels in love with the industry's hotness. Every startup to enter the industry is coming out with a perfect secret success recipe in hand. Is there something you are missing out on? 
The UK streets have become race tracks, and the contestants are speedy grocery delivery startups. This year, Dija made the celebrity entrance in the grocery delivery industry, showing off its ability to deliver groceries in 10 minutes.
The UK streets were already lined up with speedy grocery delivery startups by the time Dija was launched. So, what made Dija CEO and co-founder Alberto Menolascina say that the startup will soon be opening a new location EVERY FIVE TO SEVEN DAYS? Where did the confidence come from? How can a company be so confident when its competitors are as big as Deliveroo and Getir? 
Is the European grocery delivery industry hot enough to cook every startup's success recipe or has Dija dared to dive deep into something that other aspiring entrepreneurs are completely unaware of? 
It is this UNKNOWN we've unveiled in this article. This pile of words has paved the way to success for anyone looking forward to launching a speedy grocery delivery startup in the UK while covering Dija's journey from breaking out of an egg to walking the hottest aisle in the on-demand world. 
What Brought Dija Into Our Focus?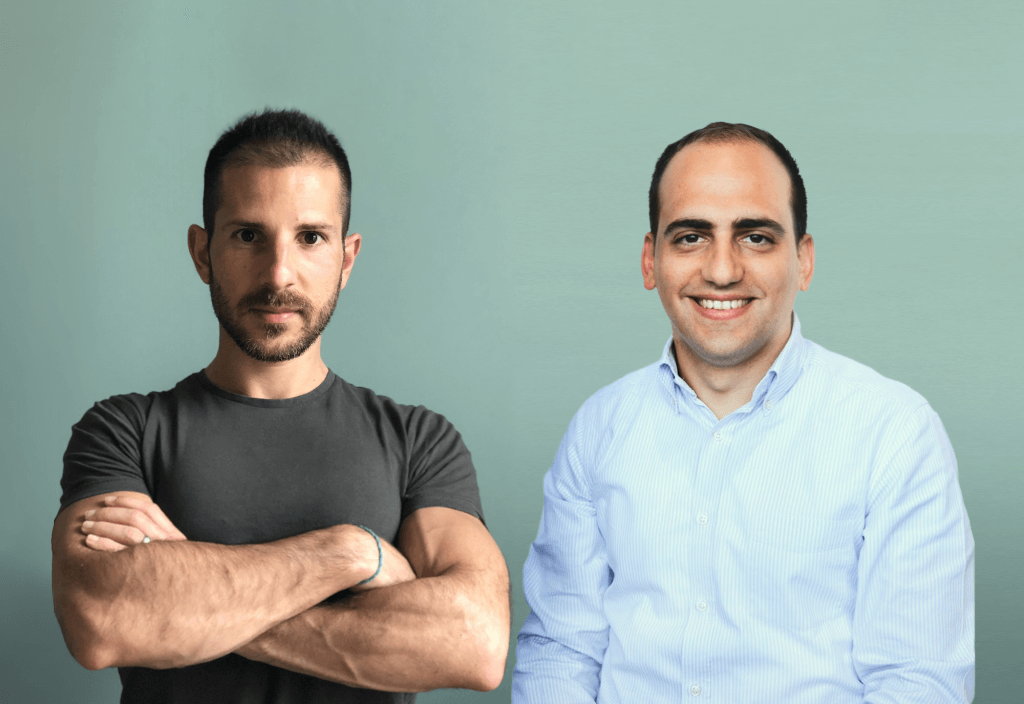 Dija was founded by Deliveroo's former senior employees, Alberto Menolascina and Yusuf Saban.
Google says that Dija is a Muslim name that translates to "premature baby." No wonder why Dija was backed by Blossom Capital, Creandum, and Index Ventures before even it was born. Jokes aside, Dija literally raised $20m in funding BEFORE ITS LAUNCH, and that too, without a pitch deck.

Dija has a less complex model than Deliveroo (explained further). 

Dija had 1.5k items listed on the app and four warehouses hubs, aka dark stores, to store the goods at the time of launch: South Kensington, Fulham, Hackney, and Islington

Most importantly, Dija dared to take bold risks. 
How Did Dija Manage To Stand Out?  
 Dija made its customers a promise – a promise that was backed by a guarantee – a guarantee to give THREE MONTHS OF FREE GROCERIES if it failed to deliver groceries within 10 minutes. 
Dija stood at the edge of fear and failure but fell into the lap of victory. 
Dija tapped its customers' pain pleasure points. The

super-speedy 

grocery delivery startup managed to darken the relationship between 

popular items

 and 

super-speed

.
Past Experience + Planned Execution = Present Customer Engagement
Back when I was running Supermercato24 (the Italian same-day grocery delivery service), customers churned when deliveries arrived with missing items, substitutions, and melted ice cream.

Dija is very clear in its messaging that this shouldn't happen: "Get your groceries delivered in 10 minutes from our friendly riders, no substitutions, and no missing items. – Alberto Menolascina, the founder and CEO, Dija 
Popular items including Grom Pistachio ice cream and Evian Water made Dija popular. These items started selling like hotcakes. That said, Dija delivered on customer expectations. 
But, wait!!

The delivery of popular items

couldn't be the reason behind launching a

super-speed 

grocery delivery startup. So, why does the speed matter? 
Speed isn't everything, but it makes the model GO VIRAL. – Alberto Menolascina
Menolascina's plate of philosophy stands on three pillars: Speed, availability, and reliability. The more the availability and reliability, the better the delivery speed. 
So, how did Dija manage to make every item available? The answer is dark stores.
Menolascina believes relying on dark stores (not supermarkets) highlights your chances of success in the

speedy grocery delivery industry

. We don't wonder why. 
Out-of-stock: You can see these three words sprinkled all over every grocery delivery app. The only way out of this OUT-OF-STOCK problem for Dija was to hold the hand of dark stores and ditch supermarkets. 
Popping the thought bubbles appearing above your head, here's how Menolascina answered WHY. 
Supermarkets can't guarantee what's on their shelves; we always know what we have. A supermarket store is built for the visual experience. Dark stores don't need to be.
Hyper-local delivery-only fulfillment centers, aka Dark stores, darken the importance of efficient space use. These eCommerce warehouses erase the need for cash registers and merchandising, further plummeting the need for hiring more people to run the space. 
Unlike supermarkets, dark stores plummet the need to occupy a prime real state. Public presence doesn't matter. A low-cost space can also be more functional. 
Did you know that China's first dark store was put in place of a former appliance equipment repair center? We don't wonder why every speedy delivery startup's grocery arm is moving into dark stores.  
Our tech is optimized based on what products sell together and which ones sell the most. The idea is to try to get the majority of an order picked and packed from just one shelf.

Packers also aren't able to move on to the next item on their 'shopping list' until they've scanned in the previous one, helping to minimize missing items. – Menolascina.

Deliveroo And Dija Partnership

🤝
Dija partnered up with Deliveroo to sell its goods via the Deliveroo app in exchange for a commission fee in its very early days. 
Even though Deliveroo is a part of this not-so-quiet war among speedy grocery delivery startups, Dija never considered Deliveroo its competitor. 
Deliveroo addresses locations we don't. The customer might not be the same customer. – Menolascina.
Deliveroo And Dija Delivery Models
The grocery delivery business model of Dija is way less complicated than the food delivery model of Deliveroo. 
Food delivery companies have to factor in the time needed to cook food, sync with food restaurants, and work with gig economy workers. 
In contrast, Dija has a vertically integrated hyper-local fulfillment model. Dija doesn't hire gig economy workers. Dija drivers work in shifts. 
We control most of the variables [in our model]: we buy the products and get them delivered to stores. We're in charge of pick and pack, we build the tech and our drivers are 100% allocated to one site. – Menolascina.
Dija Acquired Genie, A Cambridge-based Grocery Delivery Startup
Dija acquired Genie 15 days after its launch as if acquiring startups was a child's play for Dija. Genie is a 15-minute grocery delivery startup that was founded in September 2020. 
Genie founders, Tim Chan and Callum Macbeth are now a part of the Dija family, fulfilling their mission to bring grocery items door-to-door in a matter of minutes. 
U-Turn From The Field Of Dreams: Rival Gopuff Acquired Dija  
Dija had been making waves, strong enough to shake the soul of its rivals, and was well on its way to dominating the entire speedy grocery delivery world. 
GoPuff eliminated its potential competition by taking over Dija just after 5 months of its launch in August 2021. 
Dija had already moved its arm into Paris, Madrid, and Valencia by the time takeover happened. Needless to say, Dija's expansion strategy was UNBELIEVABLE. 
The question of the hour becomes does time determine the destiny of grocery delivery startups, and does the early bird catch the worm? 
The Ascent Of On-Demand Instant Grocery Delivery In The UK
One who fails to understand the ascent of on-demand speedy grocery delivery in the UK doesn't fail to feed his own failure. So, here we are, shedding light on the latest grocery delivery startup statistics. 
From Feb 1 – Feb 21, 2021, the category grew by 230% (can't bold this figure enough) when compared to Jan 6 – Jan 26, 2020 (pre-pandemic). (

Adobe Blog

)

The online grocery market stood at $51.4 billion and is expected to reach $117 billion by 2023. The reality is grocery market is making waves. Time will tell which companies dare to ride into the realm of this reality.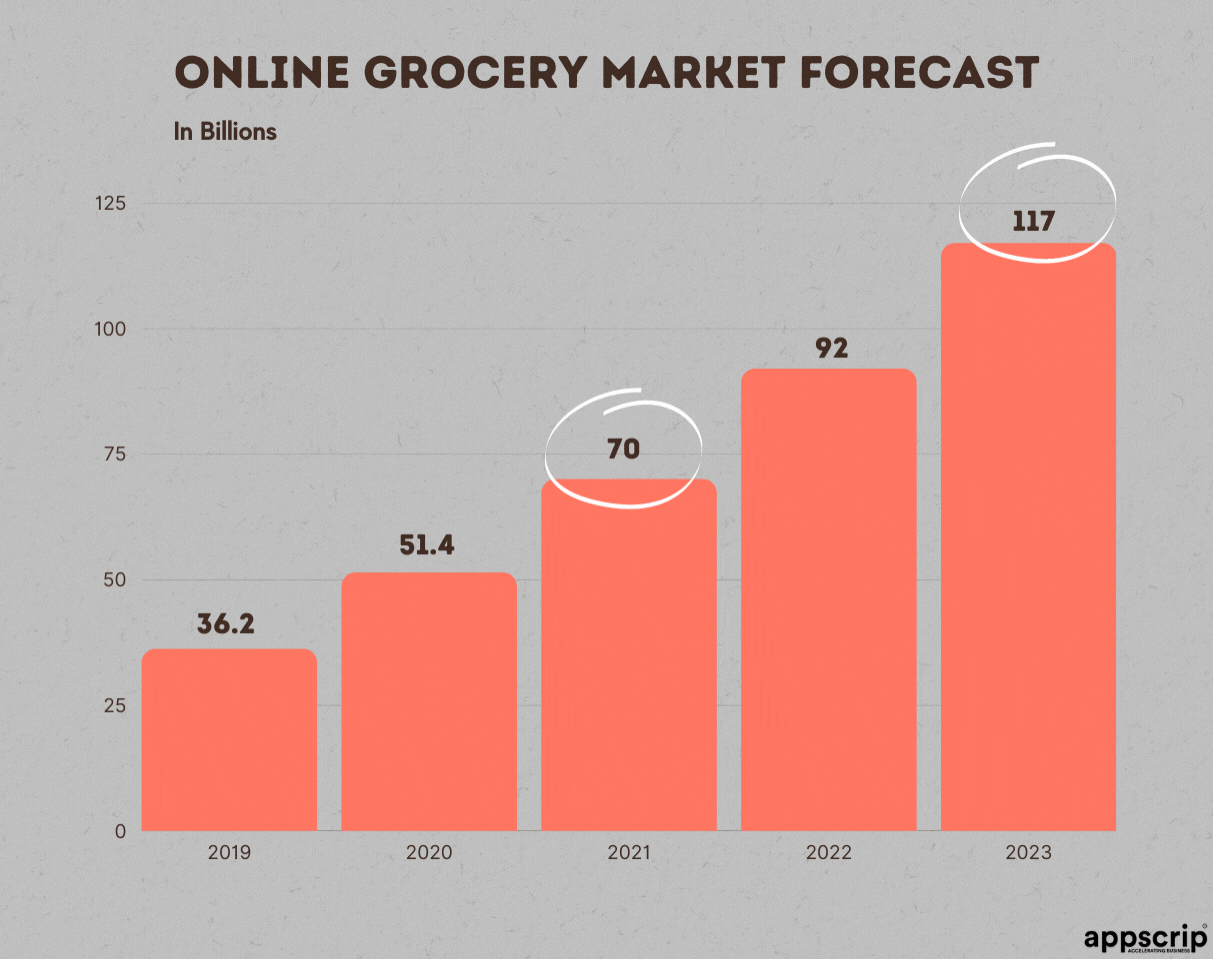 More speedy grocery delivery startups are yet to join the race. The grocery delivery market doesn't know how to stop.
Grocery startups are going vertical. A new category under "the grocery delivery market" has been created: Speedy (10-minute). The goal isn't to go after competitors anymore. The goal is to beat the time bar set by other startups.

Here's the list of the UK grocery delivery startups that stand under the speedy grocery delivery umbrella.
There you have a list of players to run the race with. 
Take a note! Only one instant grocery delivery startup was launched back in 2015. The industry picked the pace only after 2019.  
Of these 9 instant grocery delivery startups, 3 were launched in the UK in 2021. Three were launched in the UK in 2020, and two of these were launched in 2019.
GoPuff, Glovo, and other food-tech giants aren't a part of this list as GoPuff doesn't reside in the vertical market

*

. For instance, GoPuff is also into food delivery, alcohol delivery, and snack delivery. Getir also offers on-demand "ultrafast" grocery delivery services in addition to restaurant food delivery services. 
*

Vertical Markets focus on a very niche sector or demographic. In this case, the niche sector is the INSTANT/SPEEDY grocery delivery and the region is the UK. 

Fancy and Dija ultrafast grocery delivery startups have been acquired by goPuff.
Grocemania has been delivering goods to consumers from local grocery chains. The company rolled out its first dark store in June 2021. It has started cutting out retailers for the first time. If considered carefully, Grocemania's this step can act as an inspiration for aspiring entrepreneurs. Launch and run a grocery delivery startup while rolling out dark stores across the country. 
That said if you even launch an instant grocery delivery startup, there is a big chance to leave the competition behind, and this big chance is spelled as ACT IMMEDIATELY.

Also, consider the fact that Jiffy is still looking forward to launching 20 fulfillment hubs across the UK in 2021. Weezy is also looking forward to weaving a network of 90 dark stores by the end of this year. 
Why Should You Launch An Instant Grocery Delivery Business In The UK? 
Startups listed above spotted a gap in the instant grocery delivery market and tried to fill it. 
Up to one-third of all grocery delivery startups have at least one problem. That said, at a 33% failure rate, there is still a big gap to fill by the grocery delivery startups. Also, the statistics shown above speak in the favor of soon-to-be-launched startups. We'll continue to see fresh startups popping up in the UK, and the VCs will continue to invest in these startups. 
Of the above-mentioned nine niche grocery delivery startups, three were launched in the UK this year only. That said, the UK super-speedy grocery delivery market is just starting to heat up, and we all know that the early bird catches the worm. 
Have the instant grocery delivery startups started cashing in on the "SPEEDY" hype? We can hear a big YES from the investors. What could be a better example than Dija, a speedy grocery delivery startup that raised $20m before its launch and without a pitch deck? Investors are succumbing to the fear of missing out (FOMO).
If gaining a firm foothold in the instant grocery delivery industry is your only goal, the right time to start is NOW!