What is Instacart?
Instacart is a San Francisco-based, on-demand grocery delivery service platform, founded in 2012,  providing doorstep delivery of groceries and other home essentials from over 200 retailers in major cities of the USA.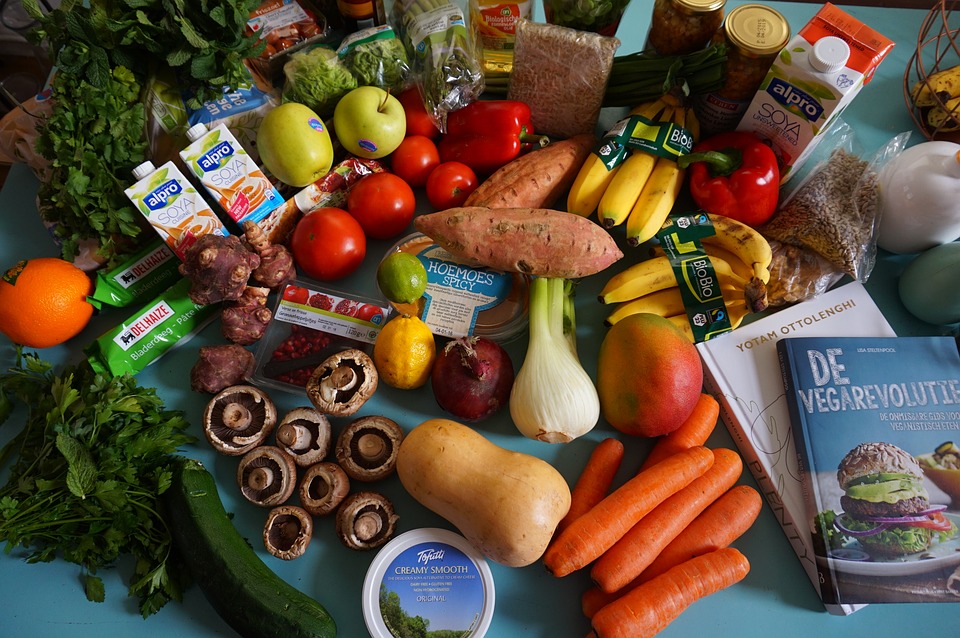 It lays its focus entirely on providing customers with groceries and other home essentials at their doorstep.
They promise delivery within an hour, making it the USA's one of the fastest grocery delivery company in the sharing economy model.
Sharing economy is an economic model often defined as a peer-to-peer (P2P) based activity of acquiring, providing or sharing access to goods and services that are facilitated by a community based online platform. – Investopedia
This online grocery delivery model has become one of the leading business models amongst the on-demand grocery delivery sector.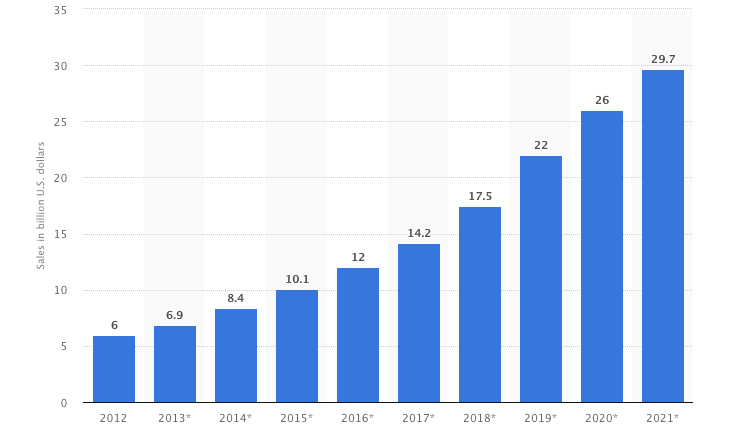 Image credits: Statista
Facts about Instacart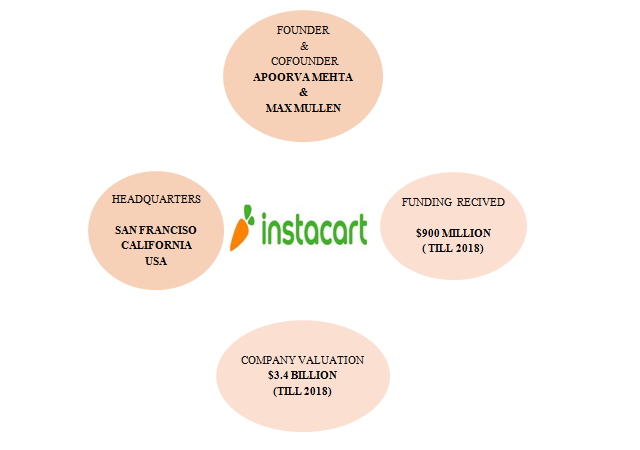 Being considered as a leader in the on-demand grocery delivery economy, Instacart has received massive funding to expand its grocery delivery operations all across the USA.

Graphical presentation of the funding received by Instacart 2013-17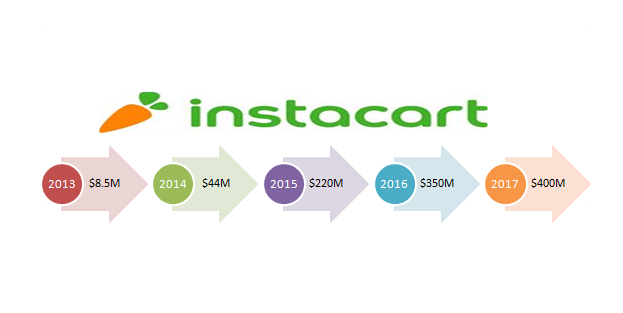 The amount of funding received by Instacart clearly shows the number of trust investors hold in Instacart and its projected future. 
Fruits are reordered more frequently than vegetables – The Instacart Online Grocery Shopping Dataset 2017
Popular products purchased early in the day (green) & later in the day (red)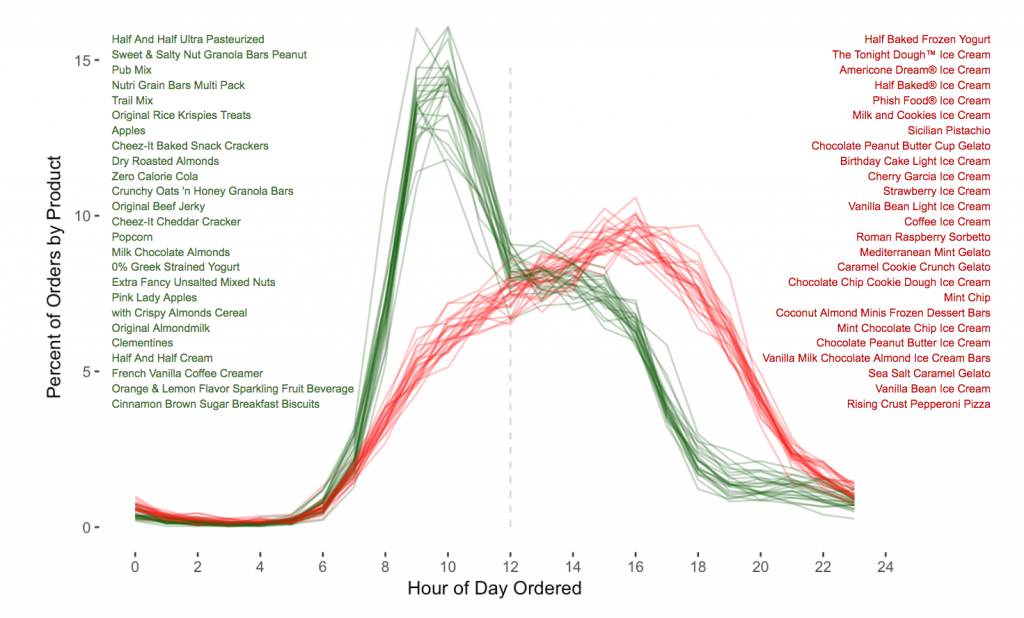 Image credits: The Instacart Online Grocery Shopping Dataset 2017
The above graph depicts that the major population in the USA tends to order healthier & staple snacks in the first half of the day whereas, ice-cream & other half-baked products are ordered in the latter half of the day.
How does Instacart make money?
Instacart generates revenue via several different sources:
Delivery Fee: 
The delivery fee is based on the urgency of delivery and order size.  
Offers:
Instacart broadens its market by providing time to time discount offers, conducting a pilot study to test their best arrangements and scheme on purchases.
Markup (15%+more):
Some stores sell their products on Instacart at prices in accords with their physical stores, but there are other stores that charge 15% more than their store price, then the revenue generated goes to Instacart which helps them to pay grocery shoppers.
Membership Offer:
Instacart offers monthly/annual memberships subscriptions by the name "Instacart Express", wherein they charge $99 to customers for free delivery of groceries for the entire year.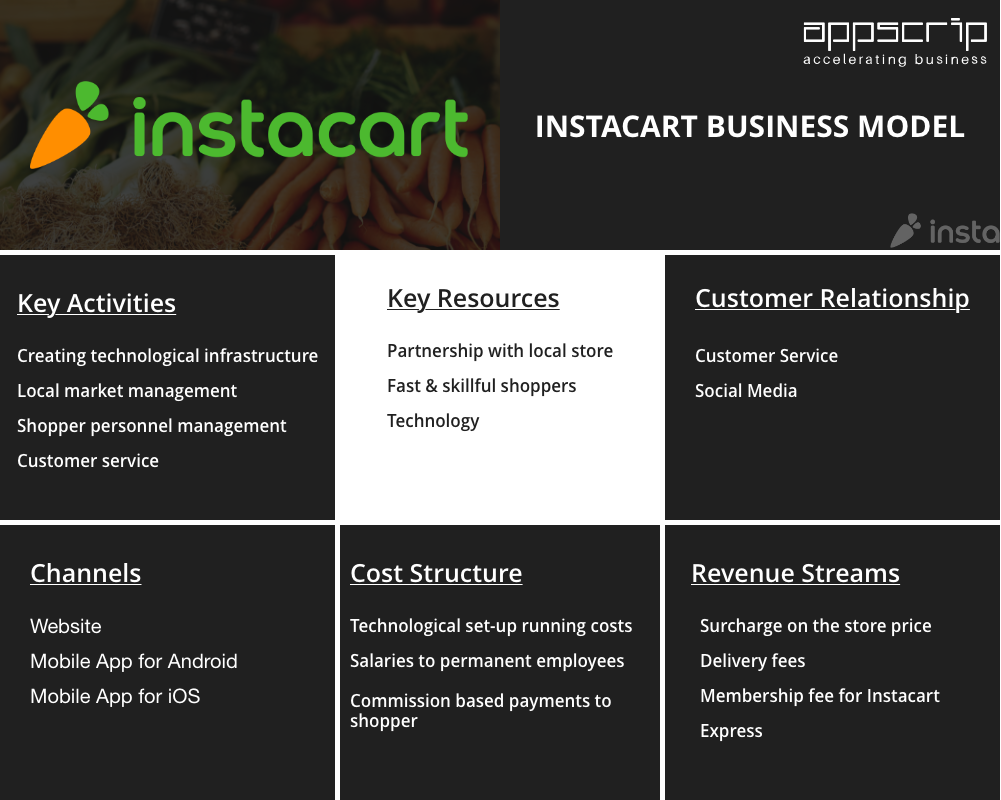 A lot of upcoming entrepreneurs are interested to learn about the business model that Instacart follows.
 3 Main users of Instacart
Instacart business model rotates around 3 main users:

The Customers
Individuals placing grocery orders online. 

The Grocery Shoppers/ Delivery Personnel
Did you know? Instacart also calls their delivery personnel 'Grocery Shoppers'.
Delivery personals receive orders from customers via the Instacart app and they proceed to buy these items on the behalf of the customers.

The Retail Partners
Major supermarkets that have tie-ups with Instacart receives revenue from online sales done via the Instacart app.
4 Key features of Instacart
Instacart targets major cities of the USA, like San Jose, New York, Brooklyn, Washington DC & Los Angeles. 

It provides a collection of almost

300,000 items from

several stores like Whole Food, Safeway or Costco across the USA

It enables customers to place orders from a wide range of stores as per their preference. 

Instacart follows the Crowdsourced marketplace model. Wherein, the users are directly connected to grocery shoppers/ delivery personals, via an application, who shop for their ordered items & delivers them.
Value propositions of Instacart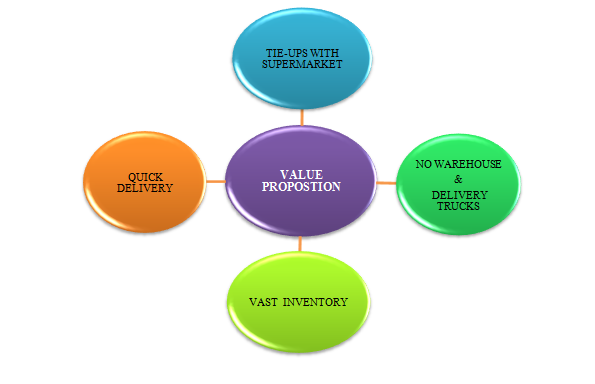 Instacart's value propositions consist of tie-ups with various supermarkets, the vast inventory of groceries, no warehouse &  delivery trucks, as they purchase good directly from supermarkets and grocery shopper delivers it to customers on his/her personal vehicle.
Quick delivery i.e. 'within 1-hour delivery' is a unique feature they provide to their valuable customers.
How does Instacart business models work:  In 4  simple steps
Instacart comprises many user-friendly features on its online grocery delivery application and it follows an evident, yet interesting business model, which has highly benefited them to get established in this Industry. 
Following are the steps it follows to complete the process of delivering groceries online: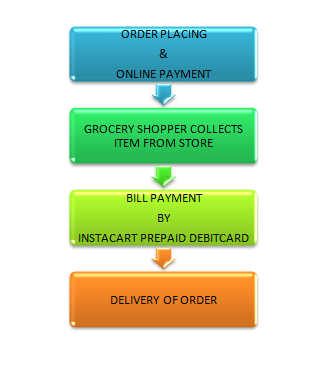 Customer places his/her order for groceries and makes an online payment to Instacart via Instacart application.
The grocery shopper receives the order and starts collecting items as mentioned in the list.
Grocery shopper pays the bill through Instacart's prepaid debit card which is accepted at the store.
Grocery shopper then goes to deliver the groceries to the customer as per the address mentioned in the order, using in-app live tracking feature.
How does tipping work in Instacart?
Tips paid in cash at the time of delivery goes to the shopper, the tip paid during checkouts gets accumulated in the shopper's Instacart account, paid at the end of the week along with the salary.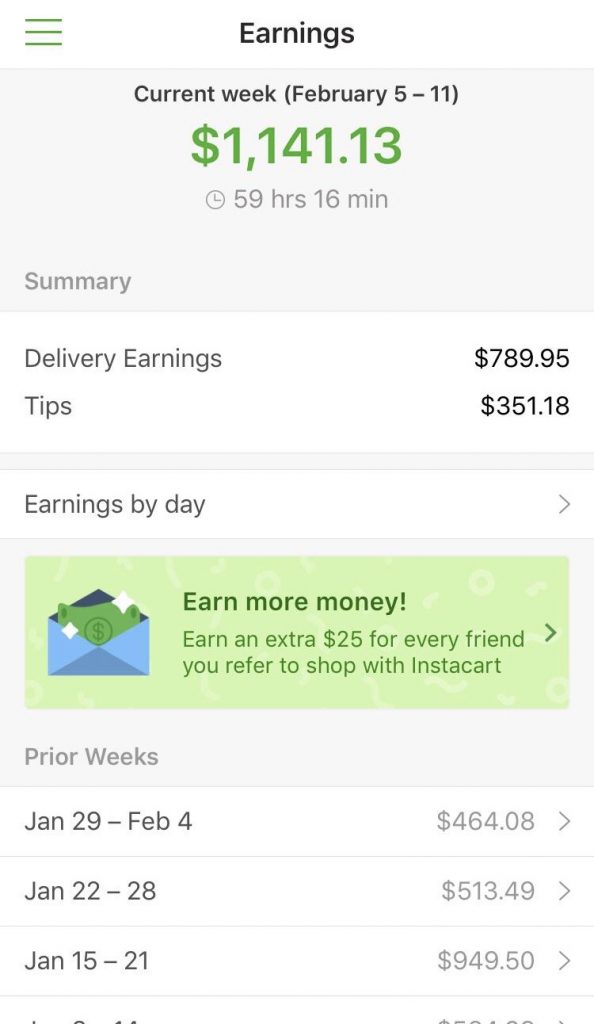 Key challenges of Instacart & its solutions
Holding Shoppers/Delivery Personnel
Earlier, Instacart hired independent contractors (stores, supermarkets) who carried out the delivery process for Instacart.
This increased the work pressure on independent contractors, it hampered the quality of goods delivered.
This made Instacart come up with hiring part-time/freelance workers, who are not employees of the supermarket.
They were trained for picking up groceries and assured earnings, more than the basic minimum wage. It helped Instacart to sustain its quality proposition.
To retain these grocery shoppers, Instacart came up with a solution-
Customers at the checkout segment can pay some amount in terms of a tip to the shoppers, which allows them to win some extra pocket money and motivate them to do the job.
Reduced Delivery Time
Instacart set its shoppers outside client stores, so whenever a shopper receives an order, he is already at the store which saves 50% of the time. This allowed them to cater to their within 1-hour delivery and within 2-hour delivery options.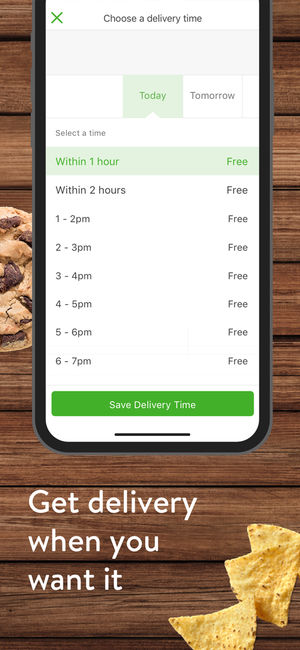 Dealing with out-of-stock items
There are cases when products go out of stock, the shoppers replace those items with their substitutes, which might not be wanted by the customers.
To overcome this problem Instacart introduced the option of 'Replace' or 'Do not Replace'.
If the item is out of stock, the grocery shopper will replace the item with its substitute, if specified by the customer.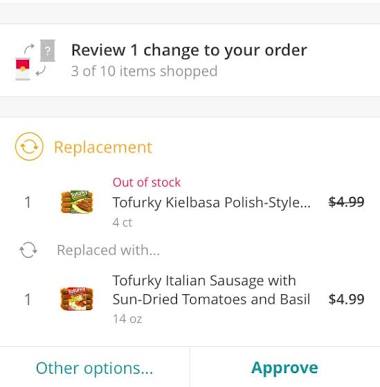 Quality Proposition
In order to increase their customer retention, Instacart makes sure that they provide customers with high-quality groceries items
They tackle this problem through:
Accomplices with well-known general stores

Tremendous wellspring of perishable stock

Quick and on-time delivery 
Shopper Shortage 
As Instacart shoppers work as freelancers with flexible schedules, it is difficult to manage their availability and assigning them tasks.
To overcome this issue, Instacart introduced a "busy pricing" policy, which adds a few dollars as delivery charges to a customer's bill depending on how busy the grocery shopper is at the moment.
A part of this additional price is paid to the grocery shoppers so that they can work as quickly as they can.
Customer's Trust: 
Instacart was applying prices on grocery, as per their own regulations. This did cost them a few users, but the majority are ready to pay the mark-up prices in order to get groceries on-demand, at their doorstep.
The Future
With $900 million funding, it is ready to take on other cities in the USA as well as expand outside the country.
Forbes has ranked Instacart at the Number 1 spot in the list of America's most promising company.
So now that you have understood how Instacart works.
The grocery delivery business has a great future, as a lot of people are constantly looking for the easiest and most convenient ways to buy grocery.
This market is still available with a lot of opportunities to be explored by new entrepreneurs who are looking forward to joining this industry.
To get your own Instacart-like, on-demand grocery application
Click Here