Due to technological advancement, everything is available to us at the tip of our fingers. Why do medicines stay behind?
The concept of online sale of medicines has been very popular worldwide for almost two decades. Some research and statistics have been put together, and it shows an increase in the number of people buying medicines online.
---
What Is An Online Pharmacy?
In simple words, an online pharmacy is an internet-based vendor that sells medicines. 
A report by Fortune Business Insights suggests that the global e-pharmacy market had an estimated worth of $49, 727.7 million in 2018. It is expected to reach $177,794.9 million by 2026 after growing at a CAGR of 17.3%.

Developing an online pharmacy app can be a profitable area because this particular niche isn't fully tapped. 64% of people in the US take prescription drugs or live with someone who does, but only 4% of them buy medications online. The latter is the result of the industry's extreme regulatory specifics.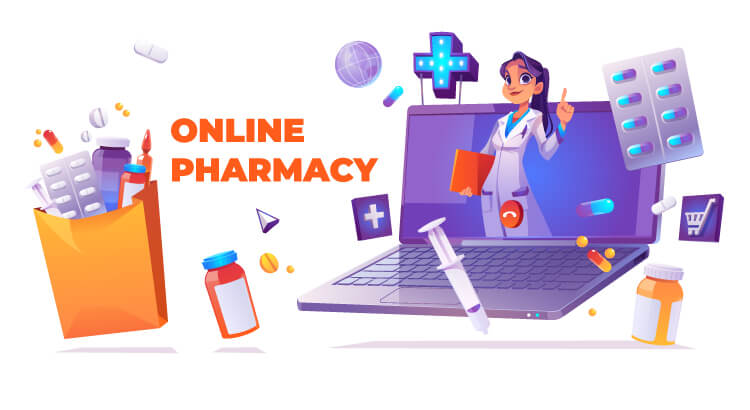 Prescription drugs are the most important part of people's health and well-being. That is why they want to buy it from a registered platform that is trusted and secured. Even millennials, a tech-driven, app junkie generation, are skeptical when it comes to purchasing medications online.
Now let us have a closer look at how pharmacy delivery apps deal with the issues of trust and security, bringing value to people's lives.
Online Pharmacy Apps: A Boon
This service app has better

pricing

than offline stores. Consumers can always compare prices and find the best deal. 

It offers increased access (even to people in remote areas with less mobility), lower transaction and product costs.

There is

anonymity

for consumers. Some people feel uncomfortable buying medicines around people, and prefer to order privately from homes.

It offers discounts, doorstep delivery within a short time, and validation of prescription through licensed pharmacists.

There are services that provide personalized medicine reminders, also known as

medialerts

. 

Customers can always get information about substitutes and

adverse effects on an online pharmacy app

. 

People who require long term pharmaceutical control can order for

3-month-supply

. The management for chronic illness treatment is better than offline stores.

Few services also provide an automatic refill option. It reduces the possibility of forgetting to renew prescriptions or running out of medicines.



How Does the App Work?
Uber has crafted many solutions for industries that connect services and customers directly and has the ability to track routes. Online pharmacy apps also work in a similar way. 
Users set a profile 

Complete an order

Pay for it 

Track its delivery in real time
Although the process seems quite easy, there is one very important point to be kept in mind. Customers should provide a valid prescription which will be checked by a licensed pharmacist. If an app doesn't ask for a prescription, it means that they are not  abiding by the law. Nationally regulated systems govern the rules around electronic prescriptions and online prescription exchange.
A pharmacy delivery app also forms a part of telehealth apps. In this, patients usually seek the advice of a qualified medical professional and then order their drugs from the same place. This field of development requires input from healthcare professionals.
Features Of Pharmacy Apps
To build a successful online pharmacy app, you will have to develop three separate interfaces for patients, pharmacies, and delivery providers, and an admin panel which stores user data. Discussed below are a few features that you need to implement for your app: 
The User Interface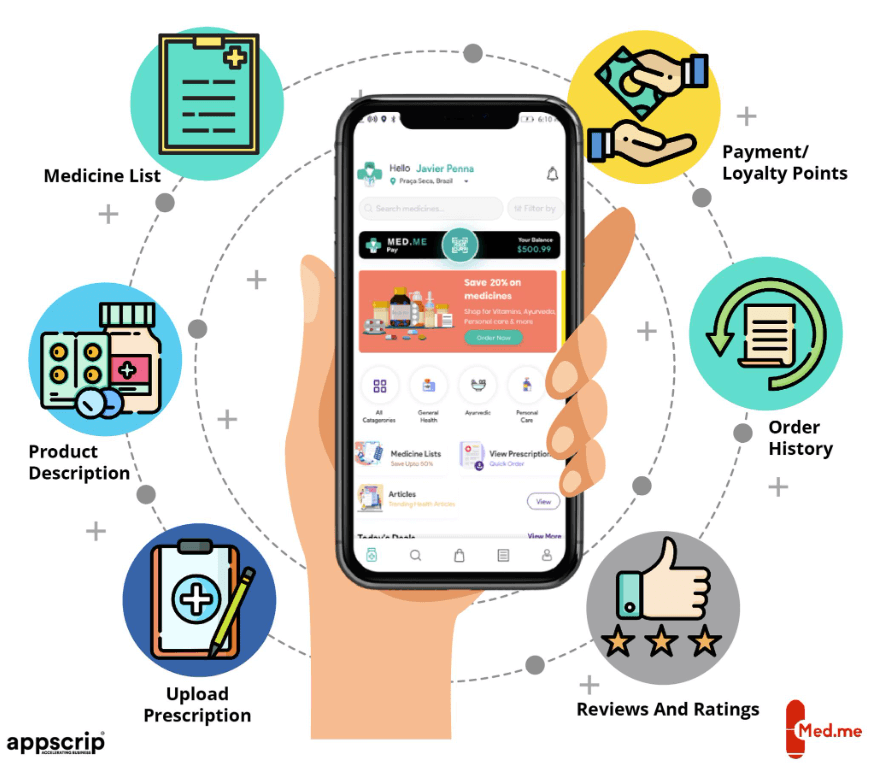 A profile is required

to start using the app. The patient has to complete the profile inputting their name, delivery address, and other details. 

Patients either send electronic prescriptions or scan it with their camera. It's a common practice in Australia.
S

ince insurance covers some medications, you will need to integrate your program with insurance providers.

A search system helps users to look for certain medications, their prices, and delivery accessibility.

Since this app is like any other e-commerce app, users will need a cart (with information on dosage, quantity, and cost) and convenient payment methods.
Drug ordering apps offer scheduled delivery with a three-hour (or more) delivery window. Users can opt for day-to-day delivery.
Users will need an integrated map to track their orders.

A users should have the option to set automatic orders to avoid shortage.

Since delivery quality is essential, users should be able to rate the service. Customers should be able to report errors and rate services they were satisfied with.
To establish credibility and trust, develop 'contact for information' so people can reach out and ask questions.
Apps need to have a clear refund policy and a specific section where customers can claim a refund.
The Delivery Agent Interface
Delivery agents should have proven identities and reliable personal profiles.

Navigation functionality is a must. A delivery agent should be able to build a route to pharmacies and customers.

Delivery agent will receive notifications every time the pharmacy confirms an order.
The Pharmacy Admin Interface
For users to choose a particular pharmaceutical provider, there must be informative pages about the available prescription drugs, their sources, and terms of delivery.

The system should be able to receive prescription files, accept or deny orders, and modify dosages or the number of items.

For easy and effective operation and communication with customers, there should be an option to gather user data to analyse current needs for certain medications.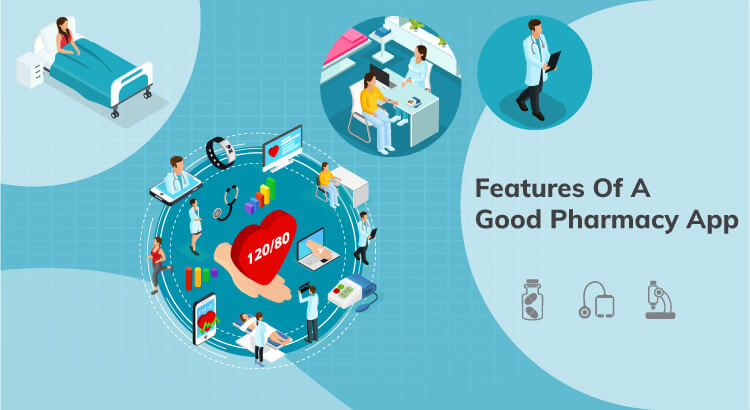 Other Advanced Features
 A few other features that can be integrated in the app, are listed below. It will offer a more interactive and user-friendly experience. 
An In-app Consultation will help users to chat directly with customer support and health experts.
Users should be able to find nearby medical stores through the app's Medical Store Locator feature. It will offer convenience to the  customers.
To make your app universal and easy to use for customers internationally, consider adding the Multi-Language Support feature.
Users will want to check and acquire information for nearby pharmacies, and diagnostic centers. Smart Search option can be helpful. This will also enable them to search for preferred medicines by typing the brand name directly.
The feature Book Lab Services can help users to book for lab tests and diagnostic check-ups conveniently.
Chat-bots are helpful when users have questions about the app features. It addresses the queries immediately. 
How Does An Online Pharmacy App Monetizes?
Either of the 5 business and revenue models are usually adopted. 
The App can be for pharmacy chains that engage with customers and facilitate online orders.

The App can be for telemedicine platforms that combine online consultations with medicine delivery.

The App can be for drug product manufacturers who are entering the market.

The App can be for only specific prescriptions such as contraception or vitamins.

The App can have a broader functionality. It can be for a region or country that brings together different pharmacies and insurers so patients can manage all their prescriptions in one place.
Apps Make Money:
Through delivery fees, subscriptions

By adding service tax

Through sponsored listings

In app ads
Top 3 Apps
PillPack initially adopted a monthly subscription business model. It has a huge customer base and now it makes money just like any existing retailer i.e. from the fee included in the cost of medication. PillPack delivers drugs without additional charges. The customers just pay their insurance co-pays or out-of-pocket expenses.
Nurx is an app which primarily offers birth control and STI testing. It finds profitability in partnering with pharmacies and insurers. Nurx provides free delivery.
1Mg is an Indian online medical store and healthcare app that has been acquired by the Tata Group. This medicine delivery startup's sales jumped from Rs 156.2 crore in FY19 to Rs 268.1 crore in FY20. Here's an overview of 1Mg's revenue model.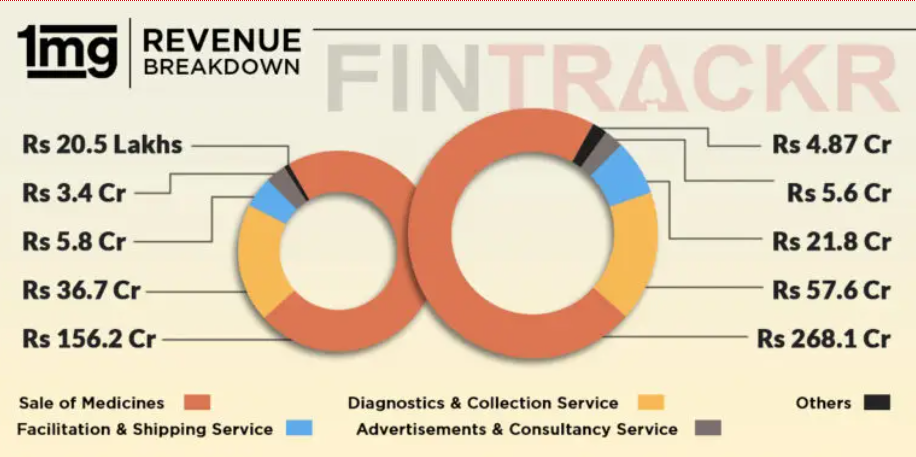 Start Your Own Service-App
As per statistics, more than 50% of people fail to take their medications as prescribed, so entrepreneurs are attempting to shake up the industry by offering different ways to access information or medical advice. If you are one of them, here are few things that can help you kick-start your own online pharmacy app.
Step 1: Business Plan
Q: What are initial costs involved?
A: A medical insurance is required in case of liability claim. The average cost of a pharmaceutical claim is more than $14,000. License for the state from where they will sell the prescriptions, and the state whom they will sell. These license costs vary. Entrepreneurs also need to hire a lawyer.
Q: What are the ongoing expenses?
A: Liability insurance, Legal expenses, Advertising costs, Wholesale prescription costs, Delivery agents' salaries, Administrative costs (e.g., apps upkeep).
Q: Who are the target group?
A: People between 25 and 65. 
Q: How much can customers be charged?
A: This depends on both demand and location.
Q: What will you name the business?
A: This is the foundation to your business. Make sure the name is unique, something that stays with the customers.
Step 2: Forming A legal Entity
A legal business entity protects you from being personally liable if your online pharmacy app is sued.
Step 3: Registering For Taxes
Register for a number of state and federal taxes.
Step 4: Opening A Bank Account For The Business 
Using a dedicated business banking and credit account is vital for personal asset protection.
Step 5: Obtaining Permits And Licenses
Certain state and central permits are required for an pharmaceutical app to run safely and efficiently.
Step 6: Getting A Business Insurance 
A business needs license to operate lawfully.
Step 7: Defining Your Brand 
Use social media, blogs, and even Google Ads to boost your online presence. Establish relationships with local doctors in your area, and consider finding ways to advertise specifically to their patients. Always try to make your customers come back to you.
Step 8: Establishing An App Presence
An online pharmacy app helps easy navigation. It is more convenient for users to order and track the same.
Build A Robust Online Pharmacy App
While deciding to develop an app, you should consider the following factors: 
An intuitive and user-friendly UI/UX design.
Always make sure whether it is compatible with other platforms that customers may prefer using.
Since the app will contain sensitive information, therefore make sure it is secure and compliant with rules and regulations within the regions it is catering to.
With the increasing number of users, you may want to plan an expansion of your business. It involves the demand for scalable solutions provided by a good

software development company.
To build a powerful and efficient online pharmacy app of any complexity, a unique plan and its perfect execution is necessary. Let us know how we can help you achieve your entrepreneurial goals!
---