Fear not! It's not the end of hot girl summer, even though winter is around the corner. OnlyFans has dropped the plans to ban porn. Here's your guide on how to make money on OnlyFans!
The new policy was supposed to take effect on October 1, 2021. Reversing the course on August 25, 2021, OnlyFans tweeted that the company had suspended the planned October 1 policy change.
The pressure from banking partners and payout providers couldn't force OnlyFans to squeeze sex workers from the platform, at least for the time being. After all, sex workers made this platform a powerhouse. 
This tweet couldn't replace the anger with enthusiasm, and the blunt continued.
Ironic, considering the ban on "sexually explicit content" is the only reason you know what OnlyFans is.
The site has become a meme and a source of income for people. Whether you are a sex worker or a fitness influencer, you carry the potential to earn on OnlyFans. So, let's understand how to make money on OnlyFans. 
What Is OnlyFans? 
Instagram for NSFW images (as OnlyFans entrepreneurs call it)? The paywall of porn (as The NY Times calls it)? The pandemic porn site that reported more than a 75% increase in new sign-ups during the first few months of the pandemic? What is OnlyFans?
Contrary to your belief, OnlyFans isn't a porn site. It is more than just Uber for internet porn. From the outside, OnlyFans might seem like an adult website but guess what! OnlyFans never called itself an adult website. In fact, since its launch in the U.K. in 2016, the platform has only been disenfranchising sex workers. 
The platform includes "behind the scene" content from performers, from big celebrities like Cardi B and Tana Mongeau. The presence of celebrities on this platform is only piercing the platform with more popularity. Backing this popularity is the OnlyFans' content ban news, making people to search "How to make money on OnlyFans" more than ever. 

How To Make Money On OnlyFans
OnlyFans is where the passion meets popularity to make money. It's an entertainment arena where the cult of personality and cross-promotion of account are the keys to success. 
Subscriptions/ Pay-Per-View Model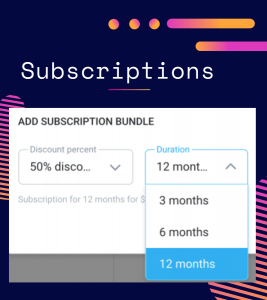 You can charge subscribers to view your content. Put your performance behind a paywall. You can earn a minimum of $8,000 per month. 
OnlyFans lacks the discover feature or recommendation system. That said, OnlyFans isn't going to suggest your account to any other creator. How can creators get to know about you, and why would people follow you without seeing your content? That's where built-in promotional campaigns on OnlyFans come into the picture. Where can you find this feature?
Go To Profile Page > Start A Profile Promotion Campaign 
Set discount percent. You can choose discount percent anywhere between 5% and 100%. The duration of the campaign is always set to 30 days. You can change the campaign duration only when 'discount percent' is set to 100%. 
Paid Message

"Paid Messages" is the best answer to your "How to make money on OnlyFans" question. You can send a variety of messages to your subscribers. OnlyFans also allows you to mass message your audience. With paid message feature, you earn well while maintaining connections and communication. 
You can also put your messages behind the paywall so that your subscribers would need to pay for the content of your private messages. You can charge your subscribers up to $50 per message. 
You can still earn money, even if you don't want to put your content behind the paywall. You can price-lock some of your posts. How? 
 Go To Compose New Post > Post Price
Tipping is like icing on the cake. Even if you want to get paid or not, you'd still get paid. How? Your followers can show appreciation by tipping your posts, messages, profile, and live stream sessions. The only requirement is your need to have at least five posts on your profile. Tipping best erases the "How To" in the "How To Make Money On OnlyFans" question. 
Want to showcase your talent in real-time? That's when OnlyFans' live streaming feature comes in handy. During live stream sessions, your subscribers can tip your performance. You can also set your account free and let anyone view your session after paying a certain amount. 
OnlyFans wholeheartedly welcomes you to their platform even if you want to raise funds for a charitable trust. Here's how you can make money on OnlyFans to raise funds: 
Go To Compose New Post > Your Target > Set Your Fundraising Goal
Now you know how to earn money on OnlyFans. Let's learn how to cash out on OnlyFans.

How To Cash Out
As per OnlyFans rep, the most popular method of cashing out is bank wiring. Transferring your earnings to your bank account is called bank wiring. 
You can either set up an automatic recurring payment method or go with a manual transfer option. The former option allows you to transfer your earnings to your bank account directly. The latter option lets you decide how much money you would like to withdraw from your OnlyFans account.
After filling in the amount, you send a Pay Out Request to the admin. You can withdraw money only after the admin approves your request.
If making money is your goal, you can shift your focus from merely being an OnlyFans entrepreneur to becoming a Tech entrepreneur.
OnlyFans Entrepreneur Or Tech Entrepreneur? 
Popping the thought bubble filled with this little punctuation mark (?), we introduce you to Fanzly, a 100% customizable, pre-built subscription-based social platform. Why bother taking a look at Fanzly? To set yourself apart from online users continuously searching for ways on how to make money on OnlyFans, and definitely to ditch Work And Pray (Work And Pray) logic! Even OnlyFans doesn't believe in the Post and Pray method. 
OnlyFans lacks explore/discover feature, the recommendation system. OnlyFans entrepreneurs struggle to sell their content on other social media sites. They expose themselves to harassment and doxing before they can enjoy dollar exposure.
Yet the platform pours 20% of all the performers' earnings into its own pockets. On the other hand, Fanzly is embedded with the discover feature, keeping content and content creators visible on the home screen.
Can you imagine what the future of a site that became a household name for porn would like after banning raunchy content? You must be nodding your head right now. After all, online adult entertainment is a profitable industry.
So, should anyone looking forward to launching an OnlyFans like platform be worried about locking investors? We don't dare say yes. Despite supporting sex workers for all those years, OnlyFans fell in the lap of popularity, hugged profits, and fu*ked failure.
Any company that enjoys the same growth as OnlyFans does wouldn't struggle to raise millions in a matter of minutes. Let us vanish the frown on your face with some facts from a pitch-deck, compiled at the end of March this year.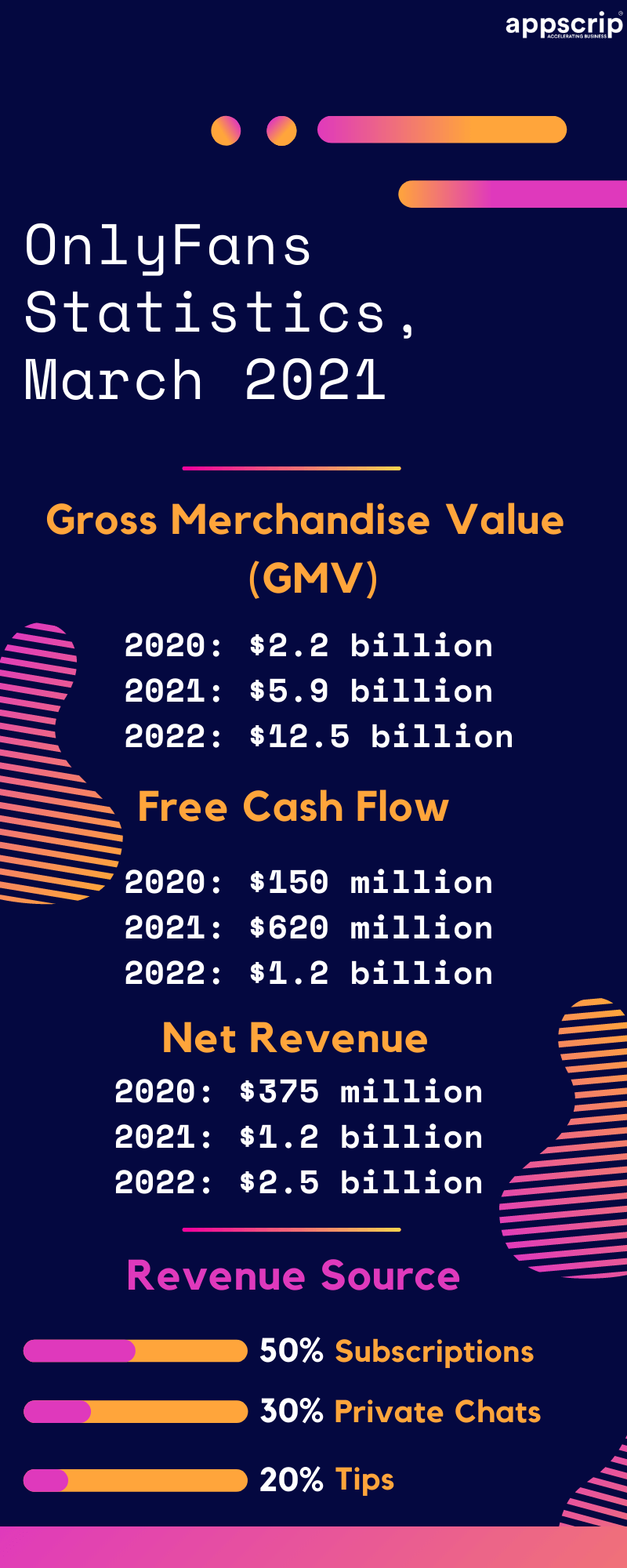 Security on adult platforms is no longer interested in patching up with performers. If you ever went through OnlyFans' terms of service, you know what we will gab about here.
If you decide to leave OnlyFans, there's no guarantee that your content would leave with you. If your content continues to circulate even after you delete your account, OnlyFans is not responsible. Even if your identity gets leaked, OnlyFans isn't responsible.
Ever thought of banking on OnlyFans' temporal inability to come up with new safety features? How about taking a look at the demo of our pre-built subscription-based social platform, Fanzly?
Well, this isn't the first time sex workers are on the target of restrictive internet policies.

FOSTA-SESTA (2018), a bill intended to thwart sex trafficking resulted in sex workers being kicked off Google, Reddit, and Craigslist. Even non-adult platforms like Airbnb and PayPal also scrubbed their platforms of sex workers. De-platforming has been going on for a long time.
These policies polish our belief that the chances of banning "sexually explicit content" again by OnlyFans are low, but chances still exist. Ban or no ban, sex workers continue to brace themselves for job losses and find a home on OnlyFans substitute websites.
We would also like to let you know that being a Progressive Web Application (PWA), Fanzly fans-away your chances of failure in the online world of adult entertainment.