People have grown to convenience nowadays in this digitized world.
You literally have an app for any need such as booking a taxi, ordering food, making payments online, taking your pet for a walk, renting clothes or shopping groceries. Dependence on applications is growing day by day as businesses find newer domains for automation.
After all, its convenience, safety, and it saves time 'n' money.
Now there's a new breed of apps, called Super Apps. The Hugo business model is one such. Folks are not keen to surf too many apps or login in with an ID and password or even register themselves on a plethora of apps to get their stuff sorted.
Super apps improve user experience and enable people to multitask within the same app.
There are many such super apps. It began with WeChat and TenCent. But in here we will be discussing the Hugo App.
This app birthed in South America and is home to the Latin American region. Hugo app garnered a lot of success in a very short time. Let's check out how they became successful quickly. For this we would have to study the business model of Hugo, how the app works and earns huge profits.
People world over prefer to interact with Super Apps. The reason being under one umbrella it possess a host of facilities such as entertainment, booking, ordering, payments, banking, etc.
Hence, this single platform enables you to complete all your essential in a jiffy. You can perform multiple tasks on one app.
How Hugo Business Model Works 
For Customers
People looking for various services on one platform.
People looking to enjoy services at the lowest cost.
People wanting doorstep delivery of groceries, food, medicines, etc.
People looking for an extensive range of options.
For Merchants
Merchants have the advantage of Hugo's popularity to sell their services online.
You get a huge customer base.
Add value to your traditional business and enhance profitability.
Ideal for vendors lacking delivery services.
For Delivery Providers (Hugos – delivery agents)
Individuals looking to moonlight have the flexibly to earn revenue.
There's no rigid rules when it comes to timing.
Hugos can work the number of hours they prefer to.
They can also earn good amount of tips from clients.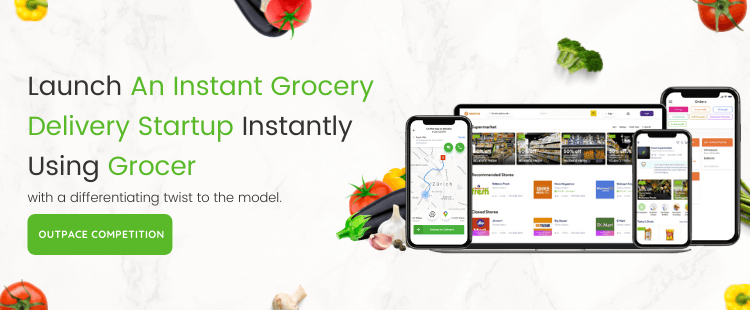 Revenue Model – How Hugo Makes money?
The revenue model of Hugo business model is straightforward and impressive. They have various options to earn and it isn't a single revenue source. We list them for you:
Commission from Merchants
Thousands of businesses have signed up with Hugo to guarantee delivery services for the goods they sell. This has in fact helped Hugo to enhance their customer base and order volume. Hugo charges a certain percentage of commission for each order that has been rendered through its app.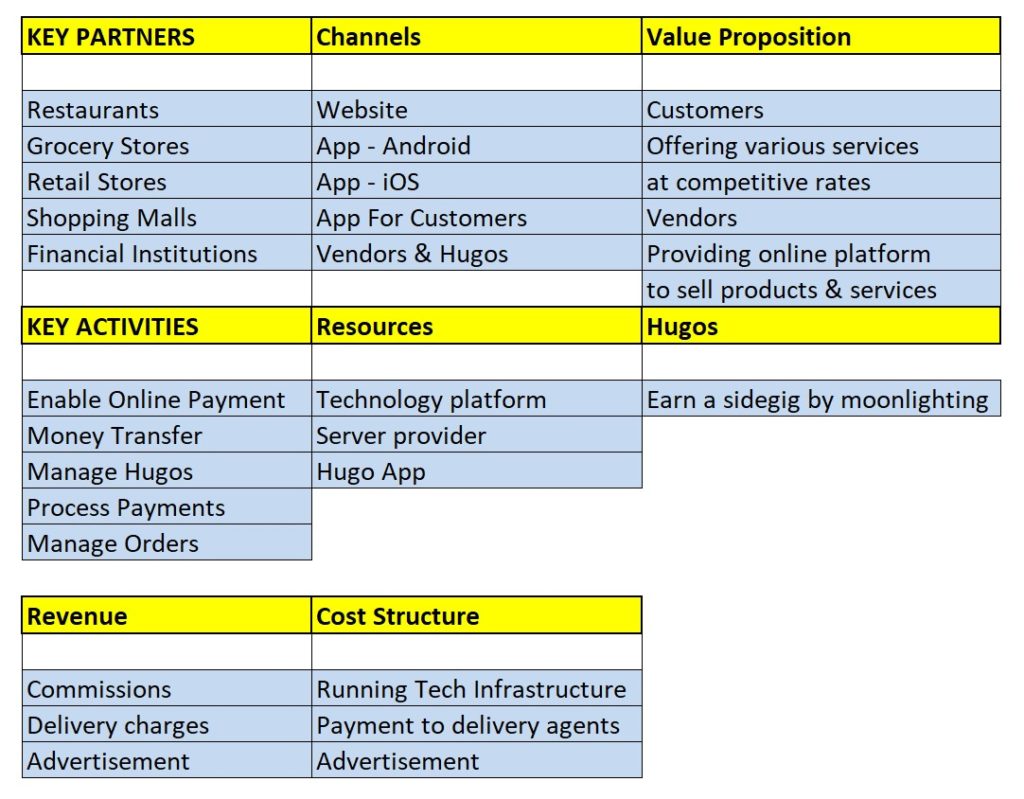 Delivery Charges
The app charges as per the distance travelled by the Hugo. The city has been ear-marked into zones. The delivery charges is subject to the location of a customer. If the delivery is farther away, the charges are designed accordingly.
Delivery charges are also function to demand and weather conditions.
Advertising
The company advertises for stores, restaurants, and merchants on their app. Businesses can display their products or services on the app. This is charged as per the location of the ad, size of the ad and time when the ad is displayed.
We know that mobile advertising is turning into a huge industry.
What is Hugo App
Hugo has the distinction of being the first Central American super app. They are the undeniable market leader in Central America and the Caribbean (6 countries). Hugo provides multi-category marketplace for various domains such as: restaurant n grocery delivery, pharmacy delivery, ecommerce, on-demand services, online payments, transportation, entertainment, hyper-local venture capital, and more.
This software solution enhances business revenues and enables vendors to grab remarkable position in the on-demand market. After registering on the app customers can browse menus for purchase or to avail a service, make payments, and track the Hugo in real-time on the app.
The Hugo app thrives in the delivery sector and earned a revenue of $50 million last year. The company received series A funding recently and is valued at a whopping $13.6 million. The company has 3000 agents (Hugos) and around 4500 vendors registered with them.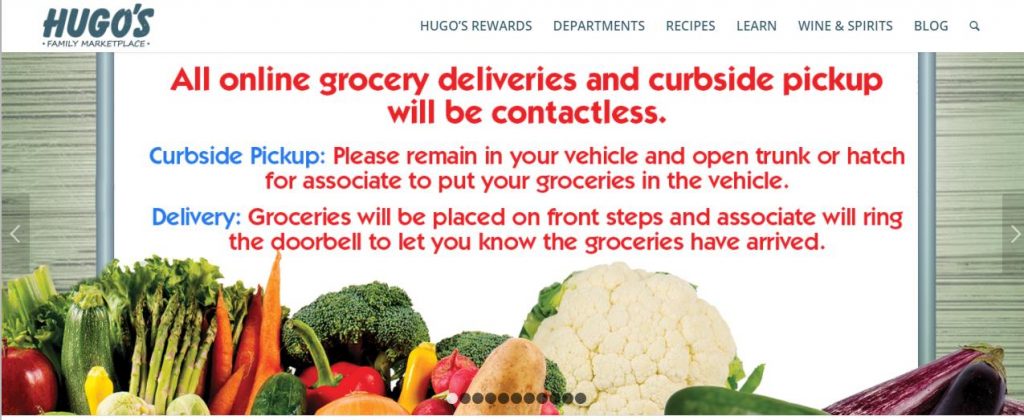 Hugo Business Model- Range of Services
Hugo Delivery
Customers can order from restaurants, supermarkets, stores, or pharmacies and get the items delivered at their location without delay.
Hugo Shop
Order branded clothes, accessories, cosmetic n personal products, electronic goods, and more using the Hugo shop app.
Hugo Pay
Pay digitally / online for all your purchases and earn cashback for  very many transactions.
Hugo Auto
Hugo auto makes travel easy by providing clients the ability to book a ride using the super app
Real-time Tracking
Track your orders and delivery providers (Hugos) in real-time and avail door step delivery.
How Does Hugo Work?
Hugo app provides multiple services on a single platform. The services provided them include: medicine delivery, personal goods, food delivery, grocery delivery, taxi bookings, digital payments and other on-demand services. Hugo app consists of 3 modules: for customers, vendors, and delivery providers. Let's examine its workflow.
1: Search for various services
Using the app or website, customers can browse various services and choose the apt one based on their requirement.
2: Book the Service
There are multiple services available such as: cleaning services, grocery, ecommerce, food ordering, payments, and more. Customers can select as per their requirement and book for a particular service.
3: Making Payment
After completion of ordering or availing a service the customer is provided several options to make secure payment.
4: Tracking in Real-time
After the customer has ordered for any kind of service and made the necessary payment they then receive notifications in real-time. The delivery agent can be tracked in until the delivery is complete.
5: Rating and Feedback
Based on service provided customers can rate the quality and submit feedbacks so as to improve services.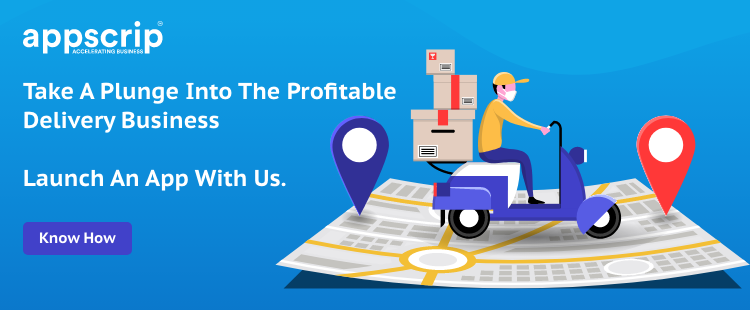 With an Engineering degree and a Diploma in Management under my belt, I worked for 16+ years in the automobile industry with various manufacturers in various capacities. But my passion for writing was overwhelming, hence I turned that into a career. I have been writing for more than 10+ years on various domains including the IT industry. I am sure you will find the 200+ published blogs of mine in here informative, exhaustive and interesting.