Moving on to startups in Kenya, It is the 4th country in Africa to host maximum tech startups.
Is Kenya turning out to be the next Silicon Savannah?
Let's Find out;
Kenya is hosting a lot of startups and they are attracting amazing fundings for themselves.
Twiga Foods, for example, raised $30 million from Goldman Sachs in October 2019. Twiga Foods is a B2B food distribution company. This Nairobi, Kenya based startup has a plan prepared of where and how to utilize the funds they have bagged from Goldman Sachs.
According to the plan they are set to install more distribution units in Nairobi to offer supply chain services to both Agricultural and FMCG products.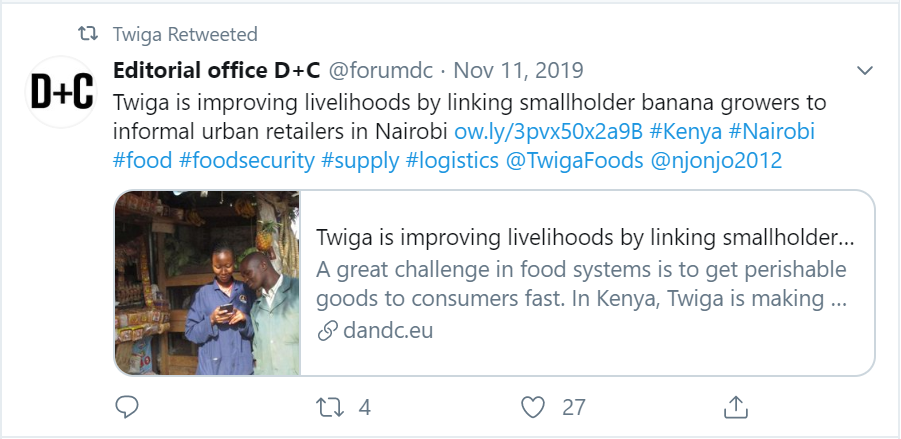 Further, expansion is another goal they are set to achieve this year. Expansion in more cities of Kenya and in Pan-Africa by the third quarter of 2020.
Another good example of constantly strengthening the startup economy of Kenya is Nigeria's CCHub acquiring Kenya's iHUB. This acquisition means more resources for Kenya's iHUB. This has been confirmed that it will continue operating in its existing name.
What is driving Kenya's startup boom?
The potential for tech startups was accumulated in the US over a decade ago. The scene has changed tremendously since then. The tech startup wave is now not limited to a city but has spread across globally.
Let's look at the significant drivers of Kenya's startup boom:
Technological Advancements
Not just Kenya, the boom in internet users has extensively increased worldwide. Access to high-speed internet in Kenya has led to the increased no. of mobile phone users, ultimately leading to increased demand for products online.
iCow for example, iCow is a phone-based agricultural information platform for smallholder farmers. It was developed to solve the problem of permanent access to verified valuable agricultural content. It is designed to be simple, cost-effective and reliable.
The introduction of mobile payment systems has enabled app owners to charge their customers.
The Tech Generation
Kenya's youthful population now has access to the internet as well as to the smartphones up to a  very large extent. Making them a promising potential market for tech startups.
Also Read: Tapping Into Africa's Mobile App Market
Upright Investments
The Fintech companies have raised the maximum investments amongst all the other sectors. In 2018, they received $284.6 million.
Shoppd is our ultimate multi store eCommerce software for entrepreneurs looking to get into the on-demand e-commerce business niche. Start your own Amazon Clone/Flipkart Clone, get on board today and create a bright future.
The financial inclusion further boosts the startups to flourish. The increased investments in tech startups act as the motivation factor for the younger businesses to take that leap of tech!
Need Indeed
Necessity Drives Invention
Affordable healthcare, educational opportunities, sanitation needs, agricultural developments, etc are the pressing necessities in Kenya more than anything. The need for high impact solutions at cheaper prices makes technology startups very crucial for Kenya's economy as a whole.
Also read: This South African startup is turning heads with the huge investments it bags!
Concluding Kenya's Startup Boom
In my conclusion to the subject, I think the Kenyan startup economy has finally awakened and is trying to achieve the potential it had for a very long time. A young population, interested investors and a lot of interest from all over the globe.
They might be a little short of the resources, which further leads them to come up with high impact solutions at lower prices.
Startups in Kenya? Well, it is a win-win situation all over and it completely has a chance of becoming the next Silicon Savannah!