A new era in online presence has commenced and consumers are adopting online sales like never before. 
In the past three-months 81% of consumers have shopped online globally. A minimum of 2.2 billion people are expected to take the plunge and buy goods online this year. Mobile devices will be responsible for a lion's share of these sales.
There hasn't been a time of greater change in the last mile delivery ecosystem than what has transpired in the past few years. Consumers online are on an ordering spree, while expecting better control and quicker deliveries. Disruptive technologies, such as droids and drones, are shaking up delivery chains.
Recent Trends In Last Mile Deliveries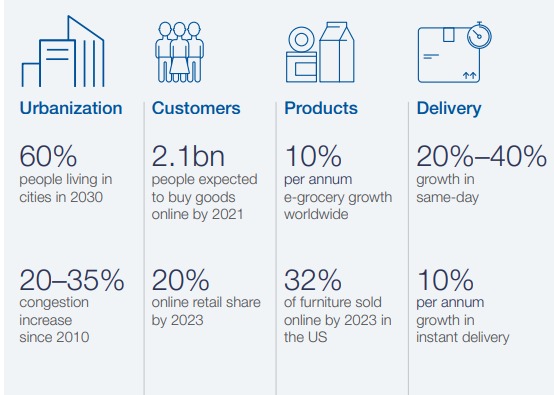 Emerging software solution enabled delivery players such as Uber Freight and Postmates are fast changing the dynamics of this competitive landscape. Unparalleled growth has been witnessed in the last-mile delivery during the past five years coupled with substantial rise in e-commerce.
From 2014 to 2019, e-commerce sales ratios almost tripled globally, the pandemic only ensured this situation moved forward at a quicker rate.
The reason for this trend can be credited to a plethora of factors such as quickened urbanization, enhanced purchasing power of the middle class, an overly populated customer base, technological advancements, an wide-range of products available online and the emergence of new digital business models, as well as delivery processes that embrace instant and time-controlled delivery.

Delivery Scenario In Metros
In fact, data shows that the growth of e-commerce is slowly but surely catching up with offline revenues. Offline revenue is anticipated to grow at 4.1% CAGR in between 2019 and 2023, while e-commerce will grow by 17.2% annually. This will represent 20.5% global retail share in 2023.
Global parcel transportation in the business-to-consumer (B2C) and business-to-business (B2B) will increase tremendously. B2B sales will grow in proportion to the increase in their consumer segment. China is leading the pack with an online retail penetration of 25% with digital giant Alibaba commanding a major share.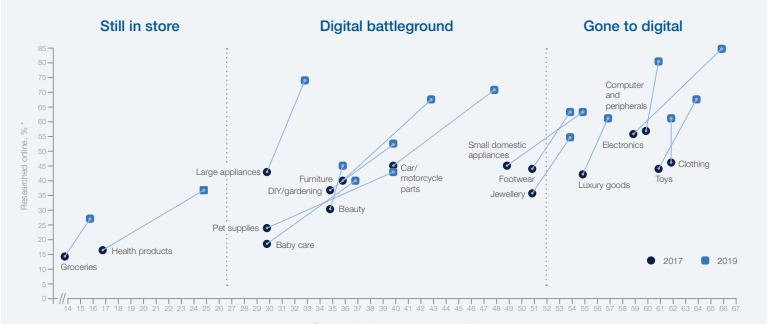 With regards to delivery time, the need for speed is an imperative factor contributing to the overall increase in demand for last-mile deliveries. Deferred delivery will continue to be the largest delivery segment – with the expected delivery time of one to three days. Annually the fastest-growing segments in the last-mile environment are same-day and instant delivery, growing at 36% and 17% respectively.
Effect Of Last Mile Deliveries
The demand for last-mile delivery rises higher by the year and is expected to touch 76% globally in a decade's time. A survey has predicted that the number of delivery vehicles in the top 100 metros globally will rise by 38% in the next decade.
This is to basically satisfy the ever-rising aspirations of consumers' who buy products online without much intervention. But this will lead to increased emissions by 30% from delivery vehicles and congestion over 20%.
This will have a telling effect on the daily commute time for passengers' by an additional 11 minutes. The challenge for the last mile delivery is very much pronounced in the freight segment. This will in turn give rise to – parking woes, parking-induced congestion and higher emissions from commercial delivery vehicles in comparison to private cars.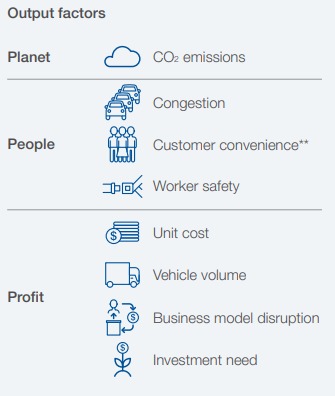 Traditional Online Deliveries
Online retailers such as Amazon, Walmart and Alibaba traditionally began online sales in categories such as books, clothing and electronics. Walmart's e-commerce sales grew by 43% in the Q-1 of 2019 before they began raking in 40% year-over-year growth. But the recent year trends include new categories such as automotive parts, pet supplies, office furniture, personal care related products, baby care and gardening products.
Even though categories such as groceries, food and health products still rule the roost, other products are making influential online penetration. These new categories are gaining momentum and will rapidly catch-up / overtake brick and mortar sales.
Mastercard recently revealed that in the past couple of years almost $900 billion has been spent online. Overall, we will continue to see more products make it to the online category and succeed in the digital battlefield, causing an increase in last-mile deliveries which will contribute to the conceptualization of new business models.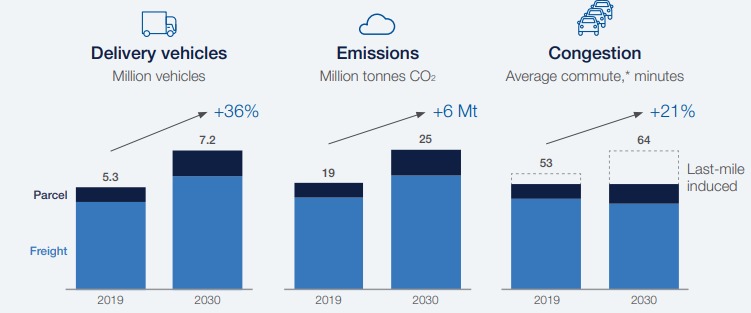 Technology has a significant role in shortening delivery times. This enables a more efficient supply-chain process and the launch of substitute delivery methods. In fact many automotive OEMs have been working on concepts that support last mile delivery. Metros have in fact explored many solutions that encompass the last-mile Eco space and these broadly fall into 6 categories: consumer movement, consolidation, vehicle change, secure deliveries, last-leg transformation, and delivery location.
Recommendations To Ecosystem Players
We have found that interventions could broadly impact outcomes related to people, planet and profit. But there is no universal solution with the potential to address all the issues.
The focus has been to examine how these interventions can reduce the negative impact of last-mile delivery. For a start we present three different roadmaps for an integrated approach to optimize the last mile delivery for both private and public players while reducing consumer disruption.

Introduction of Electric Vehicles
The first scenario is the introduction of electric vehicles (EV) for inner-city areas, deliveries during night-time and not during working hours, multi-brand parcel lockers / boxes as well as effective data-based connectivity solutions to assist dynamic re-routing and load-pooling.
This could reduce emissions by 30%, congestion by 30%, and delivery costs by 25%.
Data Sharing
In the second approach we stress the importance of data usage to develop and implement effective interventions. We encourage cities to develop data sharing models through systematic, data-driven traffic management and control, thus cities can combine data such as traffic flow, emissions and intersection data with dynamic, real-time traffic interventions and regulations.
The availability of data is not the challenge. Both cities and private players collect plenty of data, but analyzing these to derive conceivable insights, and build a corrective to measure the impact of interventions, as well as cross-sector collaboration, is not given precedence.
Software Solutions
Lastly automotive OEMs, logistics players and infrastructure providers – need to embrace the shift from hardware to a mounting number of software solutions and hasten their efforts in the analytics sphere, enabling use of real-time routing and tour-planning solutions, smart load-pooling, flexible pricing settings, etc. This can be done by building up their capabilities or – as in most cases – can happen through an increased level of partnership and merger-and-acquisition activity.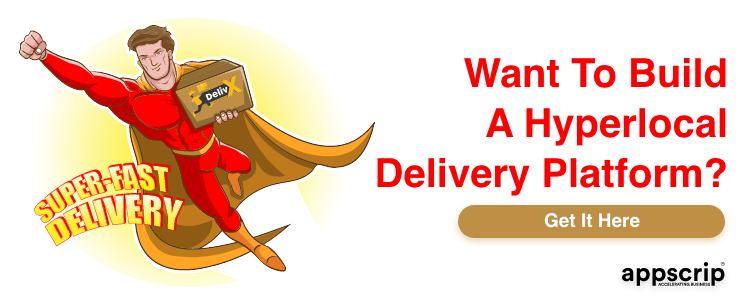 After an Engineering degree and a Diploma in Management I devoted 16+ years working in the automotive industry. My innate skill and extreme passionate in writing, encouraged me to adopt it up as my profession. I have been writing for more than 10+ years in the software industry. The 400+ blogs I published are informative, exhaustive and interesting to a professional and causal reader.