Outsourcing is a continuous process that transforms Asia, Europe, and Latin America. Outsourcing is an accepted norm as it allows businesses to outsource complex work at an affordable price. Globalization created opportunities of business growth for developing nations and it enhances competition. Due to technological advancements globalization allows you to work with anyone from any part of the world.
Outsourcing to Asia was a familiar route for most Western countries. Therefore, it's not surprising that the process continued its dominance for years. Continuous adaptation by firms, English proficiency, low salaries, good results gave Western countries revenue benefits.
Many Asian countries provide outsourcing support and a wide range of services for businesses. But these are in the grip of the virus and US/Canada could look at other options for a better and stable future. And the most probable solution can be found in the Latin America Business landscape.
Outsourcing Scenario – Asia
India remains as the top IT/Outsourcing destination and the leading IT exporter in Asia. Recipient to a plethora of outsourcing fims, India has built a large labor pool ready to support any client. But time zone issues, geographical positioning, communication woes and quality concerns harass clients.
Philippines is an educated and sophisticated country with a qualified labor force. Post 2015 major call center contracts were grabbed by Filipino firms. Even though numerous MNC's have operations that cater not only to call center support but also offer solutions for software development, digital marketing, and tech support dearth of quality is quite plainly visible.
Post COVID-19 Scenario
With the COVID-19 crisis continuing to disrupt businesses world over, it's obvious that having your operations in Asia may not be a good strategy for business continuity. Consumers may not receive quality service or products as promised. With the anti-China sentiment growing, it doesn't seem forthwith that the West would condone them for this pandemic pretty soon.
This has brought about a push for 'Nearshoring' software development in Latin America and it represents a massive opportunity for Latin America business. Therefore the time is neigh for businesses to adopt a LatAm strategy to expand their horizons.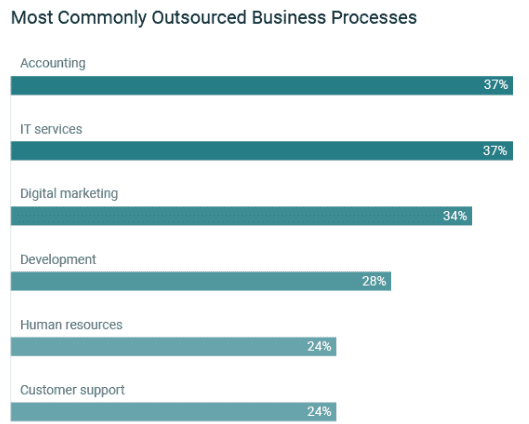 Outsourcing Scenario – Europe
Europe is Asia's top competitor as outsourcing became a trend. Countries like Belarus, Ukraine, Bulgaria, Romania, Poland are showing continuous growth in IT outsourcing. Belarus is a hot IT spot in Eastern Europe with expertise in tech development.
Poland is a big country boosting of a huge pool of professionals and their location gives them geographical advantage. The Polish economy is stable and the IT industry is flourishing thereby making it a top European outsourcing destination.
European countries prefer nearshoring due to cultural similarities, proximity, and familiarity with major European languages. And looking at the cost factor outsourcing to Europe is not a feasible option for businesses in US or Canada.
Mexico, Colombia, and Brazil are making their presence felt with profitable outsourcing activities. Economic growth, professionalism and government assistance are crucial to Latin America's technological expansion. The educational system's improvement swayed a better future for Latinos.
Latin America's technological hubs in Bogota, Santiago, Buenos Aires, and Mexico City have been cultivating a highly skilled labor force. Bogotá is the newest tech hub employing 350,000 IT professionals and is ideally located for US nearshoring. The BPO industry has over 250,000 jobs and continues to grow as the industry evolves.
Mexico is a leading destination and its capital is a tech hub that provides clients benefits of optimal costs, educated labor and location proximity to the Silicon Valley in the US. Talent is readily available in Latin America, but quality infrastructure is the need of the hour.  To get the job started all you need to have is an internet connection, PC/laptop, hard work, and local talent pool.
Latin America is becoming an increasingly popular choice as organizations look to expand internationally and enter upcoming markets. The region has positive trade opportunities, lucrative geographic positioning, and growing, hard-working, educated middle-class. And the territory offers businesses with the right value proposition to utilize for higher returns. This popularity positions LatAm as an attractive business environment for the world to look at.
Economic Revival In LatAm
Latin America has seen an economic revival in many of its countries. Engaging in trade agreements has made countries like Uruguay, Ecuador and Chile attractive business destinations. This enhances the creation and expansion of businesses thereby providing foray into newer markets.
Latin American governments have been attracting FDI as a priority. This enhances the national economic climate and brings about economic revival. Tax benefits for businesses in Paraguay, financial package for start-ups in Chile, a trend towards FDI all stands in favor of a robust economic position and growth. In LatAm many local entities are growing at several times the global average over a period of time.
Latin America also offers businesses relatively lower costs of production, low wages and promising start-up environment that allow businesses to enter markets easily and create higher returns. Combining economic growth with optimal wages makes for an attractive business destination.
Technological Advancement In Latin America
Countries like Colombia, Argentina, and Mexico were known for perils and basic infrastructure. Government initiatives, private investments and influential citizens, even though were slow off the blocks are now taking huge strides to catch up with technological advancements and produce IT talent that can match the standards of first-world countries. Latin America is beginning to host a number of technological hubs for innovation and production at a rather quick pace now.
Another significant sign is the rise of Fintech business within Latin America business environs. Across the e-commerce market, companies in Latin America generated revenue of US$17 billion in 2019, with an enviable annual growth rate of 3.5%. User penetration is a surprising 56% in the region and is expected to soar to 62% by 2023. What is perhaps noteworthy is that the average revenue per user at present is $130 – although it would no doubt rise as consumer confidence increases and buying online gathers steam.
Exploring the Latin America business environment will offer firms opportunities of growth in diverse domains. And can reap success by putting up businesses that has decades of stability and expertise or an upcoming sector that meets your requirements.
Latin America Business Challenging Asia
Latin America could unseat Asia on the outsourcing turf. Right now there are 2 major opportunities in the taking:
1. Supply Chain
Companies that have factories and supply chain in Asia will find it difficult to operate now due to the ongoing corona virus pandemic. Hence after the manufacturing process it would become a debacle to get the products to their destination in the West. So firms could look at the Latin America business landscape.
The manufacturing can be done in any one of the developing regions as discussed above and shipped anywhere because of an ideal geographic location. Even factoring in the costing, it is not too much higher from their Asian counterparts and much lesser to US or Canada. There is huge English speaking crowd and the time zone is within a comfortable margin.
2. Digital Transformation
In the past 5 years firms in Canada and US have been using Asia for their software development needs, but there have been issues: time zone difference, language barriers and geographical positioning. The US / Canada are looking to digitize operations, so having your firm tactically located in one of the Latin American countries is an advisable strategy.
Firms looking to outsource digital transformation, software development and staff augmentation will find a lucrative option in LatAm as they ponder to create new revenue streams different from physical operations.
Conclusion Latin America Business
With more and more organizations in the West looking for options beyond Asia, Latin America has grabbed the most favorite position firmly and is an increasingly popular choice. The virus has literally created a new equation by forcing businesses and firms to rethink their strategy on long term gains. LatAm offers much more than what is visible and therefore it is certainly worth a try.
LatAm is a big territory and home to 650 million people, with a collective GDP of US$5,600 billion. Latin America offers diverse options of investment and expansion, not just low costs. Now is the opportunity for businesses to be in the right place and at the right time to grab the best seat by offering the right products and services at an acceptable price. Foraying into the Latin America business landscape couldn't have been better timed.