What is laundry software?
Laundry Software has been specifically designed to assist and enhance laundry businesses and dry cleaning services. This software solution helps in improving workflow processes such as laundry record keeping, POS, managing day-to-day tasks, invoicing, collection of material, delivery of processed clothing, analytics inclusive of dashboard, and integration with Tally, WhatsApp, etc. The laundry software solution has transformed this niche industry to become more functional and profitable.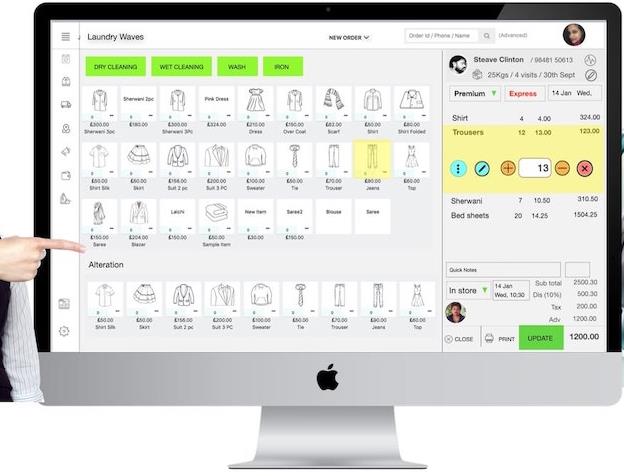 Salient Features of a Laundry Software
POS System
The App includes billing features to complete the entire cycle. Users can generate orders depending on the weight and pieces of clothing to be processed. The system makes it possible to save contact numbers, generate SMS and enable WhatsApp notification to communicate with customers regarding their orders and deliveries. POS enables barcode tagging, identification of material, thermal or laser invoice printing. These functions help classify orders separately for identification requirements.
CRM

CRM software features in Laundry management assists in retaining clients and converting them to loyal customers. The system stores contact details of all your customers and generates customized codes for each of them. This data can then be utilized to offer vouchers to them. Customers can claim the offers which will build customer-loyalty and overall longevity of your business.
Store Management
The software has been programmed to ensure hierarchical control in the workflow process management. Information sharing for each level depends on their hierarchy.  Employees have been granted different rights to access information that is requisite for their role.
Pickup and Delivery Services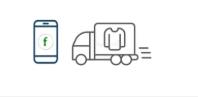 Google map integration helps save the trouble of setting geotags for your area of operation. The laundry software helps process pickup and delivery by generating order at the requisite time. The feature integrates along with Google maps for better navigation, saving time and resources.
Analytics and Dashboard
Laundry software enables you to scrutinize your sales and revenue. It also helps in comprehensive analysis that can assist you to strategize and improve. With this data you can garner more information on your performance. In fact you can tweak the processes whenever required to enhance profits.
Multi-Store Management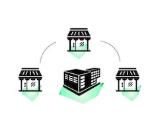 Laundry software enables management of multi-stores. Therefore large scale service providers with many stores have additional benefit of integrating all of them to help scale your overall business. The features provided are on a larger scale for businesses with multiple laundry stores. This would help data to be gathered from various stores to improve business.
Advantages Of Laundry Software

Streamlined Processes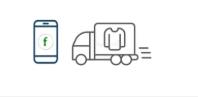 Laundry software is a boon for service providers as they contribute diverse features to manage workflow. Orders are received, and then processed; finally an invoice is generated – all with basic human intervention. With inception of pickup and delivery facility – businesses can conduct activities to the convenience of their clients.
Hard-copy To Soft-copy
The biggest reformation that the advent of software technology brought about is mitigating hard copy information that saves space, reduce litter and ease effort. Laundry services too have greatly benefitted as now maintaining records on a centralized platform, inventory maintenance, book-keeping, secure data storing and analysing information has been simplified to the click of a button.
Inventory Management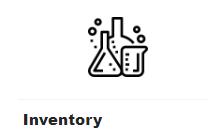 Inventory management too has benefitted as now tracking of inventory is automated. All laundry related items such as detergent, comforters, cleansers, machine cleaners, etc., can be tracked utilizing this system. These are taken care off with the laundry management software. You can enable reminders to be generated for each requirement. Laundry items also can be traced as per assigned identity number. An able inventory system cuts costs on sundry expenditure without compromising efficiency.
Efficient Workflow
Work can be distributed equally and tracked utilizing this system easily and efficiently. The laundry software helps to manage workflow as well as to streamline the entire process. Timelines for each workflow can be calculated so that output and efficiency  of an individual or the organization can be deduced.
IMPORTANT FEATURES IN A LAUNDROMAT POS SYSTEM
Laundromats have several different business models. It could be a traditional coin-operated business, a dry cleaner, an industrial cleaner, or a boutique. Or a combination of these, that relates to complex tracking and management. When purchasing a laundromat POS, make sure it comprises of:
Payment Process

Plenty of laundromats still use coin-operated machines. This system has certainly run its course. Procuring coins is not feasible as earlier hence the provision to enable adoption of plastic money (debit card, cash card or credit card) which is the norm nowadays is imperative. Therefore payments can be collected at the register or direct payment at the machine and of course swipes that allow loading of credits.
Multiple Locations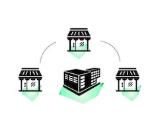 Having a single outlet may not be a feasible option as people hate to travel for necessities. Your software should help you manage multiple stores with all necessary information on each of the outlets available at the click of a button. A POS with a centralized database is imperative. You should be able to track invoicing, specific customer orders, and control delivery truck operations.
Working Culture
With the advent of the food delivery, every service has come under the ambit of pick-up and delivery for completion of services. Hence the possibility of online orders and delivery services is the order of the day. This is imperative these days as time has become a rare commodity. Working on easy ordering, invoicing, delivery or pickup is the true avenue to success.
Hardware Priority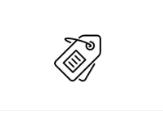 Folks normally do not consider POS hardware which is detrimental to their business.  Getting heat-resistant barcode printers and scanners to track orders and drop-offs are rudimentary. Including an integrated weighing scale provides you with a simplified manner to handle larger orders and complete the process efficiently.
Top four Laundromat POS systems
 1. CLEANCLOUD POS
CleanCloud POS, covers all your laundromat sales needs as well. It handles POS transactions impeccably and handles special orders such as deliveries, locker rentals, and monthly invoicing. It can handle incoming clothing utilizing barcode scanning technology.
CleanCloud also provides basic and effective marketing tools. These tools help in the retention of your clients as well as reaching out to new customers.
Multi-Store Support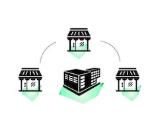 Growing businesses need to support multiple locations. A POS must handle all sorts of jobs across multiple stores to integrate and streamline multi-store management on an uncomplicated interface. CleanCloud POS helps you manage workflows of each location. Locations can share a database to synchronize information across them. Metrics for individual locations can be included for specialized reports.
CleanCloud handles large laundromats efficiently. A centralized plant catering to high-volume operations such as hotels or institutions can use CleanCloud to manage the workflow, track pickups and handle deliveries.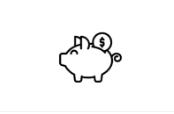 Marketing
CleanCloud can up your marketing game by including email marketing to keep your clients abreast on offers and deals.  Have SMS marketing for a personal touch. Introduce special referral codes to bring in new business, and reward long-time customers.

2. CLOVER POS
Clover POS handles everything – staff, inventory, and customers. Robust reporting, inventory management, and staff management that makes scaling effortless.
Payment Process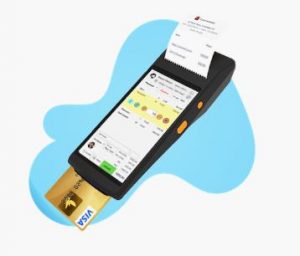 The hardware supports EMV chip cards and several forms of digital payment such as Apple Pay, Google Wallet, and others.
Laundromats that accept slide cards or digital credits will race ahead of the competition. Clover makes paying for services easier, which can enhance your business.
Report Collection
In high volume laundry business inventory reporting is a crucial. Clover supports robust reporting such as inventory reporting, employee management, and much more.
You get reports of merchandise and sales. It can integrate with prominent accounting systems such as QuickBook. Clover also provides Commerce Sync, QuickBooks Sync, and InvoiceASAP. This makes tracking investment, calculating bottom-lines, and knowing where you stand straightforward.
Tracking large staff  and their output is laborious. Clover helps by integrating with apps like Schedule.
Limitations
You need to use proprietary hardware hence you cannot avail cloud services. Clover handles its own payment processing. Support is exemplary but you cannot have your own payment partner.
3. CURBSIDE POS

eCommerce is a new add-on venture for many laundromats. They thrive by word of mouth and repeat business. Laundry industry is quite competitive hence it is good to include marketing also.
With CurbSide POS, you get online marketing and retail marketing within your reach. CurbSide POS proffers the following advantages:
eCommerce
CurbSide excels in eCommerce and online sales. Launch your own website with judicious SEO for online visibility. Customers can find your site on SERP. You could also display your offerings and encourage customers to place online orders enabling pick-up and drop of material.
Counter Sales
Not all booths are coin-operated. You can make a neat profit selling cleaners, washing materials, and clothing care goods. You get a fully functional retail POS.
This retail POS includes basic inventory management to track your stock, just like any store.
Cloud-Based
CurbSide is completely cloud-based. Hence you can access it from any supported device. Load the POS on a web browser on your computer system and take orders. You are provided a hardware setup or you can opt for your own hardware.
Negatives
This POS system includes eCommerce and sales. It doesn't cover some of the more specific needs like supporting hardware as Wash-Dry-Fold POS does.
4. WASH-DRY-FOLD POS
Laundromats thrive on positive interaction and repeat business. Those providing excellent service and incentives continue to garner more customers and enhance loyalty.
This POS excels at inventory and customer management. An able dry cleaner can manage huge inventory and staff while yet providing excellent customer service.
Hardware Support
High-volume laundromats deal with large inventories hence needs a special POS to come in terms with it. Wash-Dry-Fold POS, supply specialty hardware to handle such situations. One critical facet of operating a laundry business is tracking customer garments. With this software solution, you can integrate weighing scales to quicken the process. You get flawless labelling solutions inclusive of printers and barcode scanners.
If and when your laundry business turns into a logistics nightmare, Wash-Dry-Fold will see you through.
Customer Management
Customer management has enormous benefits in any laundry business. This POS will assist you to keep customers happy and offer a long term relationship.
Firstly build a database of customers with specialized information to track preferences. Have clear understanding of customer needs. Invoicing high-end customers at regular intervals is a good strategy to enhance loyalty.
Disadvantages
Wash-Dry-Fold is straightforward and there is no complexity in the system. But this system does not enable you to work efficiently when dealing with multiple store locations.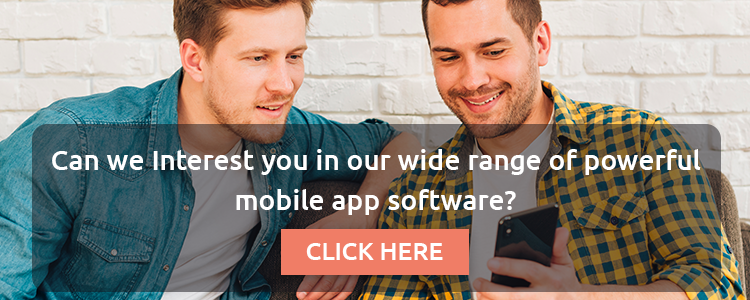 After an Engineering degree and a Diploma in Management I devoted 16+ years working in the automotive industry. My innate skill and extreme passion in writing, encouraged me to adopt it up as a profession. I have been writing for more than 10+ years in the software industry. The 400+ blogs I published are informative, exhaustive and interesting to a professional and causal reader.