Do you recall teleshopping? It is back in our lives, but this time, in the form of Livestream eCommerce. A saving grace for eCommerce startups? An outlet for online shopping lovers? What is livestream eCommerce?
Livestream is an integrated eCommerce module, designed to replace the 1-800 number. It is as if teleshopping has been tempered with real-time technology. Think of livestream eCommerce as teleshopping-meets-social media. What is old is new again! Welcome to the next wave of the eCommerce revolution!
Livestream is a pretty powerful ingredient for the success recipe of eCommerce startups. When poured through the eCommerce filter, the concept of live-streaming gets converted into sales. Simply put, it is the answer to "What eCommerce startups will have to embrace and endure to survive?" It has become an indispensable part of the global eCommerce framework. 
No doubt, conversions will continue to happen on eCommerce platforms, but what makes these conversions countless is live-streaming. An eCommerce world without live streaming is a world without an immersive shopping experience. Live-streaming gives stores and sellers an avenue to create something as similar to the in-person experience as possible. 
The Birth Story Of Livestream ECommerce In China
The concept of Livestream eCommerce dates back to 2016 when a young product manager at Alibaba had an aha! moment to combine eCommerce with live streaming. That moment gave birth to Taobao Live, Alibaba's dedicated livestream shopping channel. 
It took a few months for this idea to turn into a message – a message that bombarded the eCommerce industry with livestream shopping marketplaces. 

China Has Churned The E-Commerce World Into A Sea of Streams
Storytelling sells, but can your story sell 1300 hoodies in 2 minutes? Might be, but how will you find an engaged audience? That's why you let livestream hold the reins of your eCommerce startup.
A Tommy Hilfiger livestream show in China was no short of a money magnet. The show attracted 14 million viewers and 1300 hoodies were sold in the blink of an eye. 
Can you imagine selling cars and even homes to millions of customers real quick? The live stream queen Viya from China has shown us that it's possible. 
Kim Kardashian West, an American media personality and businesswoman collaborated with this local Chinese B2C platform, Tmall (formerly Taobao Mall), to join forces with Viya Huang, China's top streamer. This collaboration helped Kim Kardashian sell 1,50,000 lip-shaped perfume bottles in China within a few minutes.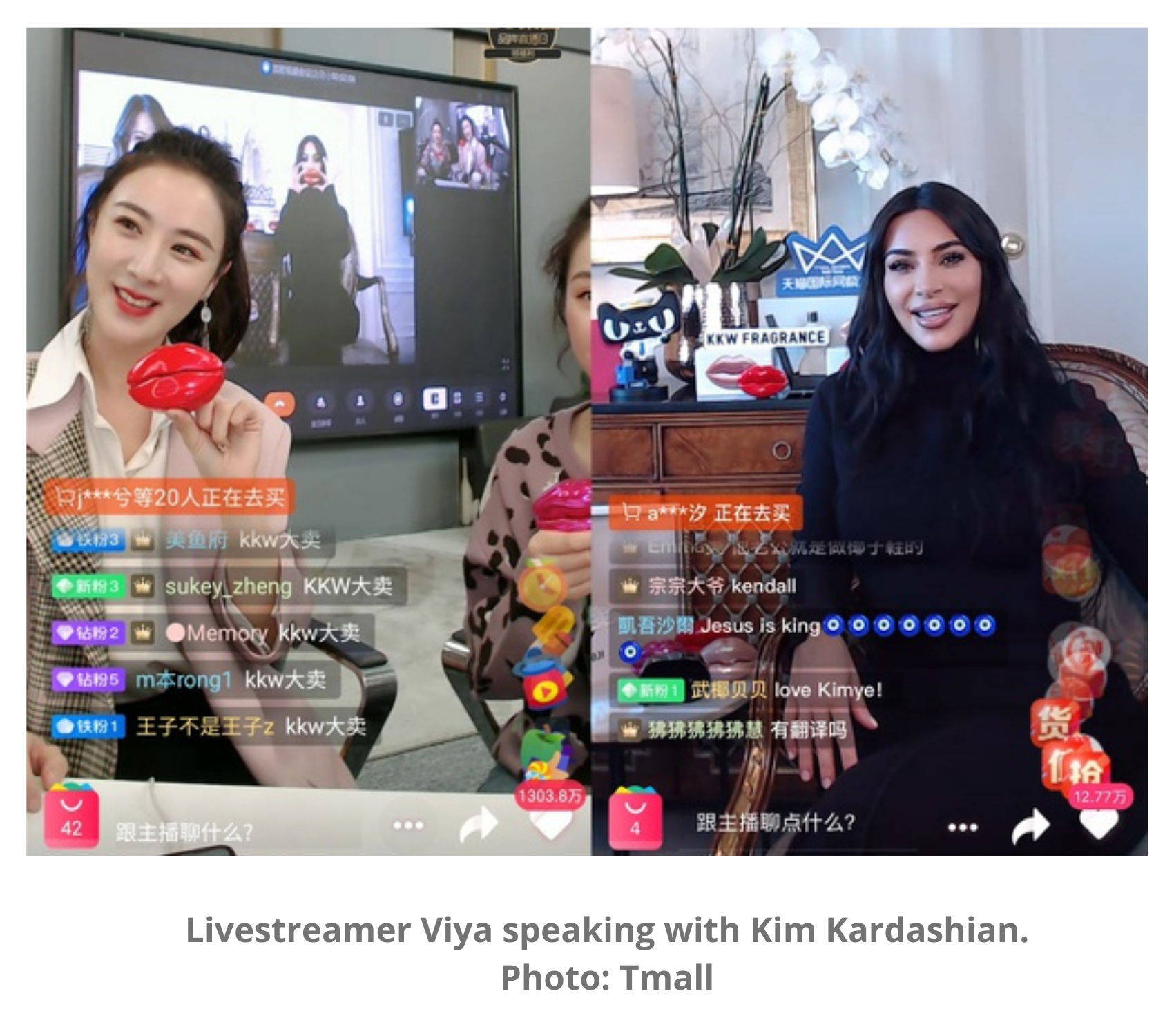 Livestreaming Concept: The Oxygen Of China's Online World
From $62.30 billion in 2019 to $161.98 billion in 2020, the live-streaming eCommerce sales in China went through the roof. China expects to bring in $299.66 billion Livestream eCommerce sales this year.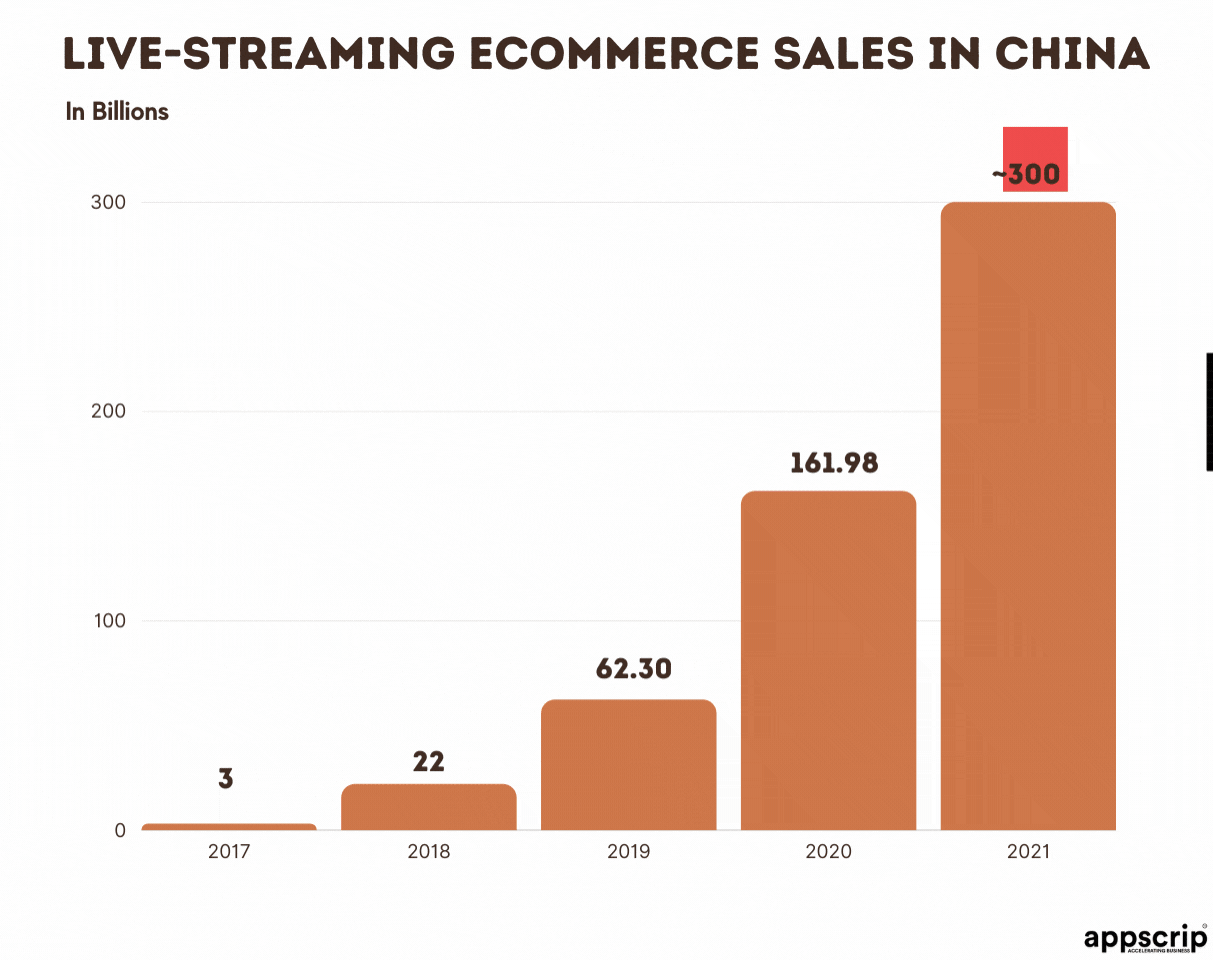 Livestream is a seed well sowed into China's social media land, and of all the ~$300 billion that live-streaming will generate this year in China, $131.52 billion is expected to come from social media only. 
On the Chinese online shopping platform, Taobao's annual Global Shopping Festival (also known as China's black Friday), livestream generated $6 billion in sales. Shortly after, livestream shopping started taking baby steps in the US and Europe. 
Did you know that livestream shopping accounted for $60 billion in global sales in 2019? The US could fetch a tiny silver of that i.e., just $1 billion. 
The Coresight Research calms the US eCommerce industry's nerves down by forecasting its future. According to this research and advisory firm, livestream eCommerce is expected to hit $25 billion in sales in the U.S. by 2023. 

Baby Steps? Nah! The US Is Leapfrogging Into The Livestream eCommerce Trend
The US is now jumping on the livestream eCommerce bandwagon faster than you can say, "Tap The Link To Buy Now!" Today, there seems to be an inspiration sitting at every corner of the eCommerce world in the form of a startup. 
Here are a few startups for you to get inspired. Can you get inspired enough to launch a live-streaming eCommerce app of your own? 
Did you know that as of July 17, 2021, there are just 32 live streaming eCommerce companies globally? One of them recently raised $50 million in funding. 
NTWRK, a mobile marketplace that focuses on footwear just closed on $50 million in new funding led by Goldman Sachs Asset Management and global luxury group Kering. It was founded in 2018 and is headquartered in Los Angeles, California. 
You can think of NTWRK, a livestream video shopping app, as a mix of QVC, Twitter & Twitch. Let us repeat: NTWRK focuses on footwear!! The clients that register through its official site to connect with consumers through Livestream events include Nike, Adidas, Jordan, and others. 
Can you think through NTWRK's concept? NTWRK narrowed its focus to one product (footwear). The idea of launching a livestream eCommerce platform to step into the niche market definitely shouts huge SUCCESS. 
Let's take a look at a few early birds that flew above everyone's expectations and started to rack up significant sales faster than the thought of launching a livestream eCommerce platform can occur in your mind.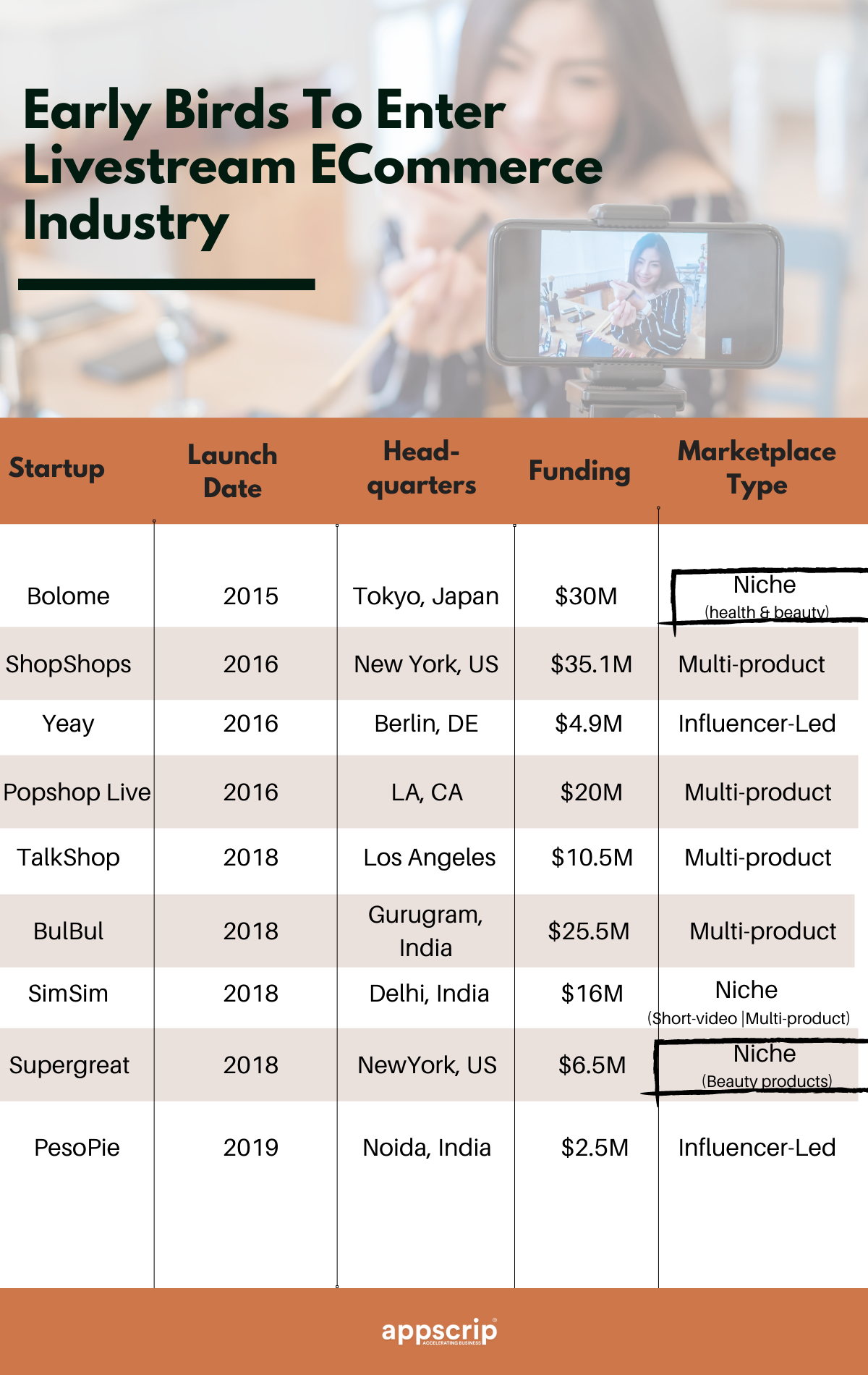 Whether it's the US or India, startups everywhere really want to get their hands dirty, blending entertainment and enthusiasm in the eCommerce bowl, using the most powerful ingredient i.e., live-streaming.
Platforms Dared To Toss THE LIVESTREAM CONCEPT A Bold Look
Whether it is social media or eCommerce platforms, Livestream channels can be easily integrated into the platform's basic features.
In 2016, Amazon introduced Amazon Live – a feature that was only available to a few sellers. It expanded to members of its influencer program in July 2020. As per Digiday, Amazon's this attempt turned out to be a success. 
Facebook, TikTok, Instagram, almost every social media platform had their eyes on the Livestream trend, and they didn't take long to hop onto the same. They have already introduced live shopping elements.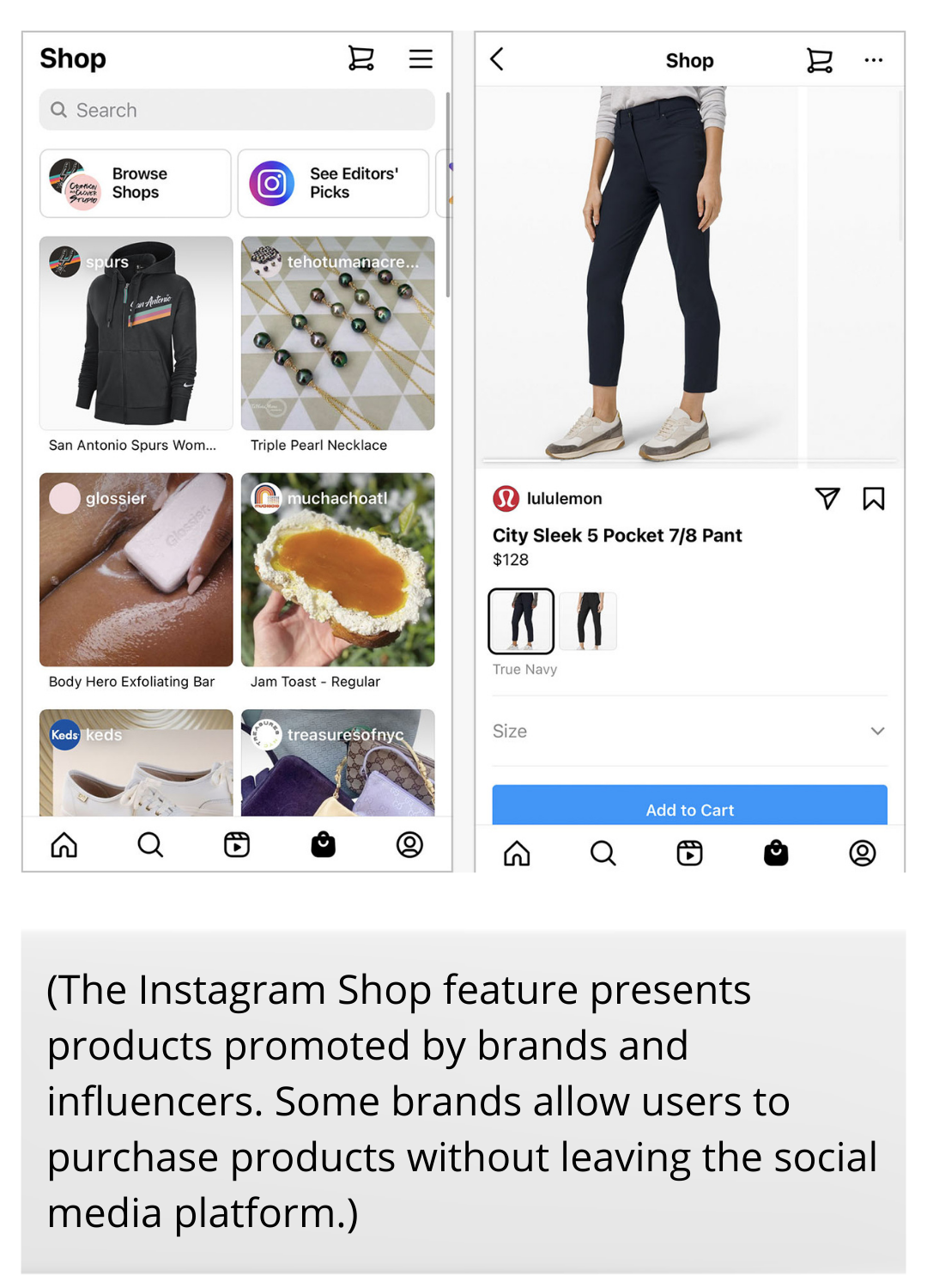 Can All The Credit For The Transformation Of ECommerce Be Given To CoronaVirus?
A big NO! 
In 2019, 37% of the online shoppers (a cool 250 million people) leveraged livestream eCommerce to make purchases. That was well before the quarantine. 
Livestream eCommerce climbed the mountain of popularity on its own. Coronavirus just pushed the concept of live streaming off the popularity mountain and it ended up in the sea of preferences. From being popular to becoming a preference, the concept of live streaming has proved its place in the eCommerce world.
What Do You Think?
Startups and social media platforms will continue to convert the concept of live-streaming into apps, right? We thought the same until this tweet shredded our confidence into question marks.

The surprise is yet to come!
China now has nearly 1 billion (989 million) internet users. A whopping 98% of the country's total internet user base is mobile according to government data. It makes sense why china's live-streaming platforms are only app-based, but why America's platforms are only app-based? Are startups tiptoeing into the live-streaming trend blindly?
To your surprise, as per Pew Research Center, only 15% of American adults are "smartphone-only" users in 2021 (down from 20% in 2018). 
As we all know, China is the inspiration behind the USA's act of adopting livestream eCommerce. The internet is flooded with articles titled "Livestream ECommerce: What We Can Learn From China." Is all we do is jump on the bandwagon? 
If livestream eCommerce startups can succeed just by launching an app-based platform, we can't even imagine what a software platform's SUCCESS would look like. Launching a web-based livestream eCommerce platform seems to be an easy way to beat the competition, and only time can tell if app-based platforms are able to ace this startup game.