Marijuana is a commonly cultivated plant that is trafficked, used as an illicit drug and as the wave for its legalization grows, it is gaining the attention of investors, manufacturers, and researchers.
There are many operating in the online marijuana marketplaces for order and delivery – the market is ripe and waiting to be tapped to reach its full potential.
Despite the plant being illegal under federal law, the U.S. legal marijuana industry was pegged at $14 billion last year with 350,000 jobs for handling of plants. A total of 33 states have legalized marijuana for medical use and in them 14 lets adults legally use the drug for recreational use.
That number will rise as more people are accepting the idea of legalizing marijuana across the US.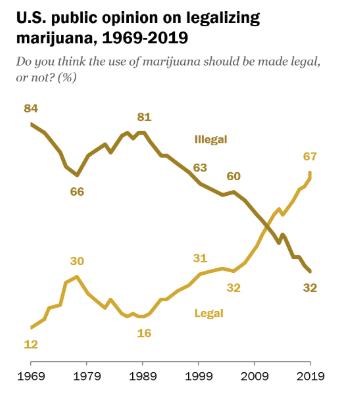 Medical cannabis will become more prominent. Medical was highly responsible to get the cannabis industry up and running this decade, but then got derailed for recreational use. People aiming for adult-use of marijuana are also looking at how they can use cannabis for wellbeing and medical purposes.
A lot of states will vote based on the future of medical cannabis in the 2020 elections. We take you through a detailed version of the opportunities in the cannabis industry and how online marijuana marketplace is giving customers the high they yearn for.
Legalization of Cannabis
There is acceptance of the plant as a legitimate option for people suffering from medical problems like chronic pain or seizures.
Cannabis industry is promising to turn into an attractive opportunity for investors due to promising returns, expansion to other states and diverse product offerings.
Lot many states are welcoming the legalization of cannabis as there had always been a strong push from the market to make cannabis legally available. And legalization will in all probability curb crimes relating to underground markets for cannabis.
There isn't much doubt that the expanding European cannabis market will make it an attractive investment landscape.
Tapping Into Online Marketplaces
Majority of online marketplaces for cannabis are targeting customers with apps that lets you browse for nearby dispensaries, order, make payments and get it delivered to you quickly. The growing consumer demand, Geographic limitations, and quick order fulfilment has opened new avenues for cannabis.
Although the basic offering of most marijuana marketplaces is order management and delivery, newer marketplaces are trying to offer value to target their audience.
A few of online marijuana marketplaces are
greenRush: is considered to be a dominant player in cannabis delivery circuit. They currently offer their services in California, Colorado, Nevada, and Oregon. With a recent series of funding, they plan to expand to several more states.
Eaze: Eaze delivers medical marijuana in San Francisco region but will take effect in California post-legalization.
B GREAT which produces full-spectrum upscale CBD items. There are even more products like deodorant, hand soaps, throat sprays and nasal sprays that has CBD as one of its ingredients.
Meadow: has an app called Meadow MD that connects patients and doctors for effective consultations. The differentiating factor in comparison to other online marketplaces, is that it develops tech solutions for the marijuana industry
Grassp: Like Hospitals and Medical centers, Grassp focuses largely on the security of medical marijuana patients and their records.
Jane: This California based start-up focuses on customization via data analytics and real-time updates on dispensary products.
Say Hi: One of the latest entrants in the domain, Say Hi is a highly edited online marijuana marketplaces. Consumers can find sophisticated, design-minded cannabis products that aren't available at other outlets.

Growing Opportunities
CEO of Vanguard Scientific, a firm that provides service resources for cannabis and hemp botanical extraction, says just the ongoing discussion of legalization and decriminalization will continue to drive market growth.
Today Medical Cannabis is legal in 32 states in the US and District of Columbia and 14 allow recreational use, but the drug is still illegal at Federal level. Business owners and members of the National Cannabis Industry Association is pulling all strings to legalize marijuana, or at least to align banking and tax laws accordingly to rope in funding.
Canada is capitalizing due to the situation in the US. Canadian companies can export to any region, making them to be among the first firms signing international cannabis trade deals.
Although the growth is slow in the US, opportunities are galore and many small and medium businesses are cropping up to capitalize in this growing market.
Exploring the B2B Space
A marketplace, Confident Cannabis, offers solutions for growers, sellers, and labs so that you are in the know as to what you are smoking. They are creating software for labs to test and track potency of the cannabis.
By 2021, medical cannabis should be legal on the Federal level, and individual states can decide whether they want to legalize it recreationally. There are multiple of factors that will lead to this: the election cycle, and providing U.S cannabis firms access to capital markets.
Existing brokers and other businesses rely on the offline network which has led to the shutting down of a couple of large B2B marketplaces.
Entourage Effect Capital a cannabis-only private-equity firm that has deployed more than $50 million into 34 companies is confident that firms will take efforts to be more efficient.
Conclusion Marijuana Marketplaces
According to the Marijuana Moment, there were 975 cannabis-related bills drawn awaiting state legislatures and Congress for 2020 sessions. There would be a lot more regulatory activity in 2020 at both the state and federal levels.
The world is split into two with regards to marijuana, one half feels it would destroy the society while the other half believes that there are too many positives in marijuana to be overlooked. At the same time, an oversupply of marijuana and the cost of operating in such a highly regulated industry is taking its toll.
But the data continues to show a rising curve. With legalization picking pace, this is the right time to intrude into this industry and capitalize on the growing demand.
After an Engineering degree and a Diploma in Management I devoted 16+ years working in the automotive industry. My innate skill and extreme passionate in writing, encouraged me to adopt it up as my profession. I have been writing for more than 10+ years in the software industry. The 400+ blogs I published are informative, exhaustive and interesting to a professional and causal reader.