Once a luxury, global eCommerce is now a necessity. It is a borderless world made up of non-native markets where products and services are sold. This borderless world is booming without a pause, and the credit also goes to Mercari and Mercari clones.   
We'll be discussing the jaw-dropping features of Japanese giant Mercari down the road. Let's first look at the eyebrow-raising numbers the eCommerce world is laced with.
eCommerce has gone through a substantial transformation, and the statistics that cover this transformation are either shushing everyone or stunning everyone. Retail eCommerce sales were stood at $2290 billion in 2017 and were expected to reach $4.89 trillion by 2021. 
Mercari is a mobile marketplace app that allows users to buy and sell new or used items. The app was launched in Japan in 2013, and since then, it has expanded its operations to the United States and the United Kingdom.
After packing the online world's expectations, the global retail eCommerce revenues jumped to $4.28 trillion in 2020 alone and are now expected to touch $5.4 trillion by 2022. Profiting from the perks of online transactions, more and more consumers keep climbing the ladder of eCommerce every year. Isn't the eCommerce industry terrific in terms of traffic? 
Considering the shadow of eCommerce looms too large over the globe, it seems as if the pandemic forgot to rewrite the rules of retail. It is as if the retail eCommerce industry was trained in advance to tackle the transformation and ride out the storm. 
Covid-19 pandemic acted as a fuel that set the popularity of retail eCommerce on fire. Forcing brick-and-mortar stores to shutter overnight, Covid-19 made shoppers flock to the eCommerce funnel. 
Breaking Out The Barriers Is The New Norm: M-Commerce
In general, Mercari has been successful, with over 25 million downloads and a high user engagement rate. The company's revenue has been steadily increasing, with their Q3 FY2022 financial report showing a 43.3% year-over-year increase in gross merchandise value (GMV) and a 59.8% increase in net revenue.
M-commerce might not be as old as eCommerce; it knows how to make millions comfortable. Three out of four consumers use smartphones as their mode of purchase because it saves time. M-commerce is expected to grow at a CAGR (Compound Annual Growth Rate) of 25.5% to touch $488 billion in sales by 2024, contributing 44% to all the e-commerce transactions.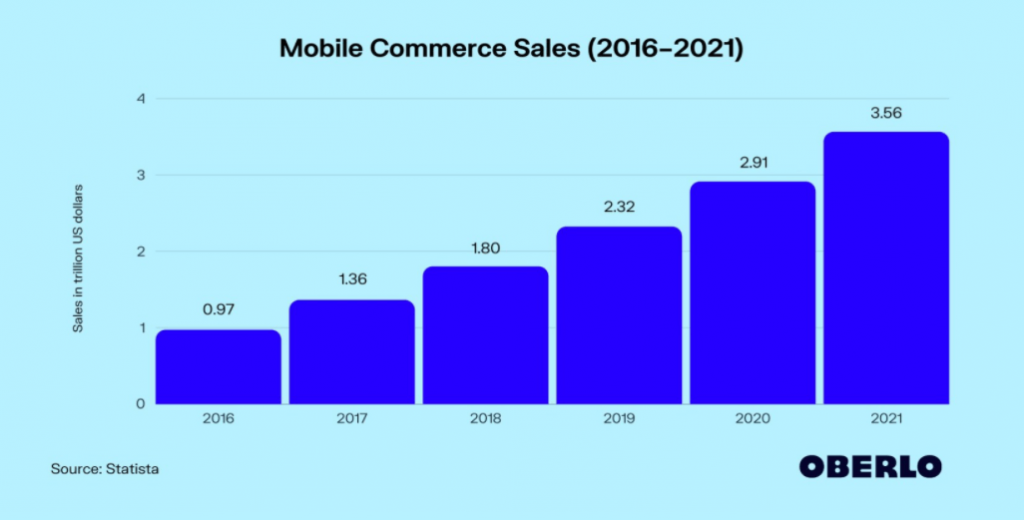 Mercari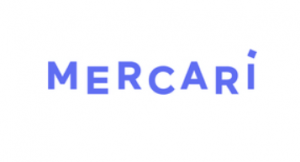 Born in Japan in February 2013, the eCommerce platform, Mercari, is being washed with fame in the USA now. After accumulating one million+ listings in less than a year, Mercari became the first Japanese company to earn the "unicorn" badge.

Mercari marketplace's mission of connecting millions of people to declutter and discover items has made headlines. It has made its place on Fast Company's annual list of the world's most innovative companies for 2021. By arming people with the power of sprucing up their spaces from the comfort of their couch, Mercari created its way to consumers' hearts. 
Mercari Is Shooting For Other E-Commerce Giants' Crowns
Mercari is competing confidently with a long roster of eCommerce and M-commerce giants, including Amazon, eBay, Wish, Jet, and Poshmark. Mercari's CEO Shintaro Yamada shared his view on competing with companies at the TechCrunch Tokyo conference, saying: 
From a buyer's point of view, the buying process is similar to making a purchase from Amazon. From a seller's point of view, it is much easier than the service our competitors offer. We are mobile-first, and our users are delighted by how easy it is to take a photo and list a product for sale.
The company is differentiating itself among the popular eCommerce and M-commerce players by facilitating a low-lift experience for people. The company leveraged the latest AI and machine learning to serve product exchange convenience on the plate of life of its fans.
The app's business model is straightforward: they take a commission fee of 10% of the transaction value from the seller and a 2.9% + $0.30 fee for processing the payment.
With 50 million+ downloads in the US alone, Mercari has genuinely made the eCommerce world a magical place to live. After stealing the show in Japan and the USA, Mercari is gunning for global domination now.

Mercari Clone: A Sure Shot Formula To Replicate The Success Of Mercari 
Overall, Mercari is a well-designed app with a user-friendly interface that allows for a seamless buying and selling experience. It has a wide range of categories, including electronics, fashion, and home goods, and users can filter their searches by location, price, and brand.
Sowing the seed of success in the online buying/selling space is as easy as customizing a feature-rich and business-ready Mercari clone. The buy and sell marketplace script is sewed together with state-of-the-art technologies. Its scalability, security, and customization features help the Mercari clone script sit under the spotlight and stand out among the sea of eCommerce apps. 
Why Is E-Commerce Industry Murmuring About Mercari Clone?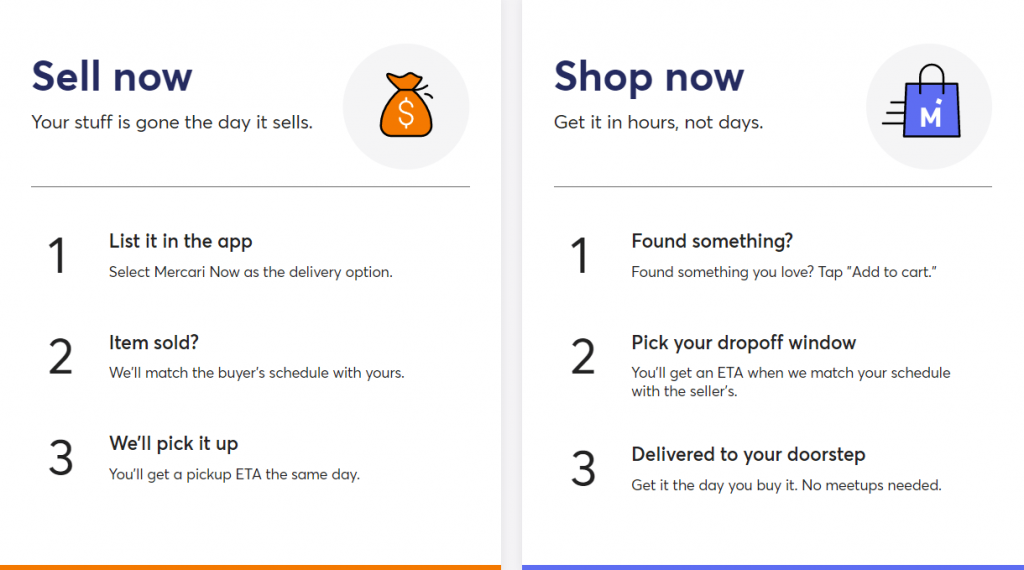 Glued with features inspired by Mercari, the Mercari clone is a multi-vendor marketplace script that allows entrepreneurs to dart the eCommerce market directly without dealing with any dilemmas. Here is why every wannabe eCommerce entrepreneur is high on Mercari clone fever. 
In terms of future prospects, Mercari has been investing in technology and expanding its offerings, such as introducing a same-day delivery service in select areas. The company has also been expanding internationally and has stated its goal of becoming a global marketplace.
Pleasantly Clear Pool Of Products
Mercari clones can be pierced with an endless number of (new, pre-owned, and handmade) products, including books, fashion accessories, electronic gadgets, and console games. Listing a product on a customizable Mercari clone is as easy as uploading a photo and adding a few details. Mercari community continues to grow, and the credit goes to the pleasantly clear pool of products. 
Brick-and-Mortar stores boast high-priced products. The presence of promo codes, discounts, deals, and coupons lures consumers to buy products from the eCommerce platform. 

The Provision of 24×7 support 
Mercari Clone is seasoned with a dedicated help center that serves the consumers with a solution when faced with any problem using the platform. 
A Buy/Sell From The Comfort Of The Couch
Users can sit under Mercari's protection policy to declutter/discover items and redesign their surroundings from the comfort of their couch. A photo of the product, laced with the price, discount offers, and a crisp description when listed on the Mercari clone, can attract customers like a magnet. 

Mercari Now is synonymous with "local contactless buying and selling." It connects the buyer and sellers virtually within the same neighborhood. Considering the world being clutched by COVID-19, Mercari Now's contactless delivery feature is fanning the flames of its fame. Availing the option of selecting home pickup, Mercari Now is erasing buyer-seller trust issues. Could there be any perfect way to buy and sell old expensive items? 
A Pile of Payment Gateways
Captivating the interest of consumers is another ability of Mercari clone, i.e., payment options. The platform is pearled up with a pile of payment gateways, including PayPal, debit cards, credit cards, and ACH (Automated Clearing House) direct deposits, ensuring consumers' comfortability and convenience. Mercari clone script is also embellished with an in-app wallet.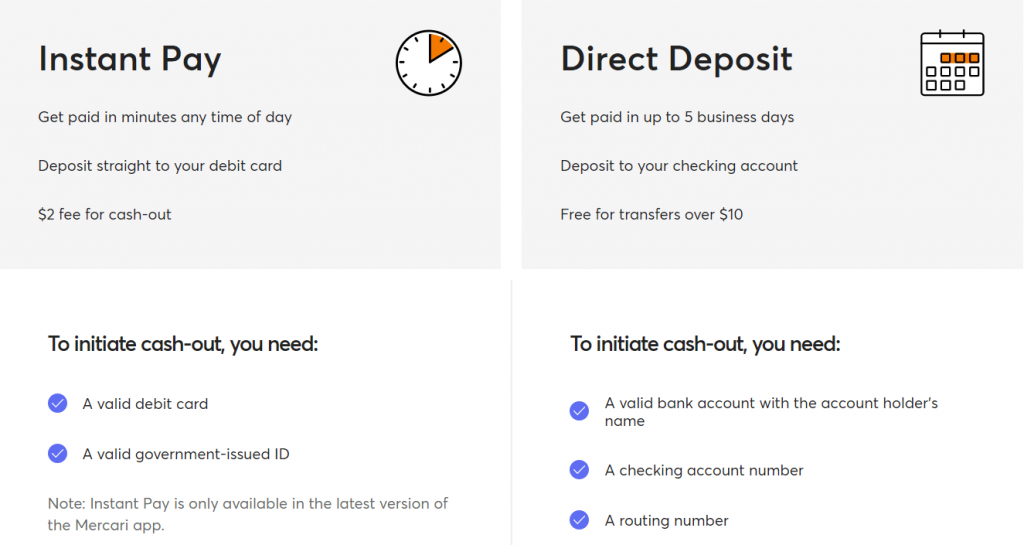 Fraudsters pop up faster than a new feature on an eCommerce platform. That's why users needed a "reviews and ratings" feature to rain down on fraudsters and fan the frustration away. Not to mention the power of a positive review, users can sit in the hall of fame and sell as many products as they want. 
What The Admin Of Mercari Clone Is Armed With? 
The admin is armed with the power of playing with products. He/she can create, update, modify, and delete products from the admin panel. 

Admin can add stores and store runners, including distributors, wholesalers, and manufacturers, from the admin panel. 

Admin can inject additional information into its platform. He/she can manage guests and registered users in the blink of an eye. 

Admin is also armed with the power of viewing and managing past, assigned, unassigned, and completed orders. 
"The Now moment" is a nightmare for some industries, but for eCommerce, it's nothing less than a dream come true. Considering the capability of the Mercari clone to crawl its way to success amid the Covid pandemic, NOW is the right time to launch a Mercari clone app and pocket huge revenue. 
Overall, Mercari's future prospects seem bright, and it has the potential to continue to grow and compete with other e-commerce giants like Amazon and eBay.